Cocker spaniels can quickly become tatty, long haired and untidy dogs if they do not hair their hair trimmed regularly and if you neglect grooming.
Their love of mud, dirt and anything that can get them messy can add to the problems of the spaniel owner – particularly if the dog lives indoors, so you'll need to keep on top of their hair.
Your Cocker spaniel's hair will grow all of the time, just like most humans, and, if you do get him clipped then you will see new growth within a few days. You'll probably need to get your Cocker's haircut once every 3 to 4 months to keep it at a good length.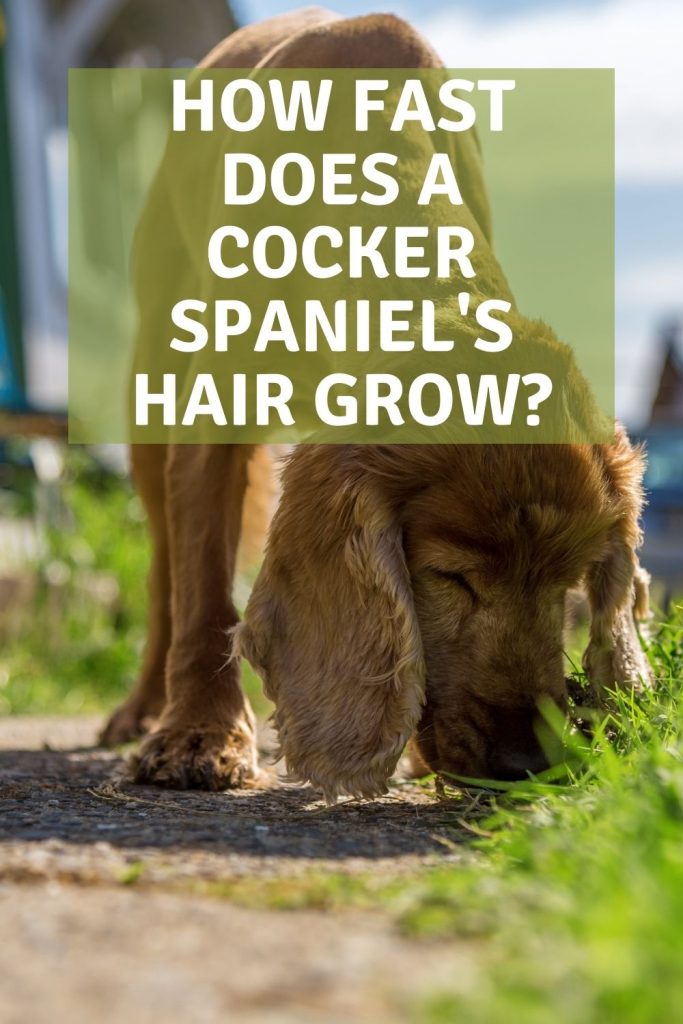 Should you get your Cocker spaniel's hair shaved or trimmed?
This depends upon your own preferences and how short you want your dog's hair to be.
You should be aware that if you shave your spaniel then his hair is much more likely to grow back in a wiry fashion as opposed to the wavy and natural hair look that he may have had before.
Shaving may also affect his feathering which may not grow back as nicely as before.
For a natural look with a wavy effect you should always get your spaniel trimmed rather than shaved.
The best way to get your Cocker Spaniel's fur trimmed is to book him in for a professional dog grooming appointment.
This will ensure that you don't cut his hair too short or lose the natural wavy look that he should have.
You'll also need to make sure that you only use the services of a qualified groomer who knows how to clip spaniels.
Do all Cocker spaniels have long hair?
No, in fact the Cocker Spaniel breed is classed as a medium length coat dog by many of the main dog organisations.
In general the show type Cockers have longer hair that often reaches down to the ground, whereas the working Cocker spaniels are truer to the natural and normal state possessing shorter coats that would perform better in a working environment.
How do you groom a Cocker's hair?
Grooming your spaniel is vital to his health and well being, as long hair can snag on brambles and bushes if he gets outside – not only causing pain but also injury. It can also cause tangles within the coat if it becomes badly matted.
A healthy lifestyle that includes regular grooming will keep your spaniel's coat healthy and tangle free.
While some dogs seem to enjoy being groomed, others have a mind of their own and do not wish to be touched – much less have all that hair removed.
The sooner you start with a young puppy, the better. If you hate brushing hair as much as some dogs dislike being groomed, then there are specially designed pet grooming gloves that will enable you to get rid of hair without having to use the traditional glove and comb method.
Sale
New Version Pet Grooming Gloves, Premium DeShedding Glove for Easy, Mess-Free Grooming of Cats, Dogs, Rabbits and Horses with Long/Short/Curly Fur
HAPPY PET: Pets LOVE our gloves and using them on your fur babies is a great way to spend quality time with them while efficiently deshedding loose hair making sure you aren't neglecting your grooming duties.
CLEAN HOME: Loose fur easily sticks onto our specially designed silicone tips so you can use the gloves to groom your pet and also use it to pick up loose hair on couches, beds, comforters, blankets, clothes and more, making it an excellent all-round product to have - Pet grooming and Pet hair remover in one.
EASY-TO-USE: Our gloves come with 260 tips - more than any other on the market, making the grooming session a breeze while providing the pets with a relaxing massage. Our Pet Grooming Gloves not only remove dirt and dander but also improve blood circulation while stimulating healthy oils leaving your pet's fur shiny and smooth.
COMFORTABLE, SAFE & VERSATILE: We have used a breathable mesh and elastic spandex fabric that allow for a good fit on most hand sizes. Also, our BPA-free material make it safe for pets even with sensitive skins. The grooming gloves can also be used in the bath to really get the shampoo to work and then use these again to rinse your pets thoroughly to make sure your fur baby is washed properly helping you to avoid allergic reactions.
GREAT GIFT FOR FUR BABIES & PET LOVERS: We have worked hard to ensure that we are the BEST glove set for all on the market, no matter the size or length of hair of your pet. We have also included a Storage bag so that you can keep the set in one place after use. Your experience matters to us and we want you to buy K&K products with confidence.
If you need to get all of your Cocker spaniel's long hair off him so it does not become tangled and matted – and if he doesn't mind or is used to it – then you can use clippers or a pair of scissors.
You should only cut the hair on his back so that you leave ample coat for protecting him from the sun and weather when he is out in his normal working environment.
Be very careful where you place your fingers whilst cutting, particularly if using scissors, as this will enable you to control the cutting process so that you cut only the hair and not your spaniel.
It is very easy to cut fur, skin or even fingers when using scissors, so if this is your first time then practice on some old towels with long fringes until you're confident with how it works.
If you haven't done this before then you should probably get someone to help.
What do you need to keep your dog's hair in order?
Here are a few things that you'll need for grooming your Cocker spaniel:
Towel
Grooming glove or brush
Comb
Dog shampoo and conditioner
Cotton buds or ear cleaner if your spaniel needs this too
Nail clipper
Sale
WAHL Performer Dog Clippers, Cordless Dog Grooming Kit, Low Noise and Vibration, Grooming Pets At Home, Ergonomic Design, Precision Ground Blade, AA Battery Included
HIGH PERFORMANCE MOTOR – Equipped with Wahl's high-performance motor, this clipper is powerful enough to cut through fine, short and coarse animal coats
LOW NOISE & VIBRATION – This durable clipper is easy to control and offers a more relaxing experience for your dog due to its quiet operation, ideal for noise sensitive pets
WASHABLE BLADE – The blade is removable for easy cleaning, ensuring clean and hygienic use every time
ERGONOMIC DESIGN – Designed with integrated thumb grip for easy control. This pet clipper can be used on or off cord for total freedom of movement
PRECISION GROUND BLADE – Precision self-sharpening blades stay sharp to easily cut all coat types and feeds hair smoothly for snag-free clipping. We only use high precision blade grinding technology, ensuring the best cutting performance for you and your pets
What sort of shampoo should you use to clean your dog's hair?
It is best to use a gentle shampoo to wash your Cocker spaniel as some shampoos are too harsh for his coat.
Look out for any conditioners or moisturisers that have been added as these will help keep your spaniel's coat healthy.
You can also use a conditioner to help untangle mats in your spaniel's fur, but make sure you rinse this out thoroughly or it will attract dirt and dust which can cause skin irritations.
Never ever wash your Cocker Spaniel with human shampoo as this is not suitable for dogs.
If you don't think you'll be able to cope with washing your spaniel's hair by yourself then you can take him to a professional groomer or ask a friend to help out.
Make sure that the water is not too hot and make sure that you rinse off all of the shampoo thoroughly before drying.
How often should you brush and comb your Cocker spaniel's hair?
Cocker spaniels should be brushed at least once a week to keep their coats tangle free and their skin healthy.
If you want to brush your spaniel's hair more than this then that is fine, but there is no need for it if you can't do it as often as required.
You should avoid brushing out mats as this can pull and tug on your spaniel's skin which could cause pain.
Try to separate the mats with a comb and then try to brush them out – otherwise you will need to go over the whole pelt again using clippers and take them off.
If you cannot remove mats by brushing or combing, then ask someone to help you by clipping the mats out.
If you find that your spaniel's coat is becoming very matted, then clean him thoroughly with shampoo and conditioner before starting to remove the tangles.
Leave any remaining tangles until last so that they are not pulled on when trying to untangle other parts of your spaniel's coat.
If you are unable to remove the mats yourself then take your spaniel to a professional groomer, or ask a friend for help.
Sale
Pro Pooch Dog Shampoo - 250ml Pet Shampoo w/ Oatmeal & Aloe - Sensitive Grooming Products for Dogs
Our pH balanced puppy shampoo is cleverly formulated to help soothe and relieve itching. It produces effective results on dandruff, whilst being gentle on your pup's itchy, dry, and sensitive skin.
Crafted from a combination of natural cleansers, including colloidal oatmeal, pro vitamin B5, aloe vera, and wheat proteins, our dog shampoo for smelly dogs is also free from toxic nasties!
With a market leading dilution ratio of 33:1, our oatmeal dog shampoo also contains vegetable proteins which help build body and elasticity, leaving coats smooth, silky, and shiny.
We're committed to animal welfare, which is why we never test our sensitive dog shampoo or any of our products on animals. Feel safe in the knowledge that you're dealing with a brand you can trust.
Four-legged friends need some TLC too! This pet shampoo for dogs will leave your pup's coat soft, thick, and beautifully salon fresh. Plus, it comes with a bonus professional grooming eBook - Pawfect!
Final Words
Grooming your Cocker spaniel's hair is not difficult to do at all, but you need to ensure that you spend enough time on it for it to be effective.
You should only ever cut the hair on your dog's back so that healthy fur remains, and never use scissors around his face or front paws as this could cause injury to your spaniel.
It's best to avoid mats wherever possible but if you're struggling with them then ask for help, or take him to a professional groomer.
If you follow these simple rules when brushing and combing your Cocker spaniel's fur, then you should notice a difference in how healthy and shiny it looks.
Last update on 2022-01-28 / Affiliate links / Images from Amazon Product Advertising API