If you are planning to travel in the car with your dog then you should consider both your safety and that of your pet.
An unrestrained dog will jump around inside the car which can result in distractions to the driver which could result in driver errors or accidents.
If you do have a collision then you also run the risk of your dog being thrown around inside the car or, worse still, being thrown from the vehicle which could have disastrous results.
Although it is not a legal requirement for a dog to be in a crate while in the car ( in the UK ), if you have a hatchback or estate car then use of a car crate is recommended. A good, well designed and fitted crate will provide your dog with a safe and comfortable place where he can rest securely. In the event of an accident a well designed crate will help to protect your dog from injury.
What does the Highway Code say?
If you do travel with your dog in the car then you should be aware of the risks that you face for potential prosecution if anything goes wrong – such as having an accident for example.
The Highway Code is not law but is instead guidance which can be used to support a prosecution so you should, at the very least, try to follow the guidance that it provides.
In the case of dogs travelling in vehicles Rule 57 of the Highway Code states "When in a vehicle make sure dogs or other animals are suitably restrained so they cannot distract you while you are driving or injure you, or themselves, if you stop quickly. A seat belt harness, pet carrier, dog cage or dog guard are ways of restraining animals in cars."
The main areas where you could get yourself into trouble if your dog is unrestrained are those of:
Not being in full control of your vehicle
Driving without due care and attention
Inconsiderate driving
Dangerous driving
Each of these areas can lead to penalty points and potential disqualification from driving – as well as the risks of injury to you, your dog or someone else.
So, although using a crate is not a legal requirement, you should think about the consquences of not using a suitable safety device for your dog.
Are car crates suitable for all dogs?
There is no reason why, with the correct introductions and use, that a car crate would not be suitable for your dog.
Crates come in a variety of shapes, sizes and are produced from a wide range of materials, from steel and aluminium through to fabric and wood.
Most dogs will quickly adapt to being transported in a car crate and will soon look to their crate as their place when in the car.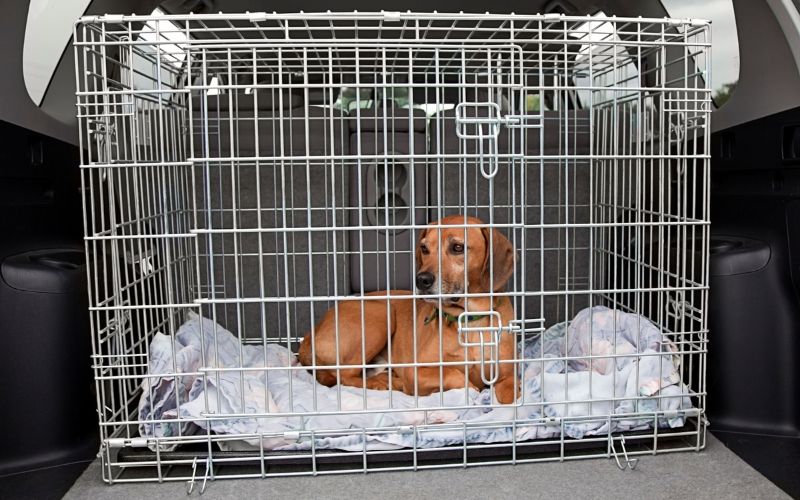 Are car crates safe for dogs?
Overall, a car crate will provide your dog with some protection, although, like many things, those standards can differ widely.
As things stand there are very few car crates that have been crash tested to any form of standard and finding a 'crash tested crate' can be difficult.
Without doubt, the safest car crates, that have been 'crash tested' and which are accepted as being the safest available are those that are produced by Variocage.
They are the only brand of dog car crates that meet car manufacturer safety standards and European regulatory requirements and are made to work with car crumple zones.
These crates used to be available on Amazon in the UK but they seem to have disappeared in recent weeks.
We have found a supplier in the USA that will provide these crash tested crates to most global areas ( including the UK ). 
If you are serious about your pet safety then the Variocage Crates are worth investigating further. You can find them here at Pet Pro Supply.
Where should a crate be in the car?
The location of the crate will really be dependant upon the type and model of car that you have.
In the majority of cases, for hatchbacks, estate cars, four wheel drives and SUVs, the crate will be at the rear, in the boot space.
If your dog does travel in the boot space then he is at risk of injury in the event of a rear end collision and your choice of car crate should be towards crash tested and as heavy duty as possible.
Most crate manufacturers produce crates, cages and dog guards that are vehicle specific, so you should be able to locate a suitable crate for your car.
It is possible to locate a small dog crate, for smaller dogs, on the back seat of the vehicle with it being held in place by the rear seatbelts for security.
Final Words
There is no specific requirement for your dog to be in a dog crate when he is in the car, but, you might want to seriously consider it for his and your safety.
Using a well made and, if possible, crash tested car dog crate will provide your pet with the maximum levels of protection if you have the misfortune of being involved in an accident.
Not only that a car crate provides your dog with a comfortable place to bed down while travelling and, in most cases, they can be easily removed from the car, allowing them to be used as temporary kennels or places for your dog to sleep and rest, for example if you are on holiday, camping etc.
Read Next
Can Cocker spaniels live with rabbits?
English Springer spaniel facts
Last update on 2023-12-07 / Affiliate links / Images from Amazon Product Advertising API