Dogs are a part of the family for many people, and dog owners want to make sure they're always taken care of.
That's why dog cameras have become increasingly popular in recent years.
A dog camera is a camera that is designed to be used specifically with dogs. It can allow dog owners to see what their dog is doing at all times, whether they're at home or not.
This can be helpful in preventing any mischief or accidents from happening while the owner is away.
Additionally, some dog cameras come with features like two-way audio and treat tossing, which can further help keep dogs entertained and exercised while their owners are away.
Introducing the Furbo dog camera
The Furbo dog camera is a cutting-edge product designed to help owners stay connected with their pets.
It's equipped with two-way audio, so when owners are away from home, they can still communicate with their pets through the camera's microphone and speakers.
This feature is especially helpful for dogs who may be prone to separation anxiety or excessive barking.
The camera also provides real-time alerts and notifications, which notify owners when dogs are being unusually active or demonstrating other unusual behaviour.
On top of that, this clever device allows owners to toss treats through the camera's built-in treat dispenser.
Thanks to its advanced features, the Furbo dog camera can keep pet owners updated on their dogs' activities and allow them to interact with their pets no matter where they are.
All in all, it's an excellent choice for anyone who wants an easy way to keep tabs on their dog even when they're out of the house.
How the camera works
Setting up the Furbo Dog Camera is incredibly simple.
First, dog owners need to download the Furbo app onto their phones (the iOS and Android versions are both available).
Then, they need to connect the camera to their home WiFi network.
After that, dog owners can access the camera's features through their phones.
This includes tossing treats from a distance, as well as two-way audio communication with their pet.
Additionally, dog owners can customize how often they receive notifications from the camera, as well as set up a barking alert system so they know when their dog is being noisy while they're away.
The benefits of using the Furbo dog camera
Unlike a lot of other dog cameras on the market, Furbo's device is designed with your pet in mind.
It allows you to both interact and monitor their activities when you're away from home – perfect for reducing stress or anxiety caused by separation.
You can also toss treats remotely through its dispenser to help keep your dog entertained, or even distract them if they're exhibiting symptoms of anxiety.
And with its real-time notifications and alerts, you'll never miss a moment of your dog's activities.
The two way audio feature also helps make sure that communication between you and your dog stays smooth no matter what time zone either of you may be in.
What's included in the package
When dog owners purchase the Furbo dog camera, they'll receive the camera itself, a power adapter, an Ethernet cable for connecting to home WiFi networks, and a mounting bracket.
The package also includes instructions on how to set up the device as well as guide to using its features.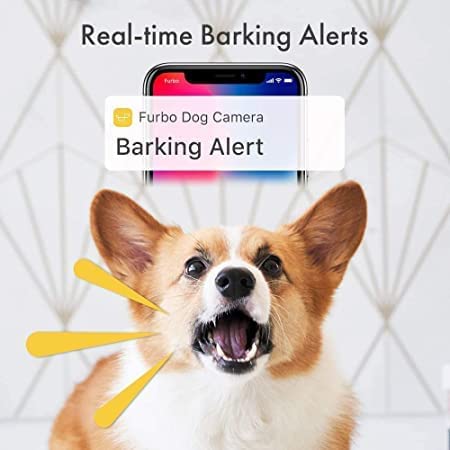 Customer ratings by feature
The Furbo dog camera has been met with overwhelmingly positive reviews.
The camera's treat-tossing feature was especially popular, receiving an average of 4.8 stars out of 5 from dog owners who have purchased the product.
Its two-way audio capability also earned high marks, with customers giving it a 4.7-star rating on average.
And even its real-time notifications were praised – dog owners gave it a solid 4.5 stars for keeping them updated about their dog's activities throughout the day.
Overall, dog owners who have used the Furbo Dog Camera seem to be very satisfied with its performance and features.
Furbo Dog Camera
Full HD Wifi Pet Camera with 2-Way-Audio, Treat Tossing, Night Vision and Barking Alerts, Designed for Dogs, Works with Amazon Alexa
Pros
Two-way audio communication with your dog
Treat tossing ability to keep your dog entertained
Real time notifications about dog's activities throughout the day
Easy setup and use of the camera's features
Cons
Motion detection range is limited (35 feet)
Limited storage space on app (must pay a fee for more storage)
Should you buy the Furbo dog camera
If you're looking for a dog camera that can help you interact with your dog while you're away, the Furbo dog camera is an excellent choice.
It has all the features necessary to keep pet owners updated on their dog's activities and allow them to give treats or even communicate with their pet from anywhere in the world.
The only potential downside is its limited motion detection range and storage space, but if those issues don't bother you then this device could be a great addition to any dog owner's home.
Overall, we highly recommend the Furbo dog camera as a way to stay connected and interact with your dog when you're not around.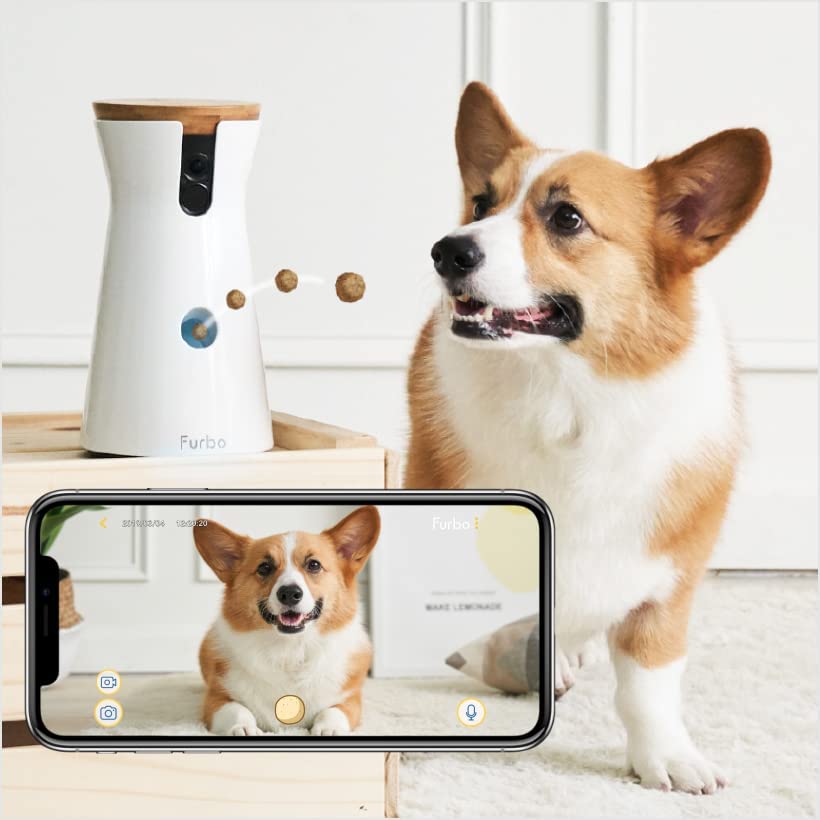 Final thoughts on the Furbo dog camera
The Furbo dog camera is an excellent device for dog owners who are looking to stay connected with their dog while they're away.
With its easy setup, reliable performance, and user friendly features, this is a must-have for dog owners who want to be able to interact with their dog when they can't be there in person.
Highly recommended.
Last update on 2023-09-28 / Affiliate links / Images from Amazon Product Advertising API