Cocker spaniels are known for their affectionate nature, boundless energy, and heart-melting eyes.
But just like any other breed, keeping a Cocker spaniel happy takes a bit of know-how and dedication.
In this article, we'll explore the ins and outs of how to keep a Cocker spaniel happy and thriving, so your furry friend will always have a wagging tail and a beaming smile!
If you provide your Cocker spaniel with lots of exercise, good food, human company and a safe place to rest and sleep then he will be a very happy and comfortable dog indeed.
Exercise: A Happy Cocker Spaniel is an Active One!
Physical Activity is Key
Regular walks: At least two 30-minute walks daily
Playtime: Engage in games like fetch, tug-of-war, and hide-and-seek
Agility training: Cocker spaniels excel at agility courses and it helps keep their minds sharp
Swimming: A Splashing Good Time
Did you know that Cocker spaniels are natural-born swimmers?
Get your dog's tail wagging by introducing them to water-based activities. Just remember to always supervise your pup in the water!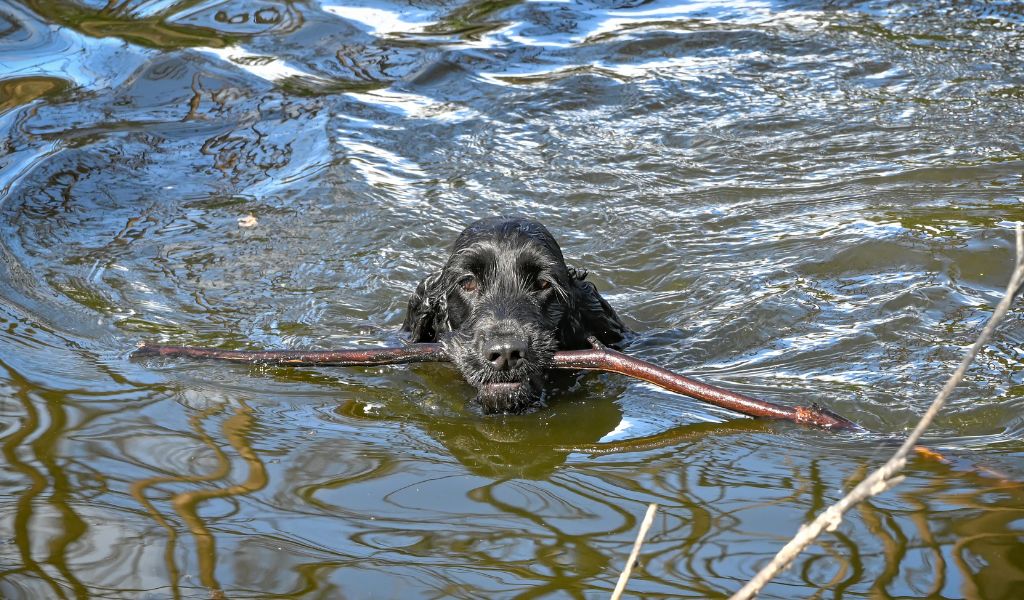 Mental Stimulation: Keep 'em Thinking!
Puzzle Toys and Brain Games
Puzzle toys: Invest in toys that challenge your dog's problem-solving skills
Hide-and-seek with treats: Keep your dog entertained by hiding treats around the house
Obedience training: Teach your Cocker spaniel new tricks to keep their minds engaged
Socialisation: A Well-Rounded Pup
Puppy classes: Start socialising your Cocker spaniel early to prevent behavioural issues
Dog parks: Regular visits to dog parks help your pup learn proper doggie etiquette
Playdates: Arrange playdates with other dogs to encourage social interaction
Grooming: A Brush a Day Keeps the Tangles Away
Regular Brushing: A Must for Cocker Spaniels
Daily brushing: Use a slicker brush to prevent matting and tangles
Trimming: Keep the hair around their ears, paws, and back end neat and tidy
Bath Time: A Squeaky Clean Pup
Bathe your cocker spaniel every 4-6 weeks with a gentle dog shampoo
Be sure to clean their ears regularly to prevent infections
Diet: A Well-Fed Cocker Spaniel is a Happy One
Nutritious Meals: A Balanced Diet
High-quality dog food: Opt for premium brands with natural ingredients
Watch portion sizes: Cocker spaniels can be prone to obesity, so measure out their food carefully
Healthy Treats: Reward Your Pup in Moderation
Choose low-calorie, nutritious treats for your cocker spaniel
Limit treats to no more than 10% of their daily calorie intake
FAQs: How to Keep a Cocker Spaniel Happy
How much exercise does a Cocker spaniel need daily?
A Cocker spaniel needs at least two 30-minute walks and additional playtime or training sessions each day.
How often should I groom my Cocker spaniel?
Brush your Cocker spaniel daily and trim their hair as needed. Bathe them every 4-6 weeks.
What type of food is best for a Cocker spaniel?
High-quality dog food with natural ingredients is ideal for your Cocker spaniel. Be mindful of portion sizes to prevent obesity.
How can I ensure my Cocker spaniel is properly socialized?
Begin socializing your Cocker spaniel early through puppy classes, visits to dog parks, and arranging playdates with other dogs.
What type of toys should I provide for mental stimulation?
Puzzle toys, treat-dispensing toys, and interactive games like hide-and-seek with treats are great options for mental stimulation.
Conclusion: A Happy Cocker Spaniel is a Well-Cared-For Pup
Keeping a Cocker spaniel happy is all about understanding their needs and providing a well-rounded routine that includes exercise, mental stimulation, grooming, and proper nutrition.
By following the tips and tricks outlined in this guide, you'll be well on your way to ensuring your Cocker spaniel leads a happy and fulfilling life, bringing joy to you and your family for years to come.
Last update on 2023-11-27 / Affiliate links / Images from Amazon Product Advertising API