If you have a Cocker spaniel puppy then you'll probably be keen to get out on walks and adventures with your pet.
However, you cannot rush this as your puppy can be exposed to all types of potential problems if you take him out too soon.
Your Cocker spaniel puppy will need to have vaccinations to protect him from a variety of health conditions that can be passed to him from other dogs. You should not take your puppy out until he has been vaccinated and, generally, this will not be before he is 12 weeks old. Your vet will provide sound advice on timescales.
Can a Cocker spaniel puppy go outside into the garden?
You should be careful letting your youngster go outside before he is vaccinated.
You should be able to take him into the garden for him to use the toilet but only do this if your vet says that it is okay to do so.
If you do let your puppy into the garden you should keep the time to a minimum, make sure that there is no dog or cat waste anywhere that he could get to and you should always supervise him fully – never leave him unattended.
First walks with a Cocker spaniel puppy
Once your Cocker spaniel puppy is fully vaccinated you will be able to take him out on walks in the local area. These should start off short and then gradually get longer.
You should not push him though – if he is tired or appears less enthusiastic about going on one particular day then do not force the issue.
Your puppy will need to explore his new world and you should take him to as many different places as you possibly can to help him to become familiar with sights, sounds and smells.
Sale
Is a Cocker spaniel puppy too young to go on long walks?
You will be surprised by how much your Cocker spaniel puppy can manage on his first outings.
However, you should not push him to take excessive exercise and if he appears tired or does not want to continue at any point then you should stop for the day.
Be careful not to overdo things and be prepared to have to carry your puppy if he gets tired.
You should aim to make walks an enjoyable experience and as much fun as possible.
Remember that a puppy is just a young dog and his energy and stamina levels will not be as high as an adult Cocker spaniel, so be sensible with lengths and types of walks.
If you start your puppy's exercise regime young then he will fulfil his potential and become a wonderful companion later in life.
Can I carry my puppy outside before he has vaccinations?
Although you can carry your puppy around outside before he is vaccinated you should really avoid the temptation.
Your puppy's vaccinations will help prevent him from getting a variety of nasty dog illnesses – some of which can be fatal.
There is always the potential for someone to stop and fuss your puppy who may have been in contact with an infected dog, there is also the risk of airborne infections that your youngster could catch.
It is exciting to have a puppy and to want to take them outdoors but it's always best to be cautious and patient.
Most vets say that you should wait until your puppy is fully vaccinated before taking him into public places as puppies are susceptible to nasty viruses like parvo virus and distemper.
Wait until he has had his vaccinations before taking him outside the home environment and always listen to and take your vet's advice.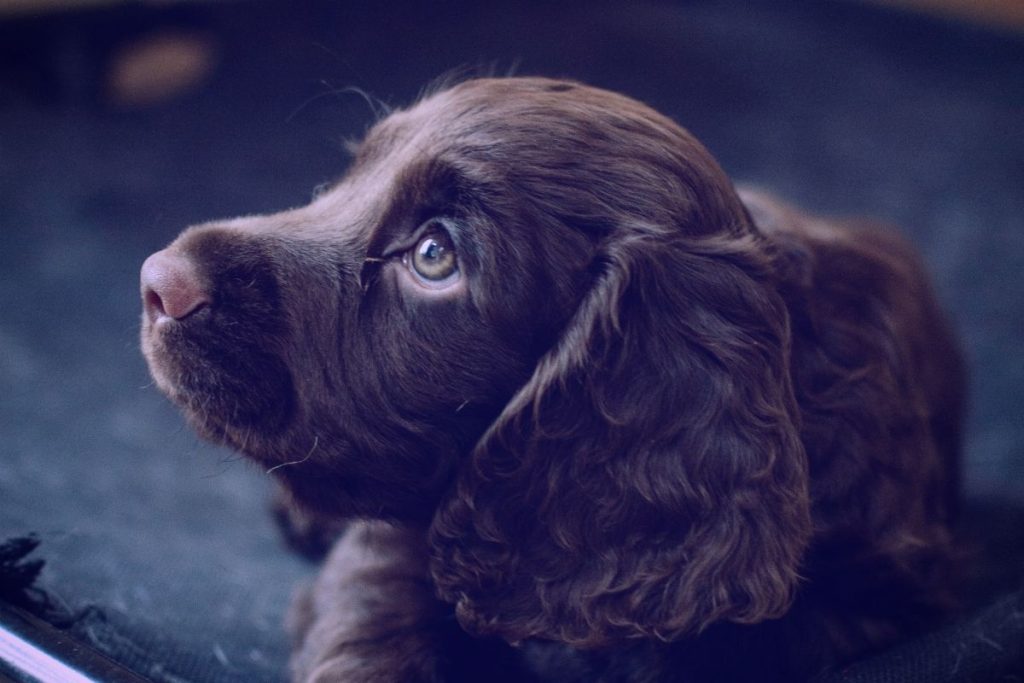 Can my Cocker spaniel puppy play with my older Cocker spaniels?
It is important that any dogs that your puppy might come into contact with are fully vaccinated and healthy.
If you are unsure about these other dogs and their vaccination/health status, then you should keep them away from your puppy.
Remember that vaccinated dogs can become unwell and, if they have been in areas where there are other dogs then it would be wise to try and keep your puppy away from them until the pup has been vaccinated.
On a practical level I have always made sure that my adult dogs are clean, particularly paws, when they meet puppies and that the whole process is supervised carefully.
Final Words
Always remember that your puppy is a baby and needs to be looked after properly.
Don't be too hasty to take him outside and always follow the professional advice of your vet.
Never take an unvaccinated puppy into public areas and keep him away from stranger's dogs and other animals that may be unwell and unvaccinated.
If you take things slowly and carefully then your puppy will develop into a wonderful companion for life.
Last update on 2023-12-07 / Affiliate links / Images from Amazon Product Advertising API