Do you know someone who loves their English Springer Spaniel more than anything else in the world?
Are you looking for that "perfect" gift to show your appreciation and love for Eng­lish Spring­er Span­iels?
We've rounded up a great list of gifts tailored to any type of English Springer Spaniel owner.
Whether they are an enthusiastic enthusiast or just looking for something special, this guide has got them covered!
Prepare yourself as we help find the best gifts to make your favourite English Springer Spaniel owners smile.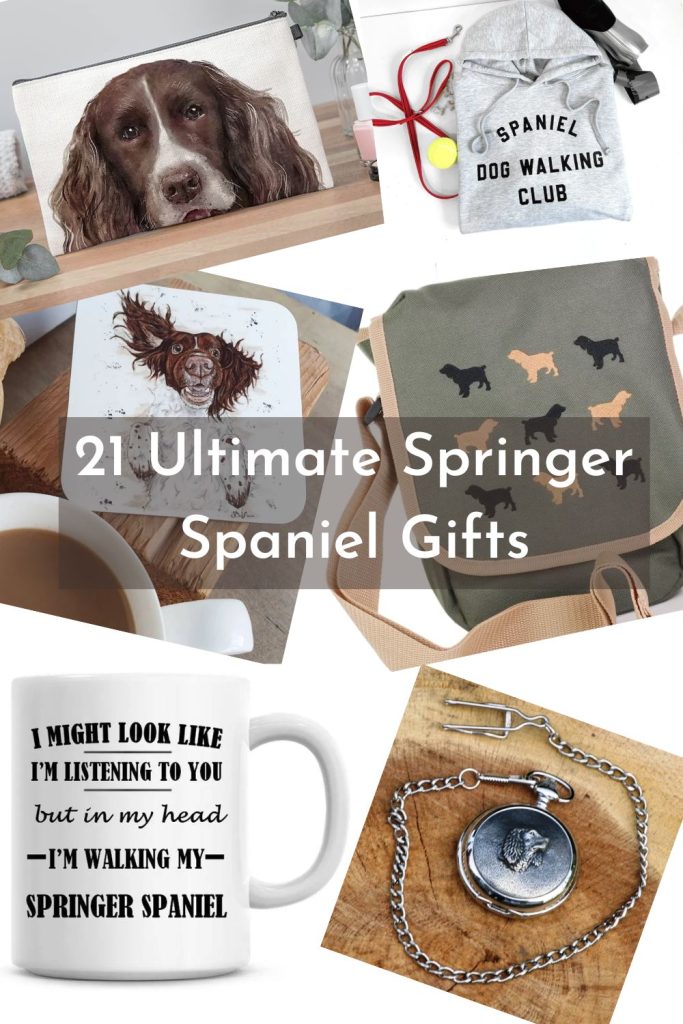 21 Ultimate Gifts for Springer Spaniel Owners
Dog lovers rejoice! Treat yourself or someone special with this whimsical Watercolour Springer Spaniel Makeup Bag.
Crafted from natural cream linen material and professionally printed in a studio based in the Cotswolds, your branded beauty bag comes equipped with high quality fabric, black zip fastening plus detachable wrist strap to make packing up quick & easy – all while expressing your love of Springers.
So fill it up with lipstick & blush'– you'll be ready for whatever life throws at you when carrying such an adorable accessory everywhere you go!
With its luxurious ring-spun cotton fabric and high-end flex printing, this great personalised dog walking hoodie gives English Springer Spaniel owners a premium blend of comfort and style.
You can trust that it'll look great for years to come – no cracks or fading in sight!
If you're a proud owner of an English Springer Spaniel or working Cocker, this stylish purse by Sophie Allport is the perfect accessory for your pup-focused lifestyle!
Featuring either a liver and white Springer or chocolate/brown working cocker design, it's made with beautiful medium weight fabric and comes complete with handy clip ons that easily attach to belts loops – ensuring all your dog walking essentials (like treats, earbuds and bank cards) are kept safe.
Show your love for this beloved breed with a set of four Springer spaniel coasters featuring Shannon Burns' art piece 'Did Somebody Say WALKIES?'
These stylish mdf and glass pieces capture the classic pose of our inquisitive friends – every proud English springer spaniel owner knows it as the 'sprawler'.
Invite laughter (and tidiness) to your coffee table, dining room or sofa side!
Looking for a way to take your love of Springer Spaniels up several notches? Then look no further than these fun and cozy socks from The Breed Boutique!
Soft enough that you'll forget they're there, but stylish enough that everyone will know exactly who's walking in the room.
Economically savvy too – this one size fits all gift is perfect for any shoe size between UK 5-11 or US 7.5-12.
Show off your loyalty with comfort today!
English Springer Spaniel owners will be the envy of all dog lovers with this fashionable and functional cross-body bag!
The stylish olive green shade is complemented perfectly by its caramel trim – making it an attractive addition to any ensemble.
And not just pretty, practical too – velcro fastenings keep contents secure while a fully adjustable shoulder strap ensures comfort for those (occasionally very long) country walks.
Plus, there's even a bonus zip pocket on the reverse for added security so your keys, phone or wallet remain safe throughout your canine adventures.
The House Of Dog has made the perfect product for fashionable Springer spaniel owners – a water repellent and teflon coated cap featuring genuine leather peak and warm wool blend fabric.
This stylish piece of headgear is not only chic but hard-wearing & durable as well; with an adjustable fit that's sure to keep you snug no matter what adventures await.
Give the perfect present to those die-hard Springer Spaniel owners.
This meticulously crafted tobacco tin box features an eye-catching pewter cameo of their beloved breed.
With a polished chrome lid and 100mm x 70mm size, it's sure to be appreciated – plus comes in its own stylish gift box for added pizzazz.
For those with a penchant for pooches, Esquivel and Fees have crafted the perfect piece of personalized jewelry.
With its shining sterling silver finish, exceptional detail and dimensional design weighing in at 14.2 grams – not to mention it's 1 1/8 inch width; this Springer Spaniel pendant is sure to bring out your inner pup parent pride.
And should you want gold or vermeil prices just enquire and they'll be happy to look at the options for you.
Treat yourself or a fellow English Springer Spaniel enthusiast to the perfect mug.
It can be personalised with your favourite photo, quote and more.
100% dishwasher safe and printed in high-glossy ink – this is a great mug that's sure to make anyone smile.
Looking for an unique way to show off your love of that special four-legged friend?
Thses stylish wall hooks will let everyone know who really rules the roost.
With over 20 colours available and made from robust materials, these gorgeous outline designs are perfect for snugly storing keys, leads and more.
Don't just settle for any old tie clip- why not add a touch of class with one inspired by the graceful form and instinctive movements of an English Springer Spaniel?
This unique piece is hand cut from Copper or Sterling Silver, soldered to a 50mm (5cm) x 6mm (0.6 cm)-clip and finished off in either brushed satin silver or oxidized black – sure to turn heads whenever you enter the room.
A perfect gift eye catcher that's certain to delight pet owners everywhere.
For the trendy English Springer Spaniel owner, this handmade cross-body bag is a must.
Not only does it feature realistic digitally printed sprites of your beloved pup – making sure you can take them with everywhere – but its lightweight design and adjustable strap ensure maximum comfort for any occasion.
And as an added bonus, there's even a pocket inside to store all those essential items like phones and pens.
For the discerning English Springer Spaniel owner, these luxurious soy wax candles are just what you need to bring a little extra pampering into your home.
Choose from 8 fragrances – cassis and fig for an intense green aroma; fresh linen reminding of freshly laundered clothes; lemongrass & ginger to warm up any space; lime basil & mandarin provides classic citrusy vibes…or surrender yourself in dark exoticism with black pomegranate.
Each candle is 100% natural and hand-poured into an apothecary style jar that will burn as long as 50 hours – it's heaven scent made affordable!
This exclusive pocket watch is the ultimate gift for any discerning English Springer Spaniel owner. Handcrafted from pewter, this 45mm diameter piece comes nestled perfectly into its own presentation box – ready to be personalized with free engraving of your choice.
Treat yourself or a loved one today.
Treat the Springer Spaniel lover in your life to a thoughtful gift that is sure to make them smile.
This stylish A6 size notebook features 50 pages of same elegant design on luxurious 120gsm silk paper with heavy grey board backing so it's perfect for slipping into their handbag or leaving out on a desk.
Looking for the perfect present to wow your English Springer Spaniel-obsessed friend? Look no further!
Perfectly tailored as a Birthday or Christmas gift, these unique drawstring bags feature vibrant HD prints of their furriest friends – sure to keep them looking snazzy from shopping sprees and stylish gym sessions all year round.
Plus, made with durable polyester material that won't fade over time, you can be certain this bag will always look its best.
For the sophisticated Springer spaniel owners, this keyring is a must-have: it boasts an elegant chrome finish and comes in a gift box.
Give them something special to show off their favourite breed with pride – there's no better dog themed present than this one.
19. English Springer Spaniel Traditional 2023 Calendar
20. English Springer Spaniel Modern 2023 Calendar
21. English Springer Spaniel Dog Expert Book By Marina Brown
Other Gift Ideas
Want more gift ideas for the dog people that you know?