Cocker spaniels are highly active and physical dogs that just love the outdoors.
Bred as a hunting dog the Cocker spaniel has a strong instinctive desire to find birds and other game and, in some cases may chase these animals.
In the case of ducks and other wildfowl this may be near to water so you may be concerned and wonder Can Cocker spaniels swim?
The answer is Yes, Cocker spaniels are very good swimmers. They have a natural and strong ability to swim and if you take precautions when introducing a young Cocker spaniel to water your dog will become a strong and capable swimmer.
Are Cocker spaniels swimming dogs?
Cocker spaniels were originally bred as shooting and hunting dogs and are still widely used for this purpose in many countries.
The American and English Cocker spaniels are nowadays classed as different breeds but they both originated as hunting dogs in England.
Both breeds of Cockers have a love for water and can become strong and with training and practice can become very strong and competent swimmers.
Their webbed feet and double, water repellant coats provide them with the protection and ability to be good water dogs.
Why do Cocker spaniels swim?
As hunting dogs Cocker Spaniels normally find and flush game which is then shot.
In the case of ground game such as rabbits or hares this is easily picked up by either the dog or the hunter.
When we shoot fowl, such as ducks or geese then there is a chance that these will fall into water, either rivers, ponds or the sea and our spaniel will need to be able to retrieve them.
As part of our Cocker's training we can use training dummies or tennis balls that we can throw into water for him to retrieve, this can eventually be replaced by the real thing when he is older and more confident.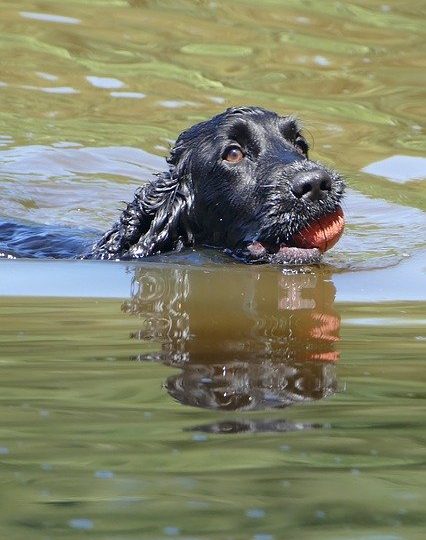 Getting your Cocker spaniel into the water
Although you shouldn't have too much trouble getting your spaniel into water there are a few things that you need to remember if you have difficulty.
Cockers love water and mud and will always end up getting wet and dirty from puddles and anywhere else where they can, but running water or large volumes can frighten a young dog.
There are many old wives tales that suggest that you should throw a dog into the water if he will not get in, You must not do this at all.
If you do then you will scare your dog and, you may even have to go in after him to stop him from drowning.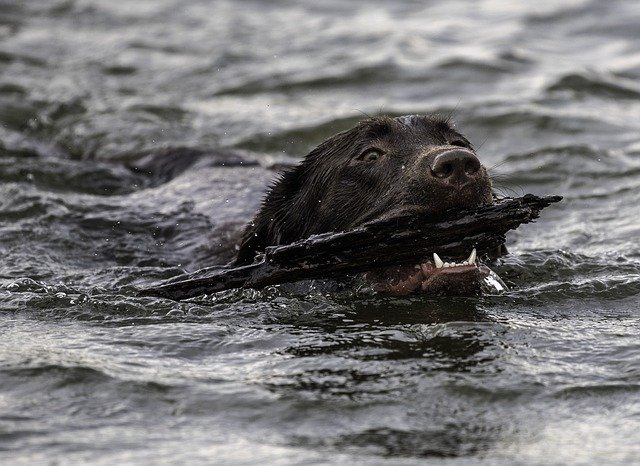 The easiest and most fun way to get your spaniel into water is through play.
Pick a warm, calm day and take your dog to the river, lake or sea.
Let your dog run around and get hot, maybe play fetch with a ball to get him running around.
When he is warm and panting, take him to the water's edge and encourage him to paddle, if necessary take your shoes off and paddle with him.
Get him to have a drink if it's freshwater and maybe splash him a little.
Throw some pebbles in and see if he's interested in looking for them.
Be encouraging and use these early days as playtime to help him to become confident in water.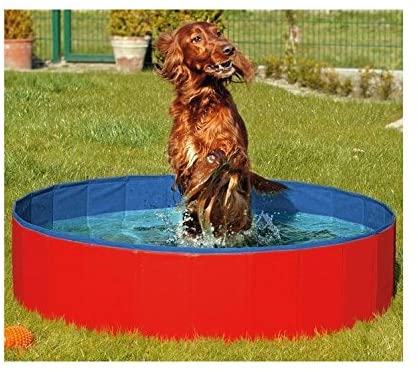 Try a paddling pool for your spaniel
If you don't have easy access to open water then another option to help you to get your Cocker used to water is in the form of a dog paddling pool.
We have one just like the one above for our Cockers which is out in the back garden. The dogs love it.
They are a great way to help puppies and nervous dogs become familiar with water and, because they are shallow and in a place that the dog is familiar with ( his home ) it makes it easier and more comfortable for him.
Although not a replacement for a pond or river, a paddling pool is a simple option for your spaniel. It is also a great plaything for him and a great way to keep cool on a hot day.
Encourage your Cocker to play in water
To help your Cocker to become more confident you can play with him when he is in or near water.
You can play fetch with a ball or dummy, throw it into shallows in the lake or river, or  throw it into his paddling pool and encourage him to go in and bring the object back.
This will mean that he will have to get his paws and his face wet and, providing he enjoys retrieving and it is not too cold, he should quickly get the hang of it and enjoy the game.
When you start off don't do too much and when your dog gets it right make a big fuss of him.
By using reward after and during water games such as this it will encourage him to swim and he'll quickly learn that swimming is a fun thing to do.
Go paddling or even swim with your spaniel
Cockers love to have fun and, if you can make swimming a fun activity, then you have a greater chance of success with your dog.
One way to get your Cocker excited about going into water is to go in with him.
This is also helps you to understand the benefits of choosing warm weather for water based training and really affirms the point that water work is always best in the summer.
Your dog will love it if you go for a swim too.
Helping your Cocker spaniel to improve his swimming
Often the best way to do this is to take another dog with you that is a good swimmer. Let the older dog swim and encourage your spaniel to join in and take part in the fun.
If you don't have another dog then why not get in with your spaniel? Swimming with your dog is great fun as long as it is safe for you both to do.
Gradually take your dog into deeper water, gently encouraging him and, when his paws leave the floor he'll start to 'doggy paddle'. At first it will probably be very splashy.
Encourage your dog and, if necessary, hold him up gently by his tummy and let him swim back to shore.
It is important that he goes back to land so that he realises that he is in control and that he can reach safety through swimming.
Always make sure that when you go to open water that is is calm and quiet and safe for both you and your dog.
Make the swimming more challenging
As your Cocker gets bigger and stronger and becomes a better and more confident swimmer you can begin to make his swimming more challenging.
By using training dummies or tennis balls, you can throw retrieves into the water, starting gradually and building up until he can swim out a good, safe distance.
If there is an island then you can throw a dummy onto this so that he swims and then retrieves from land before swimming back again.
With a little creativity you can help your Cocker to develop his swimming while learning new skills and building up his knowledge of being a gundog.
Take your time with this training, be aware of the weather and temperatures and always make sure that it is safe.
Water safety with your Cocker spaniel
Swimming is hard work, not just for humans but for spaniels too and you should always be watchful that your Cocker does not wear himself out.
As well as the energy and weariness, water also presents risks in terms of accidents and currents, both of which can have dreadful consequences.
If you are on holiday, maybe at the beach, boating or somewhere else where your dog will be in the water a, lot, then make sure that you supervise him and make him take regular rest breaks. 
It may be a good idea to get your spaniel a flotation vest which he can wear while swimming and this is particularly sensible if you are doing a lot of water activities where your dog is involved.
Learn some dog CPR
It sounds awful but accidents can happen and when water is involved, whether humans or dogs, seconds count and can make the difference.
Learning some basic mouth to nose resuscitation and how to perform chest compressions on your spaniel could mean the difference between life and death.
Many colleges provide basic first aid courses for dog owners which include resuscitation.
There are also some great dog first aid books available such as this one from Amazon.
If your dog does have an accident in water, then you should always get him to the vet immediately.
FAQs
Can Cocker Spaniels swim?
Yes, Cocker Spaniels can swim. They are generally good swimmers due to their athletic build and webbed feet.
Are all Cocker Spaniels naturally inclined to swim?
While most Cocker Spaniels have a natural inclination to swim, individual preferences may vary. Some may take to the water more readily than others, but with proper training and encouragement, most Cocker Spaniels can enjoy swimming.
Is it safe to let my Cocker Spaniel swim in open water?
It is generally safe for Cocker Spaniels to swim in open water, such as lakes or the sea, as long as certain precautions are taken. Ensure the water is calm and free of hazards, such as strong currents or dangerous wildlife. Additionally, consider using a life jacket for added safety, especially if your Cocker Spaniel is not a confident swimmer.
How can I introduce my Cocker Spaniel to swimming?
To introduce your Cocker Spaniel to swimming, start in shallow water and allow them to gradually acclimate. Use positive reinforcement, such as treats and praise, to create a positive association with water. Slowly increase the depth and encourage them to swim towards you. Patience and a calm, encouraging approach are key.
Are there any Cocker Spaniels that may have difficulty swimming?
Some Cocker Spaniels may have physical conditions or health issues that can affect their ability to swim. For example, if your Cocker Spaniel has arthritis or joint problems, swimming may be challenging or uncomfortable for them. It is best to consult with your veterinarian to assess your dog's specific condition and determine if swimming is suitable.
Final Words
Have we answered the question – Can Cocker spaniels swim?
Well it's clear that they can swim and that with the right introduction to water that they can become competent and strong swimmers.
Whether your Cocker is to be a working dog or a pet it is important that he is confident in water and that, if he ever fell in, he could swim to safety.
Always supervise your spaniel when he is near water to ensure that he is safe and never send him into a situation which could endanger his well being.
Last update on 2023-12-07 / Affiliate links / Images from Amazon Product Advertising API