If you're a Cavalier King Charles owner, you're probably wondering how often you should walk your furry friend.
After all, exercise is important for all dogs, and you want to make sure you're giving your Cavalier the appropriate amount. Keep reading to learn more about how often you should walk a Cavalier King Charles.
The amount of exercise a Cavalier needs will depend on a number of factors, including age, health, and energy level. However, as a general rule of thumb, most Cavaliers will need at least 30 minutes of exercise every day. This can be broken up into two or three shorter walks, or one longer one. If your Cavalier is particularly energetic, they may need up to an hour of exercise per day. 
How often should you walk your Cavalier?
As a general rule of thumb, your cavalier's walks should last for at least 20 minutes.
This gives them enough time to stretch their legs and get some much-needed exercise, without overdoing it.
If you live in a hot climate, or if it's particularly humid out, make sure to shorten the walk to 10-15 minutes so that your dog doesn't overheat. 
Cavaliers are bred as companion dogs, which means that they love spending time with their humans.
For that reason, they may not need as much exercise as some other breeds; a short daily walk is usually enough to keep them happy.
However, if you have an especially high-energy cavalier, or if you live in a cold climate where they can't go out as often, you may need to supplement their walks with some indoor playtime. 
Why exercise is important for Cavaliers 
Exercise is important for all dogs, but it's especially important for Cavaliers.
That's because Cavaliers are susceptible to a number of health problems, including obesity and heart disease.
Exercise can help keep these conditions at bay by maintaining a healthy weight and strengthening the heart muscle.
In addition, exercise is a great way to keep your Cavalier happy and mentally stimulated.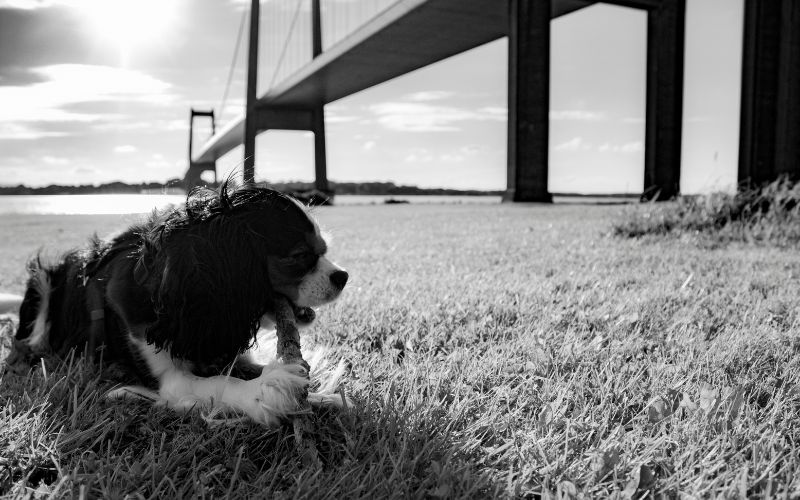 What if you miss a walk?
Of course, there will be times when you can't stick to this schedule—and that's perfectly okay.
Life happens, and sometimes walking your dog just isn't possible.
Just make sure that you don't let too many days go by without taking them for a walk; otherwise, they may become stir-crazy (and destructive). 
Provide your Cavalier with plenty of opportunities to run and play.
This can be done in your own backyard or at a nearby park.
If possible, try to give your Cavalier at least 30 minutes of exercise per day.
Final Words
Walking your Cavalier is a great way to bond with them while giving them the exercise they need to stay healthy and happy.
Most Cavaliers will need at least 30 minutes of exercise every day, which can be broken up into shorter walks throughout the day.
Remember to use a good quality lead and collar (or harness), start off with shorter walks around the block until your pup gets used to it, and take the weather into account when planning your walks.
Last update on 2023-12-10 / Affiliate links / Images from Amazon Product Advertising API