If you have a Springer spaniel, you know that they love to run and play. But when it's time to walk on the lead, they can be a bit challenging. Here are some tips to help train your Springer spaniel to walk on the lead.
Start when your Springer is a youngster and take him out for short walks regularly. When he pulls, stop, sit him down and wait until he calms down before you move off again. Visit different places and be consistent.
Start when he is a puppy
As soon as your Springer is old enough to take out you should introduce him to the lead.
Don't expect him to like it or to walk properly on the first few occasions.
He will pull, struggle and generally behave like a fish on a line to try and get away from this restriction on his freedom.
Be gentle and encourage him. Use the lead in moderation and try him with it in the house before you venture outdoors.
A few minutes at regular intervals throughout the day will help him to quickly become used to the lead.
What's the best type of lead for a Springer?
There are a few things to consider when choosing a lead for your dog.
The first is the material. You'll want to choose something durable that can withstand being pulled on by an energetic dog.
Rope based leads are a good option, they are strong and comfortable for your dog to wear.
Another thing to consider is the length of the lead.
For a Springer, a shorter lead is usually best so that they don't have too much freedom to pull you around.
This will help to prevent them from getting tangled up or getting into trouble.
Finally, you'll also want to make sure that the lead is comfortable for you to hold onto.
A padded grip will make it more comfortable for you to keep a firm grip on your dog.
Recommended leads for spaniels
Sale
Grand Line Durable Slip Lead Dog Leash, 1.5M Reflective Training Dog Lead Slip Rope, Anti-choking Adjustable Pet Slip Lead for Small, Medium, Large Dogs and Cats (1.5m*0.6cm, Grey-Green)
✅ 【Easy & Quick】The slip lead combines the functions of a leash and collar into one, eliminating the need for an additional collar. It features a loop design that effortlessly slips over your dog's head.
✅ 【Adjustable Fit】The slip dog rope allows you to customize the tightness around your dog's neck, ensuring a secure and comfortable fit. In case of emergencies or when needing to remove the leash quickly, it can be instantly released by pulling on the handle loop.
✅ 【Durability】This slip lead dog leash are made from durable materials like nylon and leather, enabling them to withstand sudden pulls from dogs and regular use over an extended period.
✅ 【Control and Safety】The anti-choking dog chain provides excellent control over your dog while minimizing the potential choking hazard associated with traditional choke chain collars. The design includes an anti-choking tab for added safety.
✅ 【Essentials for Dog Lovers】This dog training leash feature reflective elements that increase visibility during nighttime walks. This makes it a convenient choice for dog walking, training, and overall control.
Take him out to different places on the lead
It is important for your Springer to experience different places, sights, sounds and environments while training him to walk on the lead.
Your aim is to encourage your Springer to behave calmly, no matter where you are.
Springers can be excitable and will often react to distractions such as other dogs, animals and people and will pull to try and say 'hello'.
Work with your dog and encourage him to be calm. Sit him down and reward him for being patient and for not pulling.
Follow some simple principles
Start with a short leash and gradually increase the length of it as your dog gets used to walking on the lead. Make sure the leash is comfortable for you and your pet.
Don't pull or jerk on the leash, as this could cause your pet to become fearful of being on it. Instead, reward your Springer for following you and staying close with treats, praise or a favourite toy.
Take frequent breaks during walks so your dog can explore and sniff when needed.
This will give them the chance to get used to walking on the lead without feeling overwhelmed or restricted.
If your pet stops while walking, don't yank them forward.
Instead, stop and offer encouragement until they start to move again.
Use a rewards-based training program to teach your spaniel proper leash etiquette, like walking at your side without pulling on the lead.
Take walks with other pets or people that your dog knows, as this can help them stay focused on walking rather than barking or chasing other animals.
Finally, make sure you are giving your Springer spaniel plenty of exercise and mental stimulation during the day so they don't get overly excited when it comes time to walk on the lead.
How to stop a Springer spaniel from pulling on the lead
An English Springer spaniel is a high energy dog that loves to run and play and this enthusiasm for life can make them excitable and prone to pulling on the lead.
If your Springer is pulling then there are a few things that you can do that will help to stop this behaviour.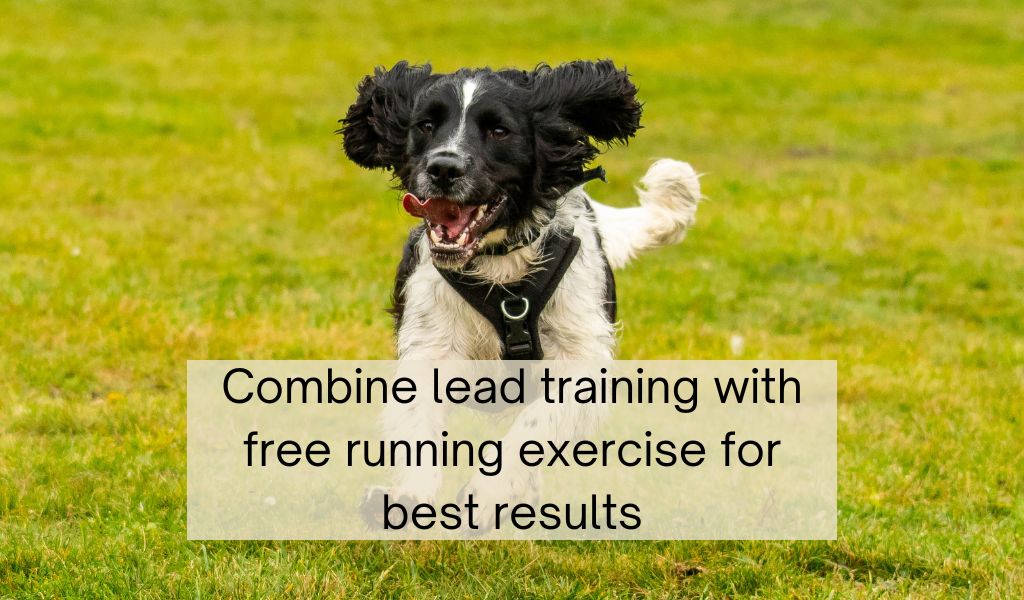 Make sure that your dog has a properly fitting lead or harness
A loose lead or harness can encourage your spaniel to pull as he may think that he can escape and run free – so ensure that his collar, harness or lead fits properly.
Snagging or looseness can be as bad as a tight fitting device and both can cause discomfort and potential chafing, irritations that could encourage your Springer to pull in an attempt to get free.
Keep your walks interesting
It's important for a Springer to run free. This allows him to explore and chase after his nose, checking for scents and burning off excess energy.
A spaniel that is constantly restricted to walking on a lead will become frustrated and will constantly pull in an effort to break free and run.
So, make sure that you provide your Springer with sufficient free running exercise to satisfy his desire to hunt.
Always walk your Springer on the same side
Consistency is important too. Whenever you walk your Springer on his lead make sure that you stick to walking him on the same side of your body.
So, choose a side ( most people have the left ) and walk him on that side of your body every time.
Control the pace
Every breed of spaniel pulls on the lead, and Springers are no exception.
When your Springer begins to pull on his lead either slow down the pace or stop and make the dog sit down.
The idea is to show your Springer that pulling equates to a reduction in pace ( and therefore longer to get to his free running exercise ) or, that the walk stops completely when he pulls.
When he has calmed down then recommence the walk and, when he pulls, stop again.
Continue this as often as is necessary to show your spaniel what is needed.
Change direction
Hold the lead in close and walk your Springer next to you. As he begins to pull change direction.
So, if your Springer is walking on your left, turn to the right. This will encourage him to walk closer to you ( without him realising it ) and will naturally break his pulling.
You can practice this regularly to encourage him to reduce pulling and by turning across his path as well ( turning left ) you will help to embed this aspect of training more fully.
Use treats
Rewards are a great way to encourage good behaviour such as walking to heel. Provide treats for your Springer when he is walking properly and be sure to give plenty of praise too.
This will help him realise that by walking at your side without pulling on the lead, he will get a reward.
Treats and reward-based training work very well with Springers, so make use of them to further encourage your dog to stop pulling on the lead.
Final Words
Lead training for spaniels is not difficult it just takes patience and consistency.
With a bit of practice, your Springer will soon be walking on a lead like a model dog and you'll both enjoy the walks together much more.
So don't give up -with plenty of patience, focus and rewards you'll be able to stop your Springer from pulling on the lead in no time.
Last update on 2023-09-29 / Affiliate links / Images from Amazon Product Advertising API