If you're a Springer spaniel owner, chances are you've wondered "when do these dogs calm down?"
It's a valid question, after all, they are known for their high-energy levels and boundless enthusiasm.
Most Springer spaniels will begin to calm down at around 3 to 4 years old. However some may take longer while others may never really settle down. A good daily walk and run will help your Springer to use his energy up and calm down.
When will a Springer calm down?
Springer spaniels are known for being lively, joyful dogs.
They are hunting companions that were bred to have lots of energy and stamina.
This high energy level is one of the things that people love about Springer spaniels.
Generally speaking, most Springers will start to settle down around 2-3 years of age.
However, some may take longer, and some may never really "settle down."
If you've got a high-energy dog, you can expect them to need plenty of exercise throughout their lifetime; a good long walk or run every day will be necessary to keep them healthy and happy. 
What to expect with a Springer
The Puppy Years
For the first year or so of their lives, Springer spaniels are, well, like puppies.
They will have lots of energy and not a lot of regard for personal space.
This is the time when they need the most exercise, both to burn off all that excess energy and to tire them out enough that they'll actually be able to sleep at night.
A daily walk or run is a must, along with plenty of playtime in the garden (if you have one).
The Toddler Years
Things start to even out a bit during the second year.
Springer spaniels will still need plenty of exercise, but they'll also begin to develop some self-control and, as a result, training will become easier.
It's important to channel your dog's energy through training or productive play.
Anything that challenges a Springer physically and mentally, such as general spaniel training, obedience training and games such as hide and seek and fetch, will help to tire your spaniel out.
Calming Down At Last
By the third or fourth year, most Springers will have finally reached maturity and begun to calm down.
They'll still need regular exercise, but won't be quite so hyperactive as they were in their youth.
However a healthy Springer will still be incredibly active and will need daily exercise both to keep him fit and healthy and also to burn up some of those spaniel calories to tire him out.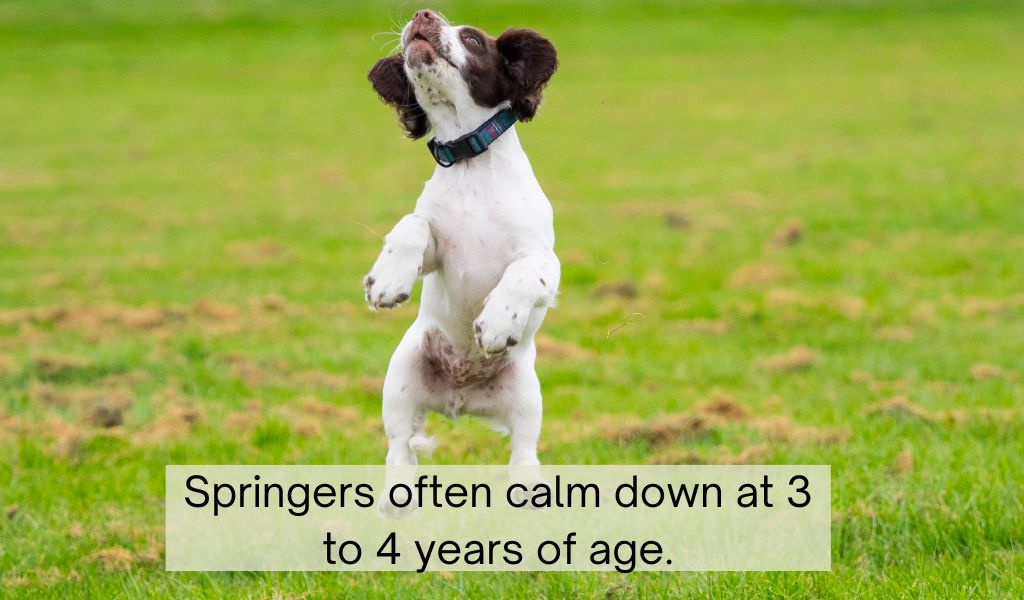 How to help your Springer to be calm
There are a few things you can do as an owner to help your Springer spaniel calm down sooner rather than later.
First and foremost, provide plenty of exercise for your dog.
This will help burn off some of that excess energy and hopefully tire them out enough to be more relaxed indoors.
Secondly, continue training your dog beyond the basics as teaching them obedience commands and tricks will help them focus their energies in a positive way.
Finally, make sure you're providing plenty of love and attention, all dogs thrive on companionship, so the more time you spend with your spaniel, the calmer they'll become. 
FAQs
When can I expect my Springer Spaniel to start calming down?
Springer Spaniels typically begin to show signs of calming down between 2 to 4 years of age. However, individual dogs may vary in their development.
Is there a specific age when Springer Spaniels become less hyperactive?
While there isn't an exact age, most Springer Spaniels start to exhibit reduced hyperactivity and increased focus as they reach their adult years.
How can I help my Springer Spaniel become calmer?
Regular exercise, mental stimulation, and consistent training are essential for promoting calm behaviour in Springer Spaniels. Ensuring they have a structured routine and providing outlets for their energy can be beneficial.
Can neutering or spaying affect a Springer Spaniel's energy levels?
Neutering or spaying may have a slight impact on energy levels in some Springer Spaniels. However, it varies from dog to dog, and individual temperament and genetics play a significant role in their overall energy levels.
Is it normal for my Springer Spaniel to have bursts of energy followed by calm periods?
Yes, it's quite common for Springer Spaniels to have bursts of energy, especially during their younger years. They may have short periods of high activity followed by longer periods of relaxation.
What are some signs that my Springer Spaniel is starting to calm down?
Signs of a Springer Spaniel calming down may include reduced hyperactivity, improved impulse control, settling down more easily, and being less easily distracted.
Are there any specific activities that can help tire out my energetic Springer Spaniel?
Engaging your Springer Spaniel in activities like long walks, runs, fetch games, and mental challenges such as puzzle toys or scent work can help tire them out both physically and mentally.
My Springer Spaniel is still hyperactive even after exercise. What should I do?
Some Springer Spaniels have a high energy level that requires more than just physical exercise. Consider incorporating additional mental stimulation, such as training sessions or interactive toys, to help channel their energy.
Are there any behavioural changes that may indicate my Springer Spaniel is maturing and becoming calmer?
As Springer Spaniels mature and become calmer, you may notice reduced destructive chewing, decreased jumping, improved impulse control, and an increased ability to relax and settle.
Should I be concerned if my Springer Spaniel is not calming down as expected?
While Springer Spaniels generally become calmer with age, each dog is unique. If you have concerns about your Springer Spaniel's behaviour or energy levels, it's best to consult with a veterinarian or a professional dog trainer to evaluate their specific needs.
Final Thoughts
Springer spaniels are active dogs that require a lot of exercise and attention, but if you're patient, they will eventually calm down.
Most Springers will start to mellow out around the age of two or three, but some may take longer to reach their full adult personalities.
Just remember that every dog is different and will mature at his own pace.
If your dog seems to be taking longer than average to calm down, don't despair—he'll get there eventually
To help your dog settle down sooner, make sure you're providing plenty of exercise, continuing their training beyond the basics, and spending quality time with them on a regular basis.