Dogs vary in terms of their intelligence levels with some being 'brighter' than others.
So, how does the English Springer spaniel fare and are they intelligent dogs?
Yes, English Springer spaniels are considered to be an intelligent breed of dog. In fact, they rank 13th out of 89 on Stanley Coren's list of the smartest dog breeds. This means that they are able to learn and understand new commands with fewer repetitions than most other breeds.
How is a dog's intelligence measured?
There are a few different ways to measure a dog's intelligence.
One is by looking at how easily they can be trained.
This is often referred to as "obedience intelligence."
Studies have shown that Springer spaniels are highly intelligent in this regard and are able to learn new commands quickly.
In fact, they rank in the top 20% of all dog breeds in terms of obedience intelligence. 
Another way to measure a dog's intelligence is by looking at their "working and problem-solving" abilities.
This includes things like being able to figure out how to open a door or find a hidden toy.
Again, Springer spaniels excel in this area and are ranked as one of the top 10 smartest dog breeds when it comes to working and problem-solving ability.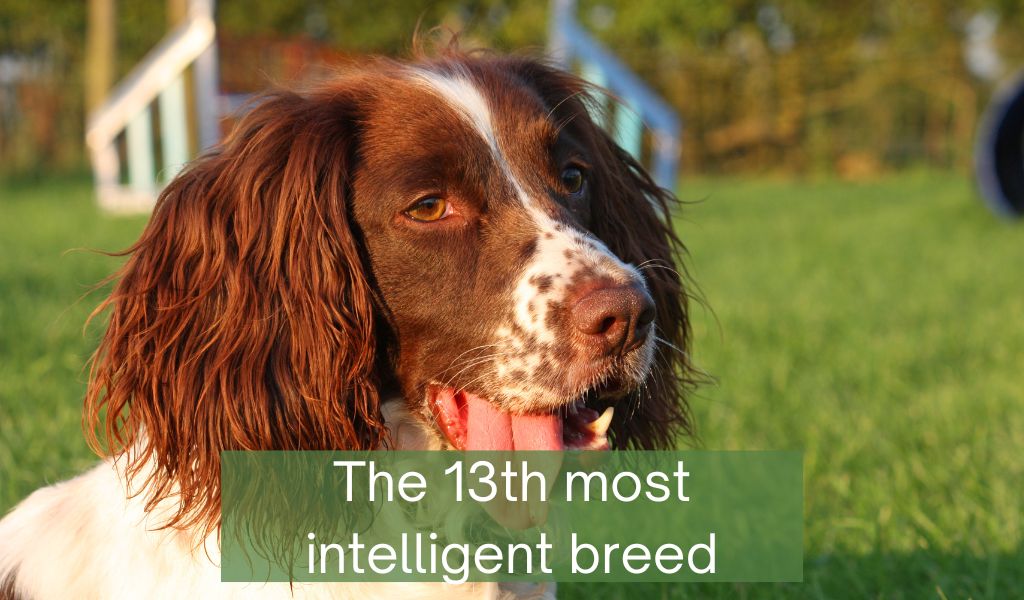 Why are Springer spaniels so clever?
So, what makes Springer spaniels so smart?
Part of it has to do with their genes.
Springers have been bred as working dogs for many, many years and the heritage of the breed has resulted in dogs that are intelligent and quick-thinking.
Another factor that contributes to the intelligence of Springer spaniels is their social nature.
Dogs that are socialized early on in life and have a lot of contact with people tend to be more intelligent than those who don't.
This is because they have more opportunities to learn from humans and are exposed to a wider range of stimuli.
Springer spaniels are also highly food motivated, which means that they are more likely to learn quickly if there is a treat involved.
This makes training them a lot easier for owners as they are more likely to respond to positive reinforcement.
Final Words
In conclusion, yes – English Springer spaniels are considered to be an intelligent breed of dog.
If you are thinking about getting one, rest assured knowing that you will have a smart and obedient companion by your side.
However, just because they are intelligent does not mean that they will be easy to train – all dogs require time, patience, and effort to be properly trained.
But if you are willing to put in the work, then an English Springer spaniel might just be the perfect companion for you.
Read Next
Last update on 2022-11-28 / Affiliate links / Images from Amazon Product Advertising API