Transport crate for dogs, with wooden walls and base, very sturdy, slanted, with handy thermal mat, wide ventilation openings, easy assembly, with quick-release lock, made from aluminium.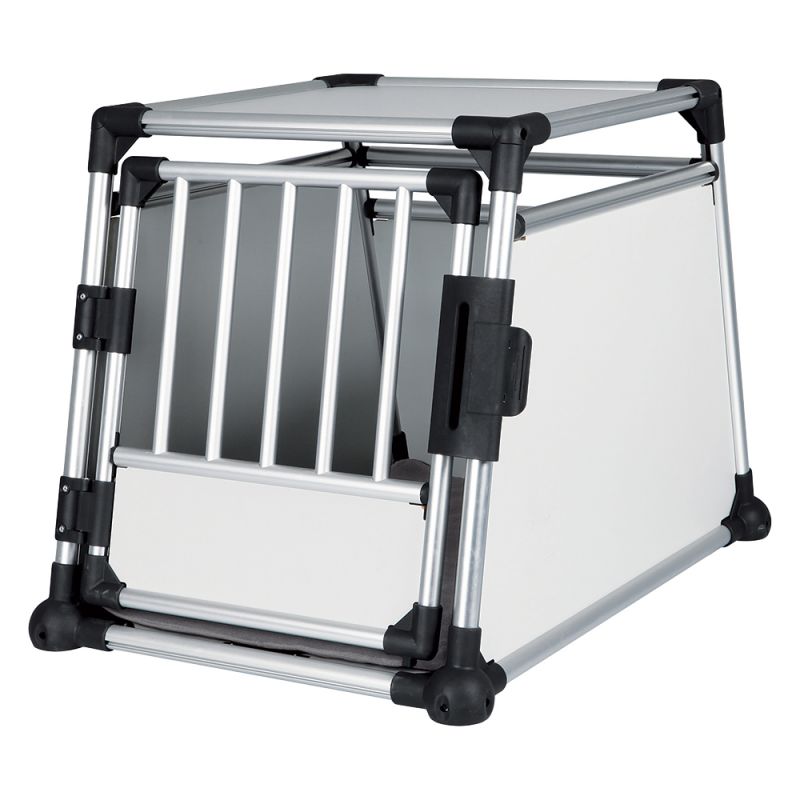 This aluminium transport crate by Trixie is a safe solution for travelling by car with your dog.
The front and back sides are slanted which means that the crate fits easily into the car boot. The crate is constructed to be stable yet light (23kg) as it is made from aluminium.
Sale
Trixie 39342 Transport Box, Aluminum, M—L: 63 × 65 × 90 cm, silber/light grey
With aluminium frame, extra stable, safe and quiet
High closed walls for a clean stand and more safety
Wide grid inserts for good ventilation and clear view through the rear window
Optimal utilisation of the boot thanks to slanted sides
Door with safety lock. Animal weight (lbs): 70; opening: 58 52 cm. With non-slip thermal blanket: machine washable up to 30 °C. Note: Gently accustom your pet to the transport box before first use. The transport box is not suitable for permanent use. Make sure that the box cannot slip during use
The high back wall and sides ensure that your car boot stays clean and your pet stay safe.
The transport crate has wide bars to ensure that air circulates well and that your pet has a good view out of the rear window of the car.
The door on the front side allows your pet to get into the crate easily and has a secure lock. This crate is fitted with a thermal mat for extra comfort while travelling.
This sturdy transport crate offers great value for money!
Trixie Aluminium Dog Crate at a glance:
Robust aluminium crate with bars
Frame, doors and bars made of aluminium
Wooden base
Diameter of aluminium bars in door: 1.9cm
Space between bars in door: 5.8cm
Ventilation openings max. 7.3cm
Weight: 23kg
Easy to assemble
High back and side walls
Wide space between bars for excellent ventilation
Snap lock
Thermal mat Included
WILL IT FIT YOUR VEHICLE?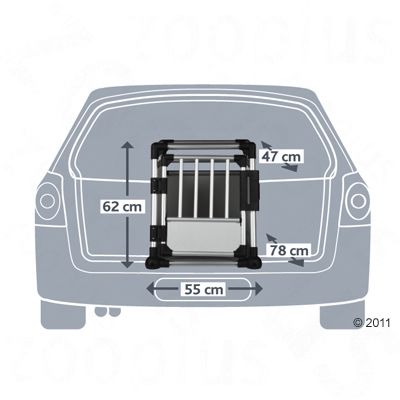 Last update on 2023-09-29 / Affiliate links / Images from Amazon Product Advertising API