Are you in the market for a metal dog cage? If so, you're probably wondering which model is best for your dog.
There are a lot of different cages on the market, and it can be tough to decide which one is right for your needs.
In this blog post, we'll take a look at some of the best metal dog cages available today.
We'll also provide tips on how to choose the right cage for your dog.
So whether you're looking for a small or large cage, we've got you covered.
5 Best metal dog cages
Best metal dog cages review
We looked at 5 popular metal dog cages, their features, build and value for money so that you can decide which is best for your dog.
Ellie-Bo Metal Dog Cage
If you're looking for a comfortable and secure place for your favorite four-legged family member to stay, the Ellie-Bo Dog Crate has you covered.
Perfect for puppies, small to large dogs, this high-quality cage is designed with convenience in mind.
It features two doors that can be opened or closed depending on the situation, giving your pup a safe and enclosed space when needed.
The frame is made of durable metal to ensure strength and longevity.
The folding construction makes it easy and convenient to move, while the removable tray makes cleaning a breeze.
Available in 5 sizes.
Ellie-Bo Dog Crate Dog Cage from Small to Large, Foldable Puppy Dog Crates , Cage Furniture with Non-Chew Metal Removable Tray Silver Folding 2 Door Crate, Medium Size 30-inch(76.2cm) Black
2 new from £45.01
1 used from £35.21
Free shipping
Dog Cage Puppy Pet Crate Carrier
The Dog Cage Puppy Pet Crate Carrier is a high-quality metal dog crate that is perfect for small, medium, and large dogs. It is made of durable metal and features two heavy-duty hook latches on each door.
The Dog Cage Puppy Pet Crate Carrier also comes with a removable plastic tray for easy cleaning. It can be folded flat for easy storage and transportation.
Available in 5 different sizes this metal dog cage is perfect for dogs of all sizes.
Product Features:
– High quality durable metal dog cage with movable carry handle.
– Black powder coated to stay rust free.
– 2 Doors for easy access/exit with heavy duty hook latches on each door way.
– Folds flat for ease of storage and transportation.
– Plastic removable tray for easy cleaning.
– Packed with brand new carton box.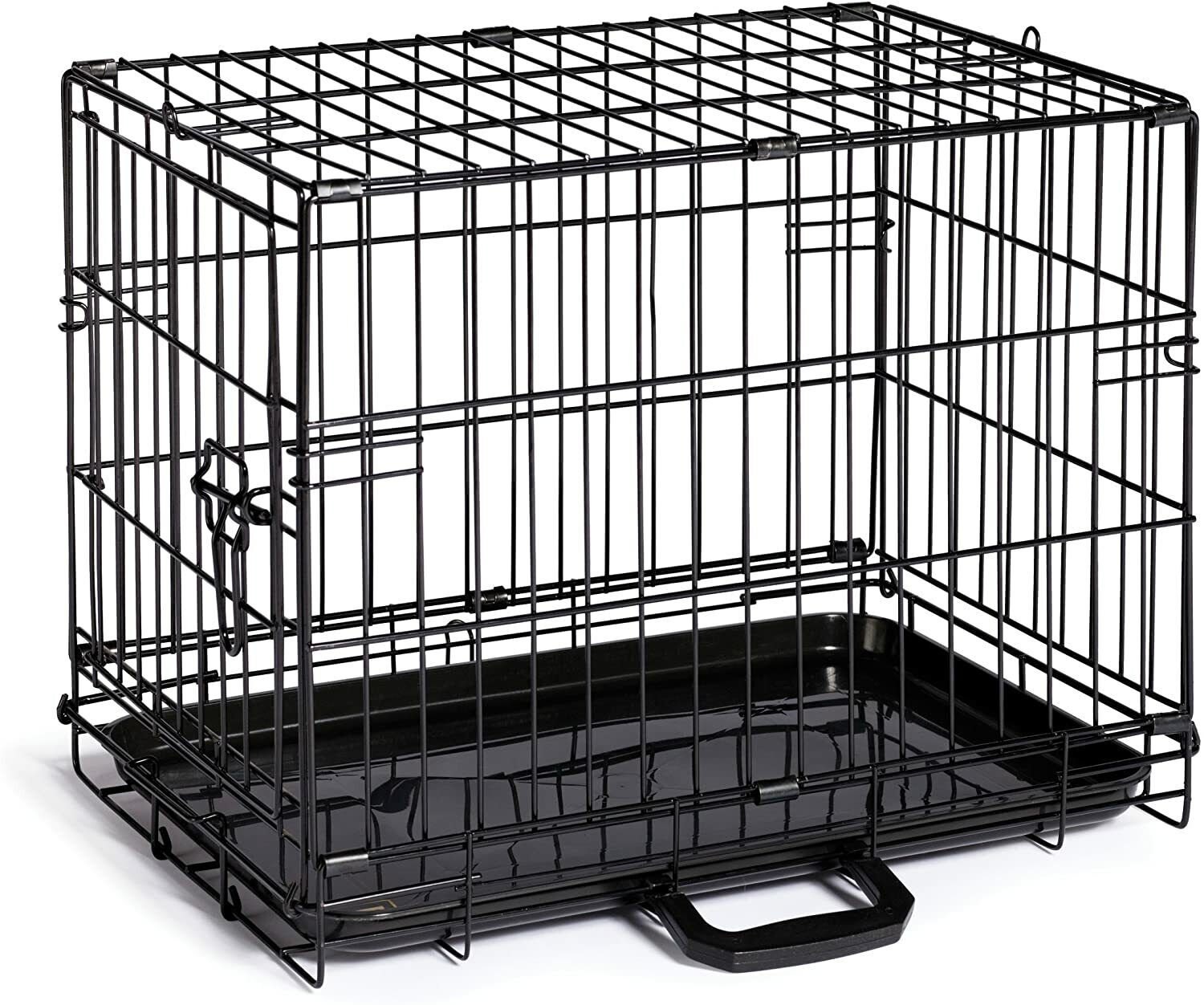 Dog Cage Puppy Pet Crate Carrier – Small Medium Large S M L XL XXL Metal
 in stock
The Giant Dog Cage
The Giant Dog Cage is a handmade metal dog crate that is designed for large breeds of dogs. It is made of durable metal and has three heavy-duty slide-bolt latches on each door.
The Giant Dog Cage is 54 inches long, making it perfect for Great Danes, Mastiffs, and other large breeds of dogs. The cage also features a patented "L" bar on the top panel, which helps to reinforce the side panels and prevents them from bowing inward after assembly.
The Giant Dog Cage also comes with a pan stop, which allows the pan to be removed with the doors closed. This is a great feature for easy cleaning.
Overall, the Giant Dog Cage is a great option for large breed dogs who need a durable and secure metal dog crate.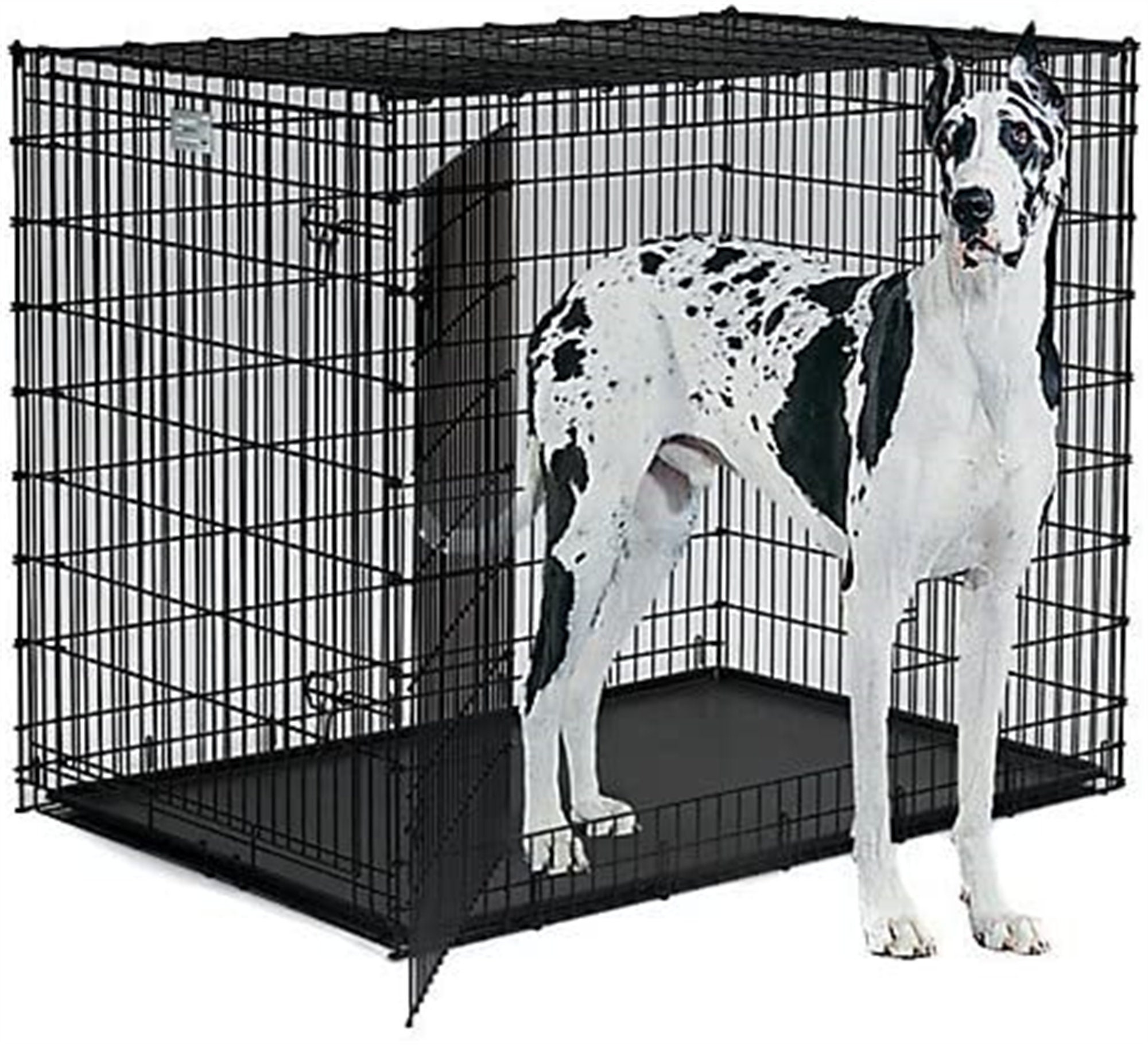 Giant Dog Cage | 54 inch long dog cage suitable for Great Dane, Mastiff, St. Bernard and other XXL breeds
 in stock
Easipet Metal Dog Cage
The Easipet metal dog cage is perfect for your dog.
It is made of sturdy metal and features two doors with sliding latch mechanisms to keep your dog secure.
The removable tray allows for easy cleaning. This cage is also chew proof and ready assembled in folded position, making it easy to use and store.
With 8 different sizes available, you can find the perfect metal dog cage to accommodate any size of dog.
Stylish Aluminum Dog Room i100
The aluminum dog room is designed to be a beautiful, safe, and comfortable home for your dogs that will last for years.
The all-aluminum material is moisture repellant and odourless, so you don't have to worry about bad smells or breakage.
The i100 is a very popular dog room that has been designed from a dog's perspective. It is made from rust-resistant materials so that your pup can use it for the rest of their life.
This dog cage is perfect for small to medium dogs.
It also features an openable top panel and caster wheels for easy transport.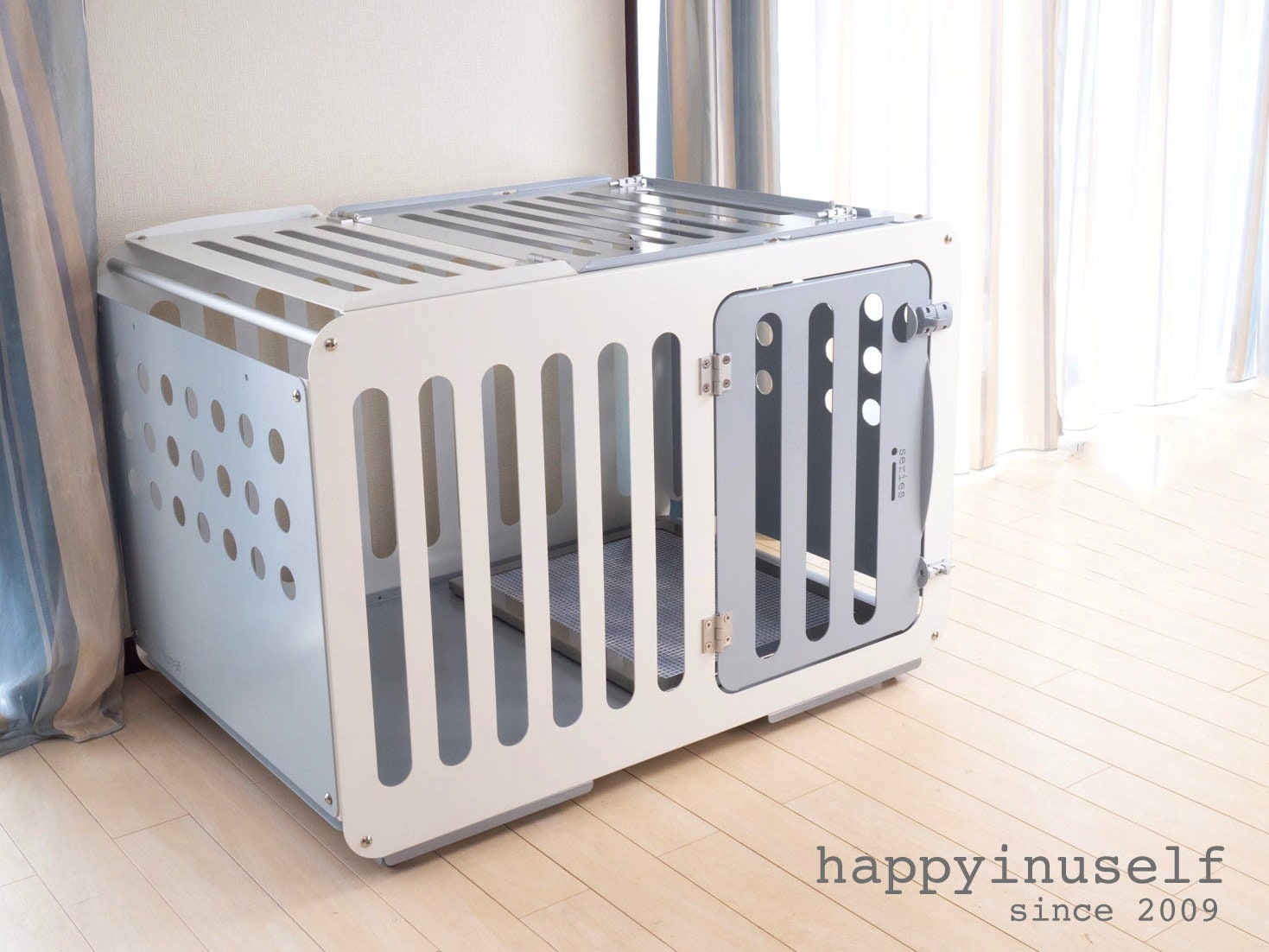 Stylish Aluminum Dog Room i100 /Dog crate/Modern/Dog house/Indoor/Trouble free -Happyinuself
 in stock
Types of metal dog cages
When shopping for a dog cage, it can be beneficial to know the different types of materials being offered.
The most common type of metal used for dog cages is steel; it is long-lasting and durable, but unfortunately is prone to rusting.
Aluminum is another popular option–it's lightweight and corrosion resistant, making it smart choice if the cage will be spending time outdoors.
A third type of metal, stainless steel, has all of the advantages of steel but with greater rust resistance due to its chromium content.
Whichever type of metal you decide on, there are additional important considerations such as quality of construction and safety features.
For example, seam welds instead of spot welds provide more durability over time.
Additional features like chew-proof locks and reinforced doors are also worth considering so your pet can safely enjoy their new home.
Wheels or castors can also be useful for heavy or large cages which may need moving around.
Whatever kind you end up choosing, a metal dog cage is an excellent option for providing security for your pup without sacrificing either style or comfort.
Benefits of metal dog cages
Metal dog cages are commonly used by owners who want to create a safe, secure space for their canine companions.
While there are multiple types of material that can be used to construct cages, metal is often the preferred choice due to its strength and durability.
Not only are metal cages incredibly strong and difficult to escape from, they can also be easily cleaned and require minimal maintenance.
Additionally, metal cages provide far better ventilation than other materials, making them an ideal choice during hot summer months.
For outdoor use, metal dog cages also offer superior protection against intruders or stray animals entering the cage uninvited.
Ultimately, metal dog cages provide an array of benefits that make them ideal for both indoor and outdoor environments.
How to choose a metal dog cage
When choosing a metal dog cage, there are several factors to consider.
Size is an important consideration; it should be big enough for your pet to move around comfortably.
Durability is also key: Make sure the cage has been designed and crafted from sturdy materials with reliable welds, rivets, and bolts – this will help keep your pet safe and secure.
Look for cages equipped with slide-out or lift-out trays for easy cleaning.
Other features to think about are escape-proof door latches, ventilation openings, comfortable flooring – all of which can make life more comfortable for your four-legged friend.
How to assemble a metal dog cage
The cages that we've featured here are all pre-assembled and require no building or putting together.
Most of these cages are sold in flat pack states and simply need the sides raising and clipping together to form the metal frame and then the floor tray needs to be inserted.
If you are looking for metal dog cages that require assembly, it's important to read the instructions carefully and make sure all the parts fit correctly before you begin construction.
When assembling metal dog cages, there should not be any sharp edges or loose components – take your time and make sure the metal cage is correctly and securely put together.
Once all the pieces have been assembled, it's essential to check for any sharp edges or points that may injure your pet.
How to take care of a metal dog cage
Taking care of a metal dog cage is not difficult, but it does require regular attention.
If you keep your pup safe in a metal cage, the following steps will ensure that your pet's home remains clean and comfortable for years to come.
Begin by wiping down the entire outside surface of the cage. This will remove all dirt, dust, and hair that can accumulate over time.
Next, use warm soapy water to disinfect the inside surface of the cage. Be sure to thoroughly rinse off soap residue before drying with a soft cloth or paper towel.
Once dry, sprinkle some baking soda onto any urine spots or areas with strong odours as this can help absorb lingering odours.
Lastly, treat any rusty or corroded areas with an appropriate rust remover and paint or sealer following instructions carefully.
Final Words
Metal dog cages are a great option for providing your pup with a safe, secure space.
When selecting metal cages, it's important to consider size, durability and features that will enhance your pet's comfort.
Additionally, proper assembly and regular upkeep will ensure the metal cage remains in excellent condition for years to come.
By following these tips, you can ensure your metal dog cage will provide your pet with a safe and comfortable home.
Our Choice
After careful consideration we decided that the Ellie Bo Cage provides the best value for money for dog owners.
With 5 different sizes and a wide range of features, the Ellie Bo metal cage offers great value for money.
It is constructed from durable metal and boasts a strong metal frame with an escape-proof door latch.
Additionally, it comes with a slide-out tray for easy cleaning which also makes it ideal for indoor and outdoor use.
For pet owners looking for a metal dog cage that is strong, durable and comfortable, the Ellie Bo metal cage is a great choice.
Last update on 2023-09-29 / Affiliate links / Images from Amazon Product Advertising API