It's fact that Cocker spaniels get dirty and that they can end up smelling so it's important that you bathe your dog to ensure that he stays healthy.
Bathing a spaniel also enables you to check him over for injuries, skin problems and to generally make sure that his coat is okay.
But, what about puppies? When can you safely give a Cocker spaniel puppy a bath?
Cocker spaniel puppies should not be bathed until they are over 4 weeks old and the longer that you can leave it, the better. Young puppies have difficulty regulating their body temperature and can easily become chilled so try to wait until your puppy is older before giving him a bath.
How often should you wash a Cocker spaniel puppy?
Cocker spaniels are very active dogs which means that they will inevitably get covered in dirt, dust and mud.
If you want to keep your puppy clean between baths, a quick wipe down with a warm, damp cloth is all that you need to do.
Don't wash him too often as this can dry out his skin and cause irritation.
Unlike humans, dogs don't need bathing often and, as an example, my two Cockers get a bath about 4 times a year, or, on the odd occasion when they get filthy.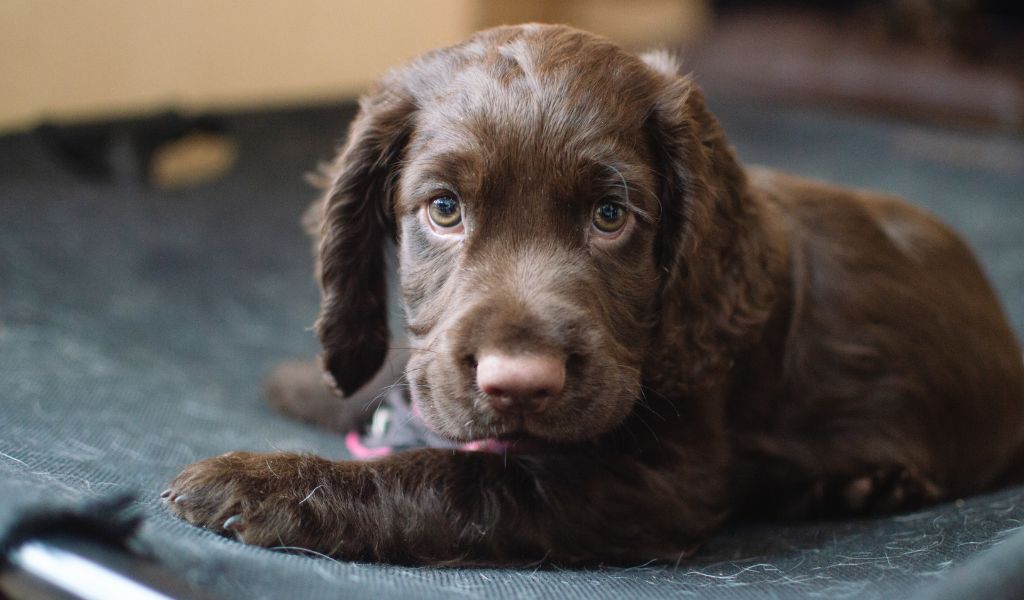 How warm should a puppy's bath be?
Make sure that the water isn't too hot as your puppy's skin is very sensitive and bathing him in warm or cold water could not only irritate his skin but also damage it.
Bathwater which feels lukewarm to you should be okay for your pup.
The temperature should be the same as that which you would bathe a human baby in.
What products can I use to wash my Cocker spaniel puppy?
There are a number of different dog shampoos on the market which you can use to bathe your pup.
However, it is important that you choose a product that is suitable for his age and type.
It's best to use a shampoo specifically formulated for young puppies as it will be gentle enough not to irritate his skin or eyes.
It's important to stay away from human baby shampoo as it can be too harsh and drying for your spaniel pup.
Be sure to thoroughly rinse out the shampoo once you've lathered him up, otherwise it could dry his skin and make him itch; this is especially true if he has a sensitive skin type.
Popular Puppy Shampoo
How do I dry my spaniel puppy after a bath?
After the bath, wrap your puppy in a towel and rub him dry. Keep drying until his coat is completely dry as wet ears could lead to an ear infection.
If you don't have time or access to a hairdryer then place him somewhere warm – you can use the air from a fan if there is one available – and allow him to dry naturally.
Keep him warm and indoors until he is fully dried, don't take him outside and keep him away from draughts.
It is important to watch your puppy and to keep him warm, he can easily become chilled which, if this happens, can lead to all manner of problems.
So, keep him in a warm place.
SHELANDY 3.2HP Stepless Adjustable Speed Pet Hair Force Dryer Dog Grooming Blower with Heater(Blue)
EASY TO CONTROL: Stepless adjustable airflow speed and temperature: settings from 30C-55C make this dryer easy to control – whether you need gentle warming or a hot blast
QUIET TECHNOLOGY: Designed With 3 Noise-eliminating Covers And Special Noise-assimilation Sponge, Works In A Relatively Quiet Sound Under 78DB
POWERFUL AND STABLE: With 2800w of power and a high quality motor, this dryer gives pets a thorough and professional drying treatment and is ideal for styling show dogs.
COMES WITH 4 NOZZLES: Comes with a 2.5m hose and 4 detachable pet grooming nozzles so you can comb as you dry or blast into those has to reach spots.
12 MONTH WARRANTY: Complete with warranty for your peace of mind
Can I wash my puppy with just water?
Yes, you can and it is often best to just use warm water, unless your pup is really dirty.
Soap and shampoo can and will dry out your dog's coat and skin as it strips away the natural oils that your dog's skin produces.
This dryness can lead to skin irritation and other problems.
So whenever possible just bathe your spaniel with warm water.
How do I keep my Cocker spaniel puppy clean in between baths?
It is a good idea to have a cloth or hand towel that you can use quickly wipe your pup down with whenever he gets dirty.
This will prevent him from getting too dirty and will also help to reduce the amount of dirt, dust and general grime on his coat.
Final Words
Don't be in a rush to bathe your Cocker spaniel puppy and allow him to grow older before you give him a bath.
There is nothing wrong with giving him a wipe down with a soft, damp cloth if he gets mucky but try not to soak him.
Remember that puppies can get cold really easily so resist any temptation to wash him unnecessarily and, when you do, be sure to look after him properly by drying him and keeping him warm.
As with all things always get the professional advice of your vet when dealing with your Cocker spaniel.
Last update on 2023-12-07 / Affiliate links / Images from Amazon Product Advertising API