In 1991 we bought some rope type slip leads for our spaniels on the advice of a professional gundog trainer and – we still use the same leads now.
They have seen some action – field trials, spaniel tests, shoots, dog walks etc,  yet are as good as new and on reflection have been excellent value for money – I recall that back in the early 90s that they were about £5 each so I've had my money's worth.
If you are looking for a lead for your spaniel then just get a rope type slip lead – they are the best for you and the best for your spaniel.
You don't need to spend a lot and a slip lead is much safer than a collar and it will last for years.
What else do you need to think about?
There is no need to spend a lot when getting a lead for your Cocker spaniel. 
Yes, you can get harnesses, collars, chains and lots of other types of leads, but, from our experience, just get a rope slip lead.
They are the best option for a spaniel, your spaniel will not need a collar, which can be dangerous to a hunting dog, and a slip lead is so much cheaper and tougher.
Here is a selection of slip leads- most spaniel owners use leads like this and they really are the best option for any breed of spaniel.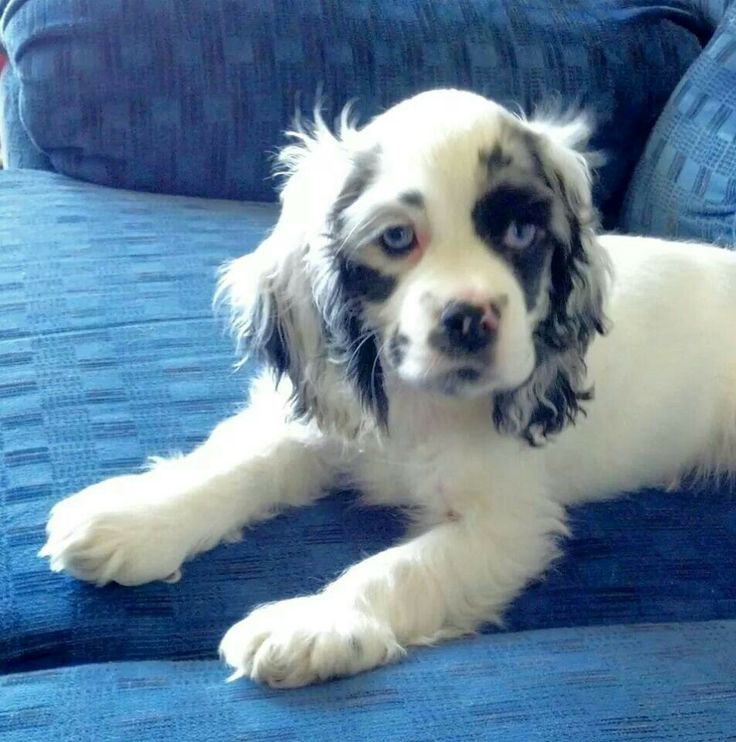 What other options are available for puppy leads?
There may be some reasons why you don't want to use a slip lead for your spaniel, and there are other options available to choose from.
You could decide on a dog harness. These are popular but tend to be used more for older dogs as opposed to puppies.
A traditional collar with clip on lead might be your preference, and, in some areas it is a legal requirement for your dog to wear a collar.
An option that we don't really like but one that you might be looking for is the type of extendable lead that you see used with some dogs.
The option that we really don't like is the choke chain – these are available but are not something that we would suggest you use.
1. Dog Harness
Dog harnesses have developed over recent years and are now a popular choice for some spaniel owners.
Most harnesses are available in different sizes and are manufactured from materials that are designed to be lightweight and comfortable for the dog to wear while being water resistant and easy to clean.
There are many different harnesses to choose from and one of the best selling and most popular products is the Voyager range of 'step in harnesses. Easy to fit and available for lots of different dogs including Cocker spaniels.
You can see for yourself just how good the Voyager dog harnesses are here on Amazon.
2. Collar with lead
Many dog owners like to use a collar with a lead that can be clipped on and off for walks.
In some areas and countries the law requires your spaniel to wear a collar when he is out in public, the idea being that the collar holds an identity disc that will help with the safe return of your dog if he goes missing.
Some dogs can be exempt, for example working dogs in the UK do not need a collar, but you should check locally to see if one is needed.
Collars and leads come in lots of different styles and sizes as well as colours, and it really will be down to your personal preference and budget as to which you choose.
For an active dog such as a Cocker spaniel, you should look for a good, hard wearing collar that is flexible enough for comfort yet strong enough to last.
Leather collars tend to be the best and these stylish collars from Moonpet are an ideal choice.
3. Extendable Leads
We wouldn't recommend an extendable lead for a Cocker spaniel for general use, such as walks.
Spaniels are so active that the lead will constantly be at its maximum and you'll end up in a tangled mess.
From a behavioural aspect also, using an extendable lead encourages the dog to pull and get away from you.
Having said all of that, there is a use for them. If you are camping or on the beach or somewhere where you are in public and want to just let your dog have a little freedom to roam while you sit still, then an extendable lead, screwed into the ground, can be good.
We've used them in the past for this very purpose but would not use them for anything else.
One thing to be watchful of is that a crafty spaniel will chew through the thin cord and escape, as we found out with our dogs.
If an extendable lead is your choice then you can see a large range and read reviews of several here.
4. Choke chains
We would never use a choke chain on a Cocker spaniel, or any dog for that matter. They are unnecessary and, if you have a dog that pulls, a choke chain will make no difference, it will just hurt him.
We don't recommend their use at all.
Frequently asked questions
Is a collar or harness better for a puppy?
A harness can make it easier to control your dog but they are more difficult to fit than a lead. Harnesses distribute pressure around your dog's body which can reduce the strain on his neck and back.
Should a puppy wear a collar all of the time?
If you choose to use a collar for your puppy then you will need to introduce it gradually. Just a few moments at first and then remove it, gradually extending the amount of time that he wears it.
Remember that a collar is unnatural for your dog and you should remove it when it is safe to do so to help him to stay comfortable and to reduce the chances of irritation or damage to his neck.
Is a slip lead okay for a puppy?
A slip lead is the perfect type of lead for a puppy and is the choice that we recommend, particularly for spaniels.
They are soft, hardwearing and reasonably priced. They are the best choice for spaniel breeds.
Final Words
We would go for the slip lead every time. They are cheap yet tough and should last you many years.
They are also comfortable and a slip lead will be suitable from puppy right through to adult dog.
Unless you have specific reasons to use a different type of lead , the rope type slip lead is the choice that we recommend for your Cocker spaniel puppy.
Last update on 2023-09-28 / Affiliate links / Images from Amazon Product Advertising API