Cocker spaniels are a popular breed of dog known for their friendly and affectionate personalities.
But, like all dogs, they have some unique behaviours – one of which is their tendency to chew on things.
In this blog post, we'll explore why Cocker spaniels chew and how to manage this behaviour.
We'll cover the reasons behind chewing, the best toys for managing it, ways to engage them in exercise and mental stimulation, as well as tips on supervising them properly.
So read on if you're looking for ways to help curb your pup's chewing habits.
Cocker spaniels have a reputation for being avid chewers, and many people struggle with this issue even after their pet has grown up. Fortunately, there are numerous methods to prevent your pup from destroying items around the house – though it is important to remember that chewing comes naturally to Cocker spaniels.
Why do Cocker spaniels chew?
Although it might seem like chewing is just a normal part of being a dog, it actually has a few deeper purposes.
Chewing acts as an outlet for excess energy, helps keep teeth and jaws healthy, and can help alleviate anxiety or boredom in dogs.
Additionally, puppies chew as a way of exploring their environment and learning about the world around them.
Cocker spaniels are also known to chew on things as a way of seeking attention or affection from their owners.
Understanding the Chewing Behaviour of Cocker Spaniels
Understanding why Cocker spaniels chew is essential for managing this behaviour and ensuring their well-being.
Reasons Behind Cocker Spaniels' Chewing Habits
Teething Phase: Just like human babies, Cocker spaniels go through a teething phase.
During this time, usually between three and six months of age, their gums can become sore and itchy.
Chewing helps alleviate the discomfort and assists in the process of their baby teeth falling out and permanent teeth emerging.
Boredom and Lack of Stimulation: Cocker spaniels are intelligent and active dogs. When they don't receive enough mental and physical stimulation, they may resort to chewing as a way to entertain themselves.
Insufficient exercise or leaving them alone for long periods without interactive toys can contribute to their chewing habits.
Separation Anxiety: Cocker spaniels are known to form strong bonds with their owners and can experience separation anxiety when left alone.
Chewing can be a coping mechanism for the stress and anxiety they feel when separated from their loved ones.
Dental Issues: Sometimes, Cocker spaniels may chew excessively due to underlying dental problems.
Gum inflammation, toothaches, or other oral discomforts may lead them to chew in an attempt to alleviate the pain.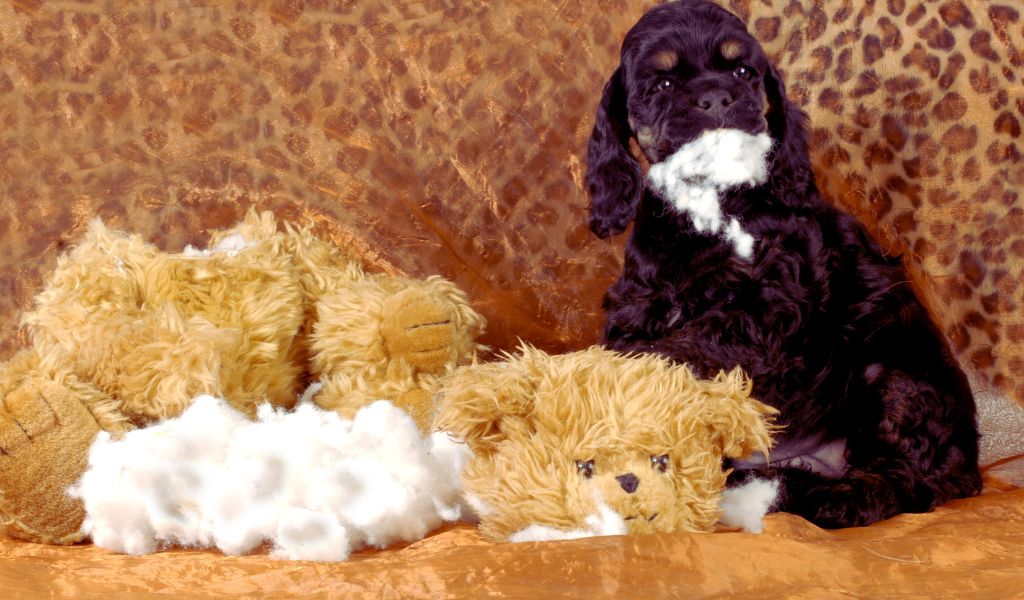 The Influence of Cocker Spaniels' Age on Chewing
Age plays a significant role in a Cocker spaniel's chewing behaviour.
As mentioned earlier, teething is a common cause of chewing in puppies between three and six months old. However, even as they grow older, chewing can remain a natural instinct and form of exploration for Cocker spaniels.
It's important to note that chewing behaviour can vary among individual dogs, and some Cocker spaniels may continue to chew more than others throughout their lives.
Understanding the reasons behind their chewing habits can help owners develop effective strategies to manage and redirect this behaviour.
Teething Phase: How It Affects Cocker Spaniels' Chewing
One of the primary reasons Cocker spaniels engage in chewing behaviour is the teething phase they go through as puppies.
This phase typically occurs between three and six months of age and is a natural part of their development.
Understanding how the teething process affects Cocker spaniels' chewing can help owners navigate this stage more effectively.
During teething, Cocker spaniel puppies experience the discomfort of their baby teeth becoming loose and their permanent teeth starting to emerge.
As a result, they often feel soreness and itching in their gums, leading them to seek relief through chewing. Chewing provides a soothing sensation and helps alleviate the discomfort they experience during this phase.
It's essential for Cocker spaniel owners to provide appropriate chewing outlets during teething.
This includes offering a variety of safe and durable chew toys specifically designed for teething puppies.
Look for toys made of softer materials that are gentle on their tender gums.
Chilled or frozen teething toys can provide additional relief by numbing the gums and reducing inflammation.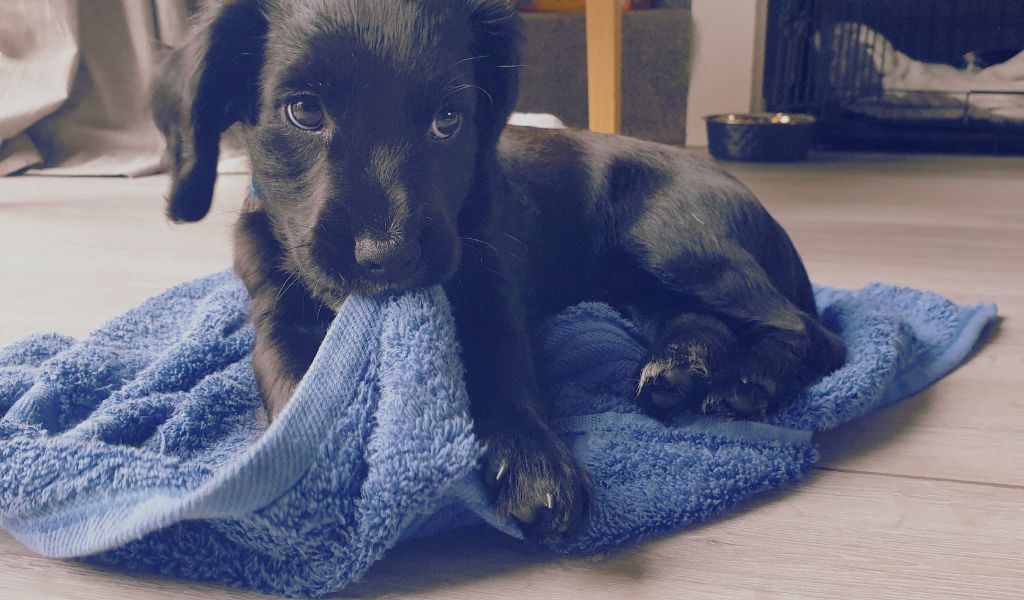 It's important to note that during the teething phase, Cocker spaniels may have a stronger urge to chew on inappropriate objects.
To protect your belongings and keep your puppy safe, ensure their environment is puppy-proofed.
Keep shoes, cables, household items, and other potentially hazardous objects out of their reach.
Redirect their attention to appropriate chew toys whenever you catch them chewing on something they shouldn't.
Regularly inspect your Cocker spaniel's mouth during this period to check for any signs of gum inflammation or oral discomfort.
If you notice excessive redness, swelling, bleeding, or persistent discomfort, consult your veterinarian. They can assess the situation and provide appropriate guidance or recommend soothing remedies to help your puppy through the teething phase.
By understanding the impact of the teething phase on Cocker spaniels' chewing behaviour and providing suitable alternatives, owners can ensure their puppies' comfort and help them develop appropriate chewing habits that will carry into adulthood.
Remember to provide practical tips, mention specific teething toys, and emphasize the importance of monitoring your puppy's oral health during this phase.
Separation Anxiety and Chewing in Cocker Spaniels
Cocker spaniels are known for their affectionate and loyal nature, forming deep bonds with their owners.
While this loyalty is admirable, it can also make them prone to separation anxiety when left alone.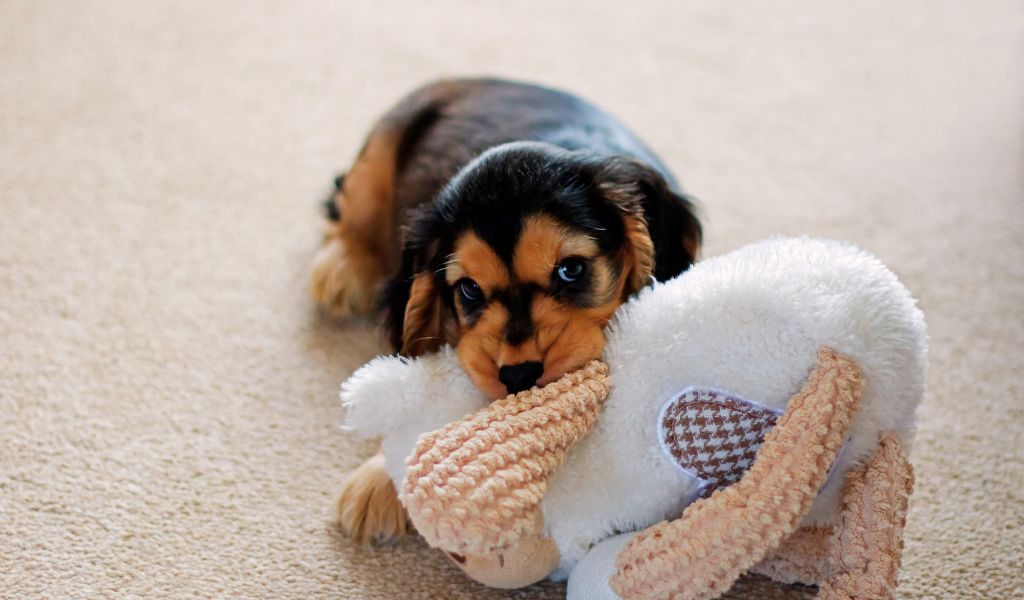 Separation anxiety is a common condition that can lead to destructive behaviours, including excessive chewing, in Cocker spaniels. Understanding this connection is crucial for effectively managing both separation anxiety and the associated chewing behaviour.
Separation anxiety occurs when Cocker spaniels become distressed or anxious when separated from their owners or left alone.
This anxiety can trigger various behaviours, with chewing being a common outlet for their stress and frustration.
To determine if your Cocker spaniel is exhibiting separation anxiety, look out for signs such as excessive barking, howling, pacing, restlessness, urination or defecation in inappropriate places, and, of course, destructive chewing.
These behaviours often occur soon after the owner's departure and can persist throughout the duration of their absence.
Addressing separation anxiety and its associated chewing behaviour requires a variety of techniques:
Gradual Desensitisation: Help your Cocker spaniel become accustomed to being alone by gradually increasing the duration of absences.
Start with short intervals and gradually extend the time. This process, known as desensitisation, helps them build confidence and reduces anxiety.
Create a Safe Space: Designate a comfortable and secure area for your Cocker spaniel when you're away.
Provide a cozy crate or a designated room with their bed, toys, and interactive puzzles to keep them mentally stimulated and occupied.
Counter-Conditioning: Associate positive experiences with your departure by offering special treats or engaging in a fun activity before leaving.
This helps create a positive association with your absence, reducing anxiety.
Seek Professional Help: If your Cocker spaniel's separation anxiety and chewing behaviour persist or worsen despite your efforts, consider consulting a professional dog trainer or a veterinary behaviourist. They can provide expert guidance and develop a tailored behaviour modification plan to address the underlying anxiety.
Remember, it's important to be patient and understanding with your Cocker spaniel during this process.
Punishment is not effective and can worsen anxiety.
With time, consistency, and positive reinforcement, you can help alleviate separation anxiety and reduce destructive chewing behaviours in your beloved Cocker spaniel.
Note: If you suspect your dog has separation anxiety, it's advisable to consult with a qualified professional for accurate diagnosis and tailored advice.
Interactive Dog Toys Can Keep Your Cocker Spaniel Entertained
Sale
CAROZEN Interactive Dog Toy: Beat Boredom, Engage & Entertain!
Say goodbye to doggie boredom with CAROZEN's interactive toy. It keeps your pup engaged, mentally stimulated, and prevents destructive behavior. Unlock tasty rewards with two steps, stimulating their mind and alleviating monotony. The anti-slip design ensures fun on any flat surface. Keep your dog entertained and happy!
Boredom and Chewing: Keeping Cocker Spaniels Stimulated
Boredom can arise when Cocker spaniels lack opportunities for mental and physical exercise.
Without proper outlets for their energy, they may resort to chewing as a way to entertain themselves and alleviate their boredom.
Chewing provides both physical and mental stimulation, making it a natural behaviour for them.
To keep your Cocker spaniel stimulated and prevent boredom-related chewing, consider the following strategies:
Regular Exercise: Engage your Cocker spaniel in daily exercise routines such as walks, runs, or play sessions.
These activities help burn off excess energy, keeping them physically satisfied and reducing the likelihood of destructive chewing.
Interactive Toys: Provide a variety of interactive toys that challenge your Cocker spaniel mentally.
Puzzle toys, treat-dispensing toys, and toys that require problem-solving can keep them engaged and mentally stimulated. Rotate the toys periodically to maintain their interest.
Training and Enrichment Activities: Cocker spaniels thrive on mental stimulation.
Incorporate training sessions into their daily routine, teaching them new commands or tricks.
Additionally, introduce enrichment activities like scent games, hide-and-seek, or agility exercises to keep their minds active and prevent boredom.
Rotate and Refresh Toys: To prevent your Cocker spaniel from losing interest in their toys, rotate them regularly.
This helps maintain novelty and keeps their curiosity piqued. Consider introducing new toys periodically to provide fresh challenges and prevent monotony.
Quality Time and Attention: Cocker Spaniels are social dogs that crave companionship.
Dedicate quality time to bond with your dog through interactive play, training, and affectionate grooming sessions.
This not only strengthens your bond but also fulfills their need for attention and reduces boredom.
By incorporating these strategies into your Cocker spaniel's routine, you can effectively prevent boredom and minimise chewing.
Dealing with chewing in Cocker spaniels – at a glance
Lots of exercise and mental stimulation will reduce the desire to chew
Remember that most dogs chew to get rid of excess energy – so, tire them out
Puppies will chew as a way to explore the world – keep valuables out of reach and provide them with alternatives
Provide your dog with his own toys and things that are safe for him to chew on
How to manage chewing
The first step in managing a Cocker spaniel's chewing behaviour is to provide them with plenty of appropriate chew toys.
These should be made of durable materials such as rubber or nylon and should be able to withstand heavy chewing.
Some good options include Kong toys, Nylabones, and rope toys.
Popular chew toys
£11.26
in stock
15 new from £6.50
as of 8:14 pm
£12.41
in stock
4 new from £12.41
as of 8:14 pm
£16.09
in stock
3 new from £16.09
as of 8:14 pm
Exercise and playtime are the best cures
One of the best ways to manage a Cocker spaniel's chewing is to provide them with regular exercise and playtime.
This will help to tire them out and reduce their need to chew. It's also a good idea to give them plenty of mental stimulation, such as interactive toys and puzzle feeders.
A tired spaniel is much more likely to relax and sleep as opposed to chewing.
Remember that chewing is often used by dogs as an outlet for excess energy, so, if you have a 'chewer' try increasing exercise and stimulation levels to tire your dog out.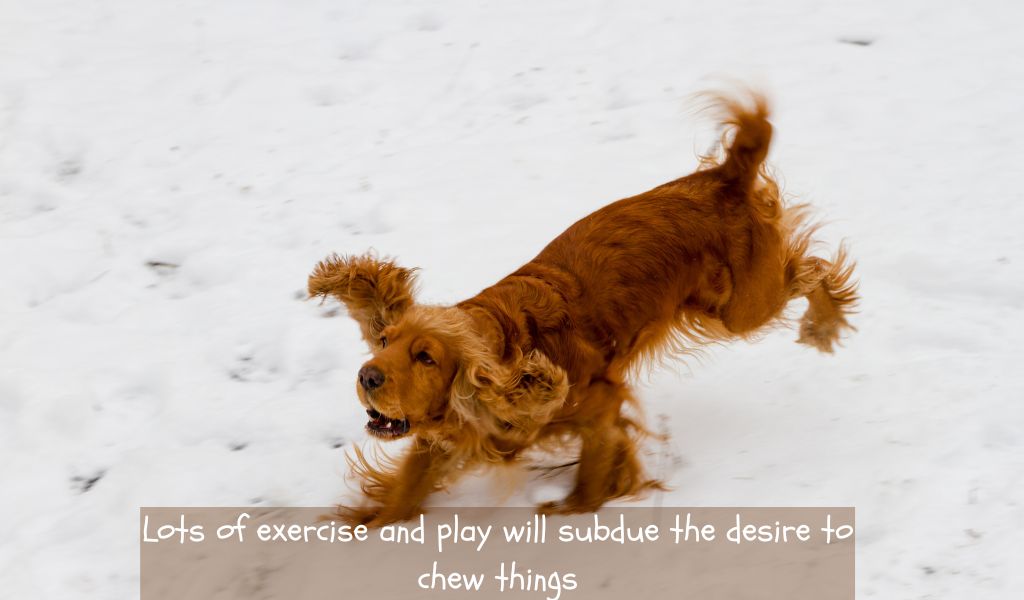 Supervision is important
It's also important to supervise your spaniel so that they don't get the opportunity to chew on things that they shouldn't.
By watching them closely, you can quickly intervene if they begin chewing something inappropriate and redirect them towards an appropriate toy.
If your dog picks up your shoes, ( or other object that you don't want chewing ), then quietly take the object from him and provide him with an alternative – one of his toys or an edible treat.
Creating a Chewing-Free Environment for Cocker Spaniels
If you're looking to create a chewing-free environment for your Cocker spaniel, there are several steps you can take to discourage their chewing behaviour and provide alternative outlets for their energy.
Here are some suggestions:
Provide plenty of exercise: Cocker spaniels are active dogs and require regular physical activity to stay mentally and physically stimulated.
Make sure your dog gets enough exercise through daily walks, playtime, and interactive toys.
A tired dog is less likely to engage in destructive chewing.
Mental stimulation: Along with physical exercise, Cocker spaniels need mental stimulation to prevent boredom.
Engage your dog in puzzle toys, treat-dispensing toys, and obedience training sessions to keep their mind occupied and reduce the desire to chew on inappropriate items.
Supervision and confinement: When you're unable to supervise your Cocker spaniel, confine them to a safe area such as a crate or a designated dog-proofed room.
This prevents them from accessing items they could chew on and helps establish boundaries.
Remove temptation: Remove any items that may tempt your dog to chew, such as shoes, clothing, or household objects within their reach.
Keep your living space tidy and organized to minimize the availability of items they can destroy.
Provide appropriate chew toys: Cocker spaniels have a natural urge to chew, so it's important to provide them with suitable chew toys.
Look for durable toys specifically designed for strong chewers, such as rubber or nylon toys.
Avoid toys that resemble household items, as this can confuse your dog and lead to chewing on similar objects.
Bitter taste deterrents: Apply bitter-tasting sprays or gels to items you want to protect from chewing.
These products are safe for dogs and create an unpleasant taste, discouraging them from mouthing or chewing on those objects.
Positive reinforcement: When your Cocker spaniel chooses appropriate chew toys or refrains from chewing on forbidden items, reward them with praise, treats, or playtime.
Positive reinforcement helps reinforce desired behaviour and encourages your dog to make better choices.
Seek professional help if needed: If your Cocker spaniel's chewing behaviour persists despite your efforts, consider consulting a professional dog trainer or behaviourist.
They can provide personalised guidance and help address any underlying issues that may be contributing to the chewing behaviour.
FAQs
Why do Cocker Spaniels chew?
Cocker Spaniels are known for their natural instinct to chew. Chewing is a normal behaviour for dogs and can serve various purposes, including teething, exploring their environment, relieving anxiety, and keeping their teeth and jaws strong and healthy.
How can I prevent my Cocker Spaniel from destructive chewing?
To prevent destructive chewing in Cocker Spaniels, provide them with appropriate chew toys and bones to redirect their chewing behaviour.
Make sure the toys are durable and safe for them to chew on. Additionally, provide regular exercise, mental stimulation, and positive reinforcement training to help reduce anxiety and boredom that may contribute to excessive chewing.
What should I do if my Cocker Spaniel chews on inappropriate items?
If your Cocker Spaniel chews on inappropriate items, such as furniture or household objects, it's important to redirect their behaviour without scolding or punishing them.
Immediately remove the item they're chewing on and replace it with an appropriate chew toy.
Consistently reinforce positive chewing behaviour and consider using deterrent sprays or bitter-tasting substances on items you want to protect from chewing. If the behaviour persists, consult with a professional dog trainer or behaviourist for further guidance.
Final Words
Chewing is a natural behaviour in Cockers and, from the dog's perspective, there is nothing wrong with it.
Bored, anxious and energetic dogs are likely to chew to expend energy and, if you leave your valuable shoes ( or other items ) lying around then, in the dog's mind, they are fair game and there's no harm done in chomping on your Jimmy Choos.
Provide your spaniel with lot's of exercise and alternatives, such as chew toys, and, for good measure, keep your valuables out of reach.
Last update on 2023-09-28 / Affiliate links / Images from Amazon Product Advertising API