Are you looking to find the best chew toys for spaniels? If you are then we will help you with our list of chew toys that your spaniel will not tear to pieces.
Getting the right type of chew toy for your dog is important as there are good and not so good. You'll want to keep him occupied with his toy but will also want the toy to be safe and suitable for him to play with.
What is the toughest chew toy for a spaniel? We chose the Kong Classic Dog Toy, it is virtually indestructible and can be packed with tasty treats to keep your dog occupied.
You can find the Kong here on Amazon
Why you need a tough chew toy
Most spaniels will chew which presents a challenge when you are looking for a chew toy that won't be ripped to pieces within minutes.
Many dog product manufacturers claim that they have products that are 'indestructible'  or as 'tough as old boots'.
The reality is often very different  and your spaniel simply pulls it apart before starting on your shoes, which is why you bought the toy in the first place, to preserve your precious loafers.
You have to be on the guard with a dog, and often need to put things out of reach to protect them from being chewed up.
Like all gundogs, spaniels love to carry things around.
Boris and Nimrod, my two Cocker Spaniels, are always carrying things to and fro and, if we don't catch them then we end up spending ages looking for stuff that they have helped themselves to – shoes, slippers, glasses, books all sorts.
If you want to protect your belongings and furniture then you need to provide your spaniel with good quality, tough dog toys.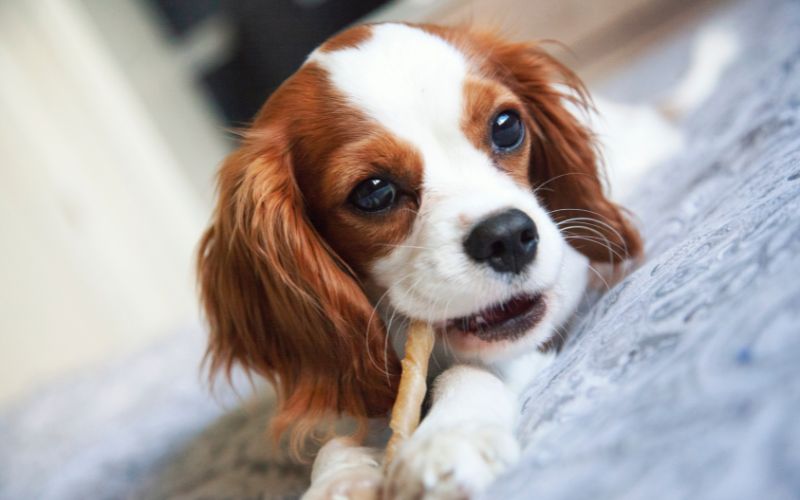 Top Recommendations
There are some great chew toys out there that are tough enough for the most determined spaniel.  Before I look at a lot, let me give you my shortlist of four tough chew toys that my spaniels love.
Kong chew toys are among the best
Goughnuts Indestructible Chew Toy
Chew Toys are Important
Your spaniel needs a distraction and a good chew toy is really important and a necessity for your dog.
Having something to chew, like a good chew toy, will provide a source of comfort for your spaniel when he is feeling stressed or anxious, or bored.
Being able to chew on a toy will prevent him from chewing on your shoes, furniture or causing damage to other household items.
Chew Toy Safety is Essential
When you are looking for a chew toy the most important consideration is the safety of your dog.
There are a few things that you should consider when selecting a chew toy.
The size – a chew toy that is too small could be swallowed by your dog, with tragic consequences.
The material – a soft chew toy will not be a chew toy for long.
They are often packed with pieces of man made materials that can be eaten, swallowed and scattered around the house.
Squeaky Chew Toys – as well as the obvious noise, these toys are often made of plastic or other soft materials, which the dog will pull apart.
Squeakers can be swallowed too.
Dog Teddy Repair Shop
Boris and Nimrod have lots of soft toys, which are not ideal for dogs, but they've been acquired through presents and other sources.
The house often resembles a hospital for dog teddy bears, with bits missing, holes chewed open, contents of the toys scattered everywhere.
If you can avoid soft toys then I would suggest that you do, unless you are handy with a needle and thread.
My daughter loves buying soft toys for the dogs so, we leave her to it, and the dogs enjoy the regular supply of 'victims'.
Choose Your Chew Toys Carefully
There are many companies that claim that their chew toys are indestructible but the reality is often very different.
Having bought 'indestructible' dog toys before I can tell you that some of these claims are not true.
When you wake in the morning and stand on the remains of a tough dog toy that is in tiny pieces all across the floor, you know that you were duped.
Yes, it might be indestructible for a nice, fancy handbag dog but let a spaniel at it and it can be in bits within minutes !
It's often best to ask other dog owners for their opinion and recommendations.
Chew Toys to Avoid
Spaniels and most dogs can destroy a chew toy within minutes if they are so minded.
A bored or anxious dog will take his feelings out on anything that he can chew, this could be a toy, your shoes, the wallpaper, anything in fact that he can get his chops around.
Among the worst things that you can buy are stuffed toys, although my spaniels have many, they are not tough, the dogs pull them apart and you end up with stuffing and body parts from teddy bears all over the house.
Similarly you should avoid buying toys that are made of soft plastics, leather, or anything man made that is soft, a determined dog will shred it faster than fast thing.
What are the best types of Chew Toy to buy?
Rope Chew Toys for Spaniels
Rope chew toys are an excellent choice for your spaniel, they are tough and will last for ages, probably longer than most other chew toys.
The design and construction of these types of toys is also great for your dog's teeth and gums.
They help to maintain a healthy mouth due to the chewing nature of the dog.
Keeping your spaniel's teeth and gums in a healthy condition can be difficult and these rope toys help to do this.
Most of the dog rope toys can be washed and have a long lifetime.
They should suit the most determined chewer.
Hard Plastic Chew Toys
The rope toys are certainly the best types of dog chew toys that are available at this time, but, if these are difficult to find then hard plastic chew toys will also survive the efforts of a determined dog – just not for as long.
My two dogs love the KONG Chew Toys, they are hard wearing and you can fill them with a variety of doggy treats to keep your pooch occupied.
KONG have been making dog chew toys for many years and their products are recognised as hard wearing and suitable for all dog breeds.
The KONG toys also come in different shapes making it a challenge for your dog to hold them and chase them around, increasing his mental activity. 
They are very hard wearing and, so far, have resisted the efforts of Boris and Nimrod to destroy them.
Bones and Antler Chew Toys
Bones have always been a real favourite of dogs and all of my spaniels have loved the treat of a bone.
I have found that the only real risk of a bone is that of possession if you have more than one dog, and I have had to break up more than one fight and dispute over bones in the past.
They really are the icing on  the cake when it comes to doggy treasure.
Be careful though if feeding bones.
Never give your dog a bone if it is likely to splinter or break into tiny pieces, a bone that does this can cause all manner of problems for your dog. 
The other thing to consider with bones is that they can have a rather undesirable effect upon your spaniel's toilet manner after they have been consumed.
Enough said but be prepared if you feed them.
Bones do contain marrow which all dogs love and they are good for your dog's teeth and gums.
A more frequently popular product is antlers .
You can get natural antlers that have been treated to preserve them and which last for ages, they are virtually indestructible, or, you can find antlers which have been filled with a type of paste that dogs love.
Either sort are great as chew toys and will help to keep your dog's teeth and gums in healthy condition.
My Favourite Dog Chew Toys are…
Now you are able to decide the best dog chew for your spaniel.
Here are my top dog chew toys so, next time it's your spaniel's birthday or Christmas you can make an easy decision as to what to buy him.
One of the toughest and most durable dog toys available.
My dogs have done their best to pull their Kongs to pieces and they have survived all manner of destructive efforts.
Made in the USA these chew toys are recommended by veterinarians and dog trainers worldwide .
They are great for stuffing with treats and are easily cleaned being dishwasher compatible for easy cleaning.
Certainly a dog toy that is at the top of my list.
A solid rubber chew ring that is really tough and guaranteed as being indestructible.
The manufacturers are so confident in the strength of this product that they offer a full money back guarantee if you dog manages to chew through the outer layer.
Made in the USA the Goughnuts float and are ideal for chewers and teething puppies.
Rope toys are great for dogs, they are tough, resistant to chewing and they also help to maintain a healthy mouth, teeth and gums due to their shape and materials.
The KILKI Dog Rope is 3 feet long and made of washable rope which is virtually indestructible, due to it's size and materials it is stronger and more resilient than other rope based dog toys.
The KONG Wobbler is an action base toy for your dog.
It sits upright until your dog pushes it with it' nose or paw and, at intervals, the toys dispenses treats for your dog to enjoy.
The unpredictable nature of the treat provision keep your dog guessing and occupied.
The KONG Wobbler rolls, wobbles and skids along the floor, making it more challenging and time consuming for your dog.
It is made from the classic KONG tough rubber making it durable and chew resistant.
Your spaniel will love this dog toy.
KONG products are great dog products, whether as toys or as training aids, they are well made, strong and, in my view, have been developed with the dog in mind, from a doggy perspective.
Having watched my spaniels with their KONG toys and seen how much enjoyment thet get from them, they are among my favourite dog toys.
The KONG Extreme Goodie Bone is another excellent dog chew that is as tough as any of the other KONG items.
You can fill the bone with treats at either end to keep your dog occupied and the bone shape makes it easy to hold and carry around.
Made in the USA, the KONG Dental with Rope is designed for dogs that chew and will clean their teeth as they do so.
The design of the rope cleans your dogs teeth and helps to remove plaque while polishing them at the same time.
The chew has the added benefit that it can be filled with treats to keep your dog occupied for longer.
Non Toxic Dog Chew Toy with a lifetime guarantee.
This chew toy is really tough and great for dogs that love to chew. The toy comes in a variety of flavors so you'll find something that your dog loves.
You can check the latest price on Amazon.
These are good, non toxic dog rope toys for persistent chewers.
You get five rope dog chews all of which are different colors and designs which are aimed at keeping your dog occupied.
The designs help to keep your dog's teeth clean and healthy and the toys are 100% washable.
The Pet Qwerks Bark Bone is stick shaped making it easy for dogs to pick up and carry around.
The bone is hardwearing and fit for the most determined chewers, it is also peanut butter flavored which dogs love and the bone massages your dog's teeth, helping to maintain a healthy mouth and gums.
The KONG Jumbler ball is a tough, hard rubber ball that is ideal for medium to large sized dogs.
The ball is long lasting and contains a squeaker to keep your dog occupied.
The Jumbler Ball bounces well making it ideal for games of fetch and for a chewer that enjoys playing.
I like this toy because it's tough, it bounces and, for my two spaniels who love playing ball, it is an ideal dog toy.
Final Words
So, there you go, some of my favourite, tough chew toys for spaniels.
Whatever you choose be sure to select a toy that will withstand chewing and that will not break up into small pieces which can easily be swallowed.
Read Next
How to help a dog with constipation
Last update on 2023-09-02 / Affiliate links / Images from Amazon Product Advertising API