You may be thinking about getting a spaniel puppy as your first dog or, you may have had other breeds and this is the first time that you have thought about getting a spaniel.
Whatever your position it is always important to think about and research the type of food that you will feed your puppy as a youngster and then as a growing, lively adult.
What is the best food for a spaniel puppy?  For us, raw food is the best type of food that you can feed to your young spaniel. Natural tripe based food is a great, tasty and healthy food for a young spaniel.
Our favourite food for a growing spaniel
We were able to look at and review several foods that are  suitable for spaniel puppies.
Dry? Wet? Chicken based? Turkey flavoured?  Cereal or grain based? All good questions and in this article we've looked at some of the best quality puppy foods for a spaniel whether he will be a working dog or a pet.
Sale
Eukanuba Complete Dry Dog Food for Puppy Medium Breeds with Fresh Chicken 15 kg
Grow: Supports strong bones with clinically proven calcium
Develop: DHA is clinically proven to make puppies smart and trainable
Defend: Helps promote puppies natural defenses with antioxidant
Balance: Promotes optimal digestion with prebiotics and beet pulp
100% complete and balanced. No artificial flavours or colourants added
All of the foods on this list are great for young spaniel puppies. They have been developed with dog's health and well being as the prime focus, they use quality ingredients and the businesses that manufacture them are focused upon improving dog health through quality food and nutrition.
They are all good foods but our choice is Eukanuba Puppy Food.
I found some great deals on Eukanuba Puppy Food here on Amazon.
Looking for organic puppy food?
If you are looking for Organic Dog Food the we have a great article that covers a wide range of organic and raw dog foods which you can read here.
One supplier that I recommend for organic food for your spaniel is Only Natural Pet who provide a full range of grain free, organic foods that are 100% carbon neutral and non GMO.
They often have discounts and coupon codes that you can use and recently offered free shipping.
You can find them here via this link.
At a Glance our Top 5 Puppy Foods
If you are in a rush and just want to get to the nitty gritty of the best spaniel puppy food that we have chosen then the table below will give you an idea of our choices and where you can get more information.
Eukanuba Puppy Dog Food for Medium Dogs Rich in Fresh Chicken, 12 kg
IAMS Complete Dry Dog Food for Puppy Small and Medium Breeds with Chicken 12 kg
Arden Grange Adult Dry Dog Food with Fresh Lamb and Rice, 12 kg
Eukanuba Complete Dry Dog Food for Puppy Large and Giant Breeds with Lamb and Rice 12 kg
Chudleys Puppy Junior Hypoallergenic Dry Puppy Food – Rich in Chicken and Duck, 12 kg
Eukanuba Puppy Dog Food for Medium Dogs Rich in Fresh Chicken, 12 kg
IAMS Complete Dry Dog Food for Puppy Small and Medium Breeds with Chicken 12 kg
Arden Grange Adult Dry Dog Food with Fresh Lamb and Rice, 12 kg
Eukanuba Complete Dry Dog Food for Puppy Large and Giant Breeds with Lamb and Rice 12 kg
Chudleys Puppy Junior Hypoallergenic Dry Puppy Food – Rich in Chicken and Duck, 12 kg
Our spaniel puppy food reviews
We took a selection of puppy foods from some of the major dog food suppliers and looked at them in terms of quality, history, company reputation and, most important, the suitability for spaniel puppies.
If you are new to the world of spaniels then you may not have heard of Eukanuba or be familiar with their products.
Eukanuba are one of the leading pet food manufacturers, producing quality feed for dogs and cats, which are sold globally.
Founded in 1969 by the IAMS company, Eukanuba was created on the basis that dogs and cats are carnivores and should be fed in accordance with their nutritional needs.
Eukanuba only use high quality animal protein ingredients, chicken or lamb, as the basis for their dog foods which are traceable back to sources in the USA, New Zealand and Europe, thus ensuring continuing safety and consistency in the quality of their products.
All suppliers to the company undergo strict checking and are required to certify all of their ingredients.
Every product undergoes 120 individual tests to ensure quality and compliance  and independent expert inspections ensure that the highest quality processes are followed. Eukanuba's food production processes are the same level as that required for human food production.
Product Introduction
Eukanuba Puppy Food comes in a variety of pack sizes up to 33lb in weight. 
This dry puppy food uses quality chicken as it's prime source of protein and provides for gentle digestion and immune system support which are both essential to a young, growing spaniel puppy.
Features
Eukanuba Puppy Food is available for all types of spaniel breeds with options for small, medium and large breeds. No matter his size, your spaniel is catered for with this food.
Offering complete and balanced nutrition for puppies up to 12 months old this food supports muscle growth and bone health  through high quality protein and balanced calcium and phosphorous levels.
Eukanuba Puppy Food is derived from high quality chicken based protein and contains clinically proven levels of DHA to support high levels of brain development making for a trainable and intelligent dog.
Your puppy's energy will be great with this food which contains optimized fat and carbohydrate levels to provide him with everything that he needs for his growth and active puppy lifestyle.
The natural fiber within the food aid easy and gentle digestion, ideal for an active, growing puppy and the  guaranteed levels of Vitamin E support the healthy development of your puppy's immune system.
Throughout the life of your spaniel you will be able to provide him with food from the Eukanuba range.
Once he has grown to an adult and his teeth and bones have developed then he can make a natural progression to Eukanuba Adult food, comprised of the same quality ingredients so that he won't experience any dietary problems or upsets.
Eukanuba offer a full range of quality dog foods for the lifetime of your spaniel.
What We Like
Dogs love this food .
Veterinarians have recommended it
Consistent product which is gentle on a puppy's tummy
Helps dogs to grow healthy bodies, eyes and coats
What We Don't Like
The individual 'nugget' size can sometimes be too large for smaller dogs
Check the latest price of Eukanuba Puppy Food
Royal Canin is a high quality, premium product range that is frequently recommended by veterinary practices to dog owners.
Royal Canin was formed in 1968 by French Vet Jean Cathay who believed that food could have a positive impact upon the health and wellbeing of animals.
After creating the 'yellow soup' for dogs, Royal Canin expanded until it was sold across most of mainland Europe until in the early 1980s the company launched it's first complete dog food – AGR which was hailed a major innovation and remained so for many years, and, in 1985, Royal Canin was introduced to the USA.
After years of investment, research and innovation, the Royal Canin product range expanded in the mid 1990s with the introduction of dog feeds to suit the size and type of dog, followed in 1999, by breed specific dog food.
Product Introduction
Royal Canin Puppy Food comes in a range of pack sizes up to 30lb in weight. The food has adapted kibble size with tasty aromas to encourage your puppy and satisfying textures to help him to enjoy his meals.
The food encourages good immune system development, high energy levels and digestive health all desirable in the development of your spaniel puppy.
Features
Royal Canin Puppy Food is tailor made for puppies up to 1 year old.
The food contains all of the precise balanced nutritional elements to help and encourage the healthy growth and development of your puppy so that he grows into a strong, fit and healthy adult dog.
With highly digestible proteins and prebiotics the food aids gentle and effective digestion, preventing upset tummies while helping your puppy with his rapid growth needs and aids his bone and immune system development, even if he is playing hard all day long.
Chicken by product based, combined with chicken fats and fish oils the sources of protein are animal based encouraging your dog's development through his natural, carnivore needs and instincts.
The unique shapes and sizes of the kibble ensure that it is suitable for your dog making it easy to consume and digest thus reducing wastage and costs.
The Royal Canin Puppy Food provides a good, healthy start for your spaniel puppy and, when he reaches a year old, he can switch to Royal Canin Adult Food with no ill effects due to the consistency of products across the dog food range.
What We Like
Dogs love this food
Recommended by veterinarians
Aids the development of healthy skin, coat and eyes
A good food for fussy dogs
What We Don't Like
Can occasionally result in some puppies getting upset tummies
Check the latest price of Royal Canin Puppy Food

Royal Canin Medium Puppy – Complementary: Royal Canin Wet Medium Puppy (40 x 140g)
Founded in 1946 Paul F. Iams  looked for new ways to make high quality, premium pet foods. He spent large amounts of time with breeders and understood just how important fat and protein were in the diets of animals.
He was an innovator and was the first person to see dogs and cats as carnivores, something that went onto revolutionise the entire pet food industry and he launched his first IAMS dog food in 1959, the first dog food to use animal protein as the main protein ingredient.
Throughout the 1960s and 1970s IAMs contiuned to innovate and develop new pet feed products and in the 1980s introduced dog foods to meet the life stages of dogs, including a custom puppy food.
Entering the 21st Century IAMS developed ranges of natural pet foods and published research to show that Omega 3 oils supported the development of coats and skin in dogs and cats.
Product development is a continual priority at IAMS and in they continue to enhance dog feeds adding DHA to puppy foods to enhance brain development and intelligence levels of pups.
Product Information
IAMS Puppy Food comes in a variety of sack sizes up to 30lbs in weight for medium sized dogs ( which is the size of most spaniel breeds).
The food is formulated from real, farm raised chicken and also contains beet pulp to aid digestion and DHA to help your puppy to develop into a healthy, intelligent and trainable dog.
Features
IAMS Proactive Health Puppy Food is veterinarian recommended for all puppy breeds.
The food is made with real ingredients which include farm raised chicken, beet pulp and wholesome grains and vegetables.
The quality of the ingredients provide a puppy with everything that he needs for strong, healthy growth and are easily digestible meaning strong immune support, good healthy coat and skin and strong bones.
The addition of Omega-3 DHA gives your puppy the maximum opportunity to grow into an intelligent and trainable dog.
The puppy food contains 22 key nutrients that are found in the mother's milk thus helping your little one to develop quickly.
What We Like
Dogs like the food
Provides good levels of energy for the most active of dogs
Recommended by veterinarians
Promotes healthy skin and coats
What We Don't Like
Can sometimes cause upset tummies in some dogs
Contains more grains and corn than some other foods which may not suit all dogs.

Check the latest price of IAMS Puppy Food

Hill's Pet Food was started by veterinarain Dr. Mark Morris who believed that the healthcare of pets was as important as that of the owners, he was of the view that poor nutrition was a prime cause of ill health in pets.
Dr. Morris developed a pet food that was superior to most on the market at the time.
When he met a blind man who was travelling the USA with his guide dog Buddy, Dr. Morris set about developing a new food, you see Buddy was suffering from kidney failure, caused by poor quality dog food.
This food became Hill's Prescription Diet and it helped Buddy to enjoy many more happy years with his owner.
Today Hill's Pet Food products are sold in 86 countries around the world. The food is widely sold in veterinarian practices with many vets feeding the food to their own animals.
Hill's operate a Pet Nutrition Center in Kansas, where they develop new foods alongside veterinarians and specialist animal nutritionists. Their facility also houses a fully equipped animal hospital.
Product Information
Hill's Science Diet Puppy Food comes in pack sizes up to 15.5 lbs. 
The food is formulated from chicken and barley and contains DHA from fish oil to help the puppy with healthy brain and eye development.
Features
Hills's Science Diet Puppy is recommended by veterinarians and is rated #1 among US veterinarians.
The food supports the development of puppies and provides DHA for healthy brain and eye development.
The kibble is small to enable puppies to enjoy the food and to support easy digestion, the chicken flavor is great tasting making it suitable for all puppies.
The food contains no artificial colorings or preservatives and it's precise nutrition supports a healthy coat, skin and stools.
What We Like
Supports the development of healthy and growing puppies
Puppies enjoy the food and kibble size
Can help puppies that might have sensitive tummies
Helps puppy to develop healthy skin and coat
What We Don't Like
Quality of packaging can be questionable and is not tough as those of other sacks of food.
Check the latest price of Hill's Science Diet Puppy Food
Sale
Puppy Food Buyer's Guide
Types of Spaniel Puppy Food
You may be new to spaniels as a breed, either you've owned other breeds of dogs or you've never had a dog as a pet before and you've just got a puppy or you are looking at getting one, you'll need to make sure that you get a puppy food that is suitable and safe for your dog.
There are a number of different foods available, from various manufacturers, which contain different ingredients and you'll want to make sure that you make the right choice.
You'll want to ensure that you don't waste money and that you puppy likes the food that you buy.
In this buyer's guide we will consider a few questions that you might have and look at things that you will need to think about when selecting puppy food for your spaniel.
Dry or Wet Puppy Food
The majority of the major dog and puppy food manufacturers produce both dry and wet dog foods.
Wet dog food is typically canned or in a tin, sometimes it can be frozen in the form of raw food that, once defrosted can be fed to the dog.
Dry dog food typically comes in paper type sacks, of varying sizes. Dry feed is 'kibble' or biscuit based, like small nuggetts of food.
Normally mass produced with effective quality mechanisms behind the production, this type of food is generally consistent and the major manufacturers start with puppy food, moving onto adult food and then senior food.
This is good for your dog as it provides for consistency throughout his life.
Any decision that you make when feeding your puppy will, at first, be determined by what the breeder has been fedding him. 
You should always follow the breeder's feeding regime initially before changing your spaniel puppy's food, and this should be done gradually as he gets older.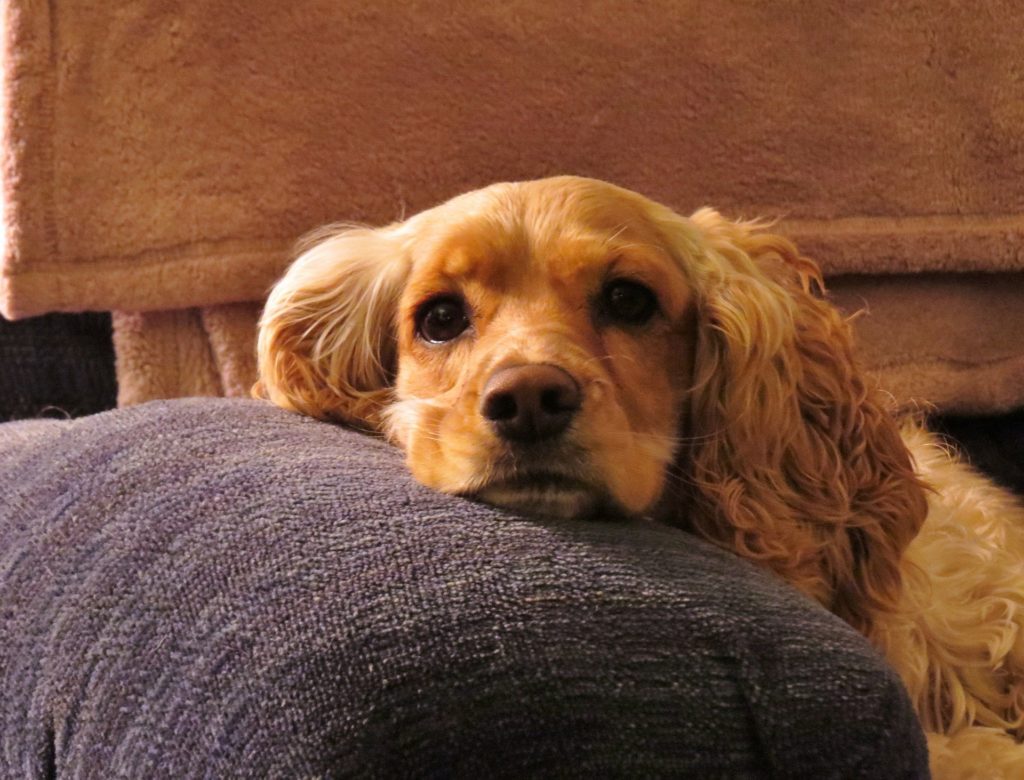 Size of the Kibble/Biscuit
The size of the dry dog food kibble is important as your puppy needs to be able to eat it.
Dry puppy food generally comes in different kibble sizes and the kibble size for a large breed, such as a Great Dane, would be difficult for a small breed ( terrier for example) to eat.
When considering a dry puppy food for your spaniel puppy you should look at small to medium sized puppy food and be guided by the manufacturer's instructions.
Ingredients
The contents of the puppy food are important. Dogs are carnivores and are at their healthiest when they are fed meals that comprise meat based products.
Most dry dog foods are based around chicken, turkey or fish, all of which are good for dogs and are enjoyed by them.
Most foods include grain or cereals and, whenever possible, in my experience, it is best to use foods that are low in this type of ingredient.
There are dry foods available that look like rabbit food and you should avoid these. Dogs are not rabbits.
How Long Will The Food Last?
A good thing to consider is how long will any food last that you buy for your spaniel puppy.
Sometimes cheaper foods work out to be more expensive in the long run as you have to feed more of it and thus buy it more frequently.
How Much Food Does My Spaniel Puppy Need?
The amount of food that you will need to feed will be an important consideration when selecting a food for your spaniel puppy.
From experience dry food tends to be fed more efficiently that wet food and a puppy requires less volume of food from a good dry food than a typical can based food.
A good quality dry puppy food may represent a seemingly high investment cost wise when buying it, but, the amount fed is less than other foods which will result in longer lasting and less cost per meal.
Shelf Life
Your spaniel puppy will grow quickly but you will need to make some purchases of food regularly during his puppyhood.
The shelf life or time that the food will last until it cannot be fed is an important consideration to make.
Thankfully, this is not a great problem with the dry, kibble based foods.
Once opened the sacks can be re-sealed and, provided that they are kept in a dry and damp free environment, the food will last for several weeks, and you should be able to use it all without any problems.
Is the Puppy Food Easily Available?
An important consideration, that is often often overlooked by puppy owners, is simply that of ' where can I get the food?' 
Are there places nearby where you can buy the food that you want for your puppy?  Are these suppliers reliable? If they don't have it can I get it elsewhere? Can it be purchased online?
My two Cocker Spaniels are fed Eukanuba and normally I do not have any problems getting the food for them. I have on the odd occasion not been able to get the food, but, as Eukanuba and IAMS are produced by the same manufacturer, I have been able to use IAMS food short term, with no ill-effects for my dogs.
Sometimes, it is worth looking at the options for backups if the food you choose is unavailable and well worth thinking about when you have a young dog.
Veterinary Recommended
Many of the dry puppy food and other dog food manufacturers work hand in hand with vets and specialist canine nutritionists. 
There are some dog food manufacturers that were founded by vets and continue to operate to their original ideals.
Food that is recommended by vets has been proven to be good for dogs and puppies and will most likely have a track record of success both in terms of general dog and puppy health and also in helping dogs with health problems to recover.
Final Words
All of the foods that we looked at here are worthy of feeding to your spaniel puppy. They are all produced by well known and credible manufacturers.
The foods are widely available and are all produced from meat based ingredients which are crucial fro the development and growth of your puppy.
We chose Eukanuba Puppy Food as our favourite food for a growing dog, you can read more reviews about this food here on Amazon where you can also check for the latest prices.
Read Next
The best diet for a spaniel's health and energy
Last update on 2023-12-07 / Affiliate links / Images from Amazon Product Advertising API