I have owned three English Springer Spaniels, all female and all working dogs.
I love Springers, they have great personalities, are friendly, intelligent dogs that make great pets, and, their temperament makes them ideal working companions for the shooter, regardless of the type of work that you do.
If you are considering a spaniel as a pet, a worker, or a shooting companion then an English Springer is an ideal, all rounder dog. They are loyal, friendly an an ideal dog to have around for a family. With lots of energy and love for life, English Springer spaniels are great dogs.
Where do English Springer Spaniels originate?
The true origin of most of the spaniel breeds is not fully known but there is a clue in the name that many people suggest may divulge the origin as Spain.
If this is so then as dog owners we own the Spanish a massive favour and thank you.
Springer spaniels in the UK
As a general type of breed the spaniel is thought to have originated in Spain and was introduced to Great Britain by the Romans.
The spaniel is thought to have been present in Britain as early as 300AD .
By the 17th century the spaniel was becoming successful at flushing game for the new invention, the firearm, so that game could be shot.
By the 19th century the smaller spaniels in a litter were use for flushing smaller game birds such as Woodcocks – these spaniels became known as Cocker Spaniels.
The larger puppies in the litter were used to hunt and flush and 'spring' larger game birds, these spaniels became known as 'Springers'.
Springer spaniels in the Americas
In the United States Springers became a popular breed following the import of an English Springer into Canada, from the United Kingdom in 1913.
Since then many changes have taken place through breeding and the show Springer spaniel and the working Springer, in both the USA and the UK, have become almost different breeds.
For the true spaniel enthusiast there is nothing better than seeing a fit, competitive English Springer Spaniel , they are athletes and frequently display the ultimate in performance and fitness.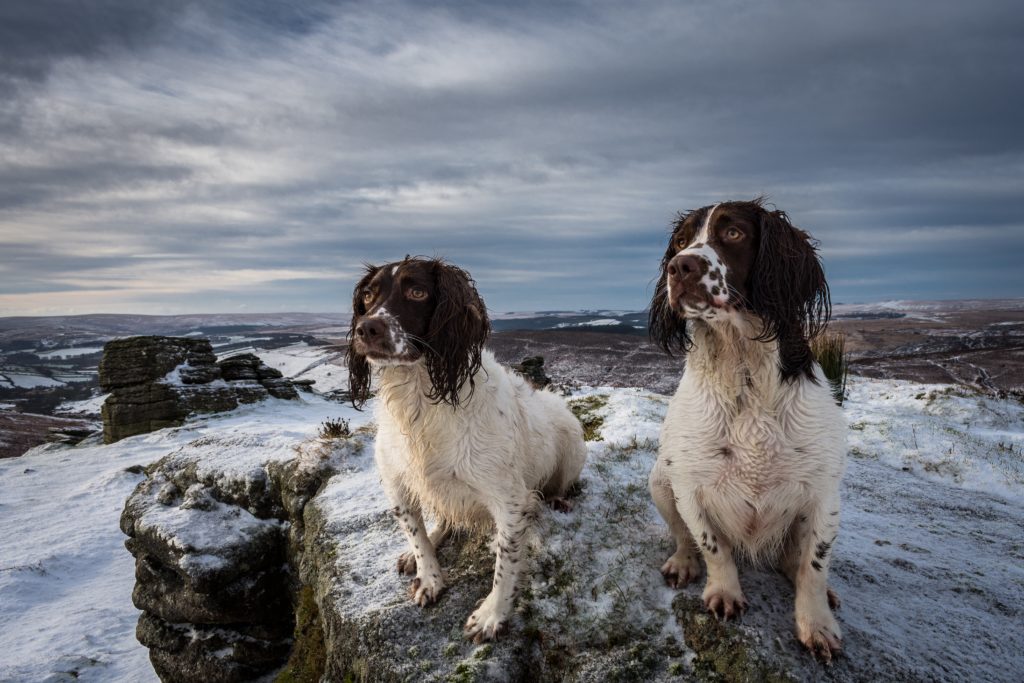 Are English Springer Spaniels Easy to Train?
Modern spaniel breeds are extremely intelligent, biddable and easy to train.
Having owned Springers, trained them and competed in numerous field trials and working tests, as well as worked with Springers on shooting days, I can testify that this breed of spaniel are very easy to train if you pay attention to the basics.
In the past, spaniels used to be difficult dogs, head strong and tricky to manage.
Years of good breeding and investment by many experienced and capable gundog trainers, have resulted in a breed that possesses all of the required criteria for a competent shooting companion or well behaved pet.
If as an owner/trainer you are prepared to learn and understand dogs then you'll have little if any difficulties training a Springer Spaniel.
There are many resources available to help you to learn how to train a spaniel and Training Spaniels by Joe Irving, available on Amazon, is, in my view one of the best.
You can get the latest price of the book here.
Sale
Training Spaniels
Hardcover Book
Joe Irving (Author)
English (Publication Language)
176 Pages – 07/12/1993 (Publication Date) – Quiller Publishing (Publisher)
Do English Springer Spaniels Make Good Family Dogs?
This is a really easy answer. Yes.
Springers are great family dogs. I can fully vouch for the breed as being a great addition to a family.
If you have children then having a Springer in the family will be like having an extra child.
They are great with kids.
When my twins were born I had three English Springers, they were great with my children, even when they were babies.
Although I would never dream of leaving any dog alone with young children, not once did I have any concerns about my spaniels, Bess, Twig and Fern.
In fact as my children grew older, if they were naughty and I had to tell them off, the three dogs would stand between my children and myself and bark at me, protecting the kids.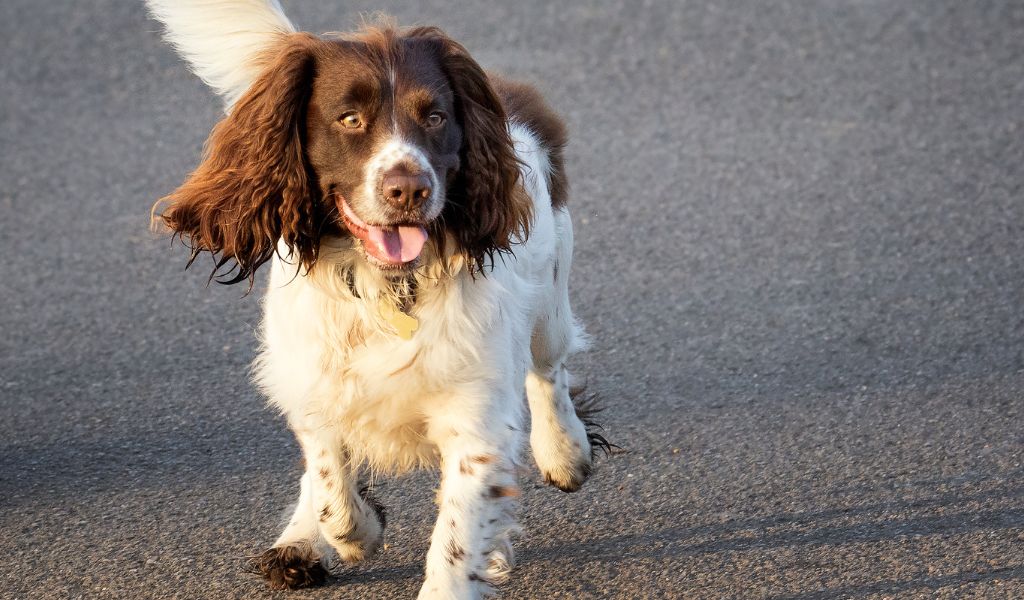 My children were brought up around spaniels and they truly are wonderful dogs for a family.
You do need to remember that they are lively animals, full of energy and, as an owner, you need to help them to get rid of that energy.
But, if you are looking for a dog that will make a great family member, and you have children, then an English Springer is a great dog to take a look at and consider.
How Much Exercise Does a Springer Spaniel Need?
The Springer spaniel is, to all intents and purposes, a working dog that enjoys the great outdoors.
Like all of the spaniel breeds his genetics steer him towards hunting and chasing his nose.
He likes nothing more than a light coating of rain on his coat, running free in an area where he can get his nose down and smell whatever has been around. 
As a spaniel owner you will need to be aware of his needs as a dog.
A Springer, like his Cocker Spaniel cousin, is a high energy dog, he loves to run, explore and get muddy and if you can fulfil his desire to get out and about then you will have a great relationship with this breed.
This is not a dog for the person who likes to sit by the fire with his slippers on. Spaniels do enjoy some downtime but this is limited and he will need to run his energy off.
If you have time ( and the space ) to allow a Springer to run free for about 30 minutes, twice a day ( and you enjoy it) then you'll do okay with a Springer.
If, on the other hand time and facilities are limited then why not consider one of the other spaniel breeds that are just as loveable but, in some cases, like the Clumber Spaniel, are less concerned about exercise?
Are Springer Spaniels Easy to Look After?
English Springer Spaniels can be relatively easy to look after, but it depends on the individual dog's personality and needs.
They are a high-energy breed that requires daily exercise and mental stimulation, such as walks, runs, or playtime in a fenced yard.
They also need regular grooming to maintain their coat, which can be prone to matting and shedding.
This includes brushing several times a week, as well as occasional baths and trimming of their nails and hair around their ears and paws.
Additionally, English Springer Spaniels are social animals and may become anxious or destructive if left alone for long periods.
They thrive on human companionship and benefit from consistent training and socialisation from an early age and time spent will result in a well behaved spaniel.
Overall, if you are willing to provide the necessary exercise, grooming, and attention, an English Springer Spaniel can make a wonderful and rewarding companion.
Costs of having an English Springer Spaniel
There are costs with any dog and a responsible owner or prospective owner will consider the financial impact on family finances before committing to getting any dog breed.
English Springer Spaniels are no exception to this need for consideration.
Vets'
As well as the initial cost of purchasing a puppy or adult dog, there are the costs associated with vaccinations and annual boosters. 
Veterinary fees for illness and injuries can be substantial in some cases and the responsible owner may consider some form of pet insurance policy to help with vet's fees.
Food and equipment
Your Springer needs a good quality food, that can be easily and reliably obtained. He'll also need a selection of dog bowls, toys, leads and maybe a coat for bad weather conditions.
You will also need to provide him with his own space – somewhere for him to sleep and rest and to escape to for some private, quiet time.
Your car will need some adaptations to accommodate your dog when you go out. This might be a cage or harness or, you might even decide to change your vehicle to something more dog friendly.
Registration fees
Depending on where in the world you live, there may be a legal obligation to register your dog, and, as is normally the case, there'll probably be a cost.
Dog insurance
With the high cost associated with vet's fees most dog owners look to insure their pet in the event of illness or injury.
Insurance can also cover aspects of third party liability in the event of say, your dog biting someone, so it's worth thinking about too from this aspect.
Of course, there's a cost to insure your dog and shopping around can help to secure a good deal.
Training & Puppy classes
If you decide to enrol in puppy classes or use the services of a dog trainer then, of course, you'll have to pay.
English Springer spaniel puppies are very sociable dogs and enjoy being among other dogs and people, so a puppy class would be great fun for you and your pet.
Rates vary and the best way to ensure that you get good service and value is to ask around and speak to people that have used the service in the past.
Your knowledge
If you are going to take spaniel ownership seriously then you'll probably be interested in improving your knowledge of the breed.
The internet is full of some great, free to use resources but there are also many great books, training videos and more that can help you with your spaniel owning journey.
So, consider the cost of that too.
How Much is an English Springer Spaniel?
This is a difficult question to answer accurately as it is always changing and, sadly is partly driven by the popularity of a breed, and Springers are one of the most popular choices ( for working dogs and pets )
This means that you'll probably pay a premium price for a well bred spaniel and potentially more for a working puppy from proven parents.
Currently a well bred Springer Spaniel, in the UK is anything from £1500 to £2000 upwards.
In the USA you'll be looking at anywhere from $2k and more.
Final words
The English Springer spaniel is a great dog both as a worker and as a pet.
If you are looking for a great all rounder shooting dog then you'll be hard pushed to do better than a Springer.
For an active family or person a Springer makes a great companion, ideal for long walks, hikes and adventures.
They are great with children with their playful character and ability to learn.
However, with ownership comes responsibility and getting any breed of dog should not be a decision that you rush into.
With an active dog, such as a Springer, you need to make sure that you can meet his exercise and mental stimulation needs and that you can dedicate the time, effort and cost to look after him properly.
Last update on 2023-09-03 / Affiliate links / Images from Amazon Product Advertising API