In this article we are going to take a look at some of the organic dog foods that are available and see which are the best organic dog food for gundogs.
Our favorite organic food for dogs
We looked at a few options to try and decide on the best organic dog food for gundogs.
We looked at ingredients, sourcing and the manufacturer's story and approach, and, to be honest, all of the foods that we reviewed are excellent choices and a final decision was difficult.
However we chose the Tender and True Organic Dog Food on this occasion as, unlike the other options, we really struggled to find anything that we didn't like about the food.
You can read more reviews about this food here at Natural Pet who specialise in natural feeds.
You can also see reviews for this dog food on Amazon via this link.
Thinking of organic dog food? A few considerations.
Many mass manufactured dog foods contain a range of additives that do not suit some dogs and there are many gundogs that suffer allergies and other conditions that seem to be affected by some foods.
Many of the organic dog food manufacturers avoid the use of artificial additives and preservatives and adopt the same approach as those taken by the organic food producers for the human market.
There are no regulations that control the production of organic food for dogs, so those manufacturers that have adopted the human requirements have hing that they did not have to do legally.
There are many reasons to consider the diet that your gundog has, from energy levels, growth, health and his enjoyment of his meals.
The behaviour of your gundog can be affected by his meals which can have an impact upon his training.
Just like children, dogs can be affected adversley by additives and food colorings and it may be that an organic food could be the thing that your gundog needs.
I'm sure that just like you and me, dogs like different types of foods and what one dog may enjoy, another may not.
Organic dog foods are becoming more and more popular. Many have been developed and are produced by people that have had pets and have identified a need for better nutrition for their animals and this has led to new foods and new businesses and ideas.
We've reviewed several organic dog foods that are suitable for gundogs and we'll regularly update and add additional reviews to help you to decide if organic foods are suitable for your gundogs.
Organic dog foods that you might like
Lily's Kitchen Adult Chicken & Vegetable Bake Complete Organic Dry Dog Food (7 kg)
Yarrah Organic Dry Dog Food - 10kg Vega
Arden Grange Adult Dry Dog Food Chicken and Rice, 12 kg
Edgard & Cooper Organic Dry Adult Dog Food - 2.5kg - Turkey & Chicken - Gluten Free Healthy & High Quality Protein
Lily's Kitchen Adult Chicken & Vegetable Bake Complete Organic Dry Dog Food (7 kg)
Yarrah Organic Dry Dog Food - 10kg Vega
Arden Grange Adult Dry Dog Food Chicken and Rice, 12 kg
Edgard & Cooper Organic Dry Adult Dog Food - 2.5kg - Turkey & Chicken - Gluten Free Healthy & High Quality Protein
Organic dog foods that we reviewed
We were able to review four organic dog foods – something that we'll increase in time.
The four manufacturers all have their own stories and approaches and we hope that you'll find these reviews helpful.
Nutro Max Mini Chunks Dry Dog Food
Nutro Max is produced by the Nutro Company who produced a wide range of dog foods and have done so for almost a century.
The recipes used for the variety of foods are clean, simple, purposeful and trustworthy using real, identifiable and non GMO ingredients.
The company have rigorous testing processes in place to ensure food quality and consistency and only source from trusted farmers and suppliers.
Nutro are USA based and are now part of the MARS group of businesses.
Nutro Max MIni Chunks Dry Dog Food is an adult dog food produced from farm raised chicken and is available in bag sizes of 4lbs and 25lbs.
This dry dog food is a natural food with vitamins, minerals and other nutrients.
Nutro are based near Nashville, Tennessee.
Nutro Max MIni Chunks is suitable for all adult dogs, as stated the kibble is a smaller size than many foods making this an ideal organic food for smaller breeds of spaniels.
This food does contain grain as a source of fiber but grain free alternatives are available from the company.
The protein source is organic, farm raised chicken and the food does not contain any preservatives, artificial flavors or colors.
The Nutro MAx range is suitable for all life stages and breeds of dogs.
Good size kibble that suits most dogs – the food is easy to chew
Good quality chicken based kibble is enjoyed by dogs
Good value for money
Limited range of flavors
This particular food contains grain which does not suit all dogs – although grain free options are available from this manufacturer.
Tender and True Organic and Antibiotic Free Dry Dog Food
Tender & True are an independantly owned business based in the Midwestern United States of America.
In 2014 the company developed the first and only certified humanely raised pet food that meets USDA organic food standards from farm to bowl.
The business source and supply all of their own ingredients and, due to their long standing relationships with their suppliers, can be assured of the best quality ingredients for their pet feeds.
Tender & True produce a wide range of feeds for dogs, wet and dry food and a range of organic treats.
Tender & True Organic Dog Food comes in a range of bag sizes up to 23lb weight. This dry food uses chicken, liver and fish as it's prime sources of protein, and all ingredients are certified as organic and the food is available in five flavors.
Tender & True Organic Dry Dog Food is suitable for all dogs, regardless of size and breed. No matter the size of your dog, the comprehensive feeding guide will ensure that your dog gets the correct amount of food and optimal nutrition for his daily needs.
The food is hormone and anti biotic free and contains no artificial preservatives, colors or flavors.
The feed contains no grain.
All meat and seafood ingredients are certified as being sustainabley produced and in line with all animal welfare requirements.
The food is a premium kibble based dog feed that is made with USDA organic and anti biotic free ingredients.
A good quality product that dogs love
Picky eaters love this food
Certified Organic Dog Food
We find no real issues with this food, occasional skin complaints in some sensitive dogs but this is very rare.
Honest Kitchen Whole Food Grain Free Clusters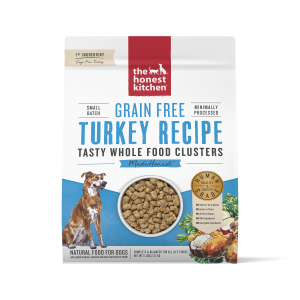 Honest Kitchen was founded in 2002 by Lucy Postins who was faced with a dog that had skin and ear problems.
Thinking that diet could be a cause of her pet's discomfort, she began making home made food for him in her home.
So began a business that now produces a wide range of products to suit the various needs of pets.
The company is based close to San Diego Bay and operates to the principles of honesty, quality, responsibility and joy.
Their foods are produced from human grade ingredients and are only obtained from trusted sources that are able to evidence food handling, screening, origins and more.
The Honest Kitchen Whole Food Grain Free Clusters Dry Dog Food is available in three flavors – Turkey, Beef and Chicken.
It is a complete and balanced food for all dog ages and breeds. A natural food that contains no artificial ingredients.
Honest Kitchen The Embark Grain Free Dog Food - Natural Human Grade Dehydrated Dog Food, Turkey, 4 lbs (Makes 16 lbs)
GRAIN FREE: This healthy dog food is made with cage-free turkey and dehydrated for easier digestibility and to lock in nutrients.
HIGHER PROTEIN: More calories and less carbs in every batch make it the perfect meal for active puppies and adults of all breeds and sizes.
HUMAN GRADE: The Honest Kitchen meets the rigorous FDA safety standards to use the label 'human grade', ensuring the highest quality dog food.
ALL NATURAL: This dog food is made with no by-products, preservatives or GMO ingredients - just add water for a warm and delicious meal.
MADE IN THE USA: All ingredients are processed in the USA in a human grade food processing facility with nothing from China.
The Honest Kitchen Clusters Dry Dog Food is produced in the USA and is suitable for all ages of dogs and breeds.
Unlike other manufacturers, the food is produced in small batches with whole food ingredients that have been chosen by the Honest Kitchen's Veterinary Nutritionist.
The food is cold pressed, slow roasted and then dehydrated to preserve taste, goodness and the nutrients that are present in the whole foods.
All ingredients used in the food, like the others from this producer, are human grade thus ensuring quality and consistency.
The honesty and transparency of the producer and the quality of the ingredients
The food is made in small batches making quality control easier and more consistent
Dogs really enjoy the food and it comes with a good feeding guide to ensure that your dog gets the right amount of daily nutrition
Shorter shelf life than other foods
I And Love and You Nude Food Dry Dog Food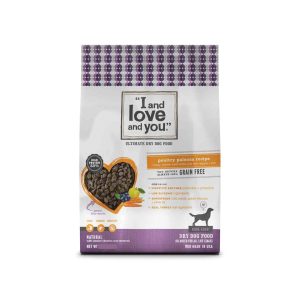 I and Love and You are based in Boulder, Colorado and began life in a pet store where they created raw food for dogs.
As a business, and pet owners, they identified a need from other pet owner, for better food with real meat and real ingredients.
Between 2010 and 2011 the business developed it's own branding and became even more passionate about developing foods that pets are meant to eat.
The company is employee owned and independent with a vision to help all pets to get the food that they truly deserve.
This Nude Dry Dog Food is available in three flavors – Poultry Palooza, Red Meat Medley and Simply Sea.
All of the recipes are produced with whole de-boned meats accompanied by real fruits and vegetables.
The food is high protein and totally grain free and contains up to 60% fully natural animal ingredients and oils.
In addition beans, lentils and sweet potatoes are used to help your dog to maintain good blood sugar levels and energy.
The food contains no grains, no fillers, no by products, in fact nothing of an artificial nature.
For dogs that have allergies the Simpy Sea version of the food contains only high quality fish and does not contain any meat based ingredients.
The food contains no artificial colors or preservatives and it is made in a family owned facility in the USA.
Smells really fresh and dogs love it – if you have a cat then he'll try to beat the dog to it
Great for dogs that have health issues as it is gentle on the stomach
A good food for picky eaters
Follow the instructions as some dogs can get rather 'active' if the food is introduced too quickly
Last update on 2021-01-15 / Affiliate links / Images from Amazon Product Advertising API