If you've been following the articles around training a cocker spaniel puppy, then you'll have seen that I've been working with Nimrod, my Cocker Spaniel who is now 9 months old.
NImrod has been with us since he was eight weeks old and I'm pleased to say that he is doing really well with his training. I've done a few videos of him, when I've had the chance and, this morning I managed to get out onto the fell with him and Boris.
You'll see the video of how both of them are getting on at the bottom of this article.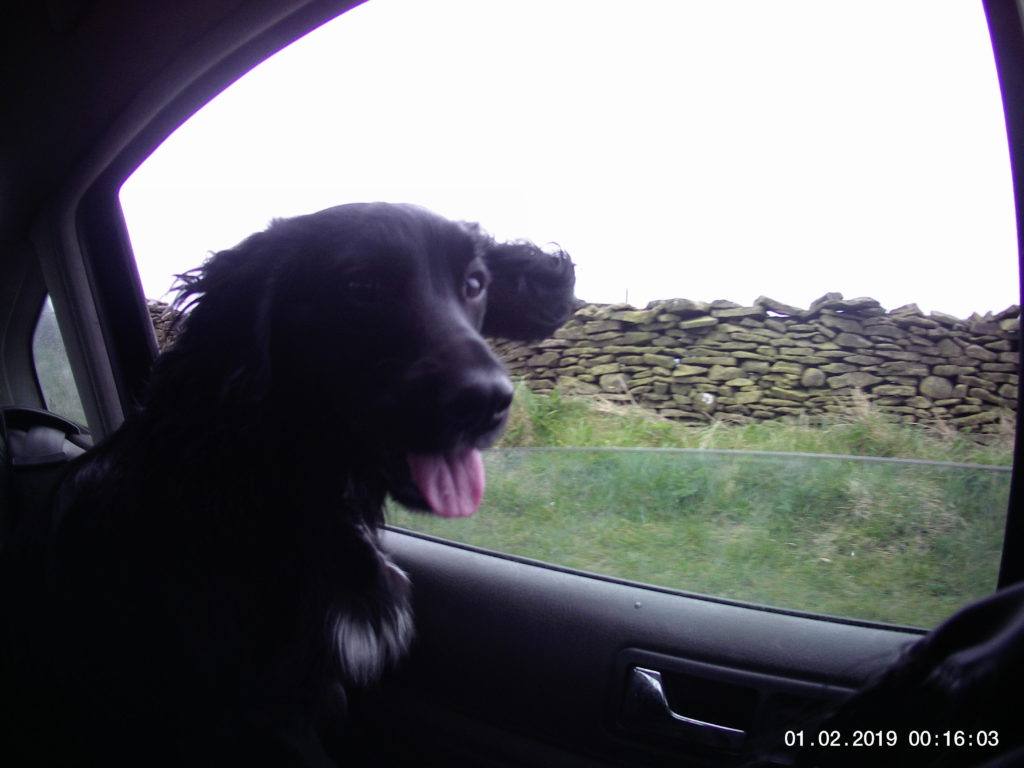 Spaniels as Pets and Gundogs
I hope that when you see the video that you will agree that Nimrod ( and Boris) are both doing okay. 
In the past the spaniels that I've had have all lived in a kennel, very rarely coming into the house and very much being outdoor dogs focussed upon being dogs and working. Don't get me wrong they were also pets but the focus of their activities was working as spaniels.
If you are interested in more about whether Cocker spaniels can live outside we have an article on that subject here. 
Things are very different for Boris and Nimrod my two Cockers.  They are pets and family members, but they are also great working spaniels.
When we decided that they would live in the house we had some rules about where they would sleep etc, but, when you have two dog mad children ( even if they are 23 years old ), that rule very much went out of the window – to the extent that the dogs enjoy the beds as much as the humans.
I was always of the view that a working dog would give it's best if in a kennel, but, once again, dogs taught me that that thnking wasn't accurate and that comes across in the work rates and abilities of both Boris and Nimrod.
They get lots of stimulation when in the home, from all of the family members. They play with their human pack, with each other, eat sleep and drink in the house, and, I don't think that they have suffered as a result. In fact I feel that they are better dogs from being around people.
Are Cocker Spaniels Hard to Train?
When training any dog, the key to success is to take your time and to be consistent. Cocker Spaniels are no more difficult or easier to train than any other spaniel breed.
The trick when training a cocker spaniel or any other dog, is to make the training sessions interesting and short and to always watch the reactions of your dog.
Over the years I've learned that most modern spaniels are really soft dogs, they are normally very sensitive and you need to offer lots of praise and encouragement.
They can have their moments, however, and this is normally when you least expect it. Your dog will be doing well and then, he's off, found a scent, had a rush of blood to the head, got over excited, distracted etc etc.
This type of behaviour is common in young dogs, who are still finding their way, but older dogs can succumbe as well. It's always best to keep an eye on your dog. 
Don't be distracted by your mobile phone, talking to other people etc – if you do then that is when things will go haywire with your spaniel.
Many of the articles that I have written are based around the training of spaniels and, if you start at the basics then you'll see just how easy it is to train a spaniel.
If you are patient, try to see things through the eyes of your dog and are prepared to learn then you'll do fine.
Working Spaniel Living in the House
There is no reason at all for your spaniel not to be an effective gundog if he lives in the house.
Boris and Nimrod do fine and I'm more than pleased with Nimrod's progress for a young dog.
Dog's love company and I'm convinced that if you are able, you should incorporate a working spaniel into home life as much as possible.
You will need to have rules, mainly for the humans as opposed to the dog, but these are minimal.
The dog should always have his own space, somewhere where he can go to rest, relax, sleep and not be disturbed.  There are hundreds of dog beds and other doggy comforts available online at places such as Amazon, so making a choice is a matter of recommendation and personal preference.
Always make sure that your dog has clean water available and that you feed him good quality food.
Let the children and adults play with him, he'll enjoy it, become really sociable and it will wear him out and challenge him mentally.
In all things though, the dog is at the bottom of the pack ladder, and you'll need to make sure that you adopt this approach. This doesn't mean that you need to be nasty, violent or horrible to your dog, just be the boss, adn the dog has to understand that the kids are also the boss too – at least when it comes to child / dog relationship.
If your kids are in charge of the house then think before you bring a spaniel indoors, it will be carnage. Address the family dynamic before you take the plunge – unless you like carnage of course.
Spaniels are just like children.
Seriously though, there is no reason at all why a spaniel that lives in the house cannot be a great working dog.
All you have to do is understand that he is a dog and try to learn about how he sees the world.
Work and Play for Spaniels
Following on, if we apply a bit of human lifestyle to our dog living in the house we can begin to understand the principle a bit more.
As a human ( well most ), you'll get up, get sorted out and go out to work.
You'll work, come home, eat, get changed, relax, then probably sleep, and then you'll do it all over again.
It's not so different for a working spaniel that lives in the house is it?
Sleeps, sleeps a but more, then sleeps a bit more. Then we take him out, do some training ( working in his mind), then he comes home, eats, sleeps, rests, and, the next day, maybe he does it again.
So there are some similarities and, if your dog is living in the house, it might help you to view things in this way to help you along.
Nimrod and Boris the Cockers and their training