If you have dogs then you'll be familiar with the doggy smell that can invade your home along with dog hairs, mud and wide variety of other, general dog messiness.
It can be a challenge to keep your home clean and smelling fresh and, the more dogs that you have the more difficult it can become.
If you have children then the task can be even more difficult as they present their own messy problems.
Keeping your house clean with dogs requires regular vacuuming, cleaning of doggy paws before they come into the house, frequent opening of windows to allow fresh air into the home and some other, simple techniques to keep dog odours and mess to a minimum.
Keeping your house clean with dogs
As a dog owner, you know that there are always going to be some challenges keeping the house clean.
With fur, dirt and slobber coming in from outside, it's understandable for your home to get dirty and, the more dogs that you have the higher the possible levels of muck.
But how do you keep up with this?
Here are some tips on cleaning your house when you have dogs.
Vacuum every day or at least once per week. This will help cut down on hair getting everywhere. 
 Wipe down furniture with a damp cloth every other day or so to remove any spills or dirt that has accumulated overnight.  
Clean up accidents as soon as they happen by using an enzyme cleaner, like Pro Clean Odour Remover which breaks down the organic material in the mess.
Wash bedding weekly or more if needed. You can use regular laundry detergent to do this with everything else you wash for your pups. If it's too much for you, consider taking your pet bedding to a laundrette but check with them first.
Give the entire house an extra thorough cleaning once to twice per month. You may want to enlist some help for this or consider hiring it done by giving your home to professionals if it feels like too much work.
Vacuum ​up pet hair from your furniture and floor on a regular basis, especially if you have hardwood floors.
There are some great tools for this, like the Vax Steerable Pet Vacuum Cleaner.
Consider investing in a steam mop for your floors, which takes the dirt right off.
We use a Shark Steam Floor Cleaner which has removable pads that can be washed in the washing machine and reused. It's a great piece of kit for wood and tiled floors.
Sale
Shark Floor & Handheld Steam Cleaner, Steam Mop for Hard Floors with Klik n' Flip, Clean Tiles, Surfaces, Taps & Glass with Lift-Away, Garment Steamer & 5 Accessories, 2 Settings, Grey/White S6005UK
FOR MORE THAN FLOORS: Transform this floor steam mop into a handheld steam cleaner for easy surface cleaning, from kitchen worktops and windows to bathroom tiles and shower screens
KLIK N' FLIP TECHNOLOGY: Double-sided cleaning power. Flip the mop head to clean double the floor area, then release the machine-washable cleaning pad hands-free, with the flick of a switch.
INTELLIGENT STEAM CONTROL: Easily switch between 2 automatic steam settings for a targeted deep clean on all sealed hard floors. Perfect for high-traffic areas and light, everyday dirt.
TARGET SUCK-ON DIRT: Steam Blast mode delivers a direct blast of steam to lift stubborn messes. Easy to use with machine-washable, double-sided Dirt Grip pads.
INCLUDES: Shark Steam Mop (UK Plug), 2 Dirt Grip Pads, Filling Flask, Garment Steamer, Accessory Hose, Pocket Tool & Pad, Concentrator, Scrubbing Tool, Copper Brush, Crevice Tool. 6m Power Cord. Weight: 3.4kg. Grey/White
Dry your dogs off before they come into the house
After a walk you should dry your dogs off. The simplest way to do this is to use some old towels, gently rub your dog down to remove excess water and dirt paying attention to paws, tummy and legs.
If you have a utility room or separate kitchen area then you can put your dog's bed here and let him sleep until he has fully dried off before he is allowed into the main area of the house.
Dog coats can help
A dog coat won't stop your dog from getting wet but it will help to reduce the amount of rain and water that gets into his hair.
Using a dog coat when the weather is bad will reduce the time that you spend drying your dog off which, in turn, will help you to keep your home clean.
Bathe your dog and keep him well groomed
Dogs do get smelly and need to have a wash every now and then.
The key to looking after your dog is to not bathe him too frequently as soap and shampoos will dry his coat and skin and overuse can create more problems than they cure.
It's worth remembering that most dogs love water and enjoy paddling and swimming and you can make use of this when keeping him clean.
Fresh water from rivers or the sea is a great option for getting mud and smells of your dog without using soap and, if you take your dog somewhere where he can swim then it's also fun and great exercise for him.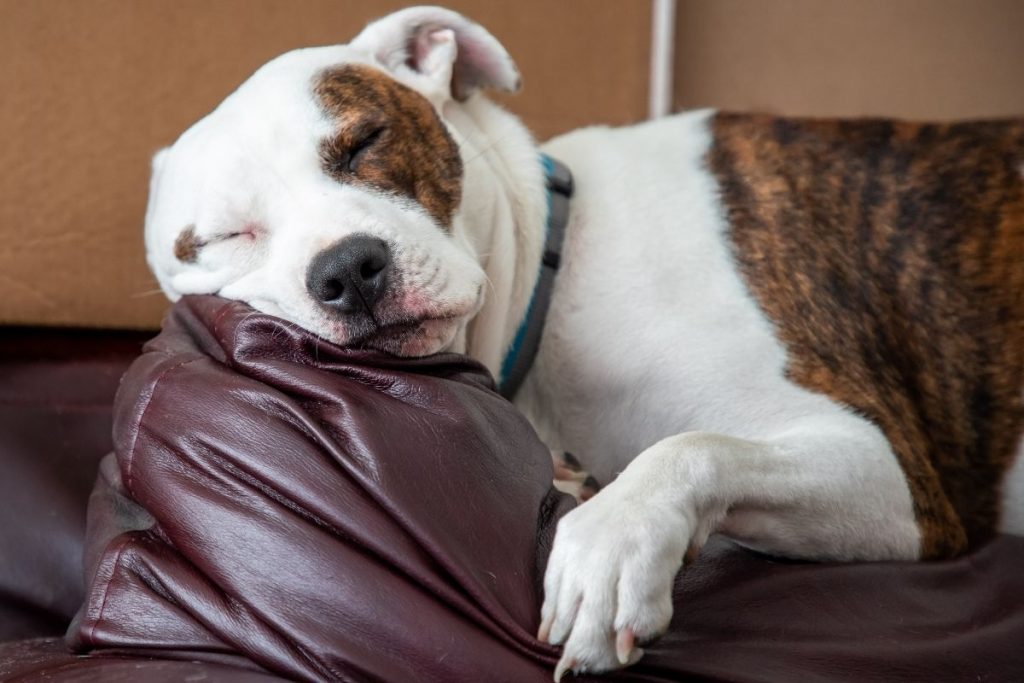 Don't let your dog in the house when he is wet
If you can try and keep your dog outside when he is wet.
If you do allow him inside then make sure that his feet and legs are dried before letting him on any furniture or carpets.
Get some rugs for the floor and throws for furniture
Rugs and throws can be washed or taken outside and beaten to remove dust and smells.
Using both will protect carpets and floors along with furniture and will help to prevent these from becoming dirty and smelling of dog.
Wash and clean your dog's bed regularly
Dogs are often really messy and their beds can get full of hairs and can end up smelling.
By getting a dog bed with removable covers, that can be washed in the washing machine, you can make this easy for yourself.
It's also worth remembering that most dogs like comfort, warmth and softness. By keeping the bed clean it will stay fluffy and give him the kind of sleep he enjoys.
Sale
Bedsure Large Dog Bed Washable – Orthopedic Dog Bed and Mattress Mat for Dog Crate with Removable Plush Sherpa Cover, Gifts for Dog, Grey, 91x69x7.6cm
EGG CRATE FOAM: Bedsure dog bed crate evenly distributes pet's weight to alleviate pressure on joints & bony areas – Resemble the bottom of an egg carton, this bumpy surface is softer than a solid block of foam and helps air circulate to keep puppies cool in the hotter months – Convoluted foam also offers shock absorption that is beneficial for older dogs.
SMART DESIGN DETAIL: L-shaped zipper (1 long side + 1 short side) on the outer cover is specially designed for quick put together or simply remove for washing – available on both sides, super-soft fleece for winter and oxford back that's cooler in summer.
VERSATILE DOG BED: Applied to dogs, cats, or other pets under 34 KG and 91x69x7.6cm rectangle shaped mattress also fits for any elevated dog bed, crate, pet house or dog bed trampoline – Your buddies will love lounging on this cozy dog bedding in your room instead of the cold hardwood floor, even your kids like to snuggle with your fur baby.
DURABLE OXFORD FABRIC: Plush Sherpa top pet bed creates extra coziness for your four-legged companion to sleep like a log every night – Provides a comfy, safe bed for diggers, scratchers & light to moderate chewers – Trendy combination of luxurious creamy surface and blue color sides blend in any room decor.
CARE INSTRUCTIONS: Machine wash the cover gently & separately in cold water with a pet-safe detergent.
Final Words
Keeping your home clean and fresh smelling when you have dogs can be a challenge but, with some thought and some effort, it doesn't have to become a back breaking chore.
It's important to remember that your dog is just a dog and he doesn't realise, or care, about dog smells, mud or dog hair so you'll ned to take care of things for him.
Read Next
Last update on 2023-12-07 / Affiliate links / Images from Amazon Product Advertising API