Dogs love their beds and the better the bed the better the sleep and the rest that your dog will enjoy.
But many dog beds lack character and often there is little or no option to put your own 'touch' to your dog's bed and the opportunity to customize a dog bed is rarely available.
With dogs becoming more and more popular as pets, companions and workers and with more dogs living in the house ( as opposed to a kennel outside ) many people are keen to get their pet a dog bed that matches their household decor and is different from the status quo.
We've been looking around at dog beds to explore what is out there and we've discovered an excellent, designer look dog bed that you can customize online to suit your style and taste.
The best customizable dog bed that we have found is the Topology range from Omlet. We love these beds. They are suitable for dogs of all ages and can be customized to suit your dog's needs and personality. The comfortable memory foam mattress and machine washable covers make for a stylish and comfortable resting place for your dog.

In a rush? View the best customizable dog bed here

Take a look at some of the styles

What to consider when buying a customizable dog bed
Your dog's bed is important and you'll want it to be comfortable for him as well as easy to clean.
If you are looking for a dog bed that you can tailor to your own tastes or your dog's personality, then you will want to be able to select from a wide range of options so that you get the best looking bed for your canine.
You will also want to have as much input as possible to ensure that you get the right design to suit your tastes.
Is the dog bed easy to keep clean?
Cleanliness of your dog's bed is important and being able to easily clean the covers will be a top priority, particularly if you have an active, adventurous dog.
The great thing about the Topology bed is that it has easy to remove covers that can be taken off in a flash and put in to the washing machine.
Once they are clean and dry they are easily reapplied to the memory foam mattress.
How comfortable is the dog bed?
Most dogs sleep between 12 to 14 hours a day and, for a dog, sleeping is a serious business. 
Your dog will need a bed that is comfortable yet supportive enough for his body and joints.
Memory foam dog beds are increasingly common as they provide the best support and most comfortable options for dogs of all ages and sizes.
Our favourite customizable dog bed →
Some of the Topology customizable dog bed options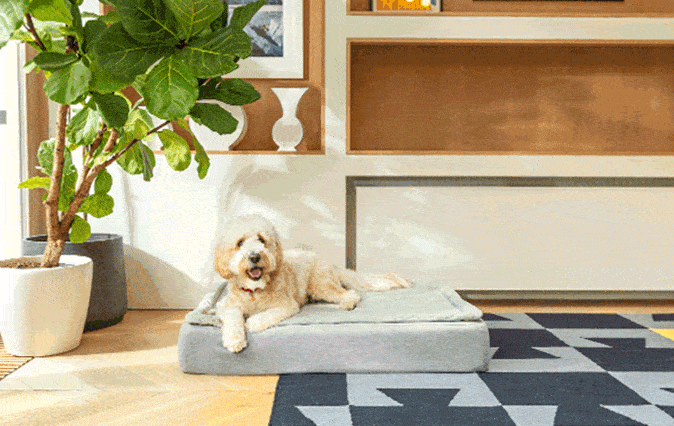 Things that you will love about this bed
Easy to clean dog bed with machine washable covers that zip on
Ulimate comfort for your dog with a high quality memory foam mattress
Looks great in your home – customizable with great range of toppers
Stylish bed can be elevated with sophisticated designer feet
Treat your dog to the best customizable dog bed around
Available in 3 sizes to suit all types of dog
Improve the health and hygiene of your dog with a raised bed
Suitable for dogs of all ages – puppies to seniors
Save money by changing the topper when you need to, not the whole bed
Expand the range for your dog with a luxury indoor dog kennel
Why we picked the Topology dog bed
We picked the Omlet Topology dog bed because it is well made, comfortable and easy to keep clean.
This is one of the most customizable dog beds that we have seen and being able to create a designer dog bed is, for many dog owners, something that they would like to be able to do to match the interiors of their homes.
The Topology dog bed gives you the freedom to choose the design of your dog's bed without sacrificing quality, comfort or ease of use.
It is also really well priced and offers a range of features that would often only be seen on more expensive dog beds such as ones that are found on Amazon.
Read Next