Many spaniel owners keep their dogs in the house and even working dogs such as Cocker and Springer spaniels are often kept indoors.
Most dogs are pets as well as workers and they enjoy the company of family and living inside does not overly affect their working ability, in many ways it helps to reinforce the bond between dog and owner.
One of the main things to think about when your dog lives in the house is providing him with a good dog bed and often this can be a tricky decision due to quality, size, styles and suitability for the dog.
Your dog needs a bed that serves as his place, somewhere that is comfortable, secure and a place where he can get good levels of rest and privacy.
The Omlet dog bed range is one of our favourite options for housing Cocker spaniels. They are solid and easy to put together with everything that your spaniel needs and fulfil his natural desire to have his own den. Many of the beds are useful furniture items and some even have built in wardrobes for your dogs things.

In a rush to find the best dog bed for a Cocker spaniel? Click here to see our top choice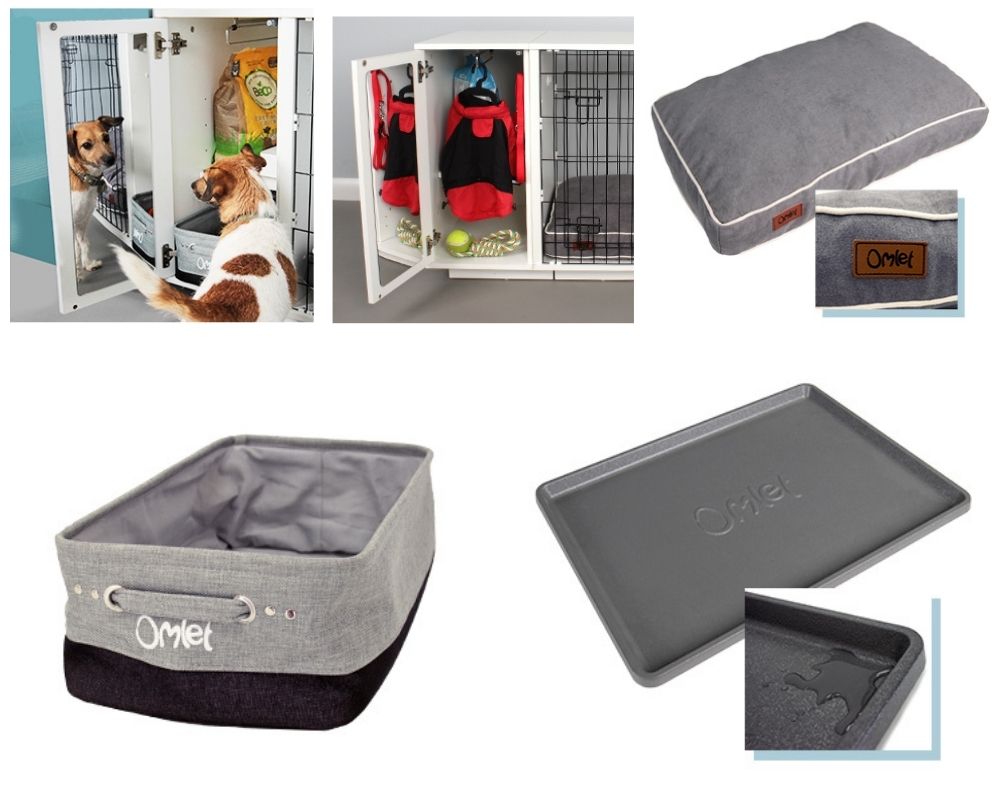 What to think about when buying a dog bed for a Cocker spaniel
When you are looking for a bed for your spaniel you'll need to consider the adult size of your dog. On average a Cocker spaniel will weight between 15 to 20 kilogrammes when fully grown and they are classed as a medium sized dog.
Your dog will have his own things that will need storage, things such as his food, lead, coat and toys will all need a place where they can be stored safely yet are easy to access.
Ease of use and convenient cleaning are also important factors as is the quality of the bed, is it deep enough for your spaniel and will he be comfortable when he lies down?
You may also want to consider how the bed looks when it is in your house.
Our favourite dog bed selection →
What is the best sized dog bed for a Cocker spaniel?
As a medium sized breed, a Cocker spaniel will require a bed that allows him to stretch out and change position easily. Cockers move around when they sleep and your spaniel should have enough space to allow him to get comfortable.
We recommend that you provide your Cocker spaniel with a bed that is at least 3 feet long by 2 feet wide, the bed should also be deep enough to support his weight and keep him off the cold floor.
How often should you clean your Cocker spaniel's bed?
Spaniels are clean dogs but you will need to clean your dog's bed regularly to stop smells and ensure that your dog stays healthy.
Your spaniel's bed will get dirty and you should clean it as often as needed to deal with this.
The great thing about the Omlet dog bed is that it has a removable cover that is machine washable, making it a simple task to keep the bed clean.
The bed also has a removable tray which is ideal for catching any spills or accidents.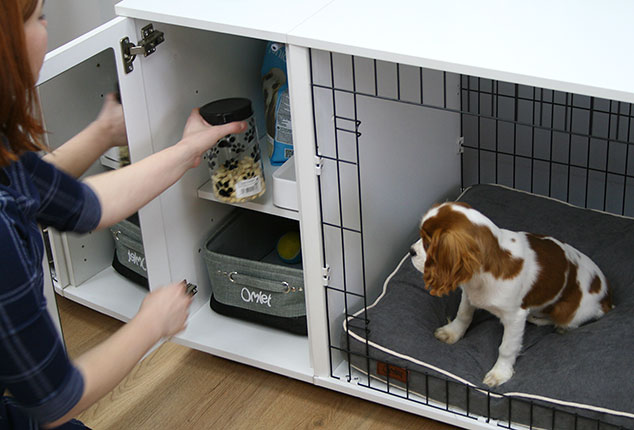 Your Cocker spaniel's dog bed is his den
Your Cocker spaniel needs somewhere where he can feel safe and secure when he is resting or sleeping.
Dogs that sleep on beds that are on the floor can be subjected to draughts and the cold as well as disturbed by noise and general family life.
A dog bed that is raised off the floor, with surrounding sides, will help your spaniel to feel safe, secure and warm and will reduce levels of stress that your dog might experience due to disturbance.
If your spaniel has his own safe and cozy den then he is more likely to use it rather than the furniture of your bed.
Easy to setup
Thoughtful design that looks good
Creates a great den for your spaniel
2 doors for easy access
Safe and secure
Wardrobe to keep your spaniel's things tidy
Tray to catch spills
Comfortable bed that fits perfectly
Pull out basket keeps things tidy
Optional clothes rail to hang coats and leads
We picked the Omlet dog bed because it is a high quality bed that is well built, looks good and provides a great place for a spaniel to retreat to and relax.
It comes with everything that your dog needs and the extras really do place it above the other dog beds that we have seen.
There are cheaper dog beds that are available and many of them can be found on Amazon, but, having had spaniels for many years, it is unlikely that these cheaper beds would last as long as this one.
There are many things to consider when buying a dog bed for your Cocker spaniel and our luxury indoor kennel guide can be found here.
Conclusion
This dog bed from Omlet is a great choice for a spaniel. Well made, easy to keep clean and well designed, it will provide your dog with a great place to relax and unwind.
You can also store all of his knick knacks and other equipment in the attached wardrobe.