Having lived with Springer spaniels for many years I can tell you that they are one of the most versatile and friendliest breeds that you could hope to meet.
I owned three English Springers, they were all working bred dogs and were well trained being regularly used to help on shoots and in competitions, but, additinally they were companions and pets.
Are Springer spaniels good family pets?
Are Springer spaniels good family pets?  Yes, a Springer spaniel is an excellent choice for a family pet. They have an excellent temperament and love to spend time with their owners, children and families.
Springer spaniels are happy, energetic and playful dogs that love social occasions and meeting new people.
They are well behaved and make great family dogs getting along well with children and other family pets. My Springers were great friends with our cat.
As a sociable and intelligent breed, Springers love to be involved in family activities and will play, eat and sleep whenever the family do. 
They are a great breed of dog for a family.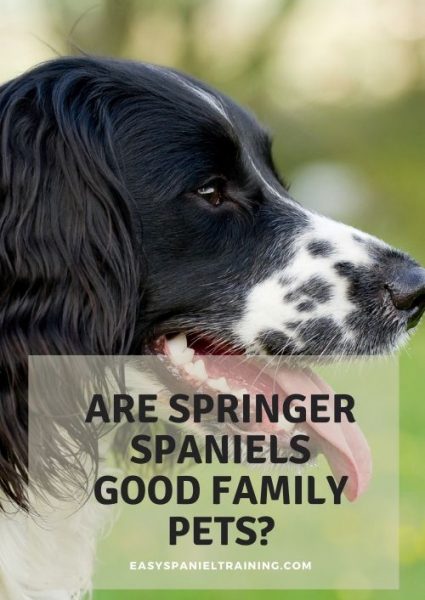 Can a Springer live inside the house?
Springer spaniels are adaptable dogs that are quite happy living inside the house. 
If you provide him with his own space and a good dog bed where he can retreat for rest and sleep, and some quiet time, then a Springer will be quite content living in the house with his family, in fact he will probably prefer to do this.
Springers, like all spaniels, enjoy their comforts and will appreciate a nice, well made bed that is his own.
We found some great and unique dog beds on Etsy which are great for a Springer – you can see some of them here.
What exercise do Springer spaniels need?
As a member of the gundog group, Springers, like all spaniels are high energy and highly intelligent dogs. 
If you do choose a Springer then you will need to be able to provide him with a good level of free running exercise daily – at least two 30 minute sessions where he can run around, chasing his nose burning off his energy.
As a working dog your Springer will enjoy learning new things and you should provide him with mental stimulation through training which, due to his willingness to learn will be easy.
We have some recommended training courses here.
Or you can learn more about spaniel training from one of the many excellent books on the subject.
Springer spaniel temperament
Springer spaniels are loyal dogs that love their families and have a happy, positive outlook to life.
They love to go on trips and adventures with their families, whether this is a short car ride to the supermarket or a wild, outdoor hike on the fells or beach they enjoy any opportunity to explore new things.
Springers are happy living in a kennel  or in a small house or apartment providing they get exercise.
Outgoing, love new experiences
Friendly and loyal
Intelligent and eager to please
Happy with a love of life
Great family dog
Good with children and family pets
Do Springer spaniels need a lot of food?
You should feed a Springer spaniel the best quality food that you can afford and, ideally you should feed him twice daily.
Look for a dog food that is predominantly meat based and try to avoid foods that have high levels of grains as these are not great for spaniels.
Many spaniel owners feed their dogs a combination of raw foods, such as tripe ( which you can read about here), mixed with dried, kibble or biscuit based spaniel foods.
To sum up
Springer spaniels are excellent family pets. Intelligent and active dogs they love being around their owners and families and, providing that their basic needs are met they make a loyal and fun companion.
Read Next
Last update on 2022-12-08 / Affiliate links / Images from Amazon Product Advertising API