Springer Spaniels do need haircuts. Their coats can grow long and become matted if not regularly groomed. Haircuts can also help to keep their coat looking neat and tidy, especially if they spend a lot of time outdoors.
Springer Spaniels are one of the most popular dog breeds in the world.
They are known for their friendly and affectionate nature, as well as their high energy and hunting skills.
As with any dog breed, grooming is an important part of keeping your Springer Spaniel healthy and happy.
One question that many owners have is whether or not Springer Spaniels need haircuts.
In this blog post, we will explore this topic in more detail and provide some useful tips for grooming your Springer Spaniel.
How often does a Springer spaniel need a haircut?
How often your Springer needs his hair cutting will depend on the type of spaniel that you have and whether he is used for dog shows.
A show Springer spaniel will have a natural tendency to grow long hair from most areas of his body and, if this is not kept under control this can quickly become tangled, matted and problematic.
Also if you are involved in dog shows then you'll probably want to keep your spaniel's coat under control.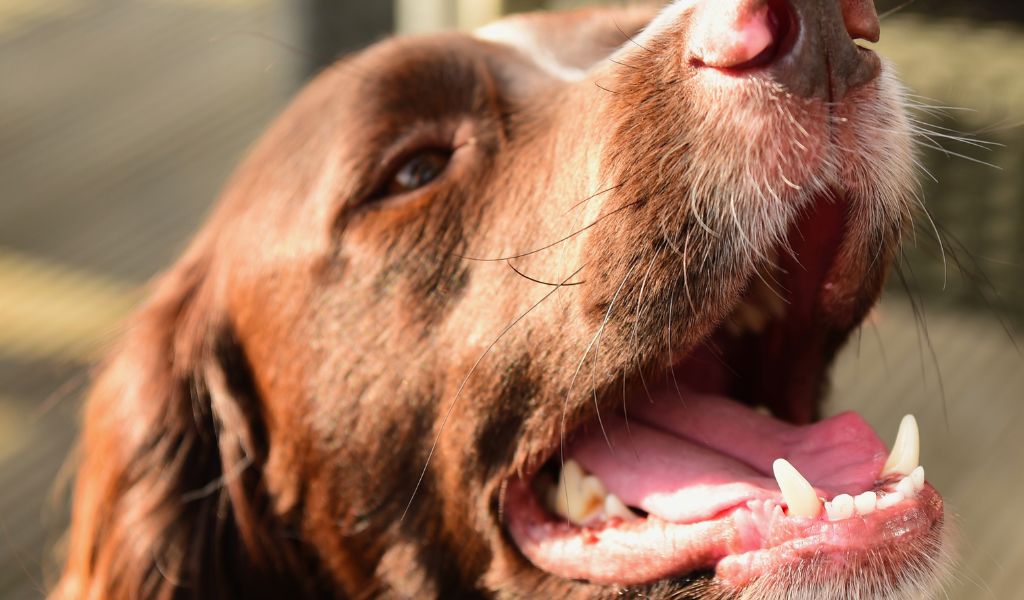 Working Springer spaniels or those bred from working dogs, have a tendency to shorter coats, that although very similar to those of show spaniels, grow in a more dense fashion and tend to be shorter.
All Springers need haircuts and grooming and this can vary from anywhere from 2 to 3 months up to 6 to 7 months.
When should I start grooming my Springer spaniel?
Your Springer spaniel's coat will need grooming from about six months of age, however it is beneficial to brush your spaniel gently while he is younger to help him to become familiar with the process.
We suggest using a grooming glove on a young spaniel which resembles stroking. 
There are some good ones available on Amazon .
Should I shave my Springer spaniel's coat?
You can shave an English Springer spaniel but you should consider the long term effects.
When you shave any spaniel there is a very high risk that their coat will grow back wiry and that your dog will lose the wavy effect and sheen that his coat had previously.
For this reason I would always recommend that you have your Springer clipped or that he is hand cut with scissors.
What is the best haircut for a Springer spaniel?
The best haircut for a Springer is one that simply removes dead hair and trims back his feathering.
Spaniels should have feathering and, if this has become too long, then it just needs a trim. You should also pay attention to the area between his toes as hair can grow densely here.
Sometimes it is simply best to pay a professional to cut your spaniel's hair, they have the right tools, dog hairdryers and other accessories to do a good job.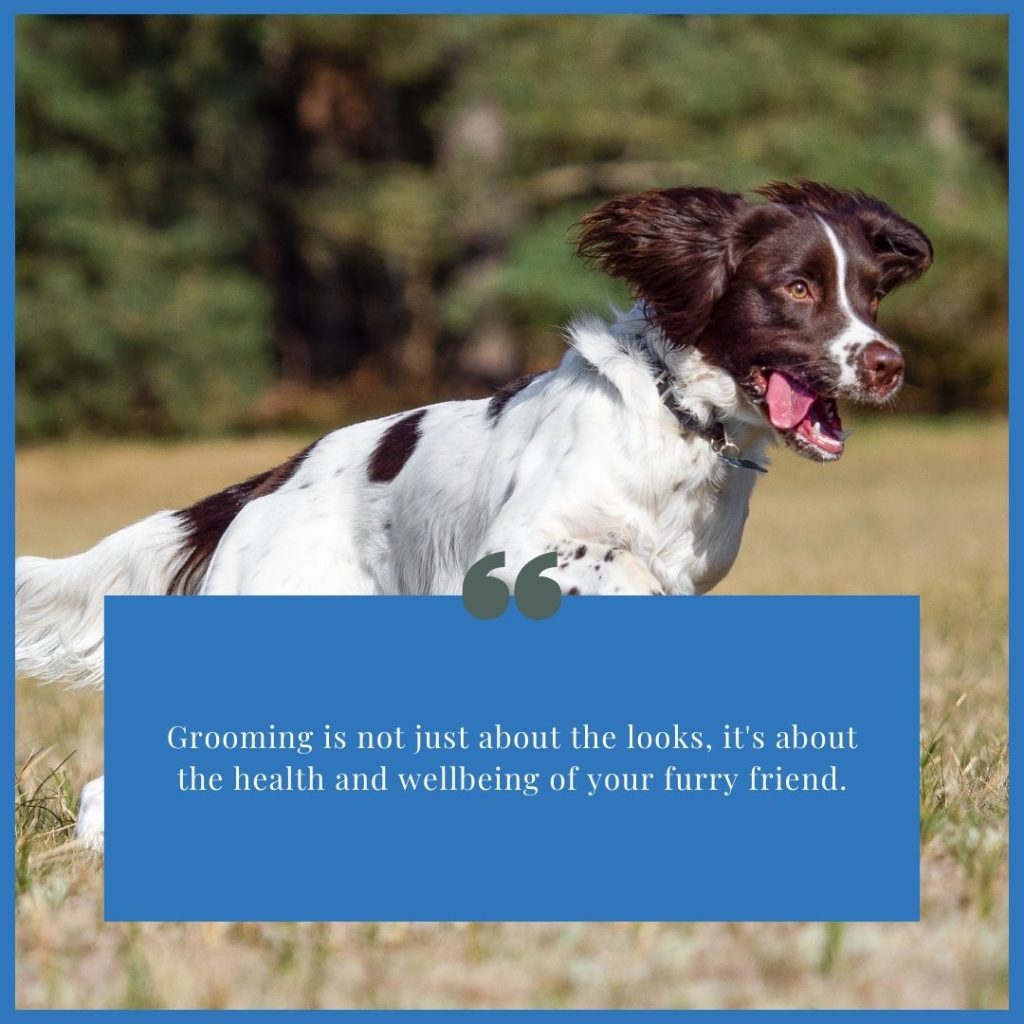 How often should you groom a Springer spaniel?
The grooming frequency for a Springer Spaniel depends on various factors such as the dog's coat type, activity level, and personal preference.
Generally, it is recommended to groom a Springer Spaniel every 6 to 8 weeks to maintain a healthy and tidy appearance.
However, there are specific grooming tasks that you should consider on a more frequent basis:
Brushing: Springer Spaniels have medium-length, double coats that require regular brushing to prevent matting and remove loose hair.
Aim to brush them at least once a week to keep their coat in good condition.
Bathing: Bathing frequency can vary depending on your dog's lifestyle and activity level. Generally, bathing every 4 to 6 weeks is sufficient for most Springer Spaniels.
However, if your dog loves outdoor activities or tends to get dirty frequently, more frequent baths may be necessary.
Ear Care: Springer Spaniels are prone to ear infections, so regular ear cleaning is important. Check their ears weekly for any signs of redness, discharge, or odour.
Clean their ears as needed using a veterinarian-recommended ear cleaner.
Nail Trimming: Regular nail trims are essential to prevent overgrowth and discomfort. Trim your Springer Spaniel's nails every 4 to 6 weeks or as needed.
Be cautious not to cut too close to the quick, which can cause bleeding and pain.
Teeth Cleaning: Dental hygiene is crucial for your dog's overall health. Aim to brush your Springer Spaniel's teeth 2-3 times per week using a dog-specific toothbrush and toothpaste.
Dental chews and regular veterinary dental check-ups can also help maintain their oral health.
Remember to establish a grooming routine that suits your dog's needs and consult with a professional groomer or veterinarian for specific guidance based on your Springer Spaniel's coat condition and grooming requirements.
FAQs About Haircuts for Springer Spaniels
Do Springer Spaniels require regular haircuts?
Springer Spaniels have a moderate-length double coat that typically doesn't require professional haircuts. However, regular grooming, including brushing and occasional trimming, helps maintain their coat's health and appearance.
How often should I groom my Springer Spaniel?
It is recommended to groom your Springer Spaniel at least once a week. Regular brushing helps remove loose hair, prevents matting, and keeps their coat clean and tangle-free.
Can Springer Spaniels benefit from professional grooming services?
While not necessary for standard maintenance, some Springer Spaniel owners opt for professional grooming services to achieve a more polished look or for specific styling requests. However, it is not a mandatory requirement for their overall well-being.
Are there specific areas on a Springer Spaniel's body that require attention?
Yes, certain areas like the ears, tail, and feathering (long hair on legs and body) may require additional care. Regularly checking and cleaning the ears, trimming excess hair on the tail, and maintaining the feathering can help prevent matting and maintain cleanliness.
Are there any particular haircuts or styles suitable for Springer Spaniels?
There is no specific haircut or style that is standard for Springer Spaniels. However, some owners may prefer to keep their coat shorter during hot weather or choose a specific trim for aesthetic purposes. It's important to consult with a professional groomer if you wish to change the appearance of your Springer Spaniel's coat.
Final words
To keep your Springer's coat in the best condition he will need a haircut several times a year.
A good haircut will help to keep him cool when the weather is hot and will prevent the development of tangles and matted areas. It will also help him to feel good about himself too.
Last update on 2023-12-07 / Affiliate links / Images from Amazon Product Advertising API