The Sussex spaniel has been identified by the UK Kennel Club as being the rarest of the land spaniels and one of the rarest and most vulnerable breeds of dogs in the UK which is surprising given the personality of the breed.
The Sussex spaniel's temperament is fantastic. This spaniel breed is friendly and the Sussex is a laid back dog that enjoys a daily walk with the family, followed by lazy days spent on the couch or lying by the fireplace.
The Sussex spaniel temperament
The Sussex spaniel is a cute and adorable spaniel that has a wonderful personality. As is true with spaniels such as Springer spaniels and Cockers, the Sussex spaniel loves the company of it's family and has a wonderful, intelligent expression.
This is a spaniel that is less active than the more popular spaniel breeds and they rarely suffer from anxiety or stress conditions, as long as they get a daily walk then they are happy to spend the rest of their time lazing around at home.
Sussex spaniels get along great with children and other pets making them an ideal dog for families or households that have other animals.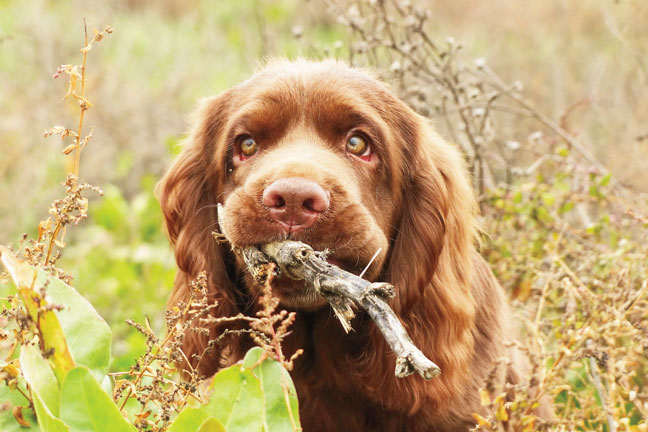 Are Sussex spaniels easy to train?
Sussex spaniels are dogs that enjoy learning and can be quick to pick up new skills and tricks.
Originally bred to hunt game birds, the Sussex has suffered in the past and there are less working bred examples around although there are several dedicated breeders and trainers that are working to return the breed to a working standard.
Like all spaniels the Sussex spaniel will enjoy training and the mental stimulation will be good for the dog as well as the physical aspects.
The aspects and steps to training a Sussex spaniel are no different to those that are employed when training any of the other spaniel breeds.
For tips on spaniel training try our basic spaniel training post here.
Other things that you should know about Sussex spaniels
Most spaniels share similar needs ( as do all dogs ) and Sussex spaniels are no exception to this. If you are thinking of getting a Sussex spaniel then, as well as their easy going temperament, you should consider the following:
Like all spaniels, they need exercise and, whenever possible, this should be free running, allowing the dog to chase his nose and explore. Give him enough exercise to wear out his little legs and he'll sleep for the rest of the day.
Sussex spaniels have nice, silky coats that will stay in the best condition if you feed them good food and groom them regularly. Don't ever get a Sussex spaniel shaved when he has his haircut – it will ruin his coat which will struggle to regain the silkiness.
Doggy Goz – Sussex spaniels are quite 'jowly' and will slobber like a Clumber spaniel, be ready for a certain amount of doggy slobber, particularly when he has been running around.
Self mindedness – although they have an easy going personality, Sussex spaniels can be stubborn dogs who, if they decide can be borderline painful if they do not get their own way. Like a naughty child you'll need to be prepared to deal with this through consistency and developing more understanding of the breed and dogs.
Sussex spaniels are rare in the UK and are classed as an endangered breed. If you are looking for a Sussex spaniel be prepared to work and travel to locate one and be ready to be vetted by a breeder who will also charge a substantial price.
Useful books for Sussex spaniel owners
Sale
Training Spaniels
Hardcover Book
Joe Irving (Author)
English (Publication Language)
176 Pages – 07/12/1993 (Publication Date) – Quiller Publishing (Publisher)
Final words
If you are thinking of a Sussex spaniel then you've made a great choice, this gentle and intelligent breed makes a great pet and, with some persistence can make a useful working spaniel.
Finding a breeder may be difficult and the Kennel Club would be a useful place to begin your search.
You should be prepared to be checked out by the breeder and it's likely, due to the rarity of the breed, that you'll pay a premium price for a puppy.
Read Next
Last update on 2023-12-07 / Affiliate links / Images from Amazon Product Advertising API