Coconut milk is not the fluid that comes out of a coconut. The milk is made by grating the white flesh of the coconut into water. If little water is added then you get cream, and, as more water is used the result is coconut milk.
Dogs can drink coconut milk but you should only give your dog natural coconut milk that has no added sweeteners or other additives which could be harmful to your pooch. Coconut milk can have some benefits for dogs which can include helping the immune system.
What are the benefits of giving coconut milk to a dog?
Some dogs can benefit from an addition of coconut milk to their daily diet.
If provided in moderation coconut milk can help your dog to:
Deal with viruses and help him to fight off infections
Boost his immune system keeping him fit and healthy
Support and help him to have healthy skin and a shiny coat
Improve instances of bad breath
To avoid any problems when giving coconut milk to your dog, you should only ever give him organic coconut milk which will be free of any artificial sweeteners or other additives.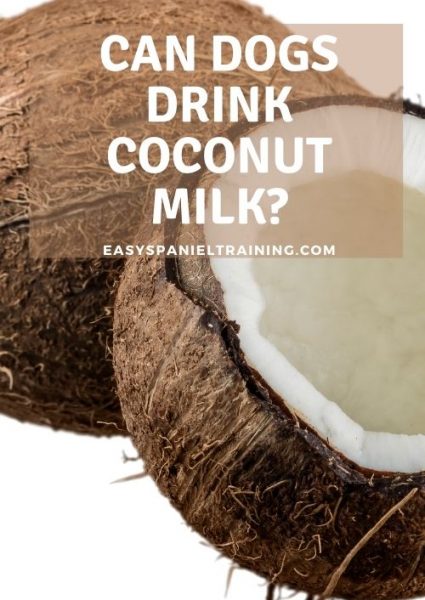 Nutrition in coconut milk for dogs
Coconut milk is an ideal milk for dogs but should be used carefully as it is high in saturated fats making it a rich source of calories.
It is also rich in vitamins and minerals but the levels can vary depending on production methods.
Typically a cup of coconut milk contains:
Calories – 445
Water – 164 grammes
Protein – 4.5 grammes
Fat – 48 grammes
Carbohydrate – 6.5 grammes
Plus an additional array of vitamins and minerals including calcium and potassium.
(source:https://www.medicalnewstoday.com/articles/323743)
Eat Wholesome Organic Light Coconut Milk with No Guar Gum, 400 ml (Pack of 4)
100% NATURAL & CERTIFIED ORGANIC: No guar gum, just coconut, water & nothing else
VERSATILE: Delicious in curries, soups, smoothies, overnight oats and more
VEGAN FRIENDLY: Suitable for vegetarians and vegans
NON-BPA: Fully recyclable, easy open cans with non-BPA lining
DONATION: For each product bought, Eat Wholesome donate seeds to farmers in need
Things to know when giving coconut milk to your dog
Always make certain that the milk that you give to your dog is organic. You should always aim to provide your dog with the most natural products that you can, whether it is coconut milk or anything else – this is avoid things like sugars, sweeteners, presevatives and other additives.
Don't give your dog too much coconut milk. Dogs can be sensitive to getting too much of one food type and coconut milk can, if you give too much, cause your dog to have an upset stomach and diarrhea. It is also high in fat so too much could make your dog gain weight.
Always watch your dog and be prepared to stop feeding. If your dog displays any signs of adverse reaction to coconut milk, such as retching, vomiting, being out of sorts then you should stop feeding and consider an alternative milk product.
How to give coconut milk to your dog
Like all foods you should introduce coconut milk into your dog's diet gradually and in small amounts.
The best way to serve coconut milk to a dog is to simply put a small amount into a small bowl for him to drink. You can gradually increase the amount which for a large dog should be no more than about a quarter of a pint daily and less for smaller breeds.
Another great way to serve is to make ice cubes from the milk – on a hot day when your dog is thirsty they can make a nice refreshing treat for him.
To sum up
Dogs can drink coconut milk but, like all things, if you plan to introduce coconut milk into your dog's diet you should do it slowly and carefully and watch your dog for any adverse reaction.
Most milks are high calorie so don't give too much and don't give it too often.
Read Next
Last update on 2022-03-02 / Affiliate links / Images from Amazon Product Advertising API