Feeding raw foods to dogs is becoming more common and many dog owners are turning to raw food diets for their pets as an alternative to dried and processed meals.
Tripe is a safe and nutritious food for dogs and has been used as a dog food for centuries, well before the onset of manufactured and processed foods. It is packed with vitamins and nutrients and is a great source of good bacteria, all of which will help your dog with fitness and health.
What is tripe?
Tripe is the edible lining that comes from the stomachs of 'ruminating' animals such as cows, goats and sheep.
The most common type of available tripe for dogs is beef tripe which is taken from the muscle wall of the first three chambers of a cow's stomach, it is generally available as washed tripe and green tripe
Washed tripe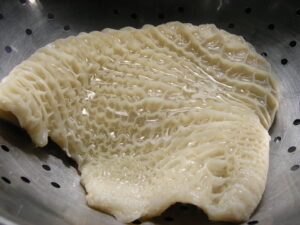 This is tripe that has been treated or 'washed' and made safe and suitable for human consumption.
It has been bleached and boiled to remove bacteria so that it is okay for people to eat.
Although safe for dogs, and dogs enjoy it, it contains very little nutritional value and provides little benefit to dogs.
Green tripe
Green tripe is the raw and unprocessed stomach and contents. It sounds pretty disgusting but dogs love it and it contains a range of nutrients that are excellent for a dog's health and constitution.
It is not normally available for purchase over the counter due to health risks if consumed by humans, but green tripe can be purchased via many pet suppliers and online for dog consumption.
A good quality tripe for dogs is available from Southcliffe Pet Foods who sell on Amazon.
You can see their tripe offer here.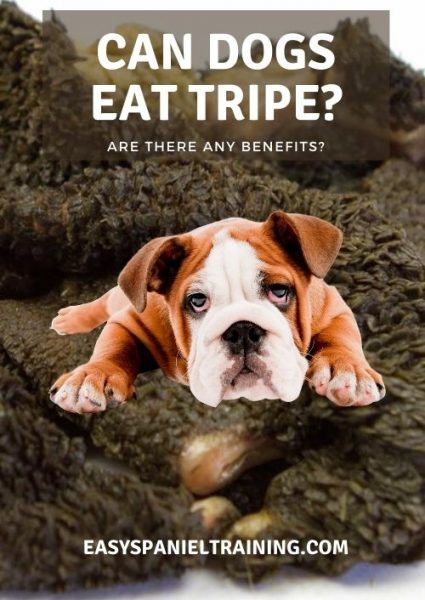 Can dogs eat tripe everyday?
Your dog can eat tripe daily and you can feed this in line with his daily mealtimes – if you feed him once per day then there is nothing wrong with feeding tripe to your dog as one meal.
On it's own tripe is a great form of nutrition and your dog will benefit from eating it, however, it is a good idea to feed tripe mixed in with a kibble or other dried food.
This will provide more texture to your dog's meal and the crunchy aspect will help him to keep his teeth clean and healthy.
For example I feed my dogs raw tripe mixed with a handful of Eukanuba Adult dried dog food which provides them with a good combination.
How healthy is tripe for dogs?
Offal meats are highly nutritious and tripe is no exception to this.  Tripe is low in calories but it is packed with nutrients that your dog needs to be fit and healthy.
A 4 ounce (113g) serving of green beef tripe typically provides:
Calories – 96
Protein – 13.6 g
Saturated fatty acids – 1.46 g
Mono saturated fatty acids – 1.73 g
Vitamins – B12, B6, E
Iron – 0.67 mg
Water – 96 g
Green tripe also provides numerous minerals and highly absorbable protein compounds to support the healthy growth and development of dogs.
source: https://ndb.nal.usda.gov/fdc-app.html#/food-details/170599/nutrients
Recommended tripe for dogs
Natures Menu Freeflow Raw Frozen Lamb and Chicken Mince (5 x 2kg FROZEN bags)
Raw Frozen Complimentary Free Flow Mince for adult dogs
Made with quality ingredients (and no meat meals or meat derivatives)
Free from artificial colours, flavours and preservatives
Simply measure, defrost and serve in line with our recommendations for a home prepared raw meal.
Produced to be safe and totally delicious for your dog, keeping them in the best of health
https://www.youtube.com/watch?v=7QJBw6U4jck&t=2s
To sum up
Dogs can eat tripe. Raw, green, untreated tripe is the best type of tripe to feed to your dog.
For dogs, tripe is a healthy option, full of nutrition and is a meal that he will enjoy either as a regular food or when added to his normal meals as a treat or alternative option.
Tripe for dogs is recommended.
Last update on 2023-12-07 / Affiliate links / Images from Amazon Product Advertising API