You should always feed your Cocker Spaniel raw meat that has been specifically produced, for dogs, from the pet food supplier. There are plenty of options and varieties of raw meat, such as liver and other offal, steaks and tripes, that you can feed to your Cocker, from recognised and respected raw dog food suppliers, these are well-balanced and have all of the nutrition that he needs to keep him active and healthy.
Can Cocker Spaniels eat raw meat? Dogs are carnivores and their main source of food should be meat based. Cocker Spaniels enjoy eating raw meat and it can be mixed with biscuits to add texture to your spaniel's meals. So, yes, Cocker Spaniels can eat raw meat.
Is Raw Meat Good For Cocker Spaniels?
Up until about a year ago I had never really thought about feeding raw meat to my spaniels. I had always used a dry, kibble based food, which, to be fair, my dogs seemed to enjoy one day and then get fed up of the next.
When I got my next Cocker Spaniel, Nimrod, I was surprised when the breeder told me that she had raised him on raw food, particularly tripe.
When we took him home she gave us some vouchers for the raw food that he had been raised on, so, with some trepidation, I ordered it.
When it arrived I was surprised at the quality of the packing, it was frozen so it went into the freezer.
When I fed Nimrod his 'raw tripe' he devoured it and my older Cocker spaniel, Boris, was very interested in the empty bowl afterwards.
For almost a year I have been feeding Nimrod raw meat, tripe based, and he is doing really well. He is a fit, energetic young Cocker Spaniel with a love of life. Boris, has also developed a love of the raw food that we give to Nimrod, he always has some and loves it too.
Both of my dogs are healthy, lively with good coats and great energy levels from eating raw meat based food.
So I would say, from my experience, that raw food is good for Cocker spaniels.
Beef & Chicken Mince 100% Natural & Healthy Raw Pet Dog Food 12kg - Individual Portions
Beef & Turkey Mince 100% Natural & Healthy Raw Pet Dog Food 12kg - Individual Portions
Nutriment Raw 5kg Starter Pack Adult (Dog Food) 10 x 500g Mixed Variety
Natures Menu Raw Frozen 400g Minced Blocks for Dogs PACK OF 2 (12 x 400g)
4PAWSRAW Completes 80/10/10 Raw Mix - Beef, Duck,Turkey, Lamb and Chicken 16.8kg
Natures Menu Dog Adult True Instinct Raw Boost Free Range Chicken 5kg
Beef & Chicken Mince 100% Natural & Healthy Raw Pet Dog Food 12kg - Individual Portions
Beef & Turkey Mince 100% Natural & Healthy Raw Pet Dog Food 12kg - Individual Portions
Nutriment Raw 5kg Starter Pack Adult (Dog Food) 10 x 500g Mixed Variety
Natures Menu Raw Frozen 400g Minced Blocks for Dogs PACK OF 2 (12 x 400g)
4PAWSRAW Completes 80/10/10 Raw Mix - Beef, Duck,Turkey, Lamb and Chicken 16.8kg
Natures Menu Dog Adult True Instinct Raw Boost Free Range Chicken 5kg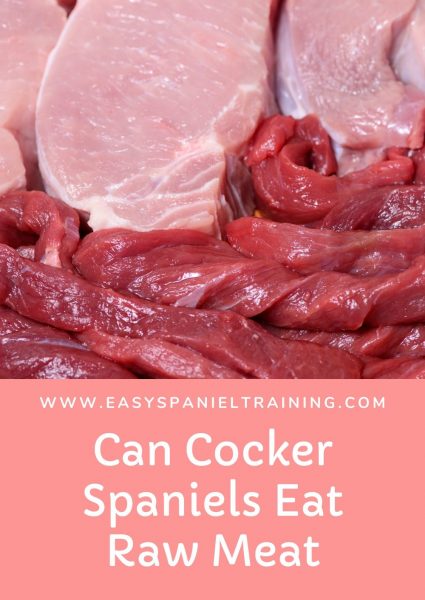 Does Raw Dog Food Need Supplements?
The raw dog food that I feed to my two Cocker Spaniels is commercially produced from professional raw dog food manufacturers who produced a range of dog foods.
There is no need to add supplements to this type of commercially produced raw food as the food comes ready to feed and all nutritional needs have been addressed by the food producer.
If you make your own raw food for your dogs ( which I wouldn't do and wouldn't really know how to ) then it is possible that you would have to think carefully about supplements. If you did decide to do this then you would need to know which supplements are safe for your spaniel and the correct quantities to use.
Personally I would always recommend that if you decide to feed your Cocker Spaniel on a raw diet then you get the food from a recognised raw food producer, they will have the necessary controls in place to ensure that it is safe for your dog.
Can I feed my Cocker Spaniel Raw Meat Every Day?
Yes. My two Cocker Spaniels get raw meat for their meals every day. I do mix the raw meat with dry biscuits to help the food to go further and to create bit of texture for them. Texture is an important matter for dogs and they like to crunch a little, so biscuit is good.
The raw food that I use comes in a variety of flavors, tripe, beef, chicken, turkey and combinations of all of these and it arrives in frozen blocks that I store in the freezer.
They enjoy it, there is very little waste and they both do very well on raw meat based food.
How Much Raw Meat Should I Feed My Cocker Spaniel?
The amount of food that you give to your Cocker Spaniel will vary dependant on your dog and the type of lifestyle that he leads.
Just as it is with people, Cocker Spaniels are all different and what suit one dog may be too much or too little for another. Puppies, for example, will generally need more raw food than an adult dog due to their growth and development needs.
Similarly a very active Cocker Spaniel will require more food than an older dog which is less active.
An active adult Cocker Spaniel will need around 1 to 1.25lbs of raw meat per day, while a less active dog will need around 3/4lb of the same food.
For a Cocker Spaniel puppy you should feed him about 1lb of raw meat food daily. Puppies are pretty good at controlling their food intake and if this is too much for him then he will leave some of the food when he is full.
You should watch your Cocker Spaniel and, if he is getting fat, then reduce the amount of food that you give to him, likewise, if he appears to be thin, then increase his food levels.
You should be able to easily feel your spaniel's ribs and see the last few nearest to his backside. You should not be able to see all of his ribs, or his spine. If you can then he is too thin.
What is the Best Raw Food For Cocker Spaniels?
We reviewed 5 raw meat dog foods for Cocker Spaniels and, to be fair, we enjoyed all of these foods.
All of the manufacturers have their own take on raw foods and they all have very similar approaches to their production and sourcing of ingredients.
We were impressed with the natural qualities of all of the foods that we reviewed and that they all had no artificial additives, colorings, grains or other ingredients that could be detrimental to dogs.
Being free of additives helps each food to be suitable for all spaniels ( and other breeds ) regardless of age or condition.
So. To answer our question.
What is the best raw food for Cocker Spaniels? We chose Raw Paws Signature Blend Complete Chicken. We love this food for it's simplicity. It arrives frozen and needs nothing adding to it before use. The dogs love it, it is great value for money and the company offer a great range of tripe products of the same quality.
What to look for when choosing a raw food
There are many raw dog foods available for your Cocker Spaniel and you'll want to make sure that you choose the right one for your dog.
When considering a raw food it is wise to do some research about the company that produce the food and your main consideration should be what do they make their raw food from?
All of the foods that we have reviewed here are produced by companies that pride themselves on the use of 100% natural ingredients that they get from suppliers who have been checked and who have to meet strict guidelines.
You will also probably want to check that the food contains no artificial additives, colors, sugar and grains.
Raw dog food is generally supplied in either frozen or dehydrated form. If you buy frozen then you will need a suitable appliance to store the food until it is needed.
If you buy dehydrated raw food then storage is not as difficult as the food is dry, but, when you want to feed the food to your dog, you will need to add water to it first, otherwise your dog will not be able to eat it.
Finally most raw foods can be used as complete meals or as toppers on other foods such as dry kibble etc and this may be something that you want to think about.
Raw Meat Dog Food For Cocker Spaniels - Our Top 5 Review
Raw Paws are based in Indianapolis, IN, and have been producing quality raw and partial raw dog foods since 2014.
The company provide great quality dog and cat nutrition through their firm belief that as carnivores they deserve high quality ingredients and they only source from responsible and ethical suppliers.
The company provide a wide range of raw meat products for dogs including complete meals and portioned patties making it easier to feed raw food to your dog.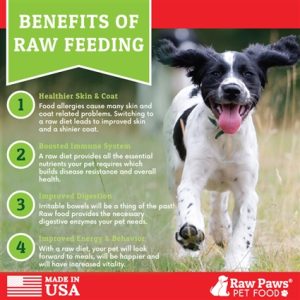 The raw green beef tripe that makes up this dog food comes from free range cows that are raised in Indiana.
This food has an optimal blend of nutrients and enzymes and a natural probiotic to support good bacteria in your dogs gut to aid digestion.
This food can be served as a supplement with kibble or it can be served on it's own as a complete meal. It can also be given as a between meal treat or used as a food topper.
The food is made weekly by the manufacturer in small batches which means great quality control and consistency.
All orders for this raw food are normally shipped the same day.
Suitable for all breeds of dogs, and gets picky dogs eating
Free range sourced and ethically produced
Fast shipping normally same day
Tripe is smelly and this is no different. De-frost it and give it to your dogs before you get a chance to smell it.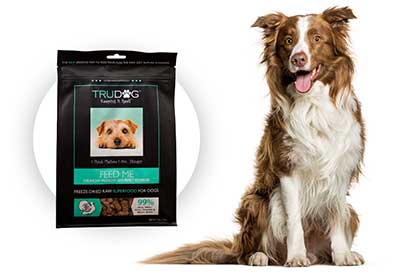 This dog superfood is produced by the TruDog Company based in Oldsmar, Fl, USA.
The company was founded after the owner lost her Great Dane to cancer at a young age. Following the death of her dog she began to research dog foods and two years later founded TruDog with a range of freeze dried raw diets with the aim of helping dog parents to understand the need to feed dogs a species specific diet.
The company only use 100% USA produced beef and their foods contain no grains, filters or additives.
This is a 14oz sack of freeze dried super food for dogs. The product is natural and hypoallergenic and is made for dogs of all breeds and ages.
This Feed Me Turkey Freeze Dried Raw Superfood is a delicious, premium raw superfood which has been produced from simple and nutrient rich ingredients.
The food is made from quality cuts of turkey, turkey heart and liver and ground turkey bone with added herring oil to assist digestion.
The freeze dried process ensures that no nutrients are lost during the production processes.
The food supports healthy gums and teeth and helps to maintain a healthy digestive system and healthy weight.
There are no artificial additives such as antibiotics or preservatives and the food contains no grains or fillers and is gluten free.
Great for picky eaters – dogs love this raw food
Helps to improve overall condition and weight
Contains no artificial products
Need to add water to the food before it can be fed to re-hydrate it.
Primal Pet Foods produce the Primal range of raw dog foods including the Freeze Dried Dog Food Chicken Formula.
The company was founded in 2000 when the owner's dog experienced medical problems and he was advised by his vet to change the dog's diet. When he did this he noticed an improvement in the dog's health and he set out to develop a food suitable for his dog, and the business was born.
Today the company produce a wide range of freeze dried raw products for dogs that are manufactured from high quality ingredients including 100% human food grade meat, poultry and game.
This is a 14oz bag of freeze dried nuggets for dogs that you add water to before feeding.
This a chicken formula comprising 78% chicken with the remainder being produce and supplements.
The Primal Freeze Dried Dog Food Chicken Formula is produced from 100% human food grade ingredients.
The chicken is free from all antibiotics and is steriod and hormone free. The food contains ground bones for added natural supplements.
All of the ingredients are sourced from farms and ranches across the USA and New Zealand , and the ingredients are all from sustainable sources.
This food is suitable for dogs of all breeds and ages and is a complete and balanced diet.
The food is grain, gluten, corn, wheat and soy free.
Enjoyed by dogs and picky eaters
Natural products
Food drops to pieces after re-hydration
Packaging guidelines for feeding are approximate and you may need to adapt
The Signature Blend Complete Chicken for Dogs is another product from the Raws Paws range of raw food products for dogs and cats.
These products provide excellent nutrition for cats and dogs through 100% natural products that are produced in small batches and despatched quickly upon order.
This is a 3lb chub of the Signature Chicken food that is free from grains, antibiotics and hormones and is 100% free range.
The chicken in this product is sourced from 100% free range poultry that are raised on a family farm in Indiana.
The food ratio is 80% meat, 10% bone and 10% organs, resulting in a well rounded food suitable for all dog breeds of all ages. It will also feed your cat as they love it too.
The food comes in a 3lb tube and is free of all artificial additives and preservatives. This is a lean, high protein meal that will help to maintain weight and energy levels.
Like all foods from this producer this product is made in small batches to ensure quality and is packed in eco containers with dry ice for same day shipping.
Great product that is loved by the dogs
3lb chub lasts longer
100% free range
Fast delivery
Also loved by cats who have a nasty habit of sneaking up to get it
Rawgo Chicken and Rosemary Dehydrated Raw Superfood is another product from TruDog who are based in Oldsmar, FL, USA.
Rawgo is a specialist species appropriate raw dog food that uses high quality select cuts of meat and fresh wholesome herbs and vegetables.
This is a 2.2lb bag of dehyrated raw dog food that makes up to 6lbs of food when rehydrated with water.
The food is GMO free and contains no grains or fillers.
The Rawgo Chicken and Rosemary Dehydrated Raw Superfood is suitable for all breeds of dogs, regardless of size and age.
The food needs to be re-hydrated when it arrives but this is simple to do and the packaging contains all of the instructions that you need
This food is an affordable raw dog food with ingredients sourced from farms in New Zealand that meet the exacting standards and qualities of TruDog.
The food contains no artificial ingredients and is 100% naturally hypoallergenic making it suitable for all dogs.
There are no added sugars, flavorings, colors, grains, hormones or other and it is also gluten free.
Enjoyed by dogs of all breeds and ages
Natural raw food with no artificial additives or by products
Can be used as main meal, topper or added to biscuits
Like all dehydrated raw foods you need to follow the instruction correctly. If you don't then the texture of the food can be affected.
Raw Meat Providers that we love to work with
Last update on 2021-01-15 / Affiliate links / Images from Amazon Product Advertising API