Making sure that you give your Cocker spaniel the best food possible will help him to grow and be healthy and strong, fit dog. 
A lot of people get a Cocker Spaniel because they are cute, but not everyone takes the time to learn what their specific needs are.
What should I feed my Cocker? How often should I feed them? These questions can be answered by looking at what your Cocker Spaniel needs in their diet and the best types of food for them.
Cocker Spaniels are active dogs that need a good, balanced diet that provides them with a healthy source of protein, vitamins and minerals. Cockers fare well on a mixture of raw, tripe based food mixed with good quality kibble based dry dog food.  We use a mix of raw tripe and Eukanuba which keeps our dogs fit, keen and healthy.
At a glance tips for feeding Cocker Spaniels
Cocker Spaniels have a lot of energy, so they need to be fed high quality food with lots of protein
They also need to eat 2 or 3 times per day, depending on the size of your dog.
The best option is to feed them a wet or raw food, such as this type of tripe, mixed in with a quality dry dog food – such as Eukanuba.
Eukanuba Puppy Dog Food for Medium Dogs Rich in Fresh Chicken, 12 kg
17 new from £40.50

It is important that you feed your Cocker spaniel a food that has high levels of meat based protein – such as lamb, chicken or beef.
Most quality dog foods use these ingredients.
Vegetables and fruit can be given but you should always check first that they are safe to feed as there are certain ones that are dangerous for dogs to eat.
There is no room for vegetarianism with dogs – their diet should always be predominantly meat based.
Cocker spaniels enjoy treats and it's important to feed them treats every now and then for good behaviour.
Try to resist the temptation to feed your cocker spaniel table scraps, as these can lead to obesity.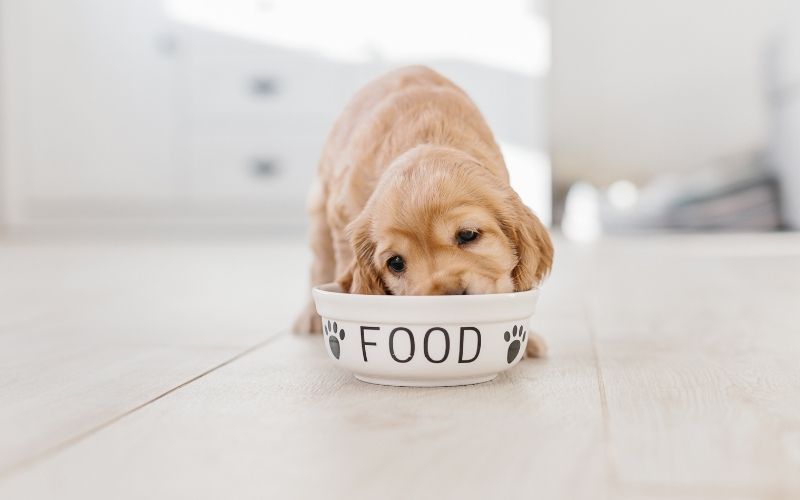 Always makes sure that your spaniel, has access to lots of clean, fresh water.
Don't change his diet for the sake of it. If he isn't eating ( and he is healthy ) then don't worry, he will eat when ready. Give him plenty of exercise and make sure he gets enough rest.
Their diet should be about 60% carbohydrates and 20% protein, and they need some fat in their food to keep their coat shiny.
You can feed your dog any high-quality dry dog food, as long as it's appropriate for their age and size. – puppies will need a different food from adults to support their fast growth.
Your spaniel needs a well balanced diet that is meat based.
Ideally 60% carbohydrate and 20% + protein with a combination of healthy fats.
Read about puppy foods for spaniels in this post.
You can also feed them raw meaty bones, one meal per day along side fresh vegetables on an "as needed basis".
Table scraps like cooked chicken are okay too as long as they do not have any sauces or salt added – table scraps should be given sparingly so that your Cocker doesn't get fat.
The importance of proper feeding
Any food that you feed to your puppy must be well-balanced with all the essential nutrients, both for early growth and later upkeep and maintenance.
When your puppy first comes home, in the early, initial stages, you should feed your puppy exactly the same food that he was eating while at the breeder's home. 
Doing this will help you in a number of ways. Firstly you will reduce any risk of the puppy developing any problems by sticking to the same food.
A puppy's tummy is sensitive and, should you suddenly change his diet you could encourage tummy upsets, loose stools and other problems.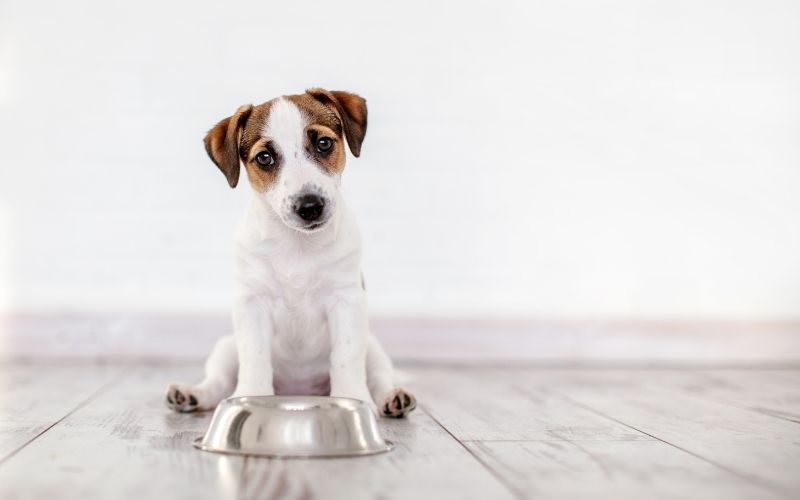 The other matter is that your puppy will have other things on his mind when he moves to a strange, new home and he doesn't need the worry of unfamiliar food.
So avoid the potential for problems, keep it simple and stick with the same food as used by the breeder for the first few weeks.
When your puppy has settled in then you can consider a different food if necessary.
You may have other dogs and want to feed them all of the same food, or you may have other reasons for changing the puppy's diet.
At a glance some great dry foods for Cockers
Arden Grange Adult Dry Dog Food Chicken and Rice, 12 kg (Pack of 1)
Harringtons Complete Dry Dog Food Lamb & Rice 18kg – Made with All Natural Ingredients
Bakers Adult Dry Dog Food Beef and Veg 14 kg, Packaging May Vary
Beta Adult Dry Dog Food Chicken 1 x 14kg Pack
Eukanuba Adult Dog Food for Medium Dogs Rich in Fresh Chicken, 12 kg
Hill's Science Plan Canine Adult Chicken Medium Breed Dry Mix 12 kg
Arden Grange Adult Dry Dog Food Chicken and Rice, 12 kg (Pack of 1)
Harringtons Complete Dry Dog Food Lamb & Rice 18kg – Made with All Natural Ingredients
Bakers Adult Dry Dog Food Beef and Veg 14 kg, Packaging May Vary
Beta Adult Dry Dog Food Chicken 1 x 14kg Pack
Eukanuba Adult Dog Food for Medium Dogs Rich in Fresh Chicken, 12 kg
Hill's Science Plan Canine Adult Chicken Medium Breed Dry Mix 12 kg
Things to think about when getting dog food
When you are looking for a food for your Cocker Spaniel or other dog you should consider a few things:
Is the food meat or vegetable based? – A dog's digestive system works best with meat and fat based proteins.
Too much vegetable protein is bad for your dog and will impact his development and growth.
Any food that you select should contain more meat based ingredients than vegetable.
Is the food balanced? – Simply put does the food contain all of the essential nutrients for your dog to be healthy and energetic?
Can your puppy eat it? – This may seem obvious but is often forgotten.
The size and shape of the food must be such that the puppy/dog can actually get it into his mouth to eat.
You should always check that any fruits or vegetables are safe for dogs to eat, as there are some that are toxic to dogs.
Remember that dogs need meat, so, keep vegetables to a minimum to ensure a fit and healthy dog.
Price – You must be able to afford the food. If you fall into difficult times then you will still need to feed your dog.
In the early part of his life your puppy undergoes fast and dramatic changes to his mind and body and you should feed him the best food that you can get.
If belts need to be tightened and savings made then you should look elsewhere and the puppy should take priority
Human Foods – do lots of research before feeding human food to your dog.
Some things such as canned tuna fish are fine but always check properly first.
Feeding your puppy
When feeding your spaniel puppy you there are a few simple rules that you should follow:
Always respect his privacy and don't disturb him when he is eating.
You should always feed your puppy in a quiet area away from other animals ( cats, dogs, elephants etc) and you should make sure that he has plenty of clean drinking water.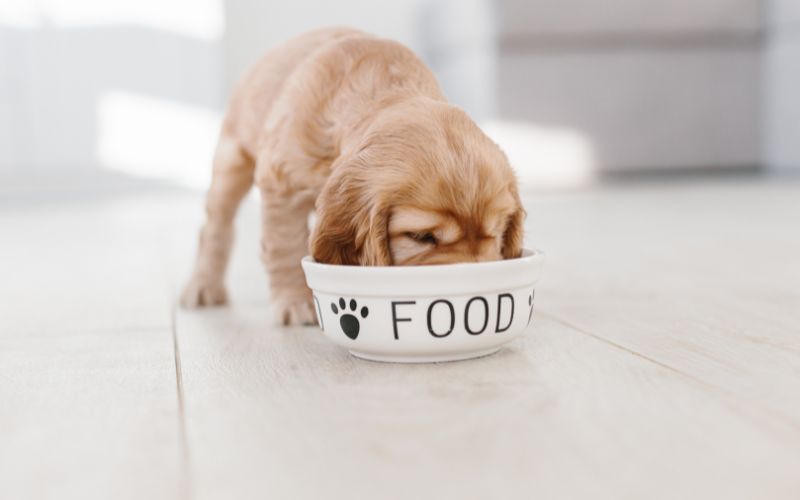 You should use a bowl that your puppy cannot tip over – trust me dogs do all sorts with their bowls, Nimrod likes to dig in his water bowl and throw water all over the kitchen.
You can get 'Spaniel bowls' with rubber grips underneath that are shaped so that they don't tip and the rubber stops them from sliding on the floor. 
Always take a look at the feeding instructions on the pack of dog food.
Dogs love meat and you should not dismiss canned dog meat as an option or treat for your dog.
Remember that all dogs differ and that they eat to satisfy their hunger and energy needs. 
Most spaniels have days when they won't eat and they can go on a self imposed fast.
Don't worry too much about this they'll generally eat when they are hungry
What is the best dog food for Cocker spaniels?
They do not have any specific diet needs, but it is important for them stay fit and healthy by feeding the right type foods in moderation.
Some people feed their Cocker Spaniels raw meat or vegetables while others prefer dry kibble with canned wet options as well so there's no one best option when choosing what your dog should eat. 
The food that you choose should be easily available and should be the best that you can afford.
If you are likely to experience supply issues then choose another food, changing your spaniel's diet frequently can make him unwell and could result in health problems.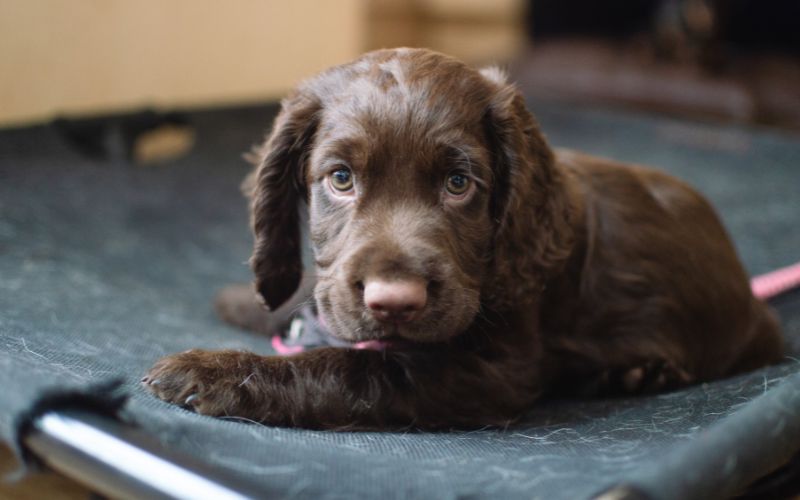 What Do I Feed My Cocker Spaniels?
Over the years I've tried a variety of dog foods ( for my dogs, not for me ) and I have some preferences based upon the dogs' apparent 'like' of the food, how it looks, what it smells like, cost, and the manufacturer.
My two spaniels love raw tripe. It sounds disgusting and it has a very distinctive smell, but they love it.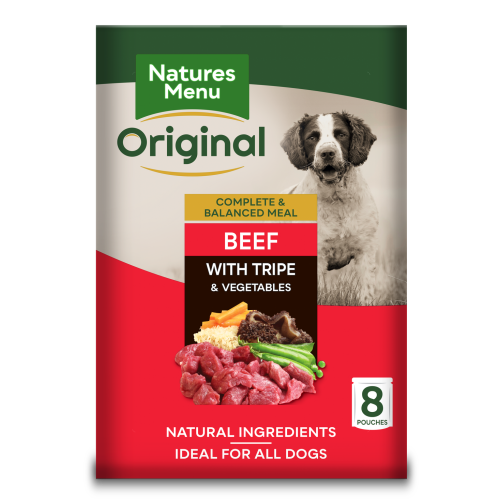 Natures Menu Original Beef & Tripe Adult Dog Food Pouches 300g x 8
I would really recommend that you try your dogs on tripe, they devour it and my dogs are in really good shape from eating it.
Can diet help a Cocker spaniel to stay healthy?
Yes, a balanced and nutritious diet can play a crucial role in keeping a Cocker spaniel healthy.
Providing the right food can contribute to their overall well-being and help prevent certain health issues.
Here are some key points to consider when it comes to a Cocker spaniel's diet:
High-Quality Dog Food: Choose a premium dog food that is specifically formulated for the nutritional needs of a Cocker spaniel.
Look for brands that use high-quality ingredients, including lean proteins, whole grains, and a variety of fruits and vegetables. Avoid dog foods that contain excessive fillers, artificial additives, or by-products.
Balanced Nutrition: Ensure that your Cocker spaniel's diet provides a proper balance of proteins, carbohydrates, fats, vitamins, and minerals.
Proteins should come from sources like chicken, turkey, or fish, while carbohydrates can be obtained from whole grains like brown rice or oats. Including healthy fats, such as omega-3 fatty acids from fish oil, can support their skin and coat health.
Portion Control: Feed your Cocker spaniel the appropriate amount of food based on their age, size, activity level, and overall health.
Overfeeding can lead to obesity, which can predispose them to various health issues, including joint problems and diabetes. Consult with your veterinarian to determine the ideal portion sizes for your dog.
Regular Feeding Schedule: Establish a consistent feeding routine for your Cocker spaniel.
Divide their daily food intake into two or three meals to avoid overeating and promote better digestion. Avoid free-feeding or leaving food out all day.
Fresh Water Access: Make sure your Cocker spaniel always has access to clean and fresh water. Hydration is vital for their overall health and helps support proper digestion and organ function.
Avoid Harmful Foods: Some human foods are toxic to dogs and should be avoided.
Examples include chocolate, grapes, raisins, onions, garlic, alcohol, caffeine, and certain artificial sweeteners like xylitol. These foods can be harmful and even life-threatening to your Cocker spaniel.
What food allergies can Cocker spaniels experience?
Cocker spaniels, like other dog breeds, can potentially experience food allergies.
Common food allergens that may affect Cocker spaniels include:
Beef: Some Cocker spaniels may develop allergies to beef or beef-based products.
Chicken: Chicken allergies are also possible in Cocker spaniels, leading to adverse reactions when consuming chicken or chicken-based ingredients.
Dairy: Dairy products, such as milk or cheese, can cause allergic reactions in some Cocker spaniels.
Grains: Certain Cocker spaniels may be sensitive to grains like wheat, corn, or soy, leading to allergies. These grains are commonly used in dog food as fillers.
Fish: Some Cocker spaniels can be allergic to fish or fish-based ingredients.
What ingredients should you look for when choosing a food for Cocker spaniels?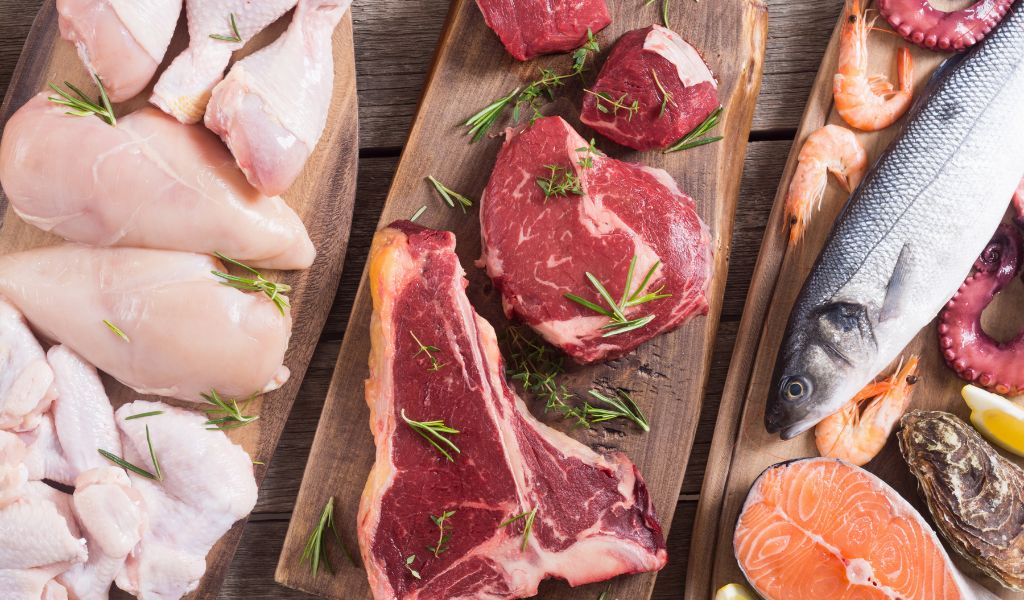 When choosing a dog food for Cocker spaniels, it's important to look for specific ingredients that cater to their nutritional needs.
Here are some key ingredients to consider:
High-quality animal protein: Look for a dog food that lists a specific animal protein source, such as chicken, beef, or lamb, as the first ingredient.
Cocker spaniels require a balanced diet with adequate protein for their muscle development and maintenance.
Whole grains or grain alternatives: While dogs are primarily carnivores, they can still benefit from some carbohydrates in their diet.
Look for dog foods that contain whole grains like brown rice or oatmeal. Alternatively, grain-free options that include alternative carbohydrate sources like sweet potatoes or peas can also be suitable.
Healthy fats: Dogs need a source of healthy fats for energy and to support their skin and coat health. Look for dog foods that contain fats like chicken fat or fish oil.
These fats provide essential fatty acids such as omega-3 and omega-6, which are beneficial for Cocker spaniels' skin and coat.
Fruits and vegetables: Including fruits and vegetables in your dog's diet can provide valuable vitamins, minerals, and antioxidants.
Look for dog foods that contain ingredients like carrots, spinach, blueberries, or apples. These ingredients contribute to overall health and well-being.
Joint-supporting ingredients: Cocker spaniels can be prone to joint issues like hip dysplasia.
Consider dog foods that include ingredients such as glucosamine and chondroitin, which help support joint health and mobility.
Natural preservatives: To ensure the food stays fresh, look for dog foods that use natural preservatives such as mixed tocopherols (a form of vitamin E) or rosemary extract. These are healthier alternatives to artificial preservatives like BHA or BHT.
What things should be avoided when feeding Cockers?
When it comes to commercial dog foods, it's essential to carefully examine the ingredients list and avoid certain ingredients that may not be suitable for Cocker spaniels.
Here are some ingredients commonly found in commercial dog foods that you may want to avoid or be cautious about:
Fillers: Look out for ingredients like corn, wheat, and soy, which are often used as fillers in lower-quality dog foods.
These ingredients provide little nutritional value and may cause allergies or digestive issues in some dogs.
Artificial preservatives: Ingredients such as BHA (butylated hydroxyanisole), BHT (butylated hydroxytoluene), and ethoxyquin are artificial preservatives that have been linked to potential health concerns.
Opt for dog foods with natural preservatives like vitamin E (tocopherols) or rosemary extract instead.
Artificial colours and flavours: Artificial additives may not provide any nutritional benefit and can potentially cause allergies or sensitivities.
It's generally better to choose dog foods that use natural ingredients for colouring and flavouring.
Meat by-products or meals: While not all meat by-products or meals are bad, it's important to ensure that the specific source is named (e.g., chicken meal) rather than vague or generic (e.g., poultry meal).
Look for high-quality sources of animal protein in the ingredient list.
Excessive carbohydrates: Some dog foods contain high levels of carbohydrates, which are not ideal for Cocker spaniels as they have a tendency to gain weight.
Look for dog foods with a moderate carbohydrate content and prioritize quality protein sources.
Allergenic ingredients: Cockers spaniels can be prone to food allergies, so it's important to identify and avoid ingredients that your dog may be sensitive to.
Common allergenic ingredients include beef, dairy, chicken, and grains. If your Cocker spaniel has known allergies, consider limited ingredient or hypoallergenic dog foods.
Remember to read the labels carefully and choose dog foods that prioritize high-quality ingredients, balanced nutrition, and are appropriate for your Cocker spaniel's age, size, and specific dietary needs.
Consulting with your veterinarian can also provide valuable guidance on selecting the most suitable commercial dog food for your furry friend.
FAQs About Feeding Cocker Spaniels
What kind of diet is best for my Cocker spaniel?
Cocker spaniels typically thrive on a balanced diet of high-quality commercial dog food, which should be rich in lean proteins, complex carbohydrates, fruits, vegetables, and essential fats. The best diet may vary based on age, weight, health status, and activity level.
Can my Cocker spaniel eat human food?
While certain human foods can be safe for dogs, others can be harmful or even deadly. It's generally best to stick to dog-specific food, but if you're considering human food, consult with your vet first.
How often should I feed my Cocker spaniel?
Adult Cocker spaniels should be fed two meals a day, while puppies require smaller, more frequent meals – about three to four times daily. Adjustments may be necessary depending on your dog's age, activity level, and health.
Are there any specific foods that Cocker spaniels should avoid?
Yes, foods like chocolate, onions, garlic, avocado, grapes, raisins, and foods with xylitol (a sweetener) can be toxic to dogs. Always ensure that your dog's diet is safe and suitable.
Is it beneficial to give supplements to my Cocker spaniel?
Some Cocker spaniels may benefit from supplements like glucosamine for joint health or fish oil for coat health. However, it's important to consult with your vet before starting any supplement regimen.
Final Words
Whatever food choices you make for your spaniel, always do some research before deciding. 
Look at reviews of food and check out the suppliers and manufacturers, making sure that you can get the food easily and at a good price.
Always introduce new foods carefully if you have to change your dog's diet.
We have put together some reviews of dog foods to help which you can read here.
Last update on 2023-12-08 / Affiliate links / Images from Amazon Product Advertising API