Making sure that you give your Cocker spaniel the best food possible will help him to grow and be healthy and strong, fit dog.
If you haven't had a Cocker before then you are wise to ask yourself what should I feed my Cocker spaniel?  We find that Cockers love raw tripe and this is one of the foods that we use to keep them fit, keen and healthy along with some other dry foods that they love.
The importance of proper feeding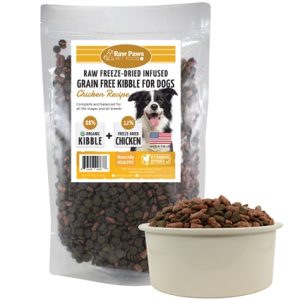 Any food that you feed to your puppy must be well-balanced with all the essential nutrients, both for early growth and later upkeep and maintenance.
When your puppy first comes home, in the early, initial stages, you should feed your puppy exactly the same food that he was eating while at the breeder's home. 
Doing this will help you in a number of ways. Firstly you will reduce any risk of the puppy developing any problems by sticking to the same food. A puppy's tummy is sensitive and, should you suddenly change his diet you could encourage tummy upsets, loose stools and other problems.
The other matter is that your puppy will have other things on his mind when he moves to a strange, new home and he doesn't need the worry of unfamiliar food. So avoid the potential for problems, keep it simple and stick with the same food as used by the breeder for the first few weeks.
When your puppy has settled in then you can consider a different food if necessary.
You may have other dogs and want to feed them all of the same food, or you may have other reasons for changing the puppy's diet.
The dog food market is massive, lots of competition and lots of products are available – some are more suitable for dogs than others however.
Like all things it is worth remembering that the most expensive is not necessarily the best.
At a glance some great dry foods for Cockers
EUKANUBA Adult Maintenance Dog Food 30 Pounds
EUKANUBA Adult Maintenance Dog Food 30 Pounds
Things to think about when getting dog food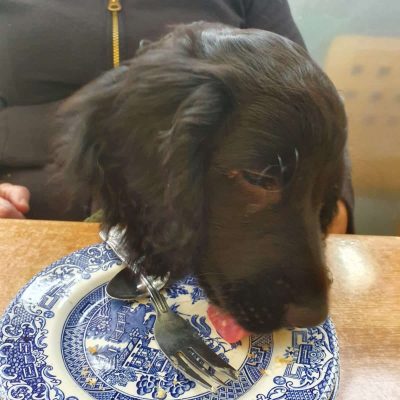 When you are looking for a food for your Cocker Spaniel or other dog you should consider a few things:
Is the food meat or vegetable based? – A dog's digestive system works best with meat and fat based proteins. Too much vegetable protein is bad for your dog and will impact his development and growth. Any food that you select should contain more meat based ingredients than vegetable.
Is the food balanced? – Simply put does the food contain all of the essential nutrients for your dog to be healthy and energetic?
Can your puppy eat it? – This may seem obvious but is often forgotten. The size and shape of the food must be such that the puppy/dog can actually get it into his mouth to eat.
Price – You must be able to afford the food. If you fall into difficult times then you will still need to feed your dog. In the early part of his life your puppy undergoes fast and dramatic changes to his mind and body and you should feed him the best food that you can get. If belts need to be tightened and savings made then you should look elsewhere and the puppy should take priority
Human Foods – do lots of research before feeding human food to your dog. Some things such as canned tuna fish are fine but always check properly first.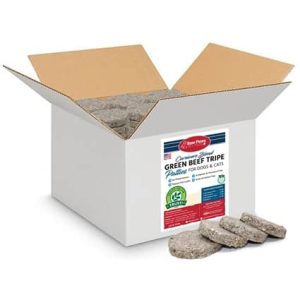 When feeding your spaniel puppy you there are a few simple rules that you should follow:
Always respect his privacy and don't disturb him when he is eating.
You ahould always feed your puppy in a quiet area away from other animals ( cats, dogs, elephants etc) and you should make sure that he has plenty of clean drinking water.
You should use a bowl that your puppy cannot tip over – trust me dogs do allsorts with their bowls, Nimrod likes to dig in his water bowl and throw water all over the kitchen. You can get 'Spaniel bowls' with rubber grips underneath that are shaped so that they don't tip and the rubber stops them from sliding on the floor.
Always take a look at the feeding instructions on the pack of dog food.
Dogs love meat and you should not dismiss canned dog meat as an option or treat for your dog.
Remember that all dogs differ and that they eat to satisfy their hunger and energy needs.  Most spaniels have days when they won't eat and thay can go on a self imposed fast. Don't worry too much about this they'll generally eat when they are hungry
What Do I Feed My Cocker Spaniels?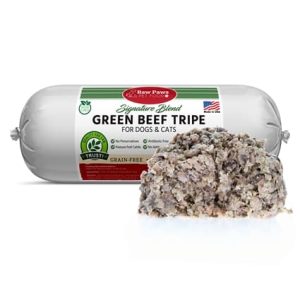 Over the years I've tried a variety of dog foods ( for my dogs, not for me ) and I have some preferences based upon the dogs' apparent 'like' of the food, how it looks, what it smells like, cost, and the manufacturer.
My two spaniels love raw tripe. It sounds disgusting and it has a very distinctive smell, but they love it.
I would really recommend that you try your dogs on tripe, they devour it and my dogs are in really good shape from eating it.
I've found a really good and reliable supplier of tripe and related foods where you can order online and they'll deliver.
Other foods that we have used and still do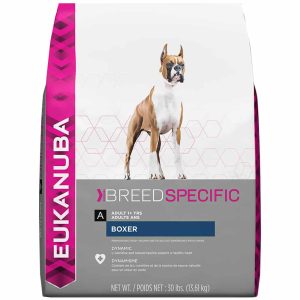 As well as the raw tripe, the foods that our spaniels have done the best on over the years are:
Eukanuba  Adult – This is one of our most popular choices of dry food and a food that I'd recommend for your Cocker Spaniel.
It's available for order online and delivery via Amazon, the prices are frequently changing, so I'd recommend that you  check the latest price here
We've also used two other dry dog foods as well. They are both good foods and again you can order them both online and get them delivered via Amazon.
Hills Science Diet Adult Food – Available on Amazon – check for the latest price
Pedigree Complete Nutrition – Available on Amazon – check for the latest price
Currently Boris and Nimrod – our two cocker spaniels, are eating Eukanuba mixed in with their tripe and they really enjoy it.
With this we've found that their coats are in great condition, they have lots of energy and their tummies are not upset. 
Whatever food choices you make for your spaniel, always do some research before deciding. 
Look at reviews of food and check out the suppliers and manufacturers, making sure that you can get the food easily and at a good price.
Always introduce new foods carefully if you have to change your dog's diet.
We have put together some reviews of dog foods to help which you can read here.
Last update on 2020-08-09 / Affiliate links / Images from Amazon Product Advertising API