Cocker spaniels are high energy dogs that require good levels of balanced food. How often you feed your Cocker spaniel will depend upon his age with puppies needing at least four meals a day whereas adult dogs are generally best being fed twice daily.
It is important that your Cocker spaniel gets proper nutrition through healthy, regular meals.
Correct feeding will help to ensure that your Cocker grows into a fit and strong dog and remains healthy.
What is the right Cocker spaniel food amount?
The right amount of food for your Cocker Spaniel can vary depending on factors such as their age, size, activity level, and individual metabolism.
As a general guideline, adult Cocker Spaniels typically require around 1.5 to 2.5 cups of high-quality dog food per day, divided into two meals.
However, it's crucial to consult with your veterinarian to determine the specific dietary needs of your Cocker spaniel and to create a feeding plan tailored to their unique requirements.
Regular monitoring and adjustment of their food amount based on their weight and overall health is essential to ensure they maintain a healthy weight and well-being.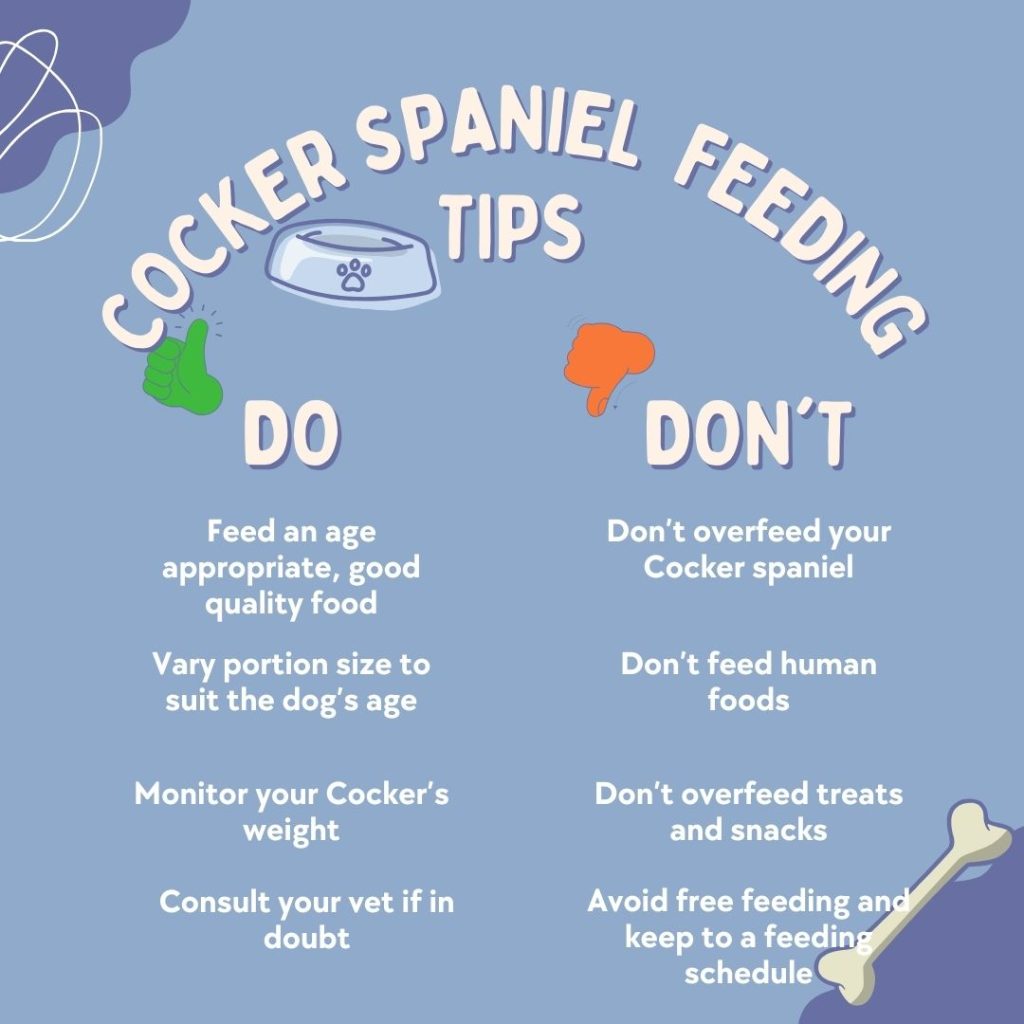 How many times a day do you feed a Cocker spaniel puppy?
Once a Cocker spaniel puppy has been weaned from his mother he will need at least four small meals a day until he is around 12 to 16 weeks of age.
Up to six months you should aim to feed him 3 times daily and, once he is over six months of age you can reduce his mealtimes to twice per day.
As your puppy grows he will need more food at each mealtime and you should increase the amount that you feed to him in line with the dog food producer's guidelines.
You should always be aware of your puppy's feeding needs and if he leaves food then you should reduce his portions to reduce waste.
Conversely, if he seems hungry or appears to need more food then be ready to increase the his daily food amount.
How much should you feed a Cocker spaniel puppy?
Feeding a Cocker spaniel puppy requires special attention to ensure their proper growth and development. Here's a general guideline for feeding a Cocker Spaniel puppy:
Age-Appropriate Food: Start with a high-quality puppy food formulated for medium-sized breeds. Look for a label that specifies "puppy" or "growth" to ensure it meets their nutritional needs.
Feeding Frequency: Cocker spaniel puppies should be fed more frequently than adults. Aim for 3 to 4 meals a day until they are around 6 months old.
Portion Size: The amount you feed your puppy will depend on their age, size, and activity level. As a rough estimate, you can start with around 1/3 to 1/2 cup of food per meal for an 8-week-old puppy. Gradually increase the portion size as they grow.
Consult with a Veterinarian: It's crucial to consult with your veterinarian for a personalized feeding plan. They can consider your puppy's specific needs and monitor their growth to ensure they're on the right track.
Monitor Weight: Keep a close eye on your puppy's weight and body condition. Adjust the portion size if they start to gain too much weight or appear underweight.
Transition to Adult Food: Around 12 months of age, you can gradually transition your Cocker spaniel puppy to adult dog food. Your vet can provide guidance on when and how to make this transition.
Do Cocker spaniels eat a lot?
Cocker spaniels are active dogs and can often seem hungry, even when they are well fed and you should make sure that you don't over feed them .
Like most spaniels Cockers can easily gain weight if they eat too much and do not get enough exercise.
You'll need to be careful when feeding your Cocker to make sure that you don't give him too much and that you don't use too many treats.
Just like people, as your Cocker spaniel grows older he is likely to slow down and become less active and more prone to weight gain.
Be careful with your Cocker spaniel's diet and be prepared to make adjustments so that he does not stuff himself and grow fat.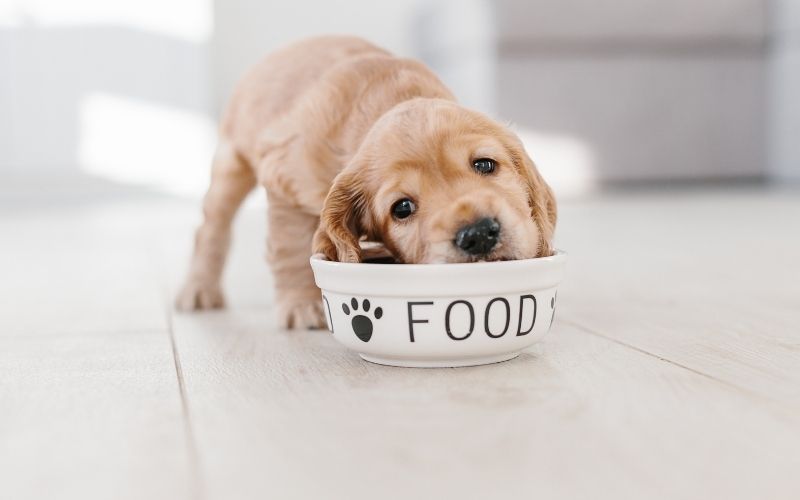 How many cups of food should a Cocker spaniel eat?
Your Cocker should be having between 1 1/2 and 2 1/2 cups of food daily.
This is an average guide and a larger, working Cocker spaniel will need more food than a smaller, less active dog.
Try to split your spaniel's food intake between two meals if possible which will help to keep him in good shape and avoid him becoming hungry between meals.
Many people feed table scraps and dog treats to their Cockers and this is fine provided you monitor his weight and adjust his meals accordingly.
What is the best food for a Cocker spaniel?
You should always aim to buy the best spaniel food that you can for your Cocker.
If you are looking for the best food for a Cocker spaniel puppy then see our article here on the best spaniel puppy food.
For older Cocker spaniels the range of available dog foods can be overwhelming and confusing. But generally you should look for a food that is: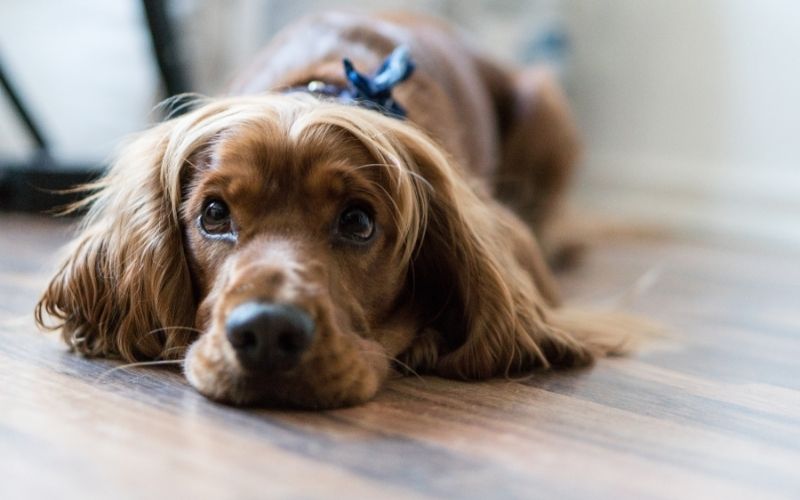 Available when you need it – there is nothing worse and more frustrating than choosing a dog food that is hard to get hold of or always out of stock.
Make sure that when you select a dog food for your spaniel, that you can easily get it and think about availability in other areas too, for example if you go on holiday etc
Is the food suitable? Many foods contain grains and vegetable proteins which are not great for dogs and which, in some dogs, can result in allergic reactions.
Aim to feed a food that is meat based and which is predominantly meat based proteins. Many foods are combinations of chicken, beef, lamb and use rice as a binder/filler.
Organic dog food is becoming more common and you can see what we think of this type of food in our organic dog food article.
Raw, tripe based foods are more common and can be a great choice for many spaniels.
It is one of our favourite types of dog foods and our Cockers enjoy raw food and do well on it.
Recommended Cocker spaniel dog foods
FAQs
How often should I feed my Cocker Spaniel?
Cocker Spaniels typically require two meals per day. It is recommended to feed them once in the morning and once in the evening to maintain their nutritional needs and energy levels.
Can I feed my Cocker Spaniel only once a day?
It is generally not recommended to feed a Cocker Spaniel only once a day. Splitting their daily food intake into two meals helps regulate their digestion and prevents hunger pangs between meals.
What is the recommended portion size for each meal?
The portion size for a Cocker Spaniel's meal depends on factors such as their age, weight, activity level, and overall health. It is best to consult with your veterinarian to determine the appropriate portion size for your specific Cocker Spaniel.
Are there any dietary restrictions for Cocker Spaniels?
Cocker Spaniels do not have specific dietary restrictions, but it is important to provide them with a balanced diet that includes high-quality dog food. Avoid feeding them table scraps or foods that are toxic to dogs, such as chocolate, onions, or grapes.
Can I free-feed my Cocker Spaniel?
Free-feeding, where food is available all day for your Cocker Spaniel to eat at their own pace, is generally not recommended. This can lead to overeating, weight gain, and potential health issues. It is best to establish a regular feeding schedule and control the portion sizes to ensure your Cocker Spaniel's well-being.
Final words
The number of times per day that your Cocker spaniel will need to eat really depends on the age and activity levels of your dog.
Puppies will need frequent, small meals while older dogs will require less.
The quality of your dog's food is important and you should always get the very best dog food that you can afford.
Your vet should always be the prime source of advice and information if you have any doubts or concerns about your spaniel's diet.
Last update on 2023-11-24 / Affiliate links / Images from Amazon Product Advertising API