You can give egg fried rice to your dog. However, you should only do so in moderation. Giving too much fried rice can lead to obesity as they are carbohydrates in nature. When you fry rice, it loses certain nutrients that are essential for your dog, so you should only give this as an occasional treat and not use it as a daily food source.
Rice has been the most popular grain among humans worldwide for decades because it has a high nutritional profile.
As a versatile grain that you can pair up with almost anything from chicken to vegetables, you wonder if you can offer rice to your pet dog?
Rice contains a healthy source of nutrients and can help to cure ailments like constipation and stomach problems.
You can offer rice to your dog when he is sick because rice is low in fibre and easy to digest.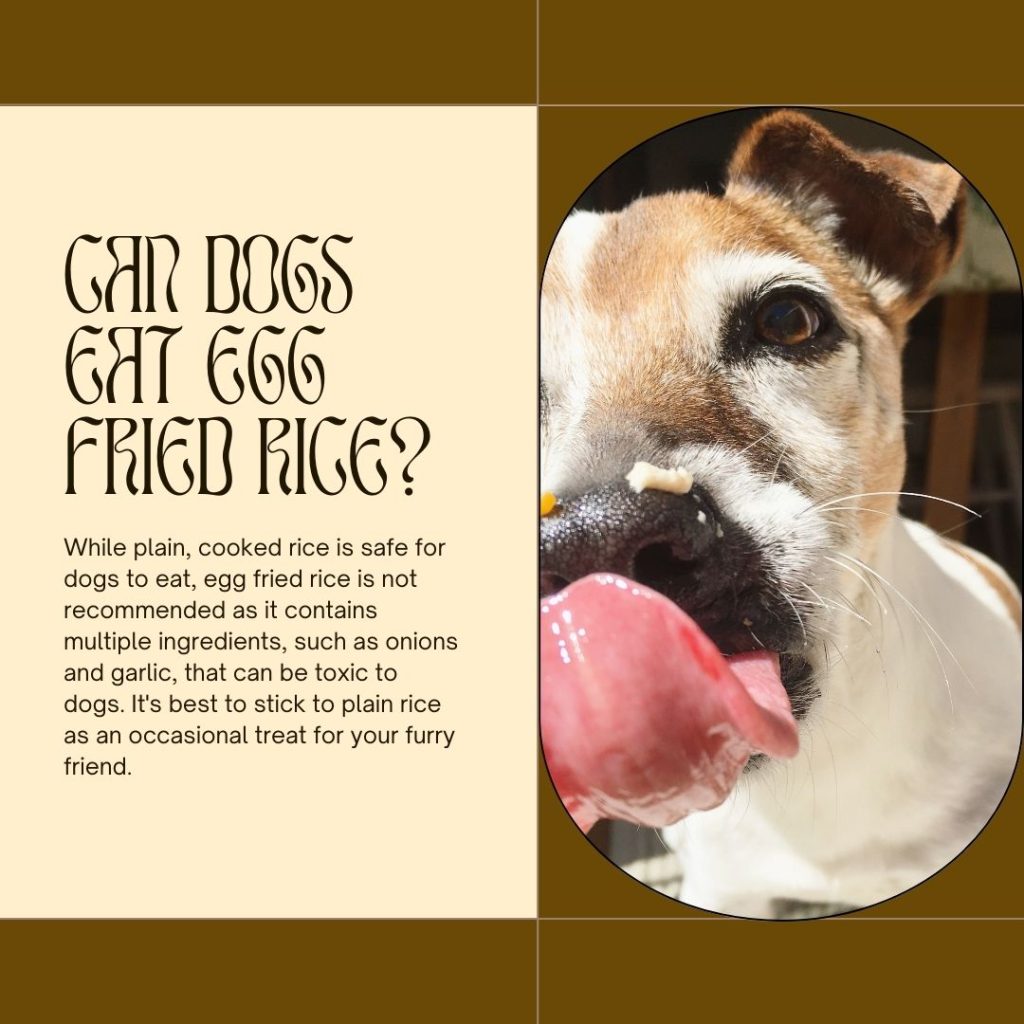 What type of egg fried rice is healthy for your dog?
Moderate amounts of egg fried rice are safe to eat unless there are any allergy signs in your pet.
Make sure to cook the rice you are offering correctly. Use plain water to boil it before feeding.
You also need to check if there are any ingredients like salt, garlic, onion, or spices in the rice, which can be harmful to dogs.
Boiling and steaming is the best way to feed rice to your pet.
Both white and brown rice is suitable to use, and you can add a protein source like eggs, chicken, or pork along with vegetables to make the meal even better.
You can add an egg into the rice, which will increase the taste, and add a protein source, making a better for your dog.
How much rice can you feed to your dog?
Whenever you feed a new thing to your pet, try to start with small amounts.
It also depends on the size of your pet.
Smaller dogs will clearly eat less rice than larger ones so adjust the portion sizes accordingly.
Try not to overdo the amount of rice as though easily digestible, it can increase your dog's sugar levels.
Problems that can arise from excessive intake of egg fried rice are:
Obesity
High blood glucose levels
Pancreatitis -The pancreas produces necessary digestive enzymes like insulin in the body. When the pancreas becomes inflamed, it is pancreatitis. In pancreatitis, digestive enzymes start digesting the pancreas leading to pain and inflammation.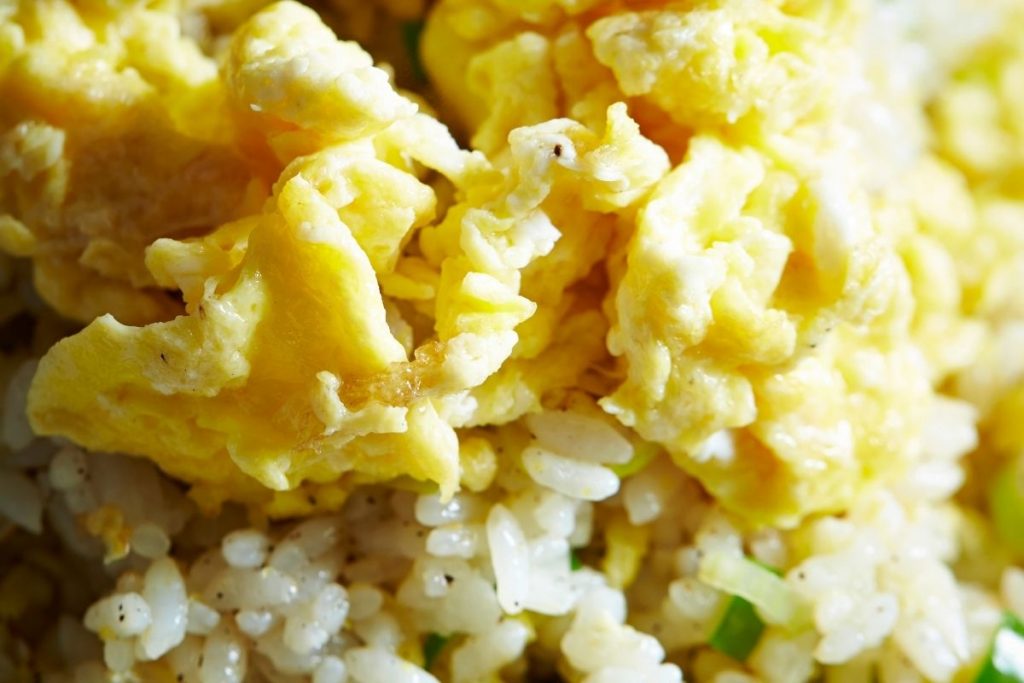 FAQs
Can dogs eat egg fried rice?
Dogs can technically eat egg fried rice, but it's not ideal due to the presence of ingredients such as onions and garlic, which are toxic to dogs, and the high sodium content.
What could happen if a dog eats egg fried rice?
Depending on the ingredients, a dog might experience digestive discomfort or even toxic reactions if the rice contains ingredients like onions or garlic. High sodium can also lead to excessive thirst and urination, and in severe cases, sodium ion poisoning.
Can I give my dog egg fried rice as a treat?
It's better to give dogs treats that are specifically formulated for them. While an occasional small amount of egg fried rice without harmful ingredients may not hurt, regular consumption is not advisable.
Are certain ingredients in egg fried rice harmful to dogs?
Yes, ingredients commonly found in egg fried rice such as onions, garlic, and high levels of salt can be harmful and even toxic to dogs.
Can I feed my dog egg fried rice if it's the only food I have?
In an emergency situation, you could feed a dog egg fried rice, but it's crucial to return to a balanced, species-appropriate diet as soon as possible. Chronic consumption of egg fried rice can lead to health issues due to its high sodium content and potentially harmful ingredients.
Final Thoughts
Every dog owner loves his pet and tries to provide the best high-quality food, but that doesn't mean you can't let them enjoy other food.
Dogs do enjoy things such as egg fried rice but it should only ever be fed in moderation and only as a very occasional treat.
Avoid rice that has any additives or colourings and don't feed rice that contains onions, garlic or related vegetables.