Before you get any type of dog it is always a sensible and good idea to do some research to find out more about the breed, it's needs and whether or not that type of dog will suit your lifestyle and your family.
Cocker spaniels are lively and intelligent dogs that need a good, secure home where they will be able to enjoy human companionship. As working dogs they love the outdoors and enjoy being able to run freely. They are easy to take care of providing that you can cater for their basic needs.
What do Cocker spaniels need?
All dogs, and this includes Cocker spaniels, whether working or not, need: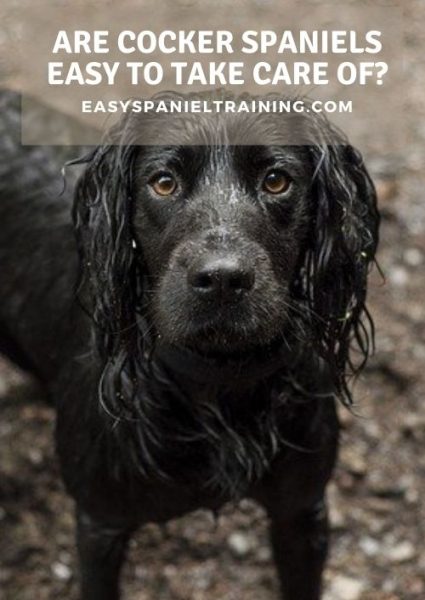 Are Cocker spaniel puppies easy to take care of?
As young dogs, Cocker spaniels have needs just like all other puppies. In addition to the things above you will need to spend as much time as possible with your puppy to help him to develop and grow in his understanding of the world around him.
When he is old enough you should take him out to as many different places as possible, allowing him to explore and become familiar with different people and situations.
Introduce him to childen, older people, other dogs and help him to develop a balanced view of the world.
Looking after a Cocker spaniel puppy is not dissimilar to looking after a child. Look after him, help him to stay safe and help him to grow and understand the world around him.
How to care for an older Cocker spaniel
As your Cocker spaniel becomes older there will be some changes in his behaviour and you'll need to adapt to make sure that you look after him properly.
It is likely that he will want to rest more but he will still enjoy going out for a walk and you should aim to keep him fit and healthy with regular walks. Be aware that he may not be as sprightly as hr was when younger and may not be able to walk as far.
He may also decide to sit down and have a rest a walk – take the opportunity to rest your legs with him and enjoy the view.
Your spaniel will also be more likely to gain weight so watch his diet and, if necessary look for a senior dog food that is lighter in nutrition and more suitable for older dogs.
Keep him comfortable and warm and let him rest when he needs to, making sure that he has his own space where he can retreat and rest.
Lily's Kitchen Duck, Salmon and Venison Natural Grain Free Complete Adult Dry Dog Food (12 kg)
Nutritionally complete, grain free, dry food for dogs 4 months +
Made with 35% freshly prepared meat: 20% duck, 10% salmon, 5% venison
Contains glucosamine and chondroitin are wonderful for your dog's joints, helping them stay strong and supple
Prebiotics encourage the growth of good bacteria in your dog's digestive system, which helps keep it (and your dog) healthy
Natural ingredients with no added sugar
https://www.youtube.com/watch?v=1VAxLGv_koQ
To sum up..
Take your time to find out what you can about Cocker spaniels before you get one. There are plenty of books available about the breed – you can see some here.
Remember that Cockers are lively dogs that love being outside so be prepared to go for walks and adventures which will help your dog to enjoy life.
Above all always remember that Cockers, like all dogs, need a secure and loving home, where they are looked after and kept healthy.
Get these basics right and you'll find that Cocker spaniels are easy dogs to take care of.
Read Next
Last update on 2022-12-08 / Affiliate links / Images from Amazon Product Advertising API