Before you get any type of dog it is always a sensible and good idea to do some research to find out more about the breed, it's needs and whether or not that type of dog will suit your lifestyle and your family.
As one of the most popular dog breeds in the world, Cocker Spaniels are known for their cute looks, friendly personality, and loyal nature.
However, owning any pet requires time, effort, and responsibility.
In this article, we'll take a closer look at what it takes to care for a Cocker Spaniel and explore if this is easy or not.
Cocker spaniels are lively and intelligent dogs that need a good, secure home where they will be able to enjoy human companionship. As working dogs they love the outdoors and enjoy being able to run freely. They are easy to take care of providing that you can cater for their basic needs.
Grooming a Cocker Spaniel: Tips and Tricks
One of the most important aspects of caring for a Cocker Spaniel is grooming.
These adorable pups have a thick, silky coat that requires regular brushing and trimming. Here are some tips to make grooming a breeze:
Brush your Cocker Spaniel's coat at least once a week to prevent matting and tangling. Use a slicker brush or comb to remove loose hair and debris.
Trim your Cocker Spaniel's hair every six to eight weeks to keep their coat looking neat and tidy. If you're not comfortable doing it yourself, take them to a professional groomer.
Keep your Cocker Spaniel's ears clean and dry to prevent ear infections. Use a gentle ear cleaner and cotton balls to wipe away any debris.
Bathe your Cocker Spaniel as needed, but not too often. Too much bathing can strip their coat of natural oils and cause dry skin.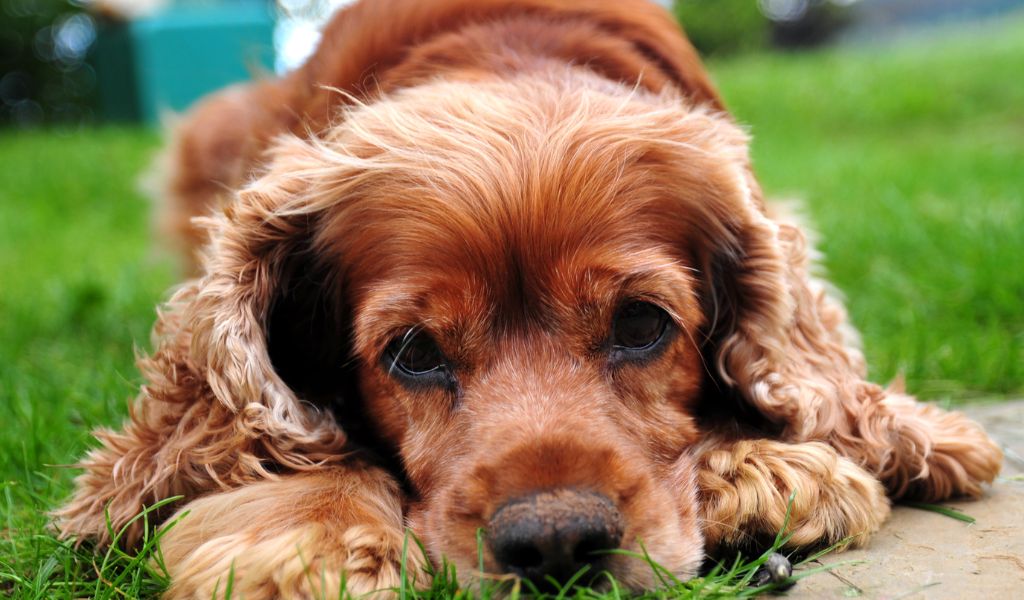 Training Your Cocker Spaniel: What You Need to Know
Cocker Spaniels are intelligent dogs that respond well to positive reinforcement training.
However, they can be stubborn at times, so patience and consistency are key. Here are some training tips to keep in mind:
Start training your Cocker Spaniel early, preferably when they are puppies. This will help establish good behaviour and prevent bad habits from forming.
Use positive reinforcement, such as treats and praise, to reward good behaviour. Avoid punishment or physical discipline, as this can lead to fear and aggression.
Be consistent with your commands and expectations. Use the same words and gestures each time you ask your Cocker Spaniel to do something.
Socialise your Cocker Spaniel from a young age by exposing them to new people, animals, and environments. This will help prevent shyness and aggression.
Feeding Your Cocker Spaniel: What to Consider
Feeding your Cocker Spaniel a balanced and nutritious diet is essential for their health and wellbeing. Here are some things to consider when it comes to feeding your furry friend:
Choose a high-quality dog food that is specifically formulated for Cocker Spaniels. Look for brands that use real meat as the first ingredient and avoid those with fillers and artificial preservatives.
Feed your Cocker Spaniel twice a day, once in the morning and once in the evening. Avoid overfeeding, as Cocker Spaniels can easily become overweight.
Provide fresh water at all times, and wash your Cocker Spaniel's food and water bowls regularly to prevent bacteria buildup.
Talk to your veterinarian about any special dietary needs or restrictions your Cocker Spaniel may have, such as allergies or medical conditions.
Common Health Issues in Cocker Spaniels
Like all dog breeds, Cocker Spaniels are susceptible to certain health issues. Here are some of the most common health concerns to keep in mind:
Ear infections: Due to their long, floppy ears, Cocker Spaniels are prone to ear infections. Keep their ears clean and dry to prevent this from happening.
Eye problems: Cocker Spaniels can develop cataracts, glaucoma, and other eye problems. Regular check-ups with a veterinarian can help catch these issues early.
Obesity: Cocker Spaniels love to eat and can easily become overweight. Make sure to feed them a balanced diet and provide plenty of exercise.
Skin allergies: Some Cocker Spaniels may develop skin allergies, which can cause itching, redness, and inflammation. Work with your veterinarian to determine the best course of treatment.
What do Cocker spaniels need?
All dogs, and this includes Cocker spaniels, whether working or not, need:
A safe and secure place to call home. Somewhere where your Cocker can sleep, rest and get out of the way for some privacy is important.
There are many good dog beds and indoor kennels, such as these, that are suitable for Cockers and which will provide him with what he needs.
Food and water – this is a basic need for any animal and you should aim to provide your Cocker spaniel with the best food that you can afford.
You can see some recommended foods for spaniels in this post. You should always make sure that he has access to clean water.
Exercise and play – All dogs need to be able to play and exercise. Cocker spaniels love to run freely and explore, using their noses to scent animals and game. 
You should be prepared to take your spaniel out every day, regardless of the weather and of how you feel.
Family times – Cocker spaniels are sociable dogs that love spending time with their families. You should be prepared to chill out with your Cocker and, if you have children, show them how to play with the dog safely and sensibly.
Are Cocker spaniel puppies easy to take care of?
As young dogs, Cocker spaniels have needs just like all other puppies.
You will need to spend as much time as possible with your puppy to help him to develop and grow in his understanding of the world around him.
When he is old enough you should take him out to as many different places as possible, allowing him to explore and become familiar with different people and situations.
Introduce him to childen, older people, other dogs and help him to develop a balanced view of the world.
Looking after a Cocker spaniel puppy is not dissimilar to looking after a child.
Look after him, help him to stay safe and help him to grow and understand the world around him.
How to care for an older Cocker spaniel
As your Cocker spaniel becomes older there will be some changes in his behaviour and you'll need to adapt to make sure that you look after him properly.
It is likely that he will want to rest more but he will still enjoy going out for a walk and you should aim to keep him fit and healthy with regular walks.
Be aware that he may not be as sprightly as hr was when younger and may not be able to walk as far.
He may also decide to sit down and have a rest a walk – take the opportunity to rest your legs with him and enjoy the view.
Your spaniel will also be more likely to gain weight so watch his diet and, if necessary look for a senior dog food that is lighter in nutrition and more suitable for older dogs.
Keep him comfortable and warm and let him rest when he needs to, making sure that he has his own space where he can retreat and rest.
To sum up..
Take your time to find out what you can about Cocker spaniels before you get one. There are plenty of books available about the breed – you can see some here.
Remember that Cockers are lively dogs that love being outside so be prepared to go for walks and adventures which will help your dog to enjoy life.
Above all always remember that Cockers, like all dogs, need a secure and loving home, where they are looked after and kept healthy.
Get these basics right and you'll find that Cocker spaniels are easy dogs to take care of.
Last update on 2023-09-29 / Affiliate links / Images from Amazon Product Advertising API