The days of the plastic dog bed that your dog refuses to lie in are numbered as luxury indoor dog kennel designs and availability increase.
These indoor dog kennels are a great option for your dog and your home. With 5 star comfort and attractive designs and materials, these are the best luxury dog kennel choices that we've seen. They will provide your dog with great levels of warmth and comfort while looking like a piece of furniture that can have practical uses for your home too.
If you want to provide your dog with a great standard of comfort and give him a bed and quiet place that he will appreciate and enjoy then this range of luxury indoor kennels are the answer.
What is a luxury indoor dog kennel?
Luxury indoor dog kennels are just as they sound, indoor palaces for your dog. Many steps away from the traditional hard plastic oval shaped dog bed these luxurious items are just the ticket for your dog to rest and sleep in comfortably.
Many of these dog kennels look just like furniture pieces and, in most cases, they have a dual purpose use – a bed or kennel for your dog and storage space for all of the doggy items and equipment, or other things..
Most luxury indoor kennels are available in a selection of finishes, allowing you to pick and choose the correct kennel for your home.
How we selected the best luxury indoor dog kennels
Our selection process is based on a number of criteria that we follow when rating items for dog use.
By following these we are assured that we only choose items that are the best for dogs and, in the case of dog kennels, are comfortable and durable.
Consistently high rated
Good and consistent user reviews, looking at item quality and customer service
Well made and good quality standards
Easy to use
And – most importantly of all – the best items for dogs
Our best indoor luxury dog kennels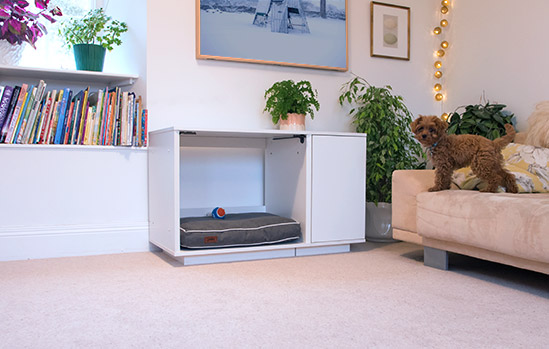 The Fido Nook Indoor Dog Kennel is a modern and elegant piece of furniture that provides a warm and comfortable place for your dog's bed. It is available in two sizes with or without the built in cupboard and can accommodate a standard sized dog cage if needed.
The kennel provides your dog with the shelter, warmth and protection from draughts that are present in most homes, giving him the best protection and a warm, safe place to rest and sleep.
For the latest prices, reviews and more details on this great luxury dog kennel visit the link below.
# Unipaws Pet Crate End Table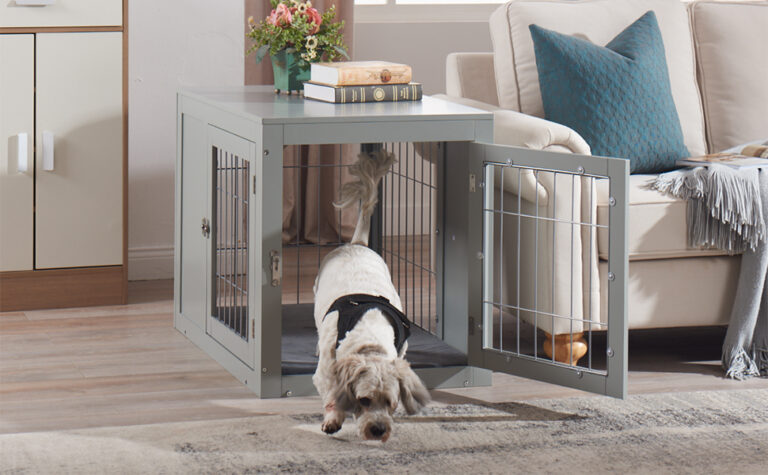 The Unipaws Pet Crate End Table is a durable luxury indoor dog kennel that is designed to blend in well with most home decor while providing your dog with a comfortable and safe place to sleep and rest.
With double doors for maximum access and an included padded cushion, this indoor kennel is highly rated and is suitable for dogs of up to medium size.
The kennel can be used as a lamp stand, book stand and is strong enough to support a TV and other items.
You can see the latest prices and reviews for this great indoor dog kennel on Amazon here.

View the Unipaws Pet Crate on Amazon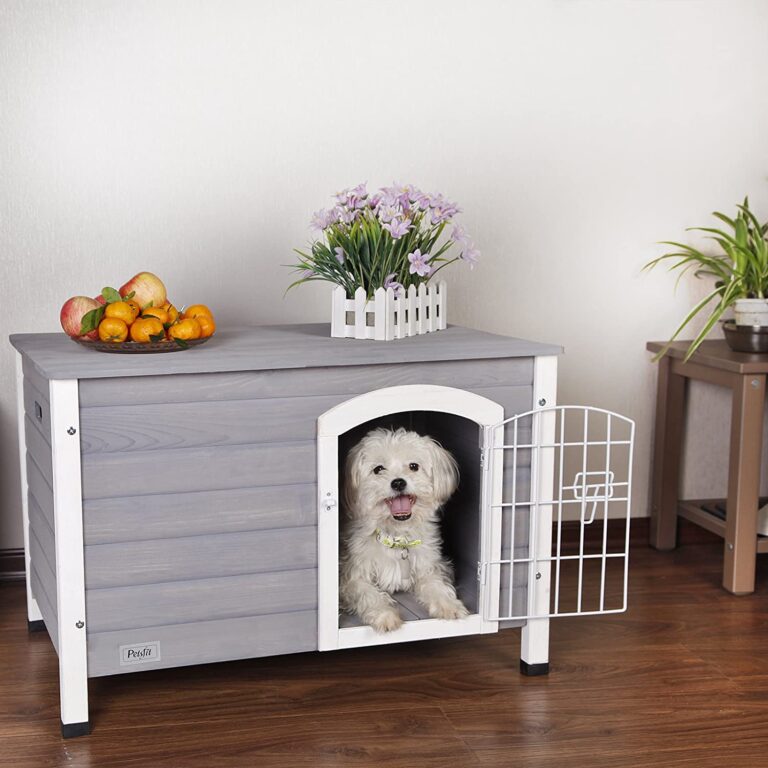 The Petsfit luxury indoor dog kennel is an ideal choice for smaller dogs under 15Kg. With grey and white colouring, the wood manufactured dog house has a brick effect finish and metal door for added safety.
This dog kennel is supplied as a flat pack item and is provided with easy to follow instructions for fast and simple construction.
Once built the roof can be easily opened allowing easy and quick cleaning.  This is an ideal indoor kennel that looks great and is enjoyed by owners because of it's quality, ease of use and looks.
You can see the latest availability of this great kennel on Amazon here.

See the Petsfit Kennel on Amazon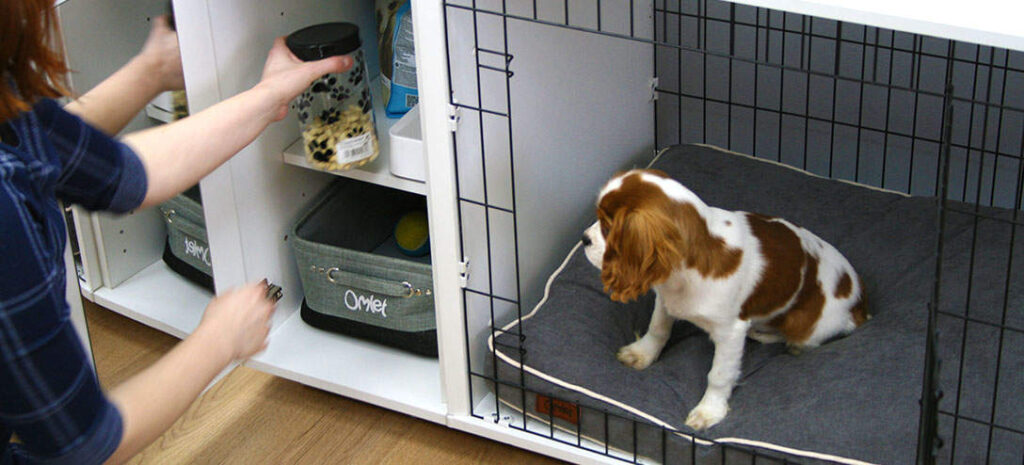 The Fido Studio Dog Crate is another exceptional indoor dog kennel that doubles up as a practical furniture piece.
Providing your dog with his own den inside the house, the Studio Crate also solves the problem of where to put his toys and other accessories. The wardrobe is optional and the kennel is available as a standalone.
Most people like this indoor kennel due to it's stylish looks, practical nature and the fact that their dogs settled in really quickly and easily.
You can read more reviews of this great indoor kennel here.

Get more details about this luxury kennel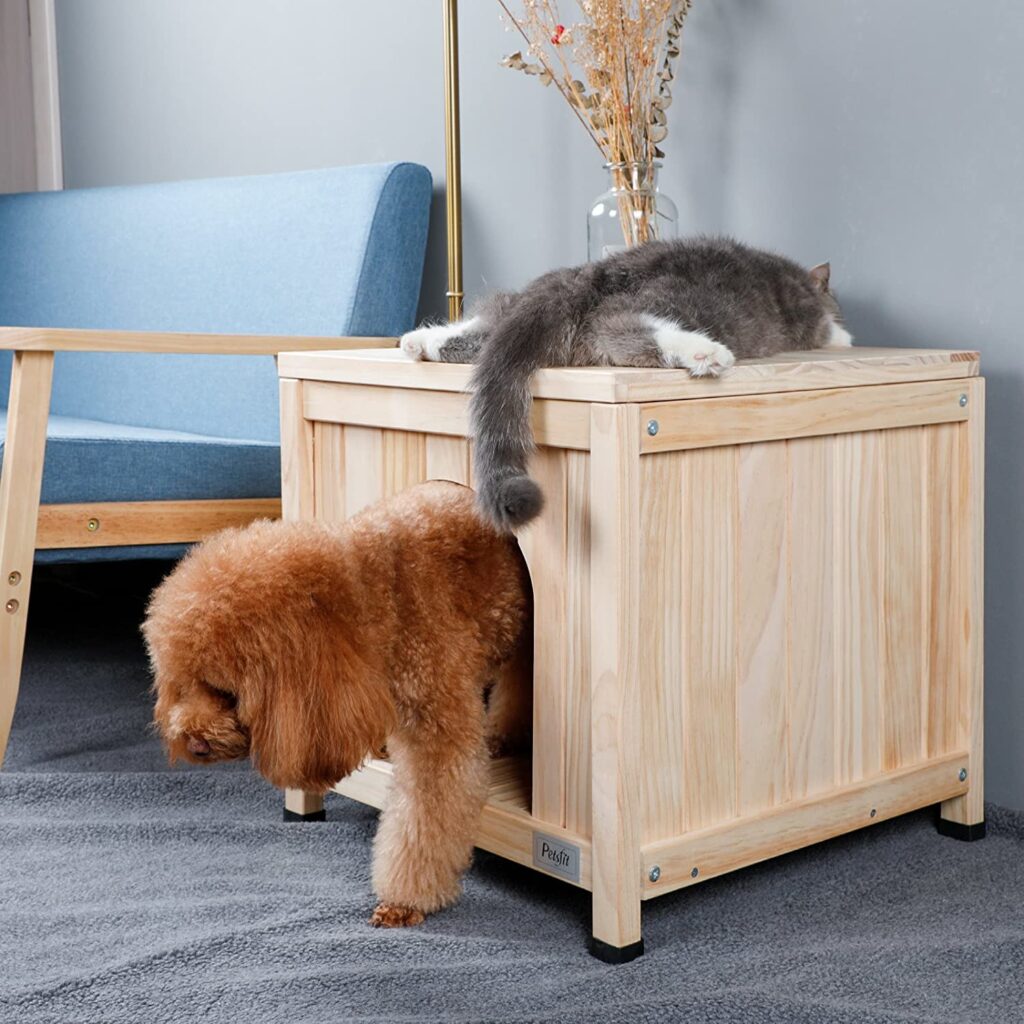 Our final choice is an indoor kennel that is suitable for small dogs.
Made from kiln dried cedar and treated with organic colour stain, this simple to put together kennel offers a stylish and secure option for your dog's comfort and safety.
The strong wooden construction means that you can paint or stain this kennel to suit your decor and styles.
Solid and sturdy, this luxury kennel can also be used outdoors if needed and is easily portable for the best of both worlds.
You can find out more about this great kennel and the latest prices here on Amazon.
Still looking for more luxury indoor kennels?
Take a look at the Top 10 Best Selling Luxury Indoor Dog Kennels on Amazon below.
Also if you travel with your dog then check our article 'What are the safest dog crates for car travel', for dog owners who take their pet's safety seriously.
Read Next
Last update on 2023-12-07 / Affiliate links / Images from Amazon Product Advertising API