More and more of us are working from home and living in smaller houses and apartments, with smaller patios, yards, gardens and balconies and sometimes, getting enough time to give our dogs the freedom that they deserve and need can be tricky.
We'll look at how to make a patio dog friendly and cover some frequently asked questions about housing, security, safety, cleaning and general use and maintenance.
Creating a space for your dog can be a great idea, allowing your pet to go out when he needs to, or for him to stay out with shelter when no one is home.
Dog friendly patios
If you are planning on making a dog friendly patio for your pet then there are a few things that you will need to consider.
You'll need to get a few basic bits of equipment to make your dog's patio as comfortable and safe as possible.
Things such as bed, toilet, security and others all spring to mind, as well as the act of getting the patio setup for your dog.
What's the best ground cover for dogs?
The first consideration is to decide what you will put down on the floor. If you live in an apartment or somewhere where you have limited outdoor space, then you need a covering that is easy to clean as it will get dirty quickly.
The best covering is always grass. With a little time and patience, you can easily build a grass box for your dog that he can use as his own little lawned area.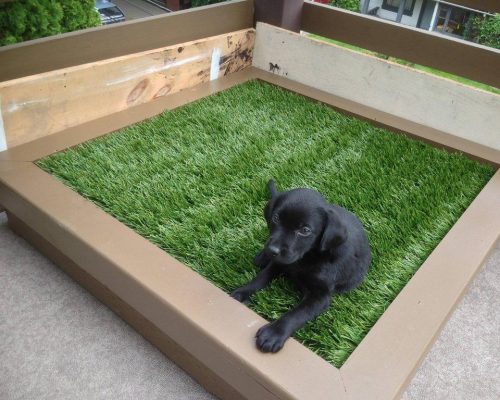 A simple wooden box with base, filled with either turf or fake grass and you have an instant lawned area that your dog can use to his heart's content.
We recommend the Kunta Fake Grass which is thick, non toxic and an ideal subtitute grass for dogs. You can find out more about it here on Amazon.
Ideal for a balcony or other area where space is limited.
Patio housing for dogs
If your dog will be out on your patio or balcony when you are not in, he will need somewhere to shelter and sleep.
Most dogs are hardy and, provided that they are out of draughts and damp they actually enjoy living outside.
Unless you are really handy at carpentry we suggest that you get a sturdy dog house for your pet. They are available in many different shapes and sizes and are often made from plastic or wood.
We'd always go for the wood option, particularly if your dog is a chewer, wood just lasts longer and being non toxic is less likely to harm your dog if he does chew.
Check that your dog has enough room to stand up and turn around and also that the dog house will fit easily into your space with the entrance facing away from the prevailing wind direction.
Pets Imperial® Norfolk Insulated Dog Kennel – Size XL – Outdoor Dog House with Opening Roof – 116 cm (W) x 79 cm (D) x 81 cm (H)
⭐ Insulation on the front and all side walls (2 sides and back) Insulation is made of wood (tongue and groove) 1.2 cm thick, then 1.3 cm styrofoam, then 0.2 cm plywood board. Keep your dog warm and cool in summer in winter. Walls 150% thicker than other kennels.
⭐ Outer dimensions of Norfolk dog kennel: 116 cm (46 inches) width x 79 cm (31 inches) depth x 81 cm (32 inches).
⭐ Removable base for easy cleaning, maintenance and pest control. Opening roof with 2 locking arms.
⭐ Planed base, 5 cm ground clearance, allows air to circulate under Kennel to keep the floor dry and comfortable.
⭐ Made from animal friendly treated wood, designed to last for years. Kennel feet covered by red freely adjustable plastic cap. The height of the kennel legs is adjustable.
Is a dog run a good idea?
If you have a large enough area then it could be a good idea to build a dog run with an attached kennel. This is something that we have done in the past for our spaniels with great results.
When you decide on a dog run you open up more opportunities in terms of size, shape and types of dog house that you can use.
We've always used timber sheds for dog houses with attached runs. They provide lots of room, you can fit benches inside that can be used for dog beds and add shelves for storage of training equipment.
The main thing to consider is security and particularly the type of mesh that you will use for the run fencing. You should use a steel mesh fencing similar to this that we found on Amazon.
Don't be tempted to use chicken wire as most dogs will easily tear through it.
Do dogs know not to jump off a balcony?
Safety of your dog is important and if you do live in an apartment then the matter of a dog jumping off the balcony is concerning.
Most dogs have a good field of vision and, unless he has eyesight problems, or becomes very excited it is highly unlikely that a dog would jump off a balcony.
However, puppies are different, they are just like human babies and have little if any sense or perception of danger and a puppy could quite easily fall, stumble or climb up to have a look, all of which could result in a disaster.
If you are going to build a dog patio on a balcony then the safest option is to make the balcony as dog friendly and as safe as you possible can.
Make sure that there are no gaps that your dog could squeeze through. Get some plastic coated mesh that you can grip tie onto your railings to make it truly safe.
Remember also that dogs can jump and climb so consider getting some netting to put across the top of the railings, like a roof, that will prevent your dog from climbing or jumping.
How to make a concrete patio dog friendly
Concrete patios tend to be easier to work with than grass, wood or soil areas, simply because they are tough, normally flat and easy to keep clean.
It is important to remember that in sunny weather concrete absorbs heat and can get very hot, you should make sure that when using a concrete patio as a dog area, that you provide some shade for your dog to rest underneath.
Heatstroke in dogs is a reality and can occur rapidly if your dog gets too hot, so provide shade to help him atay cool.
Place his kennel or dog house in a shaded area too. If there is no shade then make some with some fencing or other type of shelter so that he can find a cool area when the sun is out.
If possible, for example you are laying concrete to create your dog area, let the concrete slope slightly away from where his dog house will be. A gradual slope will make it easier to clean and will also prevent rain and from gathering in puddles – it will run off down the slope.
Use a grassed dog box like the one outlined above which he can use as his toilet and make sure that he has somewhere comfortable to lie down and rest.
How do I stop my patio smelling of dog urine?
The easiest and the best way is to clean it up straightaway. The longer you leave dog urine the longer it has to smell.
Often hot water is enough to clean dog urine away but, if the smell is persistent then a bleach based cleaner should do the trick, add the recommended amount of bleach to the water ( always add the bleach to water never the other way around) and then, using a stiff brush, brush the area with the bleach mixture and leave.
Rinse away with clean water.
Should bleach fail to do the trick then you will need to resort to other methods. There are a variety of specialised cleaners available that have been made just for cleaning up dog urine.
The Nature's Miracle Urine Destroyer is a particularly good product for tackling tough urine areas.
How to build an outdoor dog toilet area
Most dogs like to go to the toilet on a natural surface such as grass, soil or sand and the best way to encourage your dog to use a specific area on your patio or balcony is to build a place for him to use.
You could make a square box, put a base in it and drill drainage holes in the base, then fill the box with sand or turf. This would be a  good option for your dog.
Alternatively and even easier would be to buy one of the solid plastic children's paddling pools, make some holes in the base for drainage and then fill the pool with sand, or turf, or soil with grass seed to grow your own lawn.
This takes away the trouble of DIY with wood and nails, all you need to do is fill the pool with your desired option ( grass or sand ) and you have an instant outdoor dog potty area.
Encourage your dog to use the area whenever he needs to goto the toilet, dogs soon get the idea and if you give him a nice edible reward afterwards he should soon be familiar with it.
Final Words
Dogs love being outside whatever the weather. Providing that he has some shelter, water, somewhere to lie down and a place to use the toilet, your dog will be happy on his dog patio.
Make it safe and secure and give him some shade and wind protection and he'll enjoy being outside while you are busy or out of the house.
With a bit of creativity on your part you could make your dog patio into a dog paradise, themed or not, wilderness or modern, traditional or feng shui even.
Read Next
Last update on 2023-05-28 / Affiliate links / Images from Amazon Product Advertising API