Hunting with your dog is a great activity and is enjoyed by thousands of people across the world. Some dogs, while hunting, can get injuries and sometimes these injuries can be to the eyes.
Things such as thorns, stones, big sticks and other items can injure a dog's eyes.
You can get dog goggles for hunting which will protect your dog's eyes while he is working. These goggles come in a variety of different shapes making them suitable for many different hunting dog breeds.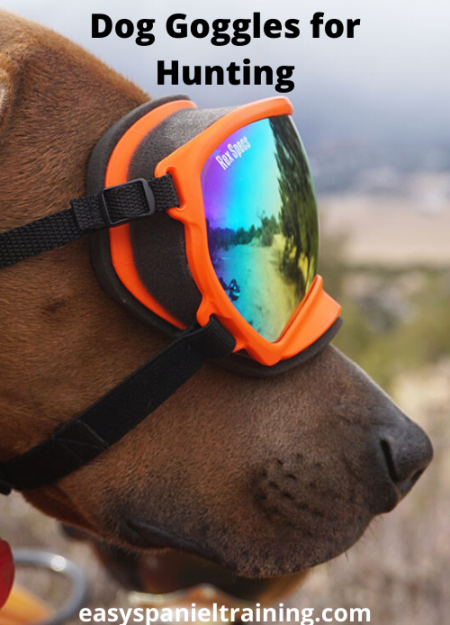 Our Top Choice

Rex Specs Dog Goggles
How to choose dog goggles for hunting
When you are looking for dog goggles for hunting there are a few things to consider so that you make the correct decision for your dog.
Durability and strength of the goggles.
Scratch resistance level.
Fit and size for your dog.
Single or double lenses.
UV protection levels.
Clear or tinted lenses.
5 Best Dog Goggles for Hunting
We'll look at the 8 best sets of dog goggles for hunting.
Each review will contain a list of pros and cons with a key benefit to each product to help you to make the best decision for your dog.
In doing so you will be able to easily figure out which set of dog goggles is best for your dog.
Namsan Dog Goggles for hunting are a great, full face set of dog goggles that wrap around your dog's face offering complete eye coverage.
The goggles are soft framed TPE and have two adjustable elastic straps for good, secure fitting.
The goggles come in two styles and are suitable for medium to large dogs.
Great for active hunting dogs!
Key Features:
UV Resistant.
Vents to prevent misting.
Wrap around eye coverage.
Waterproof, windproof, sun proof and snow proof.
Double straps for strength and security.
Totally adjustable, easy to fit.
Fit perfectly on most dogs.
Lightweight.
Ideal for medium to large breed dogs.
Good value.
Scratch resistance could be better.
These are good, sturdy goggles and make a great choice for a medium to large breed dog.
With fully adjustable twin straps, these dog goggles are easy to fit and provide wrap around protection for your dog's eyes and face.
The goggles are UV and weather resistant.
NVTED Dog goggles are designed specifically for medium to large sized dogs and provide wide eye protection and coverage for all  dogs.
The goggles come with adjustable straps and a chin strap for added security.
Made from high quality PVC, they are light, strong and flexible and suitable for all hardworking, hunting dogs.
Shatterproof Goggles!
Key Features:
Shatterproof.
100% UV Protection.
Waterproof, anti-fog.
High quality PVC frame. High strength and durability.
Soft frame for comfort.
Very well made.
Strong, durable construction.
Chin strap for added security
Comfortable fit for dogs.
Not suitable for small dogs.
We like these goggles which are well made, sturdy and importantly, shatterproof.
The added chinstrap makes the goggles easy to fit and ensures good security and a good fit for medium and large dogs.
Made from soft PVC these goggles are soft framed meaning they exert less pressure on your dog's face making them a comfortable fit.
Rex Specs dog goggles are protective eyewear for the active dog. These goggles are available in six sizes from Extra Small through to Extra Large making them suitable for all breeds and sizes.
Ideal goggles for working spaniels.
Each set of goggles comes supplied with 2 lenses, one clear and one of your choice.
They are stable and secure while still allowing for full jaw motion and field of view.
Rex Specs protect your dog's eyes from debris, environmental hazards, and sun.
Supplied with 2 sets of lenses!
Key Features:
UVB 400 rated – blocks 99.9% of UVA and UVB rays.
Fully adjustable strap system.
Supplied with two lenses.
Available in all sizes for all dogs.
Great quality and fit well on all breeds.
Very well made.
Suitable for all breeds.
Solid with easy to fit adjustable straps.
Once fitted securely stay in place.
Two lenses are provided at no extra cost.
Some people have reported that the goggles can scratch.
If you are looking for maximum protection for your dog's eyes then these are one of the best sets of goggles to get for your dog.
Full face protection is offered by these and the UVA and UVB protection will also help those dogs that have eye problems or which are affected by sunlight.
These PETLESO Dog goggles provide full eye and face protection for dogs with their wrap round style and are suitable for medium and large sized dogs.
They are made from a soft and flexible PVC frame and have ultra tough lenses that are resistant to scratches and shattering.
The goggles are ideal for all dog activities including hunting and other sports and are rain, snow, wind and hail resistant.
Best Value Goggles!
Key Features:
Ultra hard lenses.
Soft, flexible PVC frame.
Adjustable head strap.
All round eye protection.
Lightweight suitable for medium and large breeds.
Easy to fit to your dog.
Adjustable straps have a good range.
Airy and lightweight.
Sturdy and good value.
Not fully scratch resistant.
For dog goggles that offer great protection with the best value for money these are the ones that we recommend.
They have really tough lenses but are soft framed so that they won't injure or hurt your dog's face. 
At only 9.5 ounces they are lightweight and ideal for hunting dogs and other dog activities.
The Gabefish Aviator Dog Goggles have to be some of the coolest dog goggles around and have that real 'bad to the bone' look.
With padded frames and shatterproof lenses, not only do they look great on your dog, but they are practical and great for protecting your dog's eyes whatever the activity, hunting included.
These goggles are fully adjustable for a secure and easy fit to your dog's head with all round eye protection.
Coolest Dog Goggles!
Key Features:
Anti sunshine coated.
Fully adjustable strap for secure and easy fitting.
Shatterproof.
UV rated
2 pairs for price of one.
Stylish dog goggles.
Shatterproof.
UV protection.
Soft inner edge for comfort.
Fully adjustable.
Best for medium to large dogs
These are stylish dog goggles that provide great eye protection while looking great.
We like the inner side of the goggles which is padded for comfort and provides a good seal againbst your dog's face.
The fully adjustable strapping makes them easy to fit and comfortable for your dog.
Frequently asked questions
Are dog goggles good?
If your dog needs eye protection for activities or because of an eye condition then dog goggles can help to stop your dog's eyes from sustaining injury and irritation.
Why would a dog wear goggles?
Your vet may recommend goggles for your dog to prevent an existing condition or other injury from becoming worse.
You may also choose goggles for your dog to prevent him from hurting his eyes when hunting or when performing other activities.
Do dog goggles protect dog's eyes from the sun?
Yes. If the goggles are UV rated then they will protect your dog's eyes from the harmful UVA and UVB rays from the sun.
Single lenses or individual lens?
Dog goggles differ in the type of lens that they have. Some have a large single lens like a ski mask, others have two lenses like swimming goggles. 
Single lens goggles are better for hunting and working dogs as they provide a wider field of vision for the animal.
Lens strength Normal or Heavy Duty?
Dog goggles are all different quality with some of the cheaper sets being unsuitable for activities such as hunting or other dog sports.
Scratch resistant and shatterproof goggles are the best to look for when your dog will be doing high energy or high risk activities.
More Quality Dog Goggles
Conclusion
When you are choosing dog goggles for hunting you should put quality before cost to ensure that your dog's eyes get the best protection.
Shatterproof and UV rated goggles are the best selection, along with comfort and adjustable straps for security and easy fitting.
In addition to hunting dog goggles are also a good idea for car rides if your dog puts his head out of the window and for dogs that have eye complaints or injuries.
Read Next
Last update on 2022-03-02 / Affiliate links / Images from Amazon Product Advertising API