Weetabix is a heavily processed food that is not suitable for dogs and you should not feed it to your canine companion. Although it is a wholegrain food it contains sugars and other additives that are unsuitable for dogs. There are much better things to feed a dog and you should avoid giving him any type of human cereals, including Weetabix.
Most people are familiar with Weetabix, the wholegrain breakfast cereal that looks like cardboard until it is mixed with milk.
Promoted as a healthy breakfast option for people, Weetabix is an easy to prepare food that many people enjoy, so it's perfectly natural for them to wonder if their dogs can eat it?
What's wrong with Weetabix for dogs?
The simple answer would be that Weetabix is meant for humans and your dog is not a human.
There are many human foods that can be problematic for dogs and products such as Weetabix can upset a dog's stomach.
Weetabix contains high levels of sugar. In a single serving of Weetabix there are over 160 calories which are derived from the sugar in the cereal.
One of the key risks of giving this food is that of weight gain. Even a large dog will pile on the pounds if he consumes too much Weetabix.
Dogs should really be fed meat based products.
Dogs require a meat based source of protein to ensure that they develop and remain in the best possible condition.
Grains, such as Weetabix contain high levels of carbohydrate but poor providers of protein and they offer very little, if any benefit, to dogs.
Weetabix is a processed food. Although many people may view Weetabix as a natural product, it is in fact a processed food that contains a range of additives and minerals, along with other ingredients, that are unsuitable for dogs to consume. 
Feeding weetabix to your dog could result in an allergic reaction in dogs that are gluten intolerant.
WHAT IS IN WEETABIX AND WHY IT IS BAD FOR DOGS
It's primarily made from wholegrain wheat and typically contains additional ingredients like sugar, salt, and malt extract, among others, to enhance its flavour.
Some varieties of Weetabix may also contain added vitamins and minerals.
While Weetabix isn't toxic to dogs in the same way chocolate or grapes are, it's not an ideal food for them for several reasons:
Nutritional Balance: Dogs have specific nutritional requirements that are quite different from humans. A balanced dog diet should have the right proportions of protein, fats, carbohydrates, vitamins, and minerals, which a cereal like Weetabix doesn't provide.
Added Sugar: Some Weetabix varieties contain added sugar, which is not healthy for dogs. Excessive sugar can lead to obesity, dental problems, and even diabetes in dogs.
Wheat and Gluten: While many dogs can tolerate wheat and other grains, some dogs may be allergic or intolerant to wheat or gluten, which can cause digestive upset, skin irritations, and other health issues.
Additives: Depending on the specific variety, Weetabix may contain additives, like artificial flavours or preservatives, that are not suitable for dogs.
Dietary Disruption: Sudden changes or additions to a dog's diet, like introducing human food, can cause gastrointestinal upset, including vomiting and diarrhoea.
Choking Hazard: Though it may seem soft to us, dry Weetabix can be a choking hazard for dogs, especially small breeds.
But isn't Weetabix a source of fibre?
Yes, Weetabix does contain fibre, and while fibre is an important component of a dog's diet, it's crucial to provide it in a form that's suitable and safe for them.
Fibre can help with digestive health, providing bulk to move food through the digestive tract and promoting regular bowel movements.
It can also be beneficial for managing weight, as it helps to make a dog feel fuller without adding extra calories.
However, relying on Weetabix as a fibre source for dogs is not recommended for the reasons previously mentioned, such as the potential for dietary disruption, the presence of added sugars and salts, and the possibility of wheat or gluten intolerance.
If you're looking to increase the fibre content in your dog's diet, there are safer and more suitable options available.
SOME DOG FRIENDLY SOURCES OF FIBRE INCLUDE:
Pumpkin: Plain, cooked pumpkin is often recommended by veterinarians as a source of fibre. It can help with both constipation and diarrhoea.
Sweet Potatoes: Cooked sweet potatoes are another safe source of fibre for dogs, but they should be given in moderation due to their high carbohydrate content.
Carrots: These can be given raw or cooked and are a low-calorie source of fibre.
Green Beans: Plain green beans are also a good source of fibre and can be a healthy addition to a dog's diet.
Apples: Apples provide fibre and are generally safe for dogs, but make sure to remove the seeds and core.
Oats: Cooked oats can be a good source of fibre. Ensure they are plain and not accompanied by sugar or other additives.
Always introduce new foods gradually and in moderation to avoid gastrointestinal upset, and consult your vet before making any significant changes to your dog's diet or if you have concerns about their digestive health.
Your vet can provide guidance on the appropriate amount of fibre for your dog and recommend suitable sources.
My dog ate Weetabix, will he be okay?
The chances are that your dog will be okay, although he may have diarrhoea or be constipated for a while.
You should monitor his health and behaviour and if you have any concerns, such as he becomes lethargic or starts trembling or vomits a lot, then you should seek the advice of your vet.
Although Weetabix is unlikely to make your dog seriously unwell, different dogs can react in different ways and a dog that has a wheat intolerance may need veterinary support.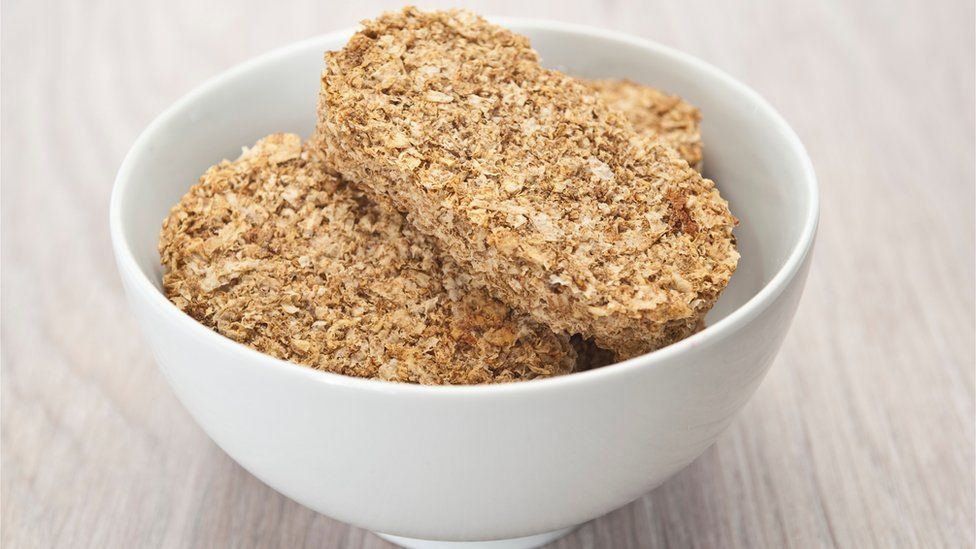 Can dogs have any breakfast cereals?
Breakfast cereals have been designed for human beings and truthfully they should only be eaten by humans.
Although your dog may beg for cereal and may seem to enjoy eating it, there is a good chance that the cereal is not good for him and, if he eats too much, might make hin unwell.
If you wish to have breakfast with your dog then why don't you think about getting him something made for dogs, that is safe for him to eat and which he will enjoy.
There are some great choices on Amazon and one of our dog's favourites is this breakfast food.
Best Dog Breakfasts
Product
Big Breakfast
Lily's Kitchen Great British Breakfast For Dogs (6 x 400 g)
Gourmet Choice
Forthglade Complementary Natural Wet Dog Food – Grain Free & Vegetables Just Variety Pack (12 x 395g) Trays – 90% Turkey, Chicken & Chicken with Liver with vegetables
Quick Fix
Bonio Adult Dog Biscuits Original 1 x 12.5kg Pack
Image
Big Breakfast
Product
Lily's Kitchen Great British Breakfast For Dogs (6 x 400 g)
Image
Gourmet Choice
Product
Forthglade Complementary Natural Wet Dog Food – Grain Free & Vegetables Just Variety Pack (12 x 395g) Trays – 90% Turkey, Chicken & Chicken with Liver with vegetables
Image
Quick Fix
Product
Bonio Adult Dog Biscuits Original 1 x 12.5kg Pack
Image
FAQs
Why shouldn't I feed my dog Weetabix?
Weetabix, a wheat-based cereal, is not toxic for dogs, but it's not suitable for their dietary needs. Dogs are primarily carnivores, meaning their diet should be based on meat. Consuming too much cereal could lead to nutritional imbalances, digestive issues, and obesity over time.
What could happen if my dog eats Weetabix?
While occasional consumption may not be harmful, regular feeding of Weetabix can result in obesity, malnutrition, and digestive problems. It could also lead to wheat allergy or intolerance in some dogs, causing symptoms like itching, hair loss, and gastrointestinal upset.
What should I feed my dog instead of Weetabix?
Dogs should be fed a balanced diet specifically designed for them, generally consisting of high-quality commercial dog food. It should include protein (from a meat or fish), a carbohydrate like rice or corn, and a small amount of fruits and vegetables. Always consult with your vet for specific dietary advice for your pet.
Final Words
If you are looking to give breakfast to your dog then choose a food that is suitable for him and safe for him to eat – any of the above meals are intended for dogs and will make a nice breakfast treat for him.
Weetabix is meant for humans, feed dog food to your dog and he will stay fit and healthy.
Discover lots of other foods that are safe for your dog to eat.
Last update on 2023-12-07 / Affiliate links / Images from Amazon Product Advertising API