In recent years many dog owners have begun to feed raw food to their dogs and it's something that I began around 2019 and my dogs enjoy it and are healthy.
If you are considering a raw food diet for your dogs then there are a few things to consider to make sure that you make the right decision for you and your pets.
You should always feed the best food that you can afford to your dog and, as far as raw food is concerned this should never be raw food that you have 'prepared yourself' from a recipe that you found somewhere. Raw foods can present risks of bacteria if not manufactured, stored and handled correctly and the safest raw food options are those that have been commercially produced to human grade standards.
What is a raw dog food diet?
You have probably heard about the topic of raw dog food diets.
But what is it?
Most people think of a raw diet as being simply feeding your dog uncooked chicken necks, raw chicken and other uncooked meats, this is not recommended and not what I am referring to here.
The actual definition of a raw diet is feeding your dog a complete and balanced meal that contains uncooked meat, bones and organs as their source of nutrition.
A raw diet is often thought of as being homemade or commercially prepared.
What are the benefits of feeding my dog a raw dog food diet?
Many people who feed their dogs a raw diet claim that it provides them with many benefits, and believe that these benefits far outweigh any risks associated with feeding such a diet.
Some of these benefits include:
Improved digestion and nutrient absorption – Pets fed a raw dog food diet have better digestive health than those who eat processed foods, which is the number one reason to begin a raw dog food diet.
As an added bonus, dogs also absorb more nutrients from raw dog food diets as opposed to those that eat dry kibble.
Shiny and healthy coat – A raw dog food diet can improve your pet's skin and hair coat.
If you've been reading my articles for a while then you know that I'm a huge fan of fatty acids.
If your dog can't synthesize enough of these nutrients on their own, they are available in the market in products like fish oil, salmon oil and flax seed oil.
You can also feed foods rich in Omega 3 to help support healthy skin and coat.
Greater energy level – It's no secret that pets who eat raw dog food diets have more energy than those who eat dry kibble.
The typical reaction everyone has to this is because there are so many additives in commercial pet foods, they bloat the ingredients and prevent them from providing any nutritional benefit to your pet.
Easier weight management – It's much easier to manage your pet's weight with a raw dog food diet, because they will be able to more easily digest this type of food.
Because the ingredients in commercially processed dry foods are so difficult for dogs to breakdown and absorb, many pets tend to end up overweight on these diets.
Reduced chance of serious illness – Feeding a raw dog food diet helps your pet to better digest the nutrients they need from their source of nutrition, which provides them with a stronger immune system.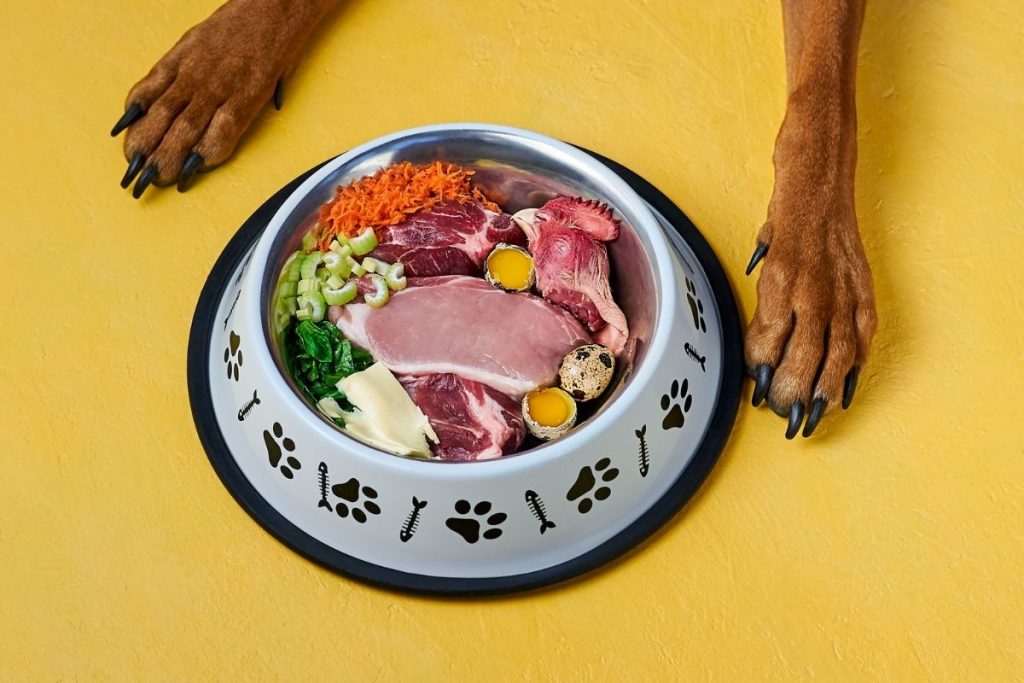 What are the cons to feeding my dog a raw dog food diet?
Just like there are benefits to feeding your dog a raw diet, there are also some disadvantages, too:
Cost – raw food tends to be more expensive than dried, complete dog foods.
Storage – most raw foods are supplied frozen and often come in packs of at least 12. You'll need freezer space to accommodate the food.
Planning – You will need to get the food out to defrost and keep a more regular eye on 'stock levels'.
Can I feed my dog both raw food and dried food?
When considering feeding your dog a raw diet, it's important to remember that they are omnivores.
This means that they need not only protein in their diets, but also carbohydrates, which are found in commercial dried foods.
It's actually a great idea to feed your dog both raw and dried.
My dogs eat raw food mixed in with handfuls of dried, biscuit style food and they are fit, healthy and energetic and they love it.
I give them a mix of Natures Menu Raw Tripe – which you can get here at Pet's At Home mixed with Eukanuba, which I've given to all my dogs over the years – you'll find Eukanuba here on Amazon.
Sale
Eukanuba Complete Dry Dog Food for Adult Medium Breeds with Fresh Chicken 15 kg
Power: Clinically proven to help support lean muscles with animal proteins
Dental: Clinically proven to reduce tartar build-up in 28 days. Reduces plaque and maintains strong teeth
Defend: Helps promote strong natural defenses with clinically proven antioxidant
Shine: Promotes healthy skin, radiant coat and helps reduce shedding by up to 80%* with a clinically proven optimal ratio of omega 6 and 3 fatty acids. *Results may vary
100% complete and balanced. No artificial flavours or colourants added
What's the best raw food for dogs?
The best raw food is the one that your dog enjoys and does well on.
I've already mentioned that my dogs love Natures Menu Tripe but, when I couldn't get the tripe and tried them with a different option from Natures Menu, they wouldn't touch it.
Dogs can often be like people and there are simply some things that they won't eat, don't like and just won't try.
Rather than get into a battle of wits with your pooch, try to find a raw food that he enjoys.
To help I've put together a short list of raw foods that are easily available online through Amazon ( so you shouldn't have any difficulties getting them ).
You can give them a try, or, you could try somewhere such as Pets At Home ( You can see their selection online here ).
Raw Dog Food Overview
Image
Title
4PAWSRAW Raw Dog Food Mixed Meat Variety Box Frozen Meats For Dogs & Puppy 20 packs
NUTRIMENT ENHANCED ADULT WORKING DOGS Raw Food (20 Tray Starter Pack) Frozen, Complete Premium BARF Diet Wet Dog food, Gluten-Free, Raw Protein, Digestible, All breeds, Sizes – 10kg Mixed Flavour
Image
Title
4PAWSRAW Raw Dog Food Mixed Meat Variety Box Frozen Meats For Dogs & Puppy 20 packs
Image
Title
NUTRIMENT ENHANCED ADULT WORKING DOGS Raw Food (20 Tray Starter Pack) Frozen, Complete Premium BARF Diet Wet Dog food, Gluten-Free, Raw Protein, Digestible, All breeds, Sizes – 10kg Mixed Flavour
4PAWSRAW Mixed Variety Pack
4PAWSRAW Raw Dog Food Mixed Meat Variety Box Frozen Meats For Dogs & Puppy 20 packs
???? RAW DOG FOOD — Raw dog food makes our dogs happier and healthier. Raw foods are easily digested, species appropriate and contain all of the important vitamins and minerals. If you are a dog owner with a busy lifestyle and don't have much time to prepare varied raw meals for your pet but want them to benefit from a raw diet, then 4PAWSRAW raw dog food is the convenient option.
???? MIXED MEAT FOR DOGS — As pet parents, we looks for things that can make pets healthier. Many of us try to achieve this by providing them with the best diet. This mixed meat for dogs consists of meals that are freshly prepared and contain a variety of fresh uncooked meat. Mixed meat variety box provides the variety that is essential to feeding dogs a balanced, raw meat diet that includes bone & offal.
✔ DOG FOOD IN CUBES — Your pet's diet is the foundation for his or her health. These convenient meals for your dog are an excellent source of protein, fat vitamins and minerals. This raw frozen dog food can improve digestion, reduction of allergy symptoms, shinier, healthier skin and coat, cleaner teeth and fresh breath. Harder, smaller, less smelly stools. This food is presented in 4 convenient cubes in one packet.
???? HEALTHY MEALS FOR DOG— Variety is essential, this packs contains a variety of mixed meat for dogs. Healthy dog foods suitable for dogs of all ages with no additives. Feeding a raw diet to improve your dogs enthusiasm for eating well.
???? PERFECT FOR ALL DOGS — Add this raw frozen dog food to you dog diet, your dog will love this diet. Your dog's coat will be shinier and stronger. Raw dog food mixed meat can provide superior joint and bone health. Improved skin and softer, shinier coat. Superior dental health. This pet food is perfect for young dogs, adult dogs, and mature dogs and can be adapted to suit all.
4PAWSRAW raw dog food is made from top quality, human grade meats which are purchased fresh and individually wrapped.
The meat comes with DEFRA numbers and batch codes.
It is delivered in 20 x 500g sausage packs, by courier in an insulated box which keeps the product frozen for 48hrs.
This is a complete meal that contains all the nutrients your dog needs to be healthy.
A balanced raw diet can help improve digestion, reduce allergy symptoms, shinier coat, cleaner teeth and fresh breath.
NUTRIMENT ENHANCED ADULT WORKING DOGS Raw Food (20 Tray Starter Pack)
NUTRIMENT ENHANCED ADULT WORKING DOGS Raw Food (20 Tray Starter Pack) Frozen, Complete Premium BARF Diet Wet Dog food, Gluten-Free, Raw Protein, Digestible, All breeds, Sizes – 10kg Mixed Flavour
B.A.R.F. RAW DIET TO IMPROVE YOUR DOG'S HEALTH: Carefully selected natural ingredients. Recipes formulated with quality fresh proteins, essential fatty acids, vitamins and minerals
QUICK & EASY TO USE: Each tray is a complete meal with all the regular dietary requirements, additional supplements not needed. Simply defrost and serve the correct amount to your dog's size specification
HIGHLY DIGESTIBLE: Nutriment is consumed raw. Nutrients are naturally preserved and easily digested. With human grade quality, natural, fresh, grain free ingredients and meats. Great for your pet's immune system, coat, skin, oral health, vitality & stools
MADE AND SOURCED IN UK: Ethically sourced, carefully selected British raw meats, fish, biologically appropriate vegetables and nutrient-dense superfoods are combined in our expertly designed recipes to produce high quality and nutritious raw foods
20 TRAY MIXED FLAVOUR PACK: Mix and match with our other flavor packs and treat bundles to create a varied diet for your dog
With human grade quality, natural, fresh grain free ingredients and meats, Nutriment is consumed raw.
Its nutrients are preserved naturally and easily digested.
Highly digestible with added enzymes for optimum digestion, it contains no additives or preservatives (freeze dried).
Your pet will love its taste and! you will enjoy seeing the difference it makes to their health, vitality and appearance.
Soft textured food is nutrient dense with a high level of protein.
Bella & Duke Working Dog Raw Food 8kg Variety Box
No products found.
Bella & Duke Working Dog Raw Food is a hypoallergenic raw food for working dogs.
It provides all the nutrients that your dog needs to stay healthy and fit.
This product contains no preservatives, additives or other chemicals.
The ingredients are human grade, including several different flavours of meat as well as tripe and fish which makes it very appealing to dogs.
Which is the best raw food?
My dogs love the tripe offer from Natures Menu but don't like the other choices.
Your dog may have different tastes and all of the foods mentioned are great choices with very little difference in terms of value for money.
When it comes to standards of quality they seem to be equals so, the choice is yours.
Try one and see if your dog enjoys it, and, if not try another.
Should I feed my dog a raw diet?
My dogs do well and love their raw food so in my view it's worth the effort.
Make sure that you get a good quality food that has been produced to approved standards and, as with all things to do with your dog's health and welfare, if you are in any doubt or have any concerns always get the professional advice of your vet.
Final Words
That's it. 
There can be advantages and some disadvantages to a raw diet.
Always buy properly manufactured raw dog food.
Don't make your own as this could make your dog ill.
There are lots of choices available so do your homework, check that the supplier is approved and check reviews from other dog owners to get a good idea of what the food is like.
Read Next
Last update on 2023-12-07 / Affiliate links / Images from Amazon Product Advertising API