When not active with other things, such as playing, eating or going for a walk, most dogs will sleep. The average dog will sleep between 12 to 18 hours every day depending on his health and age.
Dogs really do need something soft to sleep on and you should aim to get your dog a comfortable dog bed. Having his own bed provides your dog with a safe place to rest and sleep and a soft bed will ensure that he gets the best sleep possible.
Do dogs need something soft to sleep on?
Dogs need their own bed. Although your dog may sometimes sleep next to you, there will be times when he doesn't and he will need something soft and comfortable to sleep on.
Having a good bed provides your dog with a place that is comfortable, soft and supports his body when he is asleep. When you consider that you enjoy a nice, comfortable bed and sleep better when you have one, it is the same for your dog.
There are a variety of dog beds with different features that will help your dog to get a good amount of rest.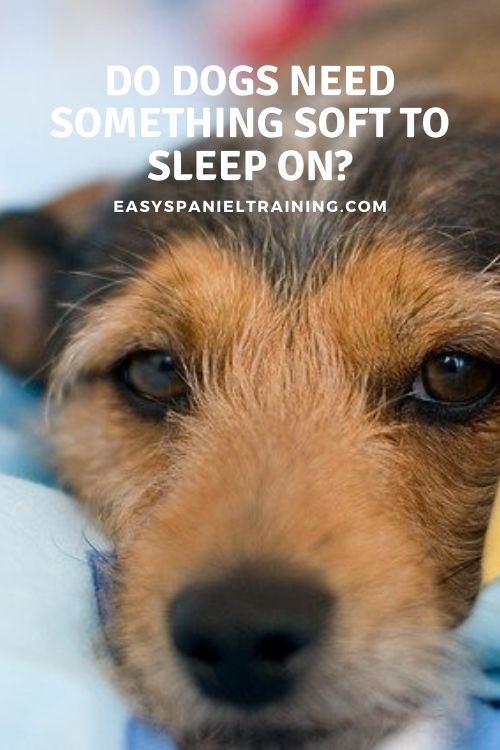 Good dog beds support your dog's body
A comfortable dog bed will also support your dog's body, helping him to be cushioned from a hard floor which can aggravate and encourage conditions such as arthritis to develop.
Providing your dog with a good, supportive and comfortable bed will help him to get a good night's rest which, particularly for growing puppies and older dogs is vital to the maintenance of good joints and overall health.
Beds that have good quality fillings will ensure that your dog gets the best comfort during the day when he rests and at night whenever he is sleeping.
A soft bed means better sleep for your dog
Your dog needs a good night's rest to remain fit and healthy. Most of us are familiar with the effects of poor sleep and the impact that this can have upon health, the same is true of dogs, if their sleep is not good then their health and ability can suffer.
A good, soft and comfortable dog bed will help your dog to enjoy good levels of rest and will encourage him to settle in and remain in his bed when he should be asleep.
Your dog's bed is his private place
We all need a place where we can go to relax and spend some time in peace and quiet and your dog needs the same.
You should provide your dog with his own space, even if it is just his bed in a quiet corner of the room, where he can retreat to and enjoy some down time.
Get your dog a bed that is big enough for him to stretch out comfortably so that he gets the best rest possible.
What type of bed do dogs prefer?
When you see that many dogs like to sleep on furniture and human beds, it is probably safe to say that dogs like beds that are soft, warm and comfortable.
One of the most common types of dog bed that people buy for their dog is of the orthopedic dog bed type with memory foam. These beds mould to a dog's body and provide really good support for aching joints and bones.
Being able to keep your dog's bed clean should be a priority and the ease with which you can do this should be a consideration. Many modern dog beds are machine washable and this may be something that you consider.
Get a dog bed to fit with your home
There are many different options open to you when selecting a soft and comfortable bed for your dog and the days of being restricted to plastic beds are long gone.
Many dog beds are now designed and made from high quality materials that can match and fit in with your home decor so your dog has his own piece of doggy furniture that does not look out of place in the house.
Designer type dog beds are becoming more widely available and offer a comfortable and stylish option for you and your dog.
Conclusion – Do dogs need something soft to sleep on?
You should keep your dog as comfortable as possible and provide him with a good quality dog bed that will support his body and help him rest and sleep.
Your dog needs his own place that is quiet and cool where he can escape to and have down time when he needs it.
Last update on 2023-09-29 / Affiliate links / Images from Amazon Product Advertising API