The short answer is yes. Boiled eggs are a nutritious treat for dogs when given in moderation. They're packed with protein, vitamins, and minerals that can benefit your dog's health. However, like any food, it's essential to introduce them gradually and observe your dog for any adverse reactions.
Can dogs eat boiled eggs?
Every dog owner wants the best for their furry friend. From toys to treats, we're always on the lookout for things that will make our pets happy and healthy.
One question that often pops up among dog enthusiasts is, "Can dogs eat boiled eggs?" Let's crack this question wide open and find out!
Nutritional Benefits of Boiled Eggs for Dogs
Eggs are often referred to as nature's multivitamin because of their rich nutrient profile. Here's what they offer:
Protein and Amino Acids: Essential for muscle growth and repair.
Vitamins and Minerals: Including Vitamin A, B12, and iron which are vital for a dog's overall health.
Healthy Fats: Beneficial for skin and coat health.
Risks Associated with Feeding Boiled Eggs to Dogs
While boiled eggs are generally safe, there are some risks to consider:
Choking Hazards: Especially for small dogs if given a whole egg.
Allergic Reactions: Some dogs might be allergic to eggs.
Overconsumption Concerns: Too many eggs can lead to weight gain and other health issues.
How to Safely Introduce Boiled Eggs to Your Dog's Diet
If you're thinking of adding boiled eggs to your dog's diet, here's how to do it safely:
Starting with Small Portions: Begin with a small piece and gradually increase the amount.
Observing for Allergic Reactions: Watch out for signs like itching or digestive issues.
Combining with Other Foods: Mix with their regular food for a tasty treat.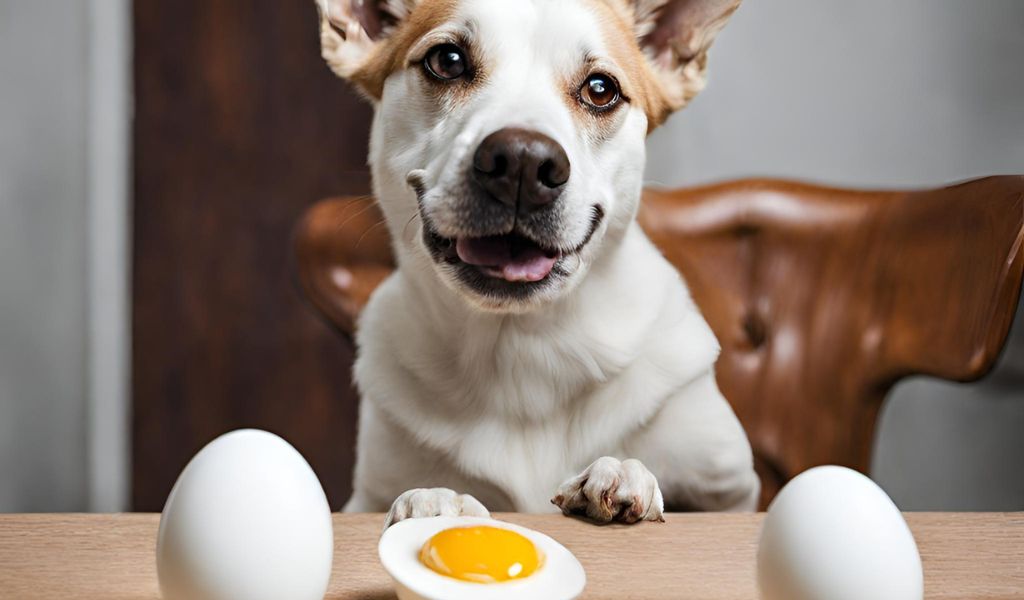 The Debate: Raw Eggs vs. Boiled Eggs
There's a lot of debate about whether raw or boiled eggs are better for dogs.
Here's a breakdown:
Nutritional Differences: Boiled eggs retain most of their nutrients, while raw eggs might lose some due to the risk of bacteria.
Safety Concerns: Raw eggs can carry salmonella, which can be harmful to both dogs and humans.
Digestibility: Boiled eggs are easier for dogs to digest compared to raw eggs.
Expert Opinions on Dogs and Boiled Eggs
Many veterinarians and dog nutritionists believe that boiled eggs can be a beneficial addition to a dog's diet:
Veterinarians' Views: Most vets agree that boiled eggs, given in moderation, are safe for dogs.
Dog Nutritionists' Insights: They often recommend eggs as a protein source, especially for dogs with specific dietary needs.
Long-term Studies and Findings: Research shows that eggs can be a healthy treat for dogs when given in moderation.
Pros and Cons of giving boiled eggs to dogs
Rich Nutritional Profile: Boiled eggs are packed with essential proteins, vitamins, and minerals that can benefit a dog's health.
Easily Digestible: Compared to raw eggs, boiled eggs are easier for dogs to digest.
No Risk of Salmonella: Boiling eggs eliminates the risk of salmonella, which can be present in raw eggs.
Natural Treat: They serve as a natural, preservative-free treat for dogs.
Versatile Addition: Can be easily added to a dog's regular diet or given as a standalone treat.
Good for Skin and Coat: The healthy fats in eggs can promote a shiny coat and healthy skin.
Cost-Effective: Eggs are relatively inexpensive and can be a cost-effective protein source.
Potential Allergies: Some dogs might be allergic to eggs, leading to reactions like itching or digestive issues.
Choking Hazard: If not properly chopped or mashed, boiled eggs can pose a choking risk, especially for smaller dogs.
Risk of Overconsumption: Like any treat, excessive consumption can lead to weight gain and other health issues.
Biotin Deficiency Concern: Raw egg whites contain avidin, which can interfere with biotin absorption. While boiling reduces this risk, it doesn't eliminate it entirely.
Not a Complete Meal: While nutritious, boiled eggs shouldn't replace a balanced dog diet.
Storage Concerns: Leftover boiled eggs need to be refrigerated and consumed within a week to avoid spoilage.
Practical Tips for Serving Boiled Eggs to Dogs
If you're convinced about giving your dog boiled eggs, here are some tips:
Peeling Techniques: Make sure to remove the shell entirely to prevent choking.
Storing Leftovers: Store any leftover boiled eggs in the fridge for up to a week.
Mixing with Other Foods: Combine with other dog-friendly foods for a delicious meal.
Alternatives to Boiled Eggs in a Dog's Diet
If you're looking for other nutritious treats for your dog, consider:
Cooked Chicken: A lean source of protein.
Fish: Rich in omega-3 fatty acids.
Vegetables: Like carrots or green beans for added fibre.
Common Myths about Dogs and Eggs
There are several myths surrounding dogs and eggs. Let's debunk a few:
Raw Eggs and Salmonella: While there's a risk, it's relatively low. However, boiled eggs eliminate this concern.
Egg Whites and Biotin Deficiency: Only a concern if a dog consumes massive amounts of raw egg whites.
Eggs and Weight Gain: Only if given in excessive amounts.
FAQs
Can puppies eat boiled eggs?
Yes, puppies can eat boiled eggs. However, ensure they are given in small portions suitable for their size.
How often can I give my dog boiled eggs?
It's best to treat boiled eggs as a treat and not a regular diet staple. Once or twice a week should be fine.
Do boiled eggs cause gas in dogs?
Some dogs might experience gas after eating eggs. If it's excessive, consider reducing the amount or frequency.
Can dogs eat the eggshell?
While eggshells are rich in calcium, they can pose a choking hazard. It's best to avoid giving them to your dog.
Are scrambled eggs good for dogs?
Yes, scrambled eggs, without any added salt or seasoning, can be a tasty treat for dogs.
Is the yolk or white better for dogs?
Both parts of the egg are nutritious. However, the yolk contains more vitamins and minerals.
Final Words
In conclusion, boiled eggs can be a nutritious and tasty treat for your dog when given in moderation. They offer numerous health benefits but, like any food, should be introduced gradually. Always consult with your vet if you're unsure about any dietary changes for your pet.