Going camping with your dog is great fun! Most dogs love the outdoors and for them its a great pack outing filled with fun and adventure.
I'm sure your dog will love sleeping and living in a tent with their human pack and that they'll have a great time too.
My two spaniels love camping and I'm sure that your dogs will love it as well.
Recently many of us have found that we're all having to be a bit more creative with our leisure time and we have to make the most of the opportunities that we have.
So, why not, if you are able, go camping with your dog? – and, if they are lucky, take the family along too!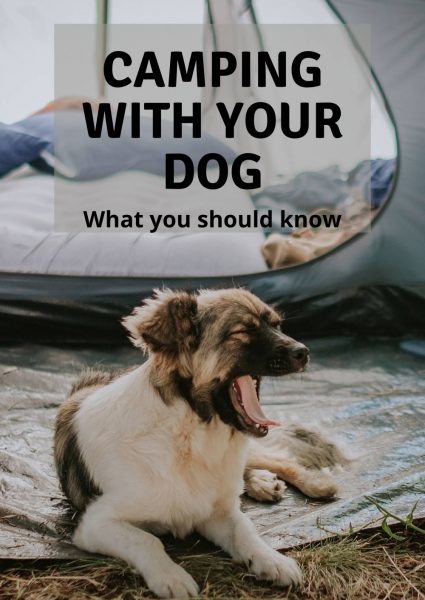 Dog friendly campsites are more common
Before you venture forth on your camping trip, you'll want to find a campsite where dogs are welcomed.
Thankfully attitudes to well behaved and controlled dogs are changing around the UK, and there are an increasing number of places where you can go with your dog, including pubs, cafes and campsites.
Internet searches can help you to identify sites where you can take your dog and there are suitable sites in most parts of the UK.
To help you find a site you can visit this directory of campsites at Cool Camping where you can see a good list of dog friendly sites for camping.
Ask about campsite rules and restrictions
Some campsites will have rules for dog owners ( although they don't have any for children normally!).
You should check with the site owners to see if there are any things that you need to take with you or any other rules that you'll need to follow with your dog.
Often there can be parts of the campsite that are 'off limits' for dogs – these tend to be things like childrens' playgrounds or picnic areas.
It is worth checking before you arrive, just to make sure that the site that you choose will suit you, your dog and your family.
You don't want the rules to spoil your itinerary and fun.
What type of tent will you use for your dog camping trip?
Most dogs are experts as escaping and you shouldn't leave your dog alone in the tent at anytime.
One thing that you will need to think about is the security of the tent when you are in bed, from the perspective of your dog getting out and going out for a 'midnight walk'.
Most modern tents come with built in ground sheets, so that there is no gap between the walls of the tent of the floor covering.
This type of tent will provide the maximum security to prevent your dog from escaping.
If you were to use a tent with a separate groundsheet then your dog could push his way out, between the ground cover and the tent and subsequently escape.
Your other option would be to use a tent with internal 'rooms' where you sleep, these can normally be zipped shut and are normally sealed. Your dog could sleep in one of these with a family member.
Failing these options, you may need to use a cage or crate that your dog can sleep in. This can be made comfortable with his toys and bedding and it will keep him safe and secure at night.
There are a wide range of cages available such as this double door cage on Amazon.
Leisure Hartland 4 Man 2 Room Tent With Living Area Waterproof To 3000mm Family Camping
OUR BEST 4-MAN TENT FOR GROUP & FAMILY CAMPING: Great for groups camping trips with friends and family, the Trail Hartland Tunnel Tent features 2 x 2-berth bedrooms and a living area. The tent has a new and improved design for 2020 with stronger zippers, tougher pegging points and extra stitching for superior strength, stability and rain protection. Pitched size: L420cm x W210cm x H140/115cm.
3 SEASON TENT DELIVERS SUPERIOR RAIN PROTECTION: Forget about the weather putting a dampener on your trip because the Hartland features durable taped seams and a Hydrostatic Head of 3000mm for superior rain protection. Its double skin design also provides greater insulation for superior warmth and reduced condensation. It's a top tent for camping during the late spring, summer and early autumn months.
2 SPACIOUS BEDROOMS WITH PRIVACY DOORS & POCKETS: Each bedroom is big enough to accommodate a double airbed and features a sewn-in groundsheet, zipped privacy doors with mesh panels, and slip pockets to store your valuables. Both rooms also have vents to maximise air flow, reduce condensation and provide a comfortable night's sleep. The bedrooms are situated on either side of the living room.
LIVING AREA WITH ENTRANCE & SUNSHADE: The Hartland's living area is perfect for dining with your fellow campers and sheltering from the rain. Unlike the bedrooms, it DOESN'T have sewn-in groundsheet. However, a separate groundsheet is included to cover MOST of the living room floor. The tent's zip-lock entrance door can be propped up with steel poles to create a sunshade, allow air to circulate, and prevent the interior getting stuffy.
EASY TO PITCH, STORE & CARRY ON CAMPING TRIPS: The tent features 4 colour-coded fibreglass poles to easily identify which sleeves they slide into. This allows you to easily pitch the tent. Steel pegs with extra-strong pegging points and pre-attached hi-visibility guy ropes provide superior wind-resistance. A heavy-duty bag with an integrated strap allows you to easily store and carry the tent on outdoor adventures.
Pack a bag for camping with your dog
You should prepare a pack for your dog before you set off camping, a bit like packing his doggy holiday kit.
There are a few things that you should take with you that will help to make the trip easier and reduce the risk of problems.
Your dog's food -you might not be able to get his normal food on your holiday so you should pack as much of his normal food as you'll need for him for the full break.
Feeding and water bowls – he'll need something to eat and drink from, so pack his bowls or get some travel bowls such as these collapsible bowls that we found. It is also a good idea to get a water bottle for him too.
Leads – don't forget his lead and take a couple or replacements along with you just in case. If your dog likes to sit outside then you can also get the type of lead that screws into the ground so he can sit out safely.
Basic dog first aid kit – you can make use of a human first aid kit if your dog hurts himself but it is best if you have a kit that is just for your dog. You never know if or when your dog might get hurt and camping can have some risks. You can get a good first aid kit here on Amazon.
Find somewhere fun to camp
It might seem obvious but you'll want to have fun. Dog's really enjoy holidays, particularly if they are with their family and there's no reason to leave your dog behind when you go on a camping break.
The UK is full of wide open spaces and there are many campsites that are in some lovely areas, often away from the regular tourist traps and attractions.
Why not explore a little and find somewhere off the beaten track where it will be quieter and more enjoyable for your family and your dog?
You can go off on some great adventures and activities that could include hiking or hill walking, you might end up near the beach – always a good choice for children and dogs. Perhaps there is a nice clean river or stream near a site that you like.
If it's warm then your dog will love to swim and perhaps you could join him too.
Useful items for camping with a dog
Dogs enjoy holidays just like humans and a change of scenery is as good for your dog as it is for  you.
Camping is a great way to spend time with your dog. You will both enjoy each other's company and, by spending time together outdoors, you just might discover more of your own 'personal inner dog'.
With the increase in dog aware and friendly campsites there is little to no reason why you should not take your dog with you on a camping holiday.
A bit of careful planning to make sure that your dog has everything that he needs is all it takes for him to have a great time with his family.
Your dog will love the time that he spends camping with you and you'll understand more about him as a result of the time spent together.
Last update on 2022-01-28 / Affiliate links / Images from Amazon Product Advertising API