Have you ever wondered what do dogs think about when they are lying around? If you have then you are like many dog owners who ask the same question.
We will never really know for sure just what goes on in a dog's mind when he is lying around on the sofa. He lives in the same world as us, but sees it in a different way. Maybe he thinks about food, going for a walk, where his humans are, what that smell is, what toys to play with. The reality is that dogs are clever animals and his thoughts may not be much different than yours.
Do dogs think?
It is safe to say that dogs do think although not in the way that we would probably recognise. 
For those such as Dr. Alexandra Horowitz Phd, dogs certainly do think and their thoughts are driven by events and the surroundings that they are exposed to and experience.
This best selling author is always studying canine behaviours and strives to see the world from the perspective of dogs, exploring the things that are meaningful to them.
Her best selling book 'Inside of a dog' takes the reader on a voyage of discovery to explore dog behaviour and how dogs think and understand the world around them.
What do dogs think about?
Dogs often think about the environment that they are in, assessing the surroundings, smells and sights for signs of threats, other creatures and determining if the area is safe or not.
This is a common strategy among all animals, humans included, and a basic tenet of survival.
Of course the domestic dog is not really faced by any real threat and it is fair to say that a large proportion of your dog's time will be spent thinking about food, his owners, resting, play and generally being a dog.
What goes through a dog's mind when he is left alone?
Most dog owners are familiar with the dog behaviour that they witness whenever they are about to leave the house without their pet, and they wonder, 'just how does he know?'
The reality is that dogs are excellent observers of human behaviour.
You pick up your car keys, or grab your wallet and, to you, it means little -but your dog sees these signals and recognises that they mean that you are about to go out.
Many dogs become excitable, as they think that they are coming along, while others appear distressed at the expectation of being left alone.
The things that go through your dog's mind are probably dependant on his upbringing and experiences as a dog.
Having been lucky enough to be around dogs for many years, I've found that most dogs will just sleep whenever their owners leave them alone. Any initial barking, howling or other displays are often over with quickly and the dog just gets comfortable and goes to sleep.
It is important that your dog has a comfortable place to sleep whenever you leave him alone as this will help him.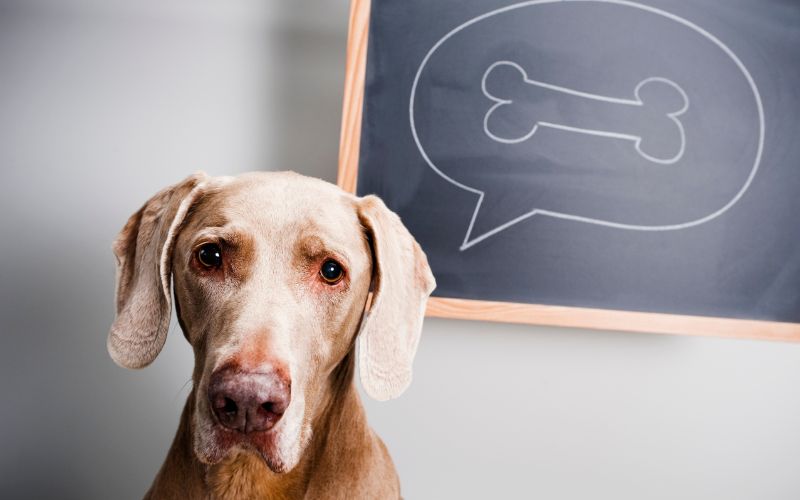 Dogs think about their owners
Dogs are sociable animals and are known as 'man's best friend' for a reason.
When he is alone you dog will think about you and the rest of the family.
Although he may not wonder where you are and although his understanding of time is different to ours, he recognises that he is alone and will be ready to welcome you upon your return. 
How to help your dog to think
Most dogs don't get enough mental or physical stimulation. Owners go out to work, leave the dog on his own, then come back from work and are often too tired to do anything with the animal.
To help your dog to think healthily when he is alone it is important for you to provide him with mental stimulation, either in the form of training, games or going for interesting walks to as many different places as possible.
The exposure to this stimuli will encourage active and healthy thinking and learning for your dog, just as it would for a young child.
You should do your best to develop your dog's mind just as you would with your children.
Final Words -What do dogs think about when they are lying around?
Just like children, dogs enjoy active, informative lives and stimulation and experiences are important to a dog.
Dogs think about lots of different things, owners, walks, food, other dogs and their experiences, in many ways similar things to humans, but in different ways.
Read Next
Should I let my dog eat grass?
Last update on 2023-05-29 / Affiliate links / Images from Amazon Product Advertising API