It is quite normal for dogs to starve themselves occasionally and Cavalier King Charles spaniels are no exception, they will take a day or two off from food every now and then.
In thinking about how to get a Cavalier King Charles to spaniel to eat, you should first make sure that your dog is fit and well and when he has been given the all clear you can begin to look at his food, exercise levels and behaviour, all of which can affect his eating habits.
Why is your Cavalier King Charles spaniel not eating?
It could be due to Illness
If your Cavalier King Charles spaniel has suddenly stopped eating then it could mean that your dog is unwell, this can be especially true if your spaniel has diarrhoea or has been vomiting.
If this is the case then you should consider a visit to the vet's to have him checked over to make sure that there are no underlying conditions that are affecting his eating habits.
Dental problems can impact a dog's desire to have food.
Tooth decay and gum infections can be common in smaller breed dogs and can often be identified by bad breath.
Always get your dog examined by a professional if you think that he has health issues or if you are concerned about him.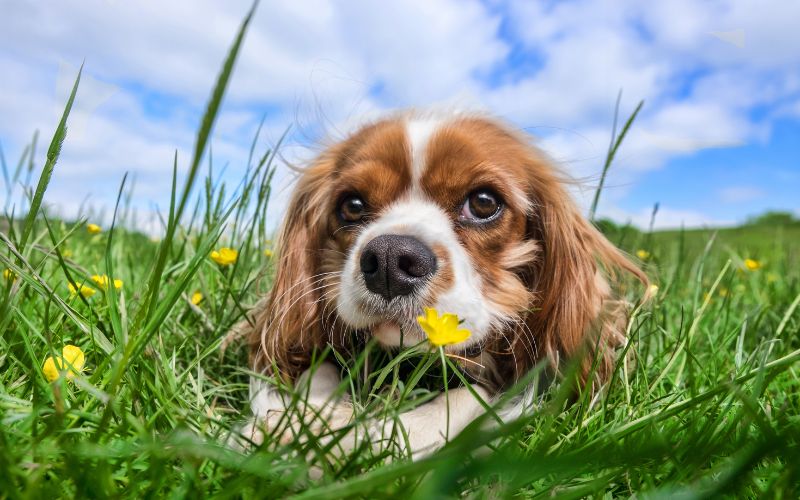 Stress or anxiety
Dogs can be affected by stress and anxiety and this can affect their appetite resulting in them not eating or not eating in the way that they normally do.
A house move, member of the family leaving, bereavement, change of food or some other changes can all cause stress or anxiety in a dog.
If your spaniel's routine has changed then it's possible that he is stressed.
Like people some dogs are more affected than others.
Fussy eating habits
This is by far the main cause of eating problems with dogs such as Cavalier King Charles spaniels.
The dog refuses to eat it's regular dog food in preference to treats and other tasty things that it' s owner provides.
Just like a child eating confectionary between meals who then refuses to eat, if you feed your spaniel treats between meals or human goodies from the table, then this can be a major factor in your dog not eating his food.
Many dogs that refuse their food are enjoying eating treats and human handouts on a regular basis which is why they won't eat their meals.
If your dog is filling up on treats then, just like a child, he will not eat his meals.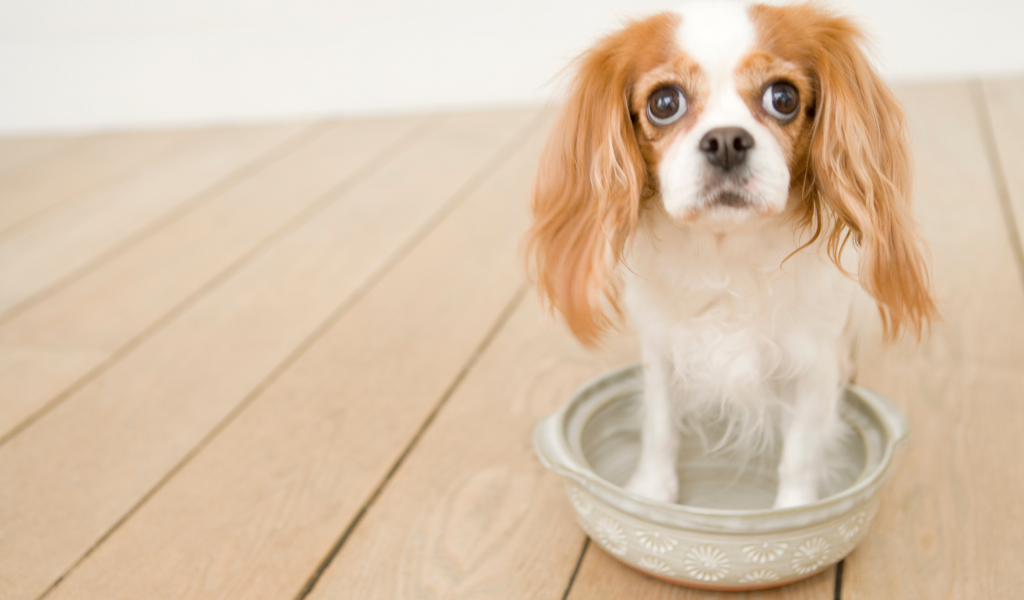 Your spaniel doesn't like his food
It is rare for a dog to not like his dog food most dogs will eat any type of food and like or not like is not normally an issue.
If you have changed your dog's food and he isn't eating it, then this refusal to eat can be mistaken for him 'not liking it.
What is more likely is that you have introduced the new food too quickly and he is stressed at the change.
Should your dog be refusing to eat new food then you should introduce it slowly to him, mixing small amounts into his normal food at mealtimes, gradually increasing the amount of new food until he is happy.
It can take time to properly introduce a spaniel to new dog food.
How to get a Cavalier King Charles spaniel to eat
Having looked at some of the major reasons why a dog won't eat, we can now look at how to get a Cavalier King Charles spaniel to eat.
Assuming that you have ruled out health issues by having your dog checked over by the vet there are some simple ways to get your spaniel to eat.
Do not feed him any treats at all between his meals.
This includes scraps from the table, biscuits, dog treats and left overs from human meals.
Make sure that rubbish is kept secure and out of reach of your dog too as they are excellent scavengers.
Repeating the above point. No treats, as much as you want to treat your King Charles you have to avoid feeding treats until he is eating properly.
Reduce your spaniel's portion size
When you feed your dog, give him less food than normal.
Check the dog food feeding guide for the size of dog and do not exceed it.
Put the food down for no more than 10 minutes
Keep to your regular mealtimes for your spaniel and, when you put his dish down, after 10 minutes, remove the dish as this is now the end of mealtime.
Stick to the 10 minute rule at every mealtime. Your dog will not starve and will soon get the message that he needs to eat when the dish is down.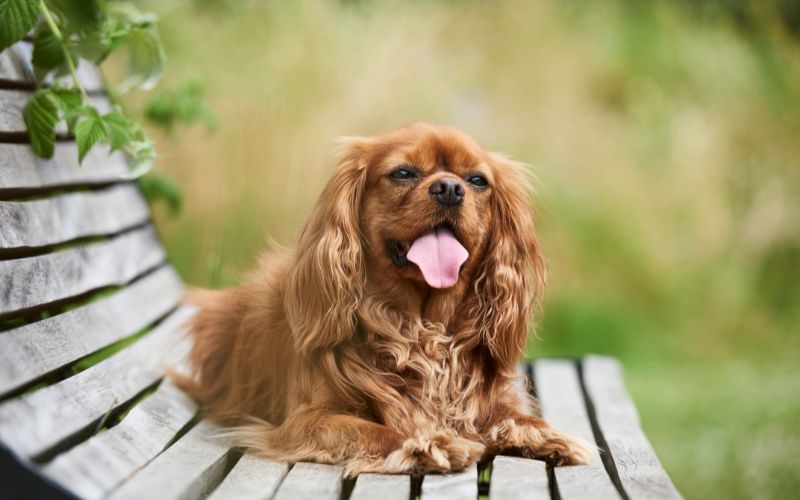 Eating problems in dogs are often related to availability of food and they don't eat when they should.
Make sure that your dog gets plenty of exercise
Even though Cavalier King Charles spaniels are no longer viewed as working dogs, they are still spaniels and they love to run and get outdoors.
Let your dog run free and enjoy life. If he burns energy he will be hungry.
Do not change his dog food frequently
Every time you change your spaniel's routine, you provide an opportunity for him to become stressed or anxious.
Changing his food because he is not eating can often make things worse, particularly for a sensitive dog.
What is the best diet for a Cavalier King Charles spaniel?
Dogs are carnivores and meat based diets and proteins are important to them and are vital for good health.
There is no room for vegetarian diets for Cavalier King Charles spaniels or any other dog.
The food that you give to your King Charles should be predominantly meat based and, if you are having real problem with your dog refusing food, we recommend that you try a raw dog food which the majority of dogs love and will devour.
We find that tripe based foods are a real favourite of spaniels and some great tripe options are available from 4PawsRaw that have a wide selection of quality raw foods which you can read about here.
Cooked Chicken is dog Kryptonite
There is not a dog on the planet that does not like cooked chicken.
Whether fried, grilled, boiled or roasted, cooked chicken is like nectar for dogs and, along with tuna, is one of the foods that my vet recommends for ill dogs.
If you simply cannot get your Cavalier King Charles to eat anything ( including cooked chicken) then, your first action should be to see your vet to check him over.
I have never had any problems getting a dog to eat cooked chicken and, although you should not see this type of food as a long term option, you can use cooked chicken as a way to getting protein and other nutrients into your spaniel.
It is highly unlikely that he will refuse to eat this tasty food.
Just make sure that you do not give him any chicken bones.
Frequently asked questions
My Cavalier King Charles Spaniel has lost interest in food. What can I do to encourage them to eat?
If your Cavalier King Charles Spaniel is not eating, try offering them a variety of high-quality dog foods or mixing in some wet food to enhance the aroma and taste. You can also try feeding them in a calm and quiet environment and establish a consistent feeding schedule.
My Cavalier King Charles Spaniel is a picky eater. Are there any tricks to make their meals more enticing?
To entice a picky Cavalier King Charles Spaniel to eat, consider warming up their food slightly to release more aroma, or adding a small amount of low-sodium broth or a tasty food topper. You can also try hand-feeding or using interactive feeding toys to make mealtime more engaging.
My Cavalier King Charles Spaniel eats too quickly and sometimes chokes. How can I slow down their eating habits?
If your Cavalier King Charles Spaniel eats too quickly, try using a slow feeder bowl or a puzzle toy designed for slow feeding. These can help to make meals last longer and prevent choking. You can also try dividing their meals into smaller portions throughout the day.
My Cavalier King Charles Spaniel has recently had a change in appetite. Could this be due to a health issue?
Yes, a sudden change in appetite in your Cavalier King Charles Spaniel could be a sign of an underlying health problem. If you notice a persistent loss of appetite or any other concerning symptoms, it is important to consult with a veterinarian to rule out any medical conditions and receive appropriate treatment.
I've tried various methods, but my Cavalier King Charles Spaniel still refuses to eat. What should I do?
If your Cavalier King Charles Spaniel consistently refuses to eat despite your efforts, it's crucial to seek advice from a veterinarian. They can evaluate your dog's overall health and provide guidance tailored to your pet's specific needs. In some cases, additional tests or professional intervention may be necessary to address the underlying cause of the appetite issue.
Final Words
In looking at how to get a Cavalier King Charles spaniel to eat, we have considered health and behaviour.
Provided your dog is healthy there is no reason for him to refuse to eat his food.
With a few simple changes to both dog and owner behaviour it is quite a simple process to get your dog eating properly.
The key thing is to be consistent, provide good food and lots of exercise, do not give treats and do not give in to your dog.
He will eat when he is ready.
Last update on 2023-09-02 / Affiliate links / Images from Amazon Product Advertising API