Giardia is a nasty illness that one of my spaniels suffered from last year. This horrible illness is caused by a parasite that attacks the intestines and causes smelly and watery diarrhea and makes your dog very unwell.
The best food to feed to a dog with giardia will be something that is easy to digest and is bland with no flavourings. Our vet recommended mashed potato mixed in with canned tuna fish. When mashed together this forms a meal which is bland but which also contains nutrition while being attractive to dogs.
Should I feed my dog if he has giardia?
You should always get the professional advice of your vet if you have any concerns about treatment or the health of your dog, they will be able to offer qualified advice for your pet.
In the case of Giardia you should always get your dog to the vet as soon as possible. He will need medicines to help him to defeat the illness and recover.
From my experience of dealing with giardia in my dog, it is better to feed very small meals, several times a day, up to four times.
This allows your dog to get nutrition to help him to recover but this is delivered in small quantities which minimise the level of disruption to an already poorly pooch.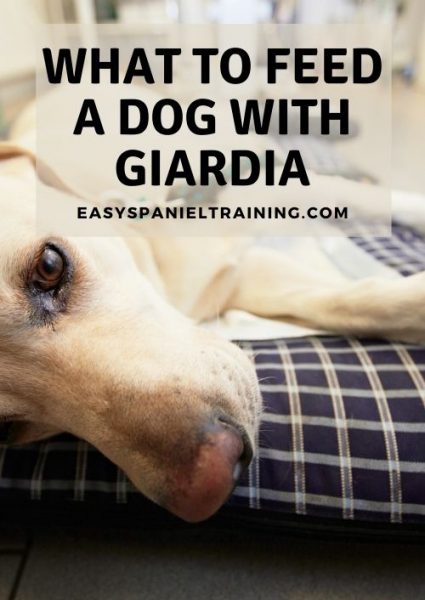 What should I do if my dog has giardia?
You should take him to the vet's who can prescribe him with medicines that can help to alleviate the symptoms and the discomfort of diarrhea and which will, at the same time, deal with the nasty parasite that causes the illness.
You should also make sure that your dog has access to his own supply of clean water, which you should replace regularly. It is important that you keep his dishes away from other dogs to prevent the risk of infection passing to them.
Keep your dog quiet, take him out frequently, on his own, as he will need to use the toilet, and make sure that you clean up any stools or diarrhea to prevent other dogs from potentially catching the illness.
Other food options for dogs with giardia
What to feed a dog with guardia
x
Many people have used a variety of foods to deal with giardia in their dogs, however, I have not used any of these, preferring to take the professional vet advice for my dogs.
This is not to say that these remedies and foods have worked for people, but I'm not making any recommendations, this is for information only.
Sale
Supplements Wise Probiotics For Dogs - Diarrhea, Yeast Infection, Bloating Relief - Dog Vitamins and Supplements - Dog Probiotic Treatment, Digestive Enzymes for Dogs (120 Tablets Chicken Flavor)
ULTIMATE DOG DIGESTIVE AID - Each serving contains a powerful 2 Billion CFU probiotic blend with five strains of probiotics, extra digestive enzymes, and inulin prebiotics for dogs, for total digestive support. Our premium probiotic and prebiotic for dogs work to promote good bacteria and flora, which is healthy & beneficial to your pet's gut, while helping to reduce harmful bacteria, soothe sensitive stomachs, diarrhea, yeast infections, and dry, itchy skin.
HAPPY, HEALTHY DOGS - Our unique digestive enzymes formula, works to support digestive function and the breakdown and absorption of foods in the stomach. Probiotic support for dogs may help provide relief from food allergies, wind, flatulence, colitis, gas, constipation, bad breath, sickness, yeast infections, leaky gut, cramps & skin problems, preventing itching and scratching. Our aid for dog diarrhea treatment and IBS relief tablets can also encourage a healthy, shiny coat, and firm stools.
A TASTE YOUR DOG WILL LOVE - Our probiotics and allergy aid for dogs are a delicious chicken flavor, meaning you can mix the probiotic food supplement in with dog food or administer directly, and your dog will think they are getting a treat! Probiotic support for dogs is suitable for young puppies as well as older, senior pooches. Keep a stash of our chews treats in the cupboard for unexpected problems!
FIRST-CLASS MANUFACTURING & INGREDIENTS - Our products are manufactured in the UK to strict GMP standards using the finest grade ingredients, offering you total peace of mind and the very best quality products. Each serving of our doggy treats and dog food supplements contain powerful probiotics Lactobacillus Acidophilus, Lactobacillus Plantarum, Lactobacillus Brevis, Bifidobacterium Animalis Lactis, Lactobacillus Rhamnosus, ensuring your puppy gets the gut-health care they deserve!
SAVE MONEY - See our store for mix & match offers on pet care products! All pet supplements are supplied in letterbox-friendly packaging meaning no waiting in or trips to the sorting office to pick up your delivery.
Final words on giardia
My vet told me to use a bland food made from mashed potato and tinned tuna fish and I took his advice.
You should always base your decisions on professional advice from your veterninary surgeon. 
Many people report that probiotics, high fibre foods and others have supported their dog's recovery and these may be options that your vet could recommend.
Read Next
Easyspanieltraining.com does not provide veterinary advice. Our aim is to provide the reader with information to enable them to make a good decision when making a purchase or caring for their dog. All content is therefore for informational purposes only. If you're concerned about the health of your pet you should seek medical advice from a vet.
Last update on 2022-03-02 / Affiliate links / Images from Amazon Product Advertising API