Most people enjoy travel and many take their dogs away with them whenever they can. But sometimes this is not always possible and owners need to look for someone to look after their dogs.
Here is where to leave your dog while on vacation. There are several options that you can decide from, our favourite is the house sitting service from this organisation who match dog owners up with vetted house sitters who stay at your home and look after your pets.
Use a dog sitting service
This is our favourite recommendation. Pet sitting services are becoming more common across the world and are a convenient choice for pet owners.
A pet sitting service provides people, who have been checked out, who will come and stay at your home while you are on vacation.
Your dogs will be able to stay in their home and the house sitters will look after them and any other pets that you may have.
You also have the advantage that your home is not left unattended while you are away which can be beneficial from a security perspective.
Our recommended pet sitting service is the one that is provided by Trusted Housesitters.
They offer their services in over 130 different countries and they have recieved many global awards for their standards of service.
You can find out more about the service at this link:
Get a relative or friend to stay
In the past we have asked friends and family to come and stay at our home while we are away.
They look after the house and the dogs and get a free holiday and we don't have to worry about the pets being taken care of. We also know that the house is safe too.
This has worked for us in the past but we are fortunate in that we live in the countryside and it is also a tourist area.
Getting someone that you trust to stay at your home can be a good option.
Alternatively, your dogs could go and stay with your friends or family if they have the room and time to look after them while you are on vacation.
Use a boarding kennels
Most people are familiar with boarding kennels and they are common in most areas.
Kennels vary in quality and services but as a basic idea they are like a dog hotel, only in most cases they are not as posh.
Your dog stays at the kennels while you are away, he will be fed, walked and, in some, bathed and groomed before he comes home.
Typically boarding kennels charge fees on a day by day basis, but if you are away for a week or two while on holiday, you may get a better deal.
There are also more and more places becoming available that offer luxury dog services with some providing soft beds, televisions, couches and gourmet style meals for your dog.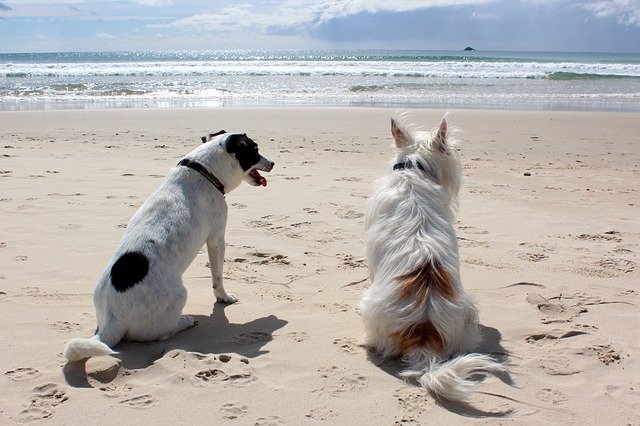 Pet holiday parks
A pet holiday park can be a great place for your dog to stay while you are away. Dogs love holidays and the pampering and attention that your dog will receive at one of these resorts will be second to none.
He may not want to come home afterwards.
With dog friendly pools, rooms, qualified staff and the opportunity to socialise and spend time with lots of other dogs, this could be an ideal way for your dog to enjoy a vacation while you jet off on yours.
Take your dog on vacation with you
Why not take your dog on vacation with you? There are more and more places that are becoming dog friendly where they realise that people do not want to leave their pets behind. 
They also understand that dog owners have money to spend and will pay to have their dog join them on their holidays.
There are lots of options available from hotels and holiday parks, through to rental homes and even camping.
Dogs love to be with their family and taking the opportunity to have a vacation with your dog will give you all a chance to spend lots of time together.
You could take a road trip, you don't need to fly. More and more people are spending time in their own countries and, as travel becomes more difficult, staying nearer to home and holidaying in your own country is becoming a much more attractive option.
Try taking your dog and having a different type of vacation than normal. Visit the country, the mountains, drive to the sea.
Do something different and take your dog with you.
Conclusion – where to leave your dog while on vacation
You know your dog better than anyone and you'll want to make the right choice for him when you go on a vacation.
He may be lively and a dog that loves other dogs and people, or he may be more introverted and enjoy his home comforts.
Only you can decide the best for your pet.
Our preferred option is to take our dogs with us, if that is not possible, such as overseas travel then Trusted Housesitters is the choice and it is the service that we have started to use.
Our dogs are at home, in the place that they know best, and they are well looked after by people that we can trust.
Read Next