What can Cocker spaniels eat? Cocker spaniels should be fed a balanced diet which will help to keep them fit and healthy. The best types of food for your Cocker spaniel to eat will be meat based and readily available, so that you can maintain consistency of feeding with quality of food.
You should aim to feed your Cocker spaniel the best quality food that you can afford, this is will often be in the form of a complete, commercial, dog food.
What do Cocker spaniels eat?
Cocker spaniels will eat most things if they get the chance but not all things are good for them.
There are a wide range of commercially available dog foods that you can get for your spaniel which have been developed just for dogs.
It can be tricky to decide which food is best for a Cocker without doing lots of research and checking different foods.
For over 30 years we have fed our spaniels, Cockers and English Springers, the dried dog foods produced by Eukanuba.
Our dogs have always done well with this dried food and we find that it is widely available and consistent in quality.
There is a wide range of Eukanuba foods available, from puppy to older dog, and you can see this range here on Amazon.
You can find out more about how to feed a Cocker spaniel in our post at this link.
Understanding your Cocker spaniel's nutritional needs
Just like humans, Cocker spaniels require a balanced diet to thrive.
However, their nutritional needs differ greatly from ours due to their unique physiological requirements. Let's delve deeper into understanding what these adorable canines need.
The Importance of Balanced Diet for Cocker Spaniels
A balanced diet is pivotal to maintaining the overall health and well-being of your Cocker spaniel.
An optimal diet supports their physical and mental growth, strengthens their immune system, aids in digestion, and keeps their skin and coat healthy.
It also plays a crucial role in weight management, preventing obesity-related health problems.
Role of Protein in Cocker Spaniels' Diet
Protein is the cornerstone of any dog's diet, including Cocker spaniels.
It helps in muscle development and tissue repair, as well as producing hormones and enzymes.
The primary source of protein for dogs is meat, but they can also get it from plant-based foods.
The Necessity of Fats and Carbohydrates
Fats provide the most concentrated source of energy for your Cocker spaniel.
They support a shiny coat, healthy skin, and aid in the absorption of fat-soluble vitamins.
Carbohydrates, on the other hand, are essential for providing additional energy and promoting gut health. But it's important to choose complex carbs like sweet potatoes and brown rice over simple sugars.
With these points in mind, you'll be well on your way to understanding the basics of your Cocker spaniel's nutritional needs. Yet, remember that every dog is unique, and what works best for one may not be ideal for another. It's always advisable to consult with a veterinarian for tailored advice regarding your pet's diet.
Popular complete foods for Cocker spaniels
Safe foods for your Cocker spaniel
Cocker spaniels can enjoy a wide variety of foods, many of which are likely already in your kitchen.
Below we discuss a few safe options you can introduce to your Cocker spaniel's diet, including various meats, fruits, vegetables, and dairy products.
Meat and Fish Options for Cocker spaniels
Meats like chicken, turkey, beef, and lamb are excellent sources of protein for your Cocker spaniel.
It's best to serve these cooked and without any added seasonings, especially onions or garlic, which can be toxic to dogs.
Fish, particularly salmon and white fish, are also safe and beneficial as they contain vital Omega-3 fatty acids, crucial for heart and brain health.
Safe Vegetables and Fruits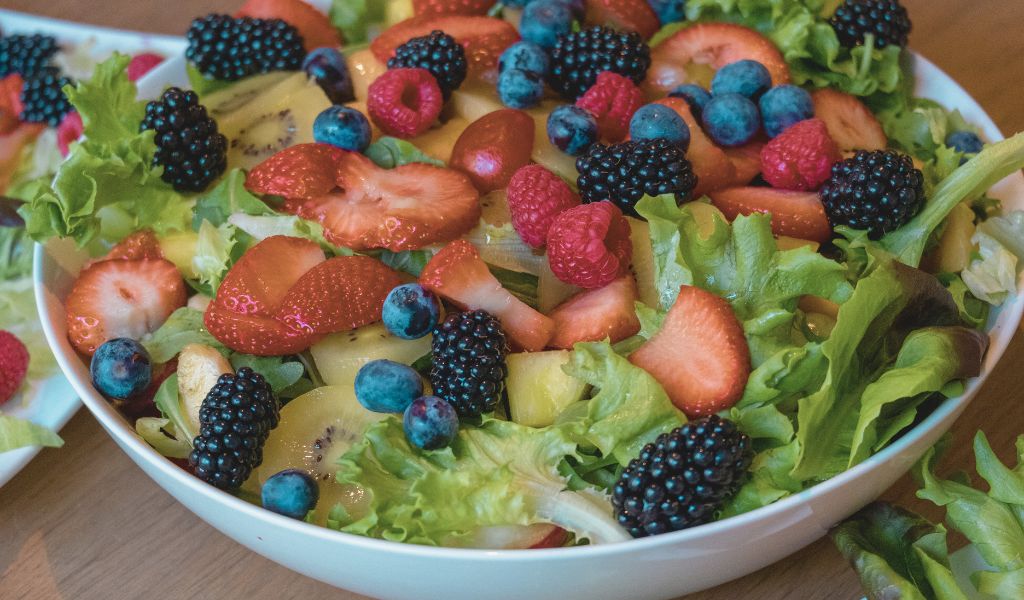 Vegetables such as carrots, cucumbers, and sweet potatoes are great additions to your Cocker spaniel's diet.
They are high in fibre and packed with essential vitamins.
As for fruits, apples (without seeds), bananas, and blueberries can be offered as low-fat treats.
Remember, all fruits and veggies should be served in moderation and ideally, should constitute less than 10% of your pet's daily food intake.
Can Cocker Spaniels Eat Dairy Products?
Some dogs tolerate dairy products well, while others may have digestive difficulties.
Small amounts of plain yoghurt or cheese can be a good source of protein and calcium for your Cocker spaniel, but always introduce any new foods slowly and watch for signs of lactose intolerance such as gas, bloating, or diarrhoea.
Foods That Are Dangerous to Cocker Spaniels
While we've discussed safe foods for your Cocker Spaniel, it's equally important to understand which foods can pose a risk to their health.
Some foods, even ones that are perfectly safe for humans, can be toxic or even fatal for dogs.
Here are some examples you should avoid feeding your Cocker spaniel.
Human Foods That Are Toxic for Cocker Spaniels
Several human foods can be dangerous for dogs.
Chocolate is one of the most well-known toxic foods, containing theobromine, which dogs cannot metabolise effectively.
Grapes, raisins, and currants can cause kidney failure in dogs.
Onions, garlic, and chives can lead to anaemia by damaging red blood cells.
Avocados should also be avoided, they contain a fungal toxin which can lead to serious gastro problems and potential heart failure.
Alcohol, caffeine, and xylitol (an artificial sweetener found in many sugar-free products) are also highly toxic.
The Risks of Feeding Bones and Raw Foods
While it might seem natural to give your dog bones, they can be a choking hazard and cause injuries to the digestive tract.
Cooked bones are especially dangerous as they can splinter.
Raw diets, or feeding dogs uncooked meat, can pose a risk of bacterial contamination like Salmonella or E. coli, potentially causing food poisoning.
Harmful Processed Foods and Treats
While they might be convenient, some processed foods and treats can be harmful to your Cocker spaniel's health. Many contain high levels of salt, sugar, artificial colourings, and preservatives.
Obesity, heart disease, and diabetes can result from excessive consumption of such products.
Special Diet Considerations for Cocker Spaniels
Cocker spaniels, like any breed, have certain characteristics and health concerns that make certain dietary considerations necessary.
Understanding these factors can help you better tailor your dog's diet to their individual needs.
Diet Adjustments for Puppy and Senior Cocker Spaniels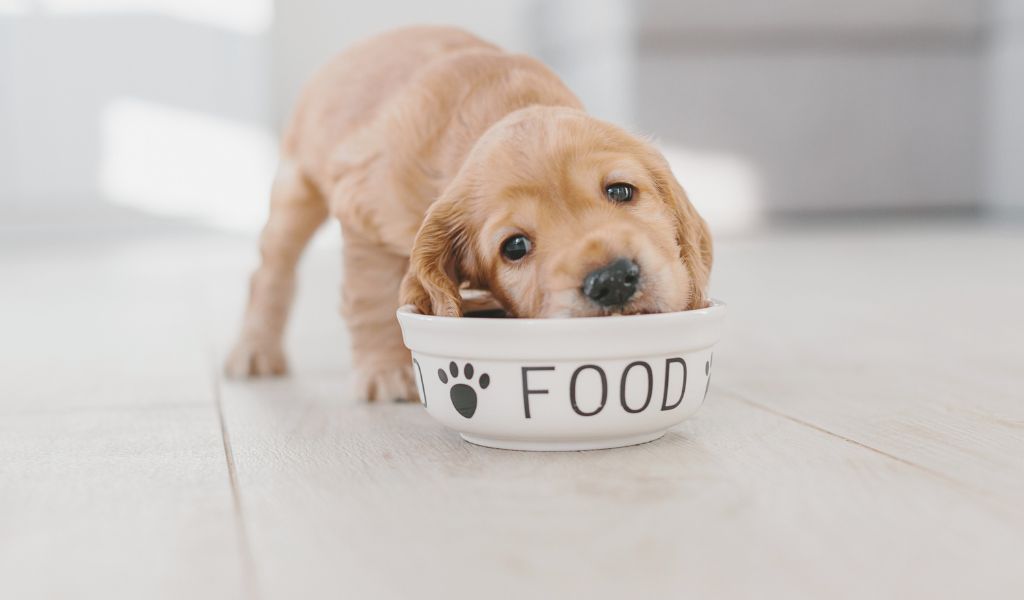 Puppies and senior dogs have unique dietary needs.
Cocker spaniel puppies require a diet high in protein to support growth, as well as higher overall caloric intake.
Senior dogs, on the other hand, may need a diet lower in calories but rich in high-quality proteins, fibre, and essential fatty acids.
Their diet should also accommodate any health issues common in older dogs, like arthritis or kidney disease.
Dietary Needs of Active vs Less Active Cocker Spaniels
The energy requirements of your Cocker spaniel will depend on their level of activity.
Active dogs will need more calories to fuel their energy, while less active or sedentary dogs require fewer calories to prevent weight gain.
Therefore, it's important to tailor your dog's diet based on their activity level.
Dealing with Common Dietary Issues in Cocker Spaniels
Cocker spaniels are known to sometimes suffer from specific health issues, such as ear infections, obesity, and heart disease, where diet can play a pivotal role.
For instance, a lean diet can help manage weight and reduce the risk of heart disease.
Similarly, foods that boost the immune system can help prevent recurring ear infections.
Are there organic foods for Cocker spaniels?
Organic feeding has become more popular in recent years and many dog food producers have expanded their ranges to include dog foods that are produced from organic ingredients and contain no artificial additives or preservatives.
A number of organic foods are available for Cockers and you can see our review on some of the best foods in our Organic Dog Food article here.
If organic dog foods are important to you then you'll also find a wide range of choices at Amazon.
How many times a day should a Cocker spaniel eat?
Adult Cocker spaniels, that are fit and healthy, will do best if they eat twice a day.
You can feed an adult Cocker once a day if you choose but they really do best having two smaller meals daily.
A puppy will need more regular feeding and this is generally around 4 times daily, depending on his age, reducing this to 3 meals and then, by the time he is one year old he should be on two meals daily.
You can read more about Cocker spaniel puppy feeding and the best food for spaniel puppies in our post here.
Is raw food good for Cocker spaniels?
We regularly feed raw, tripe based food to our Cockers and they love it.
Raw feeding of dogs has become a lot more common in recent times and there are a wide variety of raw foods available.
Most raw dog food producers only offer products that have been produced to human grade specifications, meaning that the quality of the food is good and consistent and that the food has been made in hygienic and safe conditions.
There are several products available and our current favourite that we feed right now is the range from Nature's Menu who provide raw tripes in a range of different flavours.
You can see Nature's Menu Raw Dog Foods here.
You can find out more about feeding raw foods to Cocker spaniels in our post here.
How much food should a Cocker spaniel have?
It is always best to start by checking the weight of your dog and following the guidelines on the dog food manufacturer's pack.
Like people, dogs differ in how much food they need and an active, fit dog will need more food than a spaniel which is a couch potato.
Generally speaking if your start by giving your Cocker between 1.5 and 2.5 cups of food daily, split between his mealtimes, then that will give you a starting point.
Monitor your dog's diet. If he leaves food then remove the excess and reduce his portion sizes, if he appears to be hungry and dropping weight, then increase the portion size.
It's likely that he will eat more in the winter than the summer ( although you never really know with Cockers as they can always seem hungry).
Avoid feeding him titbits, too many treats or things from the table.
Spaniels can put on weight quickly if they are fed too much so watch for this too.
Making a Meal Plan for Your Cocker Spaniel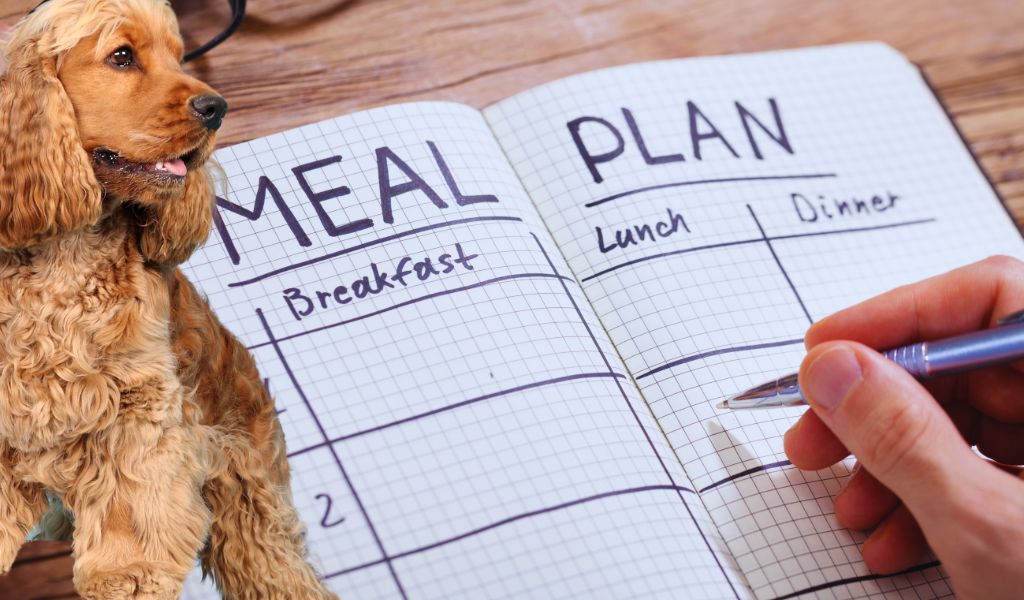 Creating a meal plan for your Cocker spaniel ensures that they get the right balance of nutrients in their diet.
It also helps in maintaining their weight, keeping them active, and avoiding potential health issues.
Below are some considerations to bear in mind when planning your Cocker spaniel's meals.
Portion Control for Healthy Weight Maintenance
Portion control is a crucial part of managing your Cocker spaniel's weight.
Overfeeding can lead to obesity, which can bring about various health problems.
Measure your dog's food using a standard measuring cup and follow the feeding guidelines on the pet food packaging or consult with your vet for specific portion recommendations.
Tips for Choosing High-Quality Commercial Foods
If you're feeding your Cocker spaniel commercial pet food, look for high-quality products.
The first ingredient should be a named source of animal protein, such as chicken or beef. Avoid products with unspecified meats or by-products.
Additionally, the food should be free from artificial colours, flavours, and preservatives.
Lastly, consider your dog's life stage, size, and activity level when choosing the right food.
Homemade Diets: Are They Beneficial for Cocker Spaniels?
Preparing homemade meals for your Cocker spaniel allows you to control the quality and variety of ingredients.
However, it's crucial to ensure the meals are balanced and meet all your dog's nutritional needs.
Consulting a vet or a pet nutritionist can be helpful when designing a homemade diet for your dog.
Consulting With a Vet for a Tailored Diet Plan
While understanding your Cocker spaniel's dietary needs is crucial, consulting with a vet for a tailored diet plan can ensure your pet is getting the best nutrition possible.
Vets can provide expert advice based on your dog's specific needs, taking into account their age, weight, health status, and lifestyle.
When to Seek Professional Advice
Although you can manage your Cocker spaniel's diet based on general guidelines, there are times when professional advice is necessary.
For instance, if your dog has a medical condition such as diabetes, obesity, kidney disease, or allergies, a vet can provide a custom diet plan.
Similarly, puppies, pregnant dogs, and senior dogs have unique dietary requirements that a vet can help address.
Health Checks and Regular Monitoring of Diet
Regular health checks are crucial to monitor your Cocker spaniel's response to their diet.
Your vet can perform blood tests, weight checks, and other evaluations to ensure your pet is getting adequate nutrition and is not gaining or losing too much weight.
If needed, the vet can adjust the diet plan based on these evaluations.
Managing Weight and Diet-Related Health Conditions
Overweight and obesity are common in Cocker spaniels and can lead to serious health problems like diabetes, heart disease, and joint issues.
Your vet can provide a weight management plan which includes diet adjustments and an exercise regimen.
If your dog is diagnosed with a diet-related condition, the vet can advise on suitable diet changes or therapeutic diets to manage the condition.
Remember that your vet plays an essential role in tailoring a diet plan for your Cocker spaniel.
They can offer expertise and advice, helping to ensure that your pet remains in good health throughout their life.
Regular vet consultations and check-ups are a wise investment in your pet's long-term health and well-being.
FAQs about Cocker Spaniel Feeding
Is it safe for Cocker spaniels to eat fruit?
Can Cocker Spaniels Eat Eggs?
Eggs are enjoyed by
Cocker spaniels
provided that they are fresh.
You can feed raw eggs to your Cocker but it is better, and safer to feed them cooked.
Cockers enjoy scrambled and poached eggs the most.
Can Cocker Spaniels Eat Cucumbers?
Fresh Cucumber ( not pickled) is a good treat for a
spaniel
.
Cut them into chunks and your Cocker will enjoy crunching them.
They are a good source of water and vitamins.
Can Cocker Spaniels Eat Bread?
Cockers can eat bread but only in small amounts.
Plain, white bread is the best choice as long as your spaniel has no allergies.
Cockers enjoy toast with butter too.
Can Cocker Spaniels Eat Bananas?
Bananas are a good source of nutrients and some spaniels enjoy them.
The most off putting thing for dogs is that bananas are soft with little texture, so if you want to feed bananas, then it's best to mash them up into your spaniel's food.
Final Words
Cocker spaniels can have a varied diet which can include different foods.
Always keep the main food as a purpose made dog food which is meat based to keep your spaniel in the best of health.
Treats are great for spaniels but don't feed too many as he can easily become overweight.
Last update on 2023-11-25 / Affiliate links / Images from Amazon Product Advertising API