Are you a new puppy owner looking for the best wet food to feed your pet?
In this article, we'll cover everything you need to know about wet food for puppies, including our top picks for the best wet food on the market.
Wet food is an excellent choice for puppies because it provides them with the hydration they need and is easier to digest.
We'll discuss what factors to consider when choosing wet food for puppies, as well as our top picks so that you can make an informed decision about what's best for your pup.
So read on and learn more about finding the perfect wet food option for your puppy today
Why Wet Food is Important for Puppies
Wet food can be beneficial for puppies in many ways, and the nutritional value that wet food provides is unparalleled.
Let's take a look at why wet food should be an important consideration for your puppy.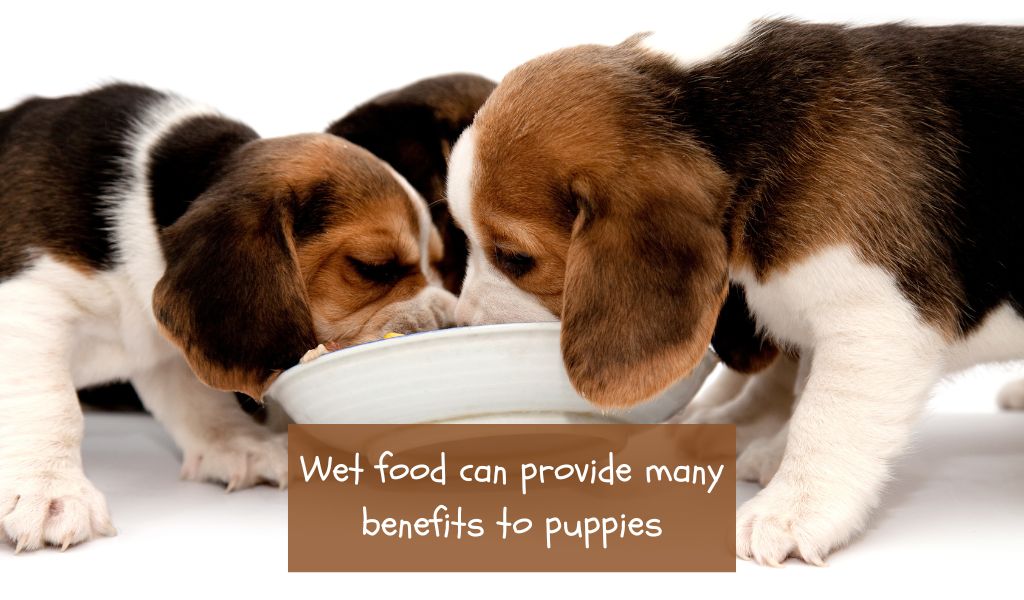 Moisture Content 
One of the most important benefits of wet food is its moisture content.
Puppies need more water in their diets than adult dogs because they are growing and developing.
In fact, puppies should ideally get about 80% of their dietary water from their regular meals.
Wet food can provide this moisture content through its higher water content than dry kibble, which helps prevent dehydration and keep your pup hydrated throughout the day. 
Nutritional Value 
The nutritional value that comes with wet food cannot be understated.
It contains more vitamins, minerals, proteins, and fats than dry kibble—all important nutrients that puppies need to grow healthy and strong.
This is especially true for protein; wet foods tend to contain more high-quality proteins than dry kibble does.
Plus, wet foods typically have fewer fillers and artificial ingredients so you know exactly what you are feeding your puppy without worrying about potentially unhealthy additives. 
Easy to Digest 
Wet foods can also be easier for puppies to digest since they break down quickly in the gut due to their high moisture content.
This makes them perfect for puppies who may have sensitive stomachs or digestive issues since the softer texture breaks down faster allowing for easier digestion and absorption into the body.
Plus, with wet foods being so easy to digest, it eliminates any risk of choking or blockages due to large chunks of dry kibble getting stuck in their throat or esophagus.  
Factors to Consider When Choosing Wet Food for Puppies
Nutritional Content
Look for wet food that contains a balanced mix of proteins, fats, and carbohydrates to provide your puppy with all the important nutrients they need.
Ingredients
It is also important to look at the ingredient list of the wet food you are considering.
Look for natural ingredients that come from quality sources like fish, chicken, and beef.
Avoid foods with fillers or artificial ingredients as these can be unhealthy for puppies. 
Brand Reputation 
Finally, it is important to consider the reputation of the brand when choosing wet food for puppies.
Look for reputable brands that have extensive research and development in their products to ensure you are getting a quality product with the right nutrition and composition.
These brands will also have customer service teams that can answer any questions or concerns you may have about their products.
Top Wet Food Options for Puppies
Now that you know the importance of wet food for puppies and how to choose the right one, here are our top picks for wet food on the market.
Each option has been carefully chosen based on its nutrition profile, ingredients, brand reputation, and price.
So take a look and find the best fit for your pup today!
Wellness CORE Puppy Original
Feed your puppy the best with Wellness CORE Puppy Original wet food.
It's grain-free and made from 95% animal ingredients, so it not only tastes amazing but is also incredibly nutritious.
A double protein source provides essential amino acids for growing puppies, while salmon oil supplies DHA to support healthy neurological function.
This carefully formulated meal is enriched with vitamins and minerals too – ensuring that your pup gets a well rounded diet full of wholesome goodness.
Pooch & Mutt Turkey & Chicken
With a new and improved recipe, Pooch & Mutt's turkey and chicken wet dog food contains only the best, locally sourced fresh meat and vegetables from British farms.
This premium, grain free food is perfect for dogs of all ages and sizes, and is free from grain, cereal, gluten and GM produce.
The 12 pack of cartons is easy to store, with an 80% lower global warming potential than cans – meaning it's good for your dog AND the environment.
Forthglade Complete Natural Wet Dog Food – Puppy
The Forthglade Complete Natural Wet Dog Food – Puppy is suitable for puppies aged 2-12 months.
The food comes in two delicious flavours – chicken and turkey – and is made with natural ingredients, including added vitamins, minerals and botanicals.
It's also grain free, making it easier to digest, which is great for sensitive tummies.
Best of all, this food is a complete and balanced meal, containing everything your dog needs to stay healthy and happy.
Plus, it's free from junk, fillers and artificial colours, flavours and preservatives.
Final Words
Choosing the right wet food for puppies can be tricky but with the right knowledge, you'll be able to find a great option that will provide your pup with all the nutrition they need.
Remember to consider nutritional content, ingredients, and brand reputation when picking out a wet food for your puppy..
We hope this guide has been helpful in finding the best wet food for puppies.
Read Next
Last update on 2023-09-29 / Affiliate links / Images from Amazon Product Advertising API