Liver is an excellent source of nutrients, vitamins and minerals for dogs and a diet that includes liver will support the health and development of your dog.
Dogs love liver and this nutrient rich source of protein is an excellent meat for your dog to eat. Liver from a variety of animals can be fed to your dog and, whether fed raw or cooked your dog will enjoy it as either a complete meal or as an addition to his normal food.
Like all new foods you should introduce liver gradually to your dog's diet if he has not eaten it before.
The amount of liver that you can feed to your dog will vary depending on his size and weight and how active he is but, as a general guidance, you should feed a medium sized dog one to two ounces of liver – which can be either cooked or raw.
Reduce this amount for smaller dogs and remember to start off with small portions of liver if your dog has not tried it before.
What kind of liver do dogs like?
There are several types of liver that dogs like and which can be safely fed:
Beef or cow's liver – contains a good range of vitamins A and B along with essential fatty acids.
Chicken liver – a healthy source of B vitamins, iron and other nutrients.
Lambs' liver – higher in calories than the others but again lots of vital nutrients and minerals.
Beef or cow's liver for dogs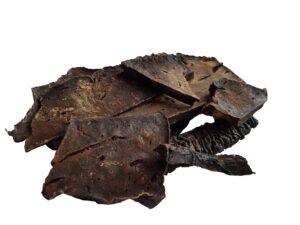 Beef or cow's liver is an excellent choice for dogs. Per 4 ounces ( approx.100g) beef liver contains:
156 Calories
407 mgs of phosphorous
11.7 mgs of copper
5.3 mgs of iron
4.3 mgs of zince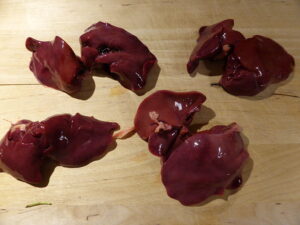 Chicken liver is another type of liver that dogs really like. Again per 4 ounces (100g) chicken liver contains:
136 calories
322mg of phosphorous
0.4 mgs of copper
9.5 mgs of iron
3.26 mgs of zinc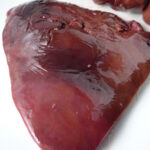 Dogs love lamb's liver and this is another great choice for dog food. Lamb's liver contains:
180 calories
344 mgs of phosphorous
5.8 mgs of copper
6.79 mgs of iron
6.47 mgs of zinc
If your dog doesn't like the texture of raw liver or you simply don't want to feed it raw then you can cook it.
Cooking liver makes it firmer and easier to handle, it also makes the meat easier to digest for your dog.
Liver is very easy to cook and you have a few options:
Grill – place beneath the grill until it firms and changes colour
Fry – In a small amount of oil again until firm and darker in clour
Bake – in the oven for about 20 to 30 minutes
On the barbecue – until dark and firm
Make sure that the cooked liver has fully cooled before you feed it to your dog. Cooked liver can be easily cut into chunks and fed alone or mixed into your dog's normal food.
T. Forrest & Sons 100% Meat, Liver Little Training Treats x200 For Dogs, Natural Grain Free (100g)
100% MEAT & NO HIDDEN NASTIES - 100% meat, absolutely nothing else! You can treat your dog worry free, our high quality training treats have no hidden horrible preservatives.
GREAT FOR TRAINING OR REWARDS - Use these little training treats to reward your dog for good behaviour when training or just because your dog deserves a lovely little treat for being good.
LOW CALORIE - We have formulated these special treats to be low in calories (2Kcal per treat) and high in protein, containing over 70% protein!
HUMAN GRADE PREMIUM INGREDIENTS - Produced to the highest standard, these training treats are made with love and care, and ingredients that are fit for human consumption!
200 LITTLE TREATS - They smell wonderful to your dog, and taste even better. They are low calorie and small so they are ideal for training.
BEST BARF Freeze Dried Lamb Liver 100% Single Ingredient Natural Dog Treats | Grain Free Liver Training Treats For Dogs And Cats
SINGLE INGREDIENT - Our raw dog treats consist of only one thing - liver. No additives or preservatives to keep it as healthy and tasty as possible for your 4 legged friend.
RAW YET CONVENIENT - Best Barf has made feeding your pet raw a lot more comfortable. Compared to regular raw food, which can be messy and time consuming, our freeze dried liver dog treats have a shelf life of 18 months and don't need special storage conditions.
HIGH NUTRITIONAL VALUE - All our natural dog food is freeze dried! This means 100g of our dog training treats have the same nutritional value as 400g of fresh lamb liver.
ALWAYS FRESH AND APPETIZING - The grain free dog treats come in a resealable pouch to lock in all the taste and aroma. Your pet will always be crazy for it!
SOURCED AND PRODUCED IN EUROPE - Best Barf only uses high quality ingredients sourced from trusted suppliers. We can say with confidence that all our products are hormone, antibiotics, grain and filler free!
PetPäl Liver Paste for Dogs "TuboSnack" - 2x 75g | Premium Liver Treats for Your Dog | Natural Dog Snack Also Great for Puppies - Made in Germany | Grain Free | Easy to Dose
✔ ONLY THE BEST NATURAL DELICIOUS INGREDIENTS | PREMIUM QUALITY MADE IN GERMANY - Meat, liver, rapeseed oil, vegetables & herbs - EVERYTHING in human food grade quality - nothing else. TuboSnack is developed and produced in Germany - from fresh German ingredients.
✔ PERFECTLY APPLICABLE | HANDS REMAIN CLEAN - Give your pet a reward - perfectly dosed as you like. Simply push it out of the practical laminate tube. Always keep your hands clean and odorless from the treat.
✔ WARNING! - Your four-legged friend will love the PetPäl TuboSnack and will become crazy about the irresistible taste. Always make sure you have enough on stock. Perfect for the use with treat dispensing dog toys like KONG.
✔ ALWAYS THE PERFECT SNACK - As a reward during training, to administer medicine, to go for a walk - the PetPäl liver paste is always the ideal reward. Hypoallergenic - also for dogs with intolerances.
✔ 100% SATISFIED OR YOUR MONEY BACK - Your satisfaction is guaranteed! If you do not absolutely love the liver paste for any reason, please contact our customer service. We will give you a full refund in no time - no questions asked! Click on the "Add to Cart" button NOW for your TuboSnack!
Last update on 2022-01-28 / Affiliate links / Images from Amazon Product Advertising API