As a traditional northern England batter dish, Yorkshire pudding is still enjoyed by millions of people when they have a roast dinner.
Often the remains are fed to pet dogs who enjoy the gravy, meat and vegetables, but can they eat the puddings?
Yorkshire puddings are a simple, batter based pudding made from flour, water, milk and egg. They are perfectly safe for dogs to eat as an occasional treat. There is no benefit to feeding them to your dog as they are low in nutritional value but the odd one or two won't cause any harm to him.
What's a Yorkshire pudding?
For the benefit of those that have never heard of, seen, or tasted a Yorkshire pudding.
Yorkshire puddings are made from batter ( similar to the batter that you would make a pancake from).
The batter is then poured into small, circular or square oven tray, containing cooking oil or dripping, that have previously been heated in the oven.
They are then left to cook and, if the batter mix is a good one, they will rise to make a light, fluffy and savoury pudding that is crisp around the edges and softer in the middle.
If you want to try making some then take a look at Mary Berry's recipe here.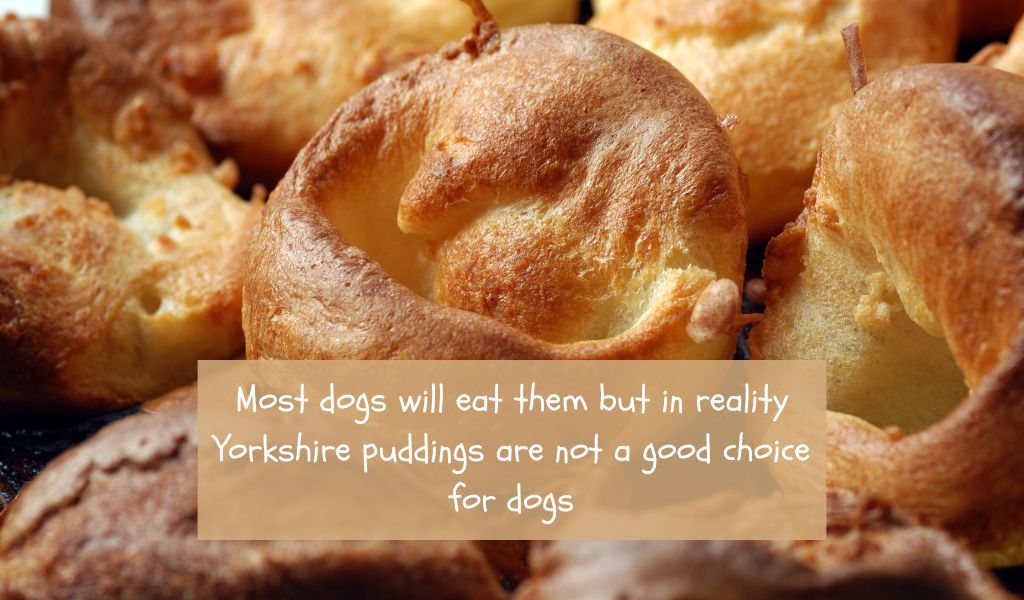 Can a dog eat Yorkshire pudding?
While Yorkshire puddings are not toxic or harmful to dogs, they are not recommended as a regular part of their diet or as a treat.
Yorkshire puddings are high in fat and calories, which can contribute to weight gain and other health problems if given to dogs regularly or in large quantities.
In addition, Yorkshire puddings often contain ingredients such as butter, milk, and flour, which can be difficult for some dogs to digest.
Dogs with sensitive stomachs or allergies may experience gastrointestinal upset, such as diarrhea or vomiting, after eating Yorkshire puddings.
If you want to give your dog a special treat, there are many healthy and safe options available that are specifically formulated for dogs.
These treats can provide a balanced mix of nutrients that meet your dog's nutritional needs without the risk of health problems associated with high-fat and high-calorie human foods.
Yorkshire puddings are not toxic to dogs but they are not recommended as a regular part of their diet or as a treat.
Can I give Yorkshire pudding to my puppy?
It's generally not recommended to give Yorkshire puddings to a puppy.
The high fat content can make them difficult for a puppy to digest and may contribute to weight gain and other health problems.
Additionally, some puppies may have food sensitivities or allergies to ingredients commonly found in Yorkshire puddings, such as milk, butter, and wheat flour.
Puppies have unique nutritional requirements, and their diet should be carefully balanced to meet their specific needs.
It's important to feed your puppy a high-quality puppy food that is appropriate for their age, breed, and size.
If you want to give your puppy a special treat, it's best to choose treats that are specifically formulated for puppies to ensure they are getting the nutrition they need to grow and thrive.
The occasional Yorkshire pudding is unlikely to harm your dog, but remember that they are high in fat and calories and too many could make him gain weight and become unwell.
How to give Yorkshire pudding to a dog
There are no considerations to make if you decide to give your dog a Yorkshire pudding to eat, just make sure that you don't give him too many.
Make sure that it is cold before you serve it, they cool really quickly. Add some gravy to it in his dish to make it more palatable for him.
If it has gone really crunchy then you can just let him have it as a treat to chomp, he'll eat it in no time at all.
Or, you can cut it up and just add it to his normal food.
Dog treats are the best option for dogs
Are Yorkshire puddings bad for dogs?
Yorkshire puddings are simply a mix of flour, water and egg that has been cooked in a hot oven.
They are probably not the best food to feed to a dog as they are not great for humans if eaten in large quantities.
It's highly unlikely that your dog will come to any harm from eating the occasional Yorkshire pudding but it's not recommended that this becomes a regular occurrence.
Can dogs have an adverse reaction if they eat Yorkshire puddings?
There is always a possibility of any food causing problems for your dog, particularly if your dog suffers from allergies or the food is not intended for canine consumption.
Flour, milk, eggs and the oil that is used to cook the puddings, can all present problems for some dogs, so, if you are concerned then the safest and best course of action is simply to not feed them to your pet.
You can also seek the professional advice of your vet who will be able to provide you with their qualified opinion.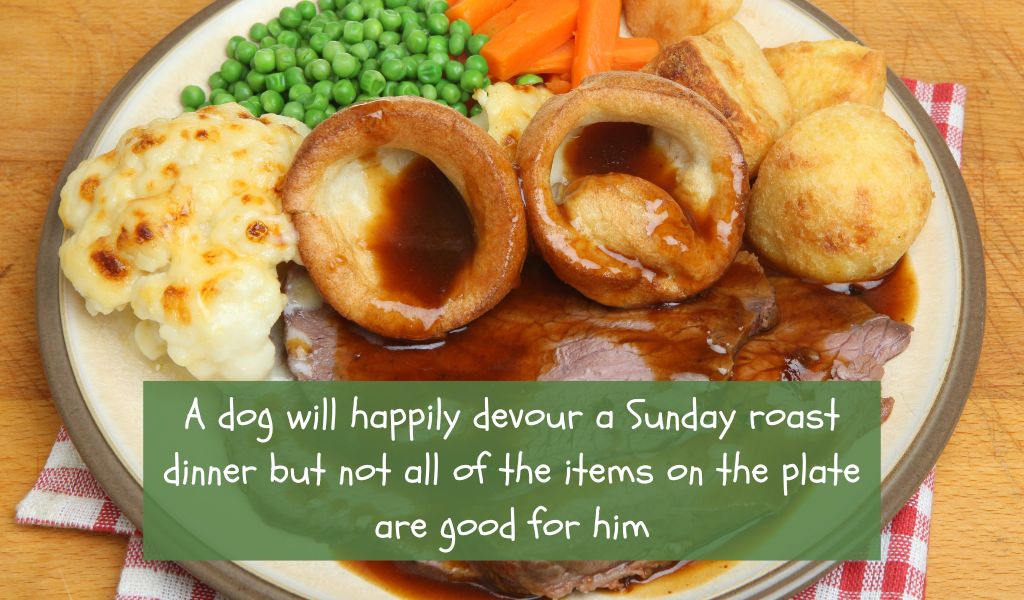 Can I give my dog Yorkshire puddings and a roast dinner?
I'm sure that your dog would love a Sunday roast.
He will enjoy the meat, gravy and most of the vegetables ( although some dogs have a knack of shoving the veg around the dish to avoid it – a bit like some children).
Before you serve make sure that there are no onions, leeks, garlic or similar in his meal as these can cause problems for dogs.
Conclusion
You can safely feed Yorkshire puddings to your dog. Don't give too many, just the odd one perhaps left over from your roast dinner.
If you make great Yorkshire puddings, however, your dog probably won't have much of an opportunity to eat them as the family will wolf them down first.
Read Next
Last update on 2023-05-28 / Affiliate links / Images from Amazon Product Advertising API